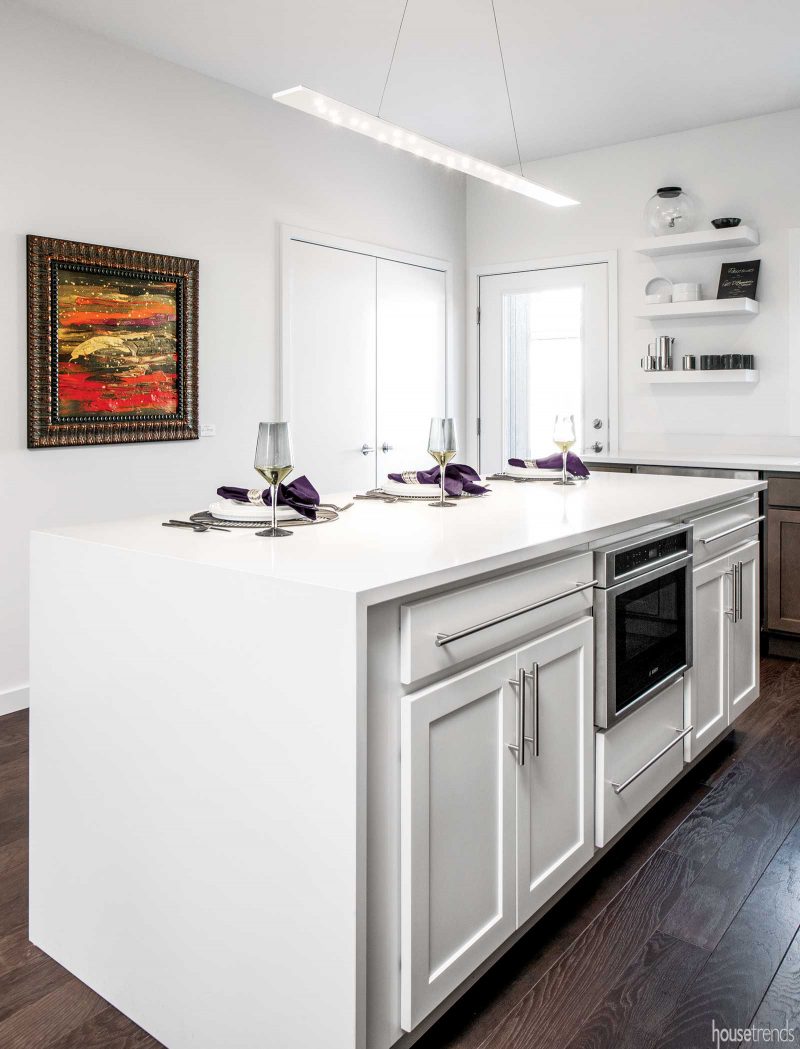 In the process of building Twenty Four Hundred—a sleek new townhome community in Beachwood—Brickhaus Partners, a Cleveland-area development company, had a certain look in mind.  "At Twenty Four Hundred, we strived to create a home that exuded both luxury and livability," says Andrew Brickman, Brickhaus owner and developer.
A focus on the kitchen played a large part in achieving that goal.
Countertops and a waterfall island made of a light-colored Eternia quartz fit in well with stainless steel appliances from Bosch and dark wood cabinetry from Homecrest.
Alessandro Ravagnan, designer for Brickhaus, says there are multiple reasons why they use this quartz material in their kitchens and bathrooms.
"Eternia quartz is a standard in all Brickhaus homes, as it adds modern sophistication and visual appeal to our interiors," Ravagnan says. "Furthermore, it cleans easily and the longevity of the stone brings its maintenance cost down to nearly zero."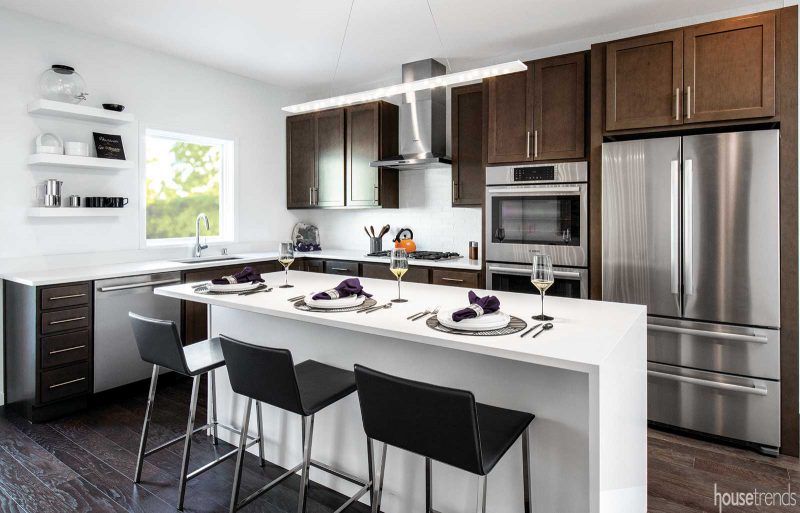 Eternia is made from at least 93 percent natural quartz, but unlike natural stones (such as granite or marble), it does not need to be sealed. Additionally, it is non-porous and scratch resistant.
Dark flooring, a modern light fixture over the island and a large window over the basin sink—which lets in plenty of light during the day—complete the desired appearance in the kitchen.
Brickman is particularly fond of the surface material selected for this project.
"The beautiful array of colors and patterns, along with the flexibility of design and product durability, made Eternia the perfect choice for our high-end townhomes," he says.
"Quartz is a very up-and-coming material," says Eternia spokesperson Jennifer Juan. "Eternia's dynamic global supply network allows us to source from industry-leading factories around the world. This enables us to curate a unique quartz collection made up of what we believe is the best of the best."
And it is that quartz that works so well in this kitchen and is the choice of many designers and homeowners.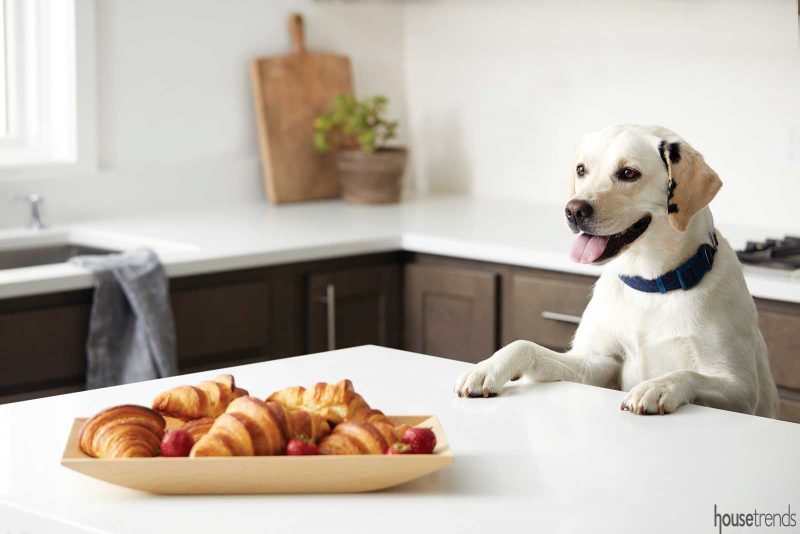 Connecting with the Community
Eternia wanted to give back, and they decided to focus their charity efforts on service dogs. After finding 4 Paws for Ability, the company has committed to donating a percentage of its gross profit to the nonprofit organization based in Xenia, Ohio that "enriches the lives of children with disabilities by training and placing quality, task-trained service dogs."
"That's what makes Eternia special," Juan says. "The value of Eternia isn't just the product itself. It's the people behind it. We care about our clients and we care about the community."
There is a substantial cost involved in training and placing a service dog with a family, and each family is asked to raise a portion of that cost. Eternia plans to sponsor a child, and they are looking forward to selecting someone in their community.
RESOURCES Countertops Eternia Quartz; Backsplash STP Tile – Kotto Gesso; The Thomas Brick Company; Cabinetry Homecrest, Sims-Lohman; Sink Luxart, Welker-McKee; Faucet Hansgrohe, Welker-McKee; Appliances Bosch dishwasher, cooktop, refrigerator and oven, Ferguson Bath, Kitchen & Lighting Gallery
Article appeared in Housetrends Cleveland – March/April 2019