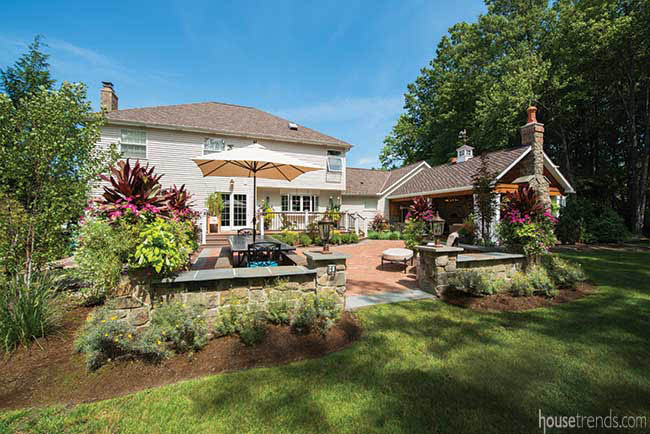 If pizzas could dream, they would dream of a particular back yard in Highland Heights. It's where the lucky pizzas go to be lovingly handcrafted by friends and family gathered around a spectacular outdoor living space anchored by an equally spectacular pizza oven.
"We are a cooking family," says the homeowner. "Both my wife and I come from a big Italian family. We love to cook and entertain. This project wasn't about investing in our home. It was about investing in what we love to do. My parents' 50th wedding anniversary was in October of 2015, and we decided to use the pavilion to celebrate. We fired up the pizza oven, made pizzas, had a clambake and roasted a pig, all with friends and family to celebrate. It actually snowed the day of the party, but we were able to enjoy every minute."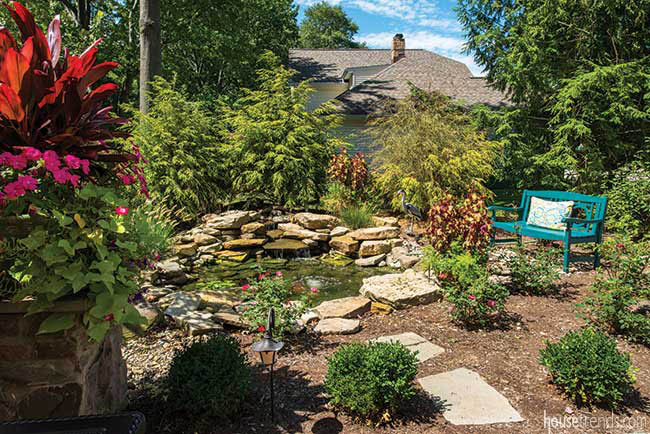 Basement vs. back yard
The family had been in their home 10 years when they considered finishing their basement for their three kids, who now range from late teens to early 20s. Instead, they invested in their back yard. They started with a small deck, an uninspired grilling area and a water feature of sorts that was really just a plastic tub with some fish. Today, they use their beautiful, multi-functional outdoor living space nearly every day from spring through fall.
Jay Schwartz, landscape designer and foreman with The Ohio Valley Group led the project. There was no shortage of ideas here. "They had a pretty good idea for the project," says Jay, referring to the homeowners' plan.
"The work was top notch," says the homeowner. "Jay has a great eye for detail."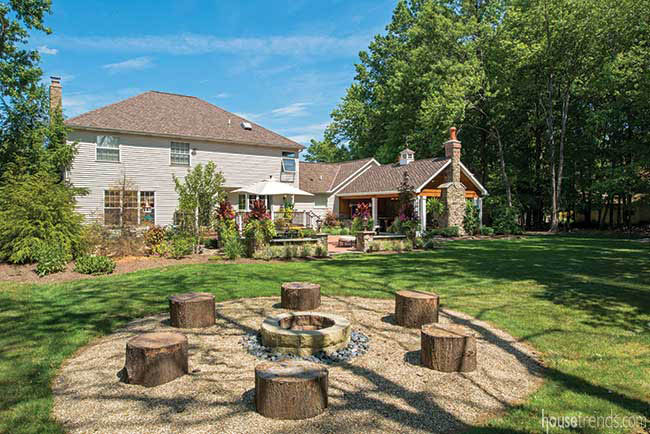 As soon as the crew began clearing trees from the site, they knew a huge oak would have to come down. "We really wanted to keep it," recalls the homeowner. "But we had to take it down because it was in the way of construction." After considering turning it into firewood, or maybe a couple of cutting boards, they decided instead to make it into six large seats around a fire pit area.
"Jay recommended using pea gravel as the base for the fire pit area," says the owner. "We placed Mexican lava pebbles around the base of the fire pit to finish it off. It's really a nice little area to sit and relax. The younger kids enjoy it better than a fireplace."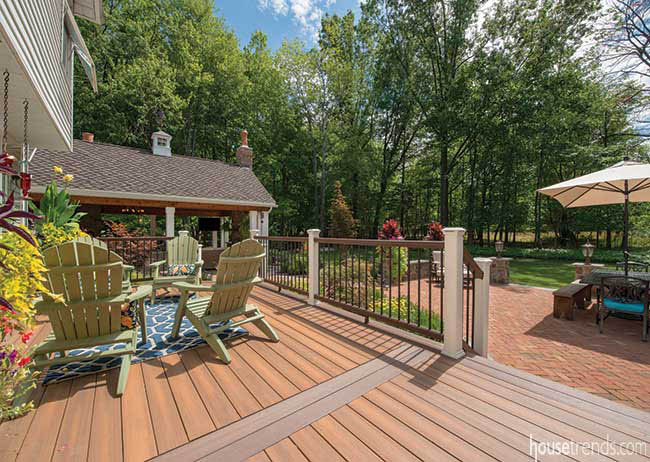 Connecting the pieces
The entire back yard is conceived around flow. Though the fire pit is set off and separate from the rest of the space, it is still very much part of the same experience of enjoying the back yard as a whole. The elements of that whole include a composite deck with steps down to a spacious brick patio that leads on one side to the 15-by-10-foot koi pond, and to the pavilion on the other side. Sitting walls and lantern-topped pillars invite visitors to step from the patio to the tree-lined lawn. Both the patio and deck include seating and both are surrounded by lush, colorful landscaping. The 18-by-24-foot pavilion features a composite ceiling and is bookended by a fireplace and the pizza oven.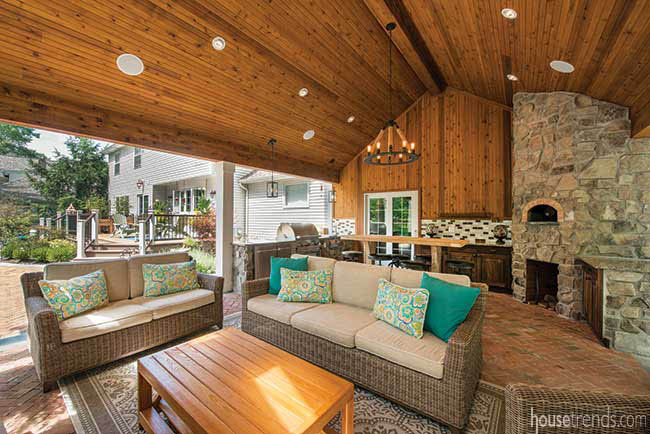 "The pizza oven reaches about 800 degrees," says Jay.  "It is a concrete igloo under a facade and that creates the temperatures high enough for cooking pizza. You build a fire in the back of the dome and the pizza sits in front," he explains.
The rest of the outdoor kitchen features granite countertops, a glass tile backsplash, stainless appliances and teak-fronted cabinets with weather-resistant plastic interiors. The Tuscan look matches the interior décor of the home.
Lighting in the pavilion area includes low-voltage fixtures and dimmable recessed fixtures, plus a chandelier and pendants that all provide form plus function. Leather barstools and plush seating, as well as a variety of dining, coffee and end tables, make it easy to enjoy the outdoors without giving up the comforts from inside the home. And then there's the TV.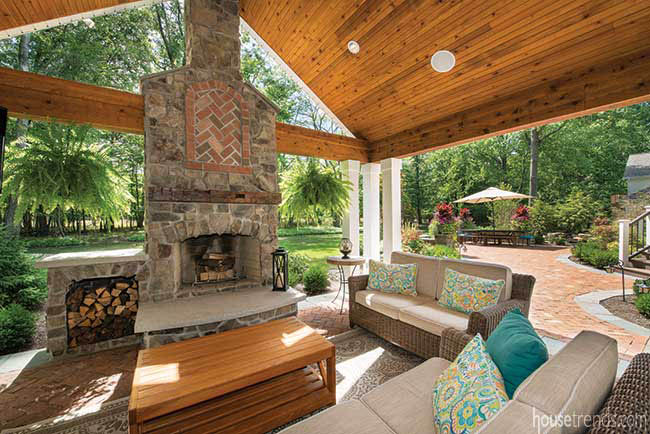 A room with a view
Outdoor TVs are "not at all unusual," says Jay. "We do them more and more. I recommend getting an inexpensive TV in case you have some crazy storms and things get ruined. But the fact that they are under cover usually means people have no issues throughout winter." These homeowners do, however, bring in their TV around November and bring it out again in spring.
"We watch a lot of sports; Indians games for sure," says the homeowner. "We also watch movies and the kids are on Netflix, of course. We have a whole outside sound system as well, so sometimes it's better to listen to music and shut the television down," he adds.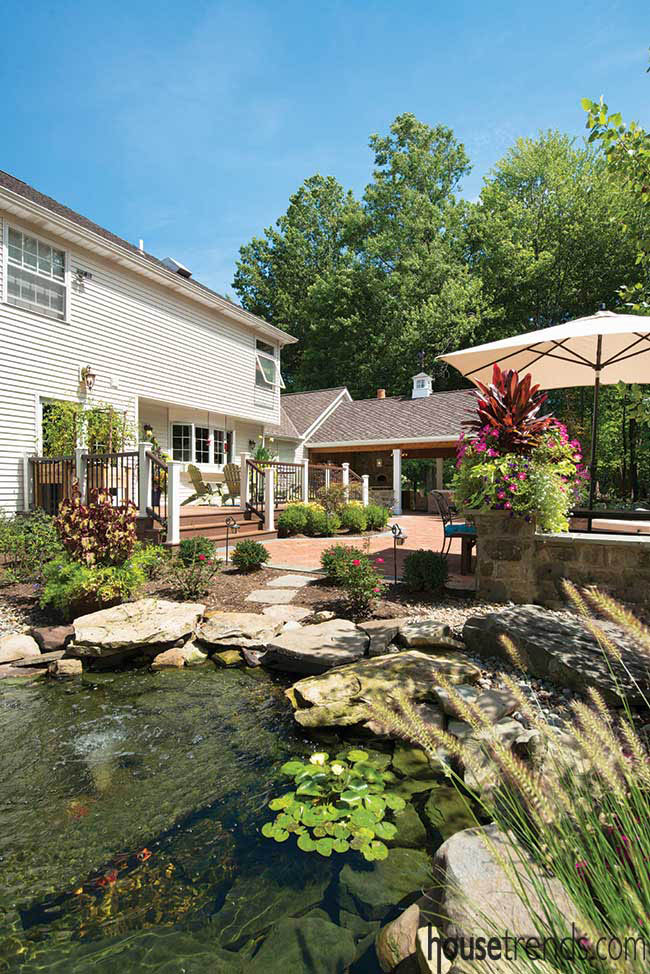 Go time
It was just one day after the backyard project was finished, that the homeowners welcomed about 100 guests to the new space for that family anniversary party in the fall. This past summer, the space performed perfectly in an even more rigorous test when over 400 people stopped by for their son's graduation party.
"But," the homeowner says, "mostly it's six to 12 people enjoying themselves—eating, having fun and making pizza."
Resources: Landscape developer, hardscapes, plant supplier and installation: Ohio Valley Group; Landscape architect, outdoor kitchen cabinetry, fireplace and grill: DeckCreator; Countertops: Firenza Stone; Furnishings: Amish Crafted; Frontgate