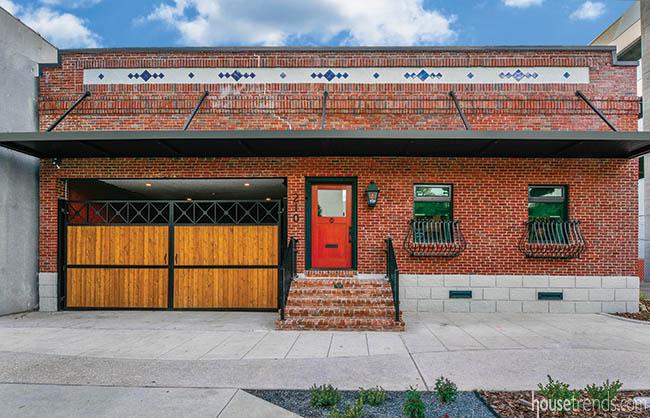 "It's a gem," said Vince Liggio, owner of Elite Restoration and Construction, to potential homeowner Mark Farrell, who was considering the purchase and renovation of a 1923 railroad warehouse on South 12th Street in the Channel District of Tampa. "It has good bones," he continued. So, in 2015, Mark took Liggio's expert advice and bought the 5,000 square-foot building with the intention of turning it into his future home.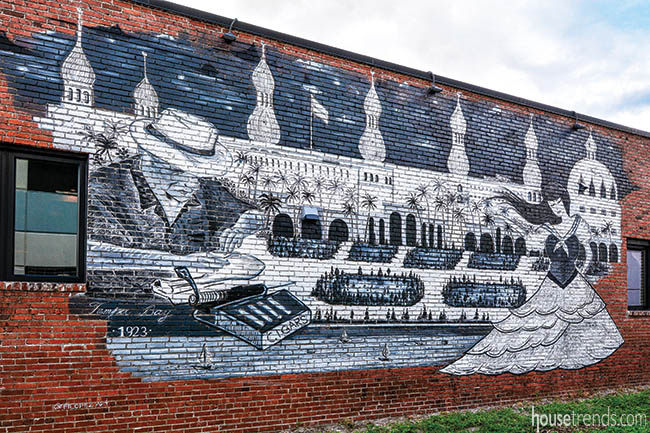 Diamond in the rough
The Channel District is expanding, and Mark's industrial/contemporary one-floor home reflects the unique qualities of the area. For several decades, the warehouse was used for manufacturing, later in the 80s by Dominic Purcell for enormous welded art pieces, and finally as a stop-and-go shop for cruise ship employees to pick up a snack or to call home. Mark, a civil engineer and President of Water Resources, LLC, headquartered in Tampa, wanted a spacious living area, a big garage and something that could be renovated to meet requirements for the National Green Building Standard Certification. He was also looking for a place that would allow him to walk to nearby restaurants, concerts and Lightning games.
Mark knew Liggio socially and was aware of his excellent reputation for detailed renovations, additions and interior remodeling—especially for unusual or non-typical buildings. "At first sight," says Liggio, "I thought 'This is a diamond in the rough.'" It had been built using the same framing principles of Craftsman homes, with brick footers and an interesting combination of brick and wood.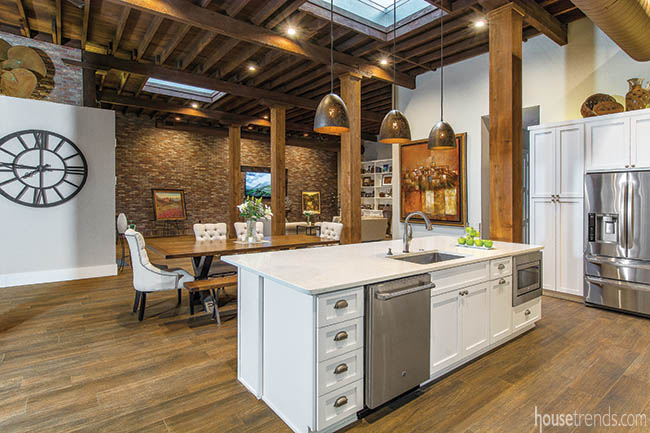 Staying within the confines of the original structure, which was strong and in good condition, Mark roughed out a floor plan in broad strokes, sharing it then with Liggio who made sure to incorporate the wooden beams—overhead and vertical—as design features while keeping lots of open space. Starting July 1, Liggio and his team gutted the place in order to install new electric and plumbing. Unfortunately, the flooring gave them a jolt—termites had destroyed nearly 65% of the supporting structure, resulting in an uneven feel when walking about. Since new floors were a must, Liggio convinced Mark that porcelain tile, shaped and colored to look like 8×48-inch wood planks, would not only look fabulous, it would also resist any future damage.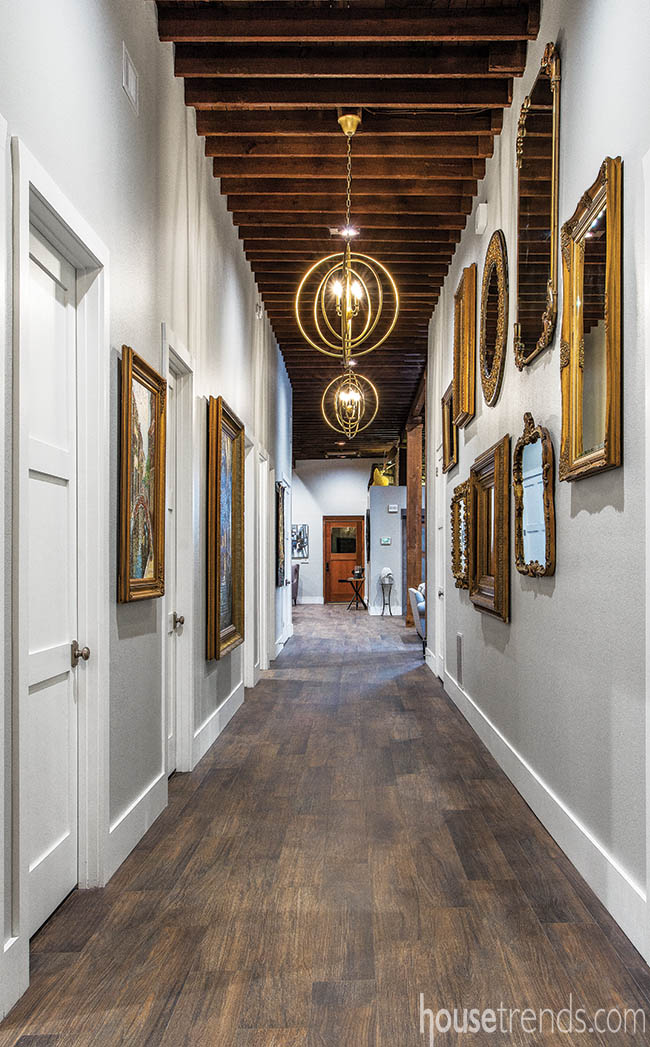 Warehouses have few windows, so skylights became a major element of the renovation. Cutting windows into the walls was a major engineering chore. In the public spaces, ceilings are 15 feet high with spiral-insulated ducts visible to maintain the industrial look. Bedrooms have 12-foot-high ceilings, while bath and closet ceilings are 10 feet. There was no insulation on the flat roof, which will eventually become a party space with a deck and outdoor bar area, so Mark insisted on a TPO (thermoplastic polyolefin) flat commercial roof with an insulated membrane, which provides exceptional resistance to ultraviolet, ozone and chemical exposure. Most important, installed on the roof was a 10kW solar panel with photovoltaic cells that carries the electric power load of the entire building, even on cloudy days.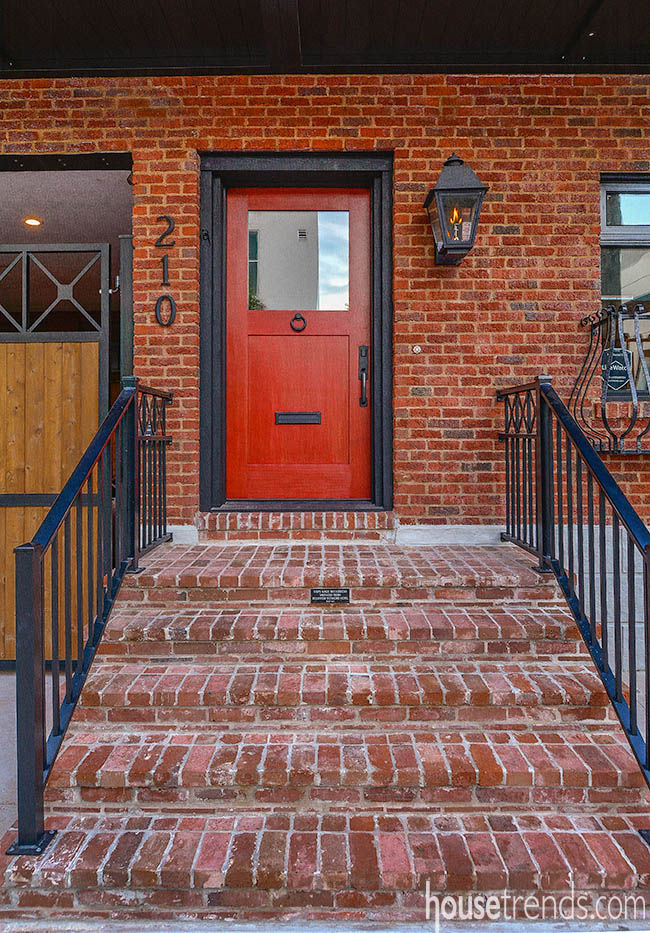 Preserving history
Keeping to the historic theme, Mark purchased bricks for the front staircase from the former Belleview Biltmore Hotel in Clearwater, plus gorgeous marble from the former Tampa Federal Courthouse for window sills and the countertop of the bar. Mark's desire for a red front door came to fruition thanks to a 42-inch wide, nearly three-inch thick custom-made mahogany door that gleefully welcomes all who come knocking. In addition to the reclaimed hotel bricks, the exterior of the home features a double door gated entrance garage that once served as a truck delivery bay, distinctive blue tile on the upper heading, a natural gas porch light, and curved wrought iron balconies adorning the windows. Walk around the corner of the house and a huge mural created by artist Manny Lopez greets you, illustrating scenes from 1923 Tampa.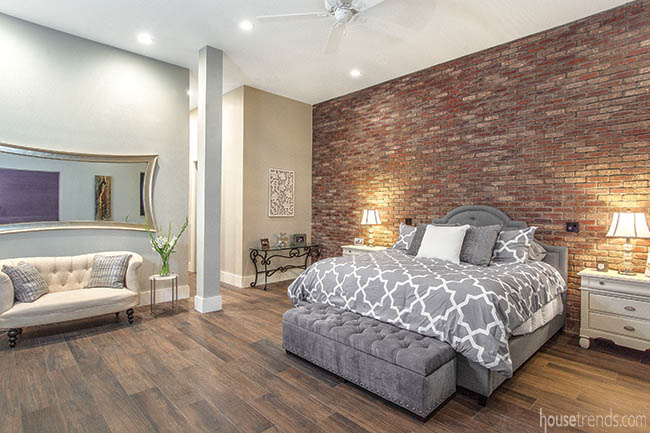 One of Liggio's goals was to reuse every bit of wood, metal, and anything removed during the initial demolition. Since the original walls were not attractive and had no energy savings, Mark and Liggio agreed on an insulated curtain wall of brick veneer. Liggio worked diligently to reapply mortar and coloration to enhance the texture of the veneer for an aged look.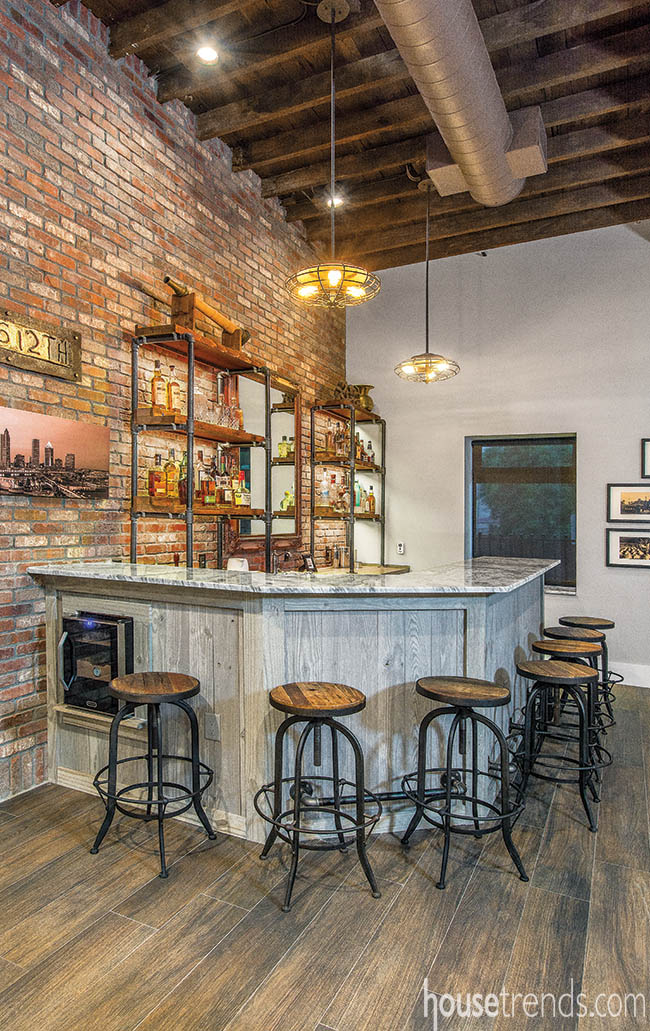 Liggio is most proud of the bar, which he built from scratch retasking pieces of wood, glass and marble to create what has now become, according to Mark, the centerpiece at every party. Whereas most people prefer countertops made from one complete piece of marble, Liggio chose to integrate a variety of leftover pieces expertly aligned to obscure connections. He explains that older marble pieces are usually more beautiful since they came from the surface of the quarry.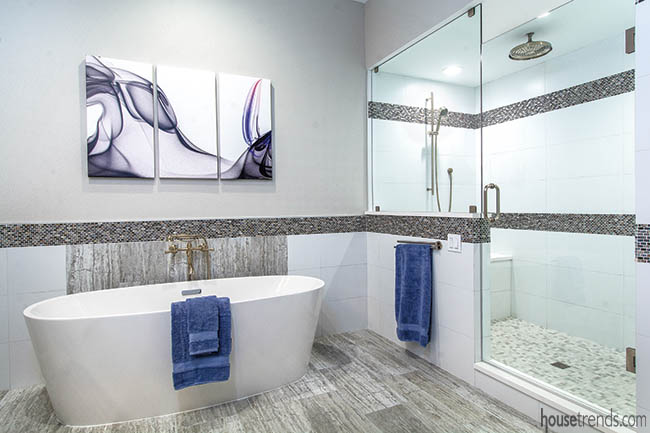 To maintain the industrial/contemporary design theme in furnishings, Mark invited Debbie Ricciardi of More Decorating Solutions in Tampa to join their team.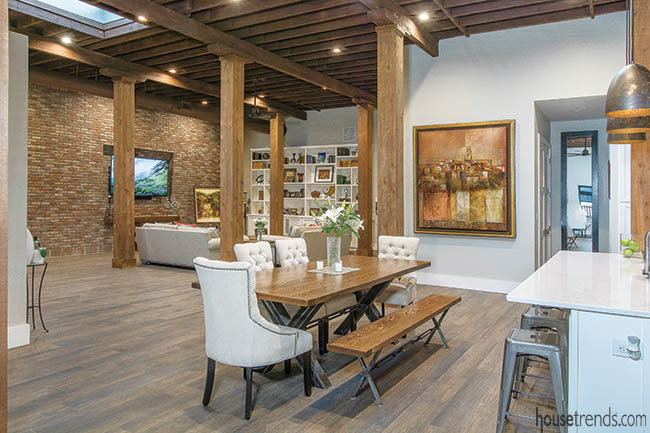 After their initial meeting, Mark was sure she would quickly be on the same wavelength. Using Liggio's approach, Ricciardi reused as much of the pieces of leftover wood, handles, lighting, and other objects as possible.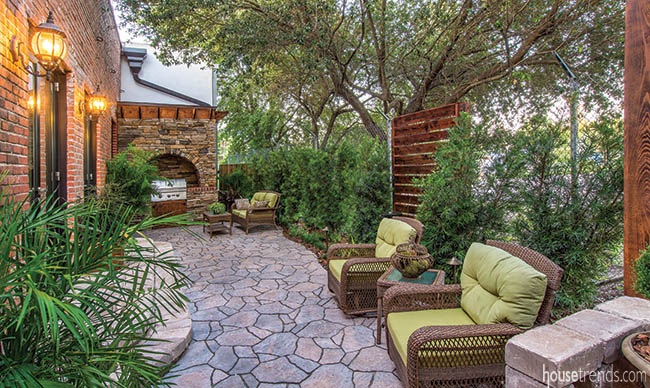 Upon opening the front door, guests are greeted by spacious living, dining and party bar areas, plus a long mirrored hallway leading to French doors that open to a lushly landscaped entertainment area with cooking station and hot tub.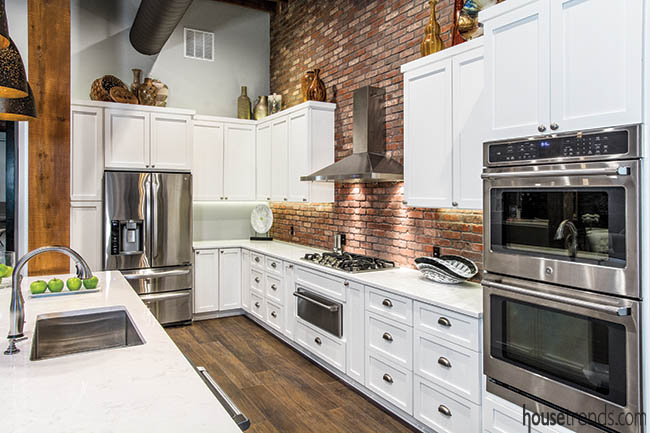 All windows, doors and even the flat screen televisions are recessed. The kitchen features sleek stainless steel appliances and crisp white, flat-panel custom cabinetry. Beautiful Cambria Torquay quartz counters, which mimic the look of marble, sit atop the island and perimeter cabinetry. Ricciardi used the re-constructed brick veneer up the wall behind the five-burner gas range to provide a striking background for the stainless steel overhead vent. Mark also purchased several vintage industrial machine parts, symbolic of early Tampa factories.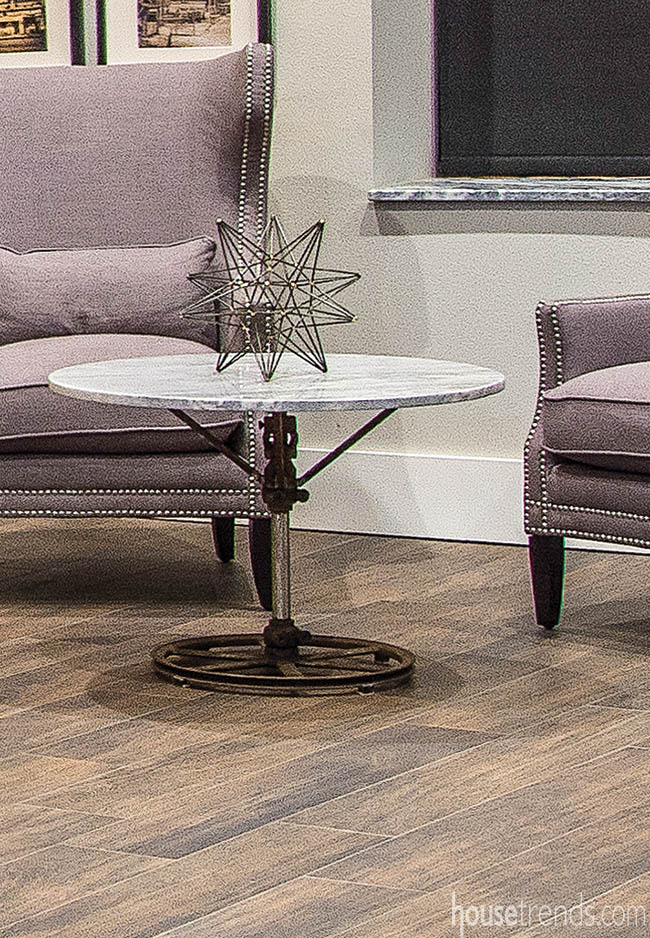 Ricciardi traveled to High Point, North Carolina, to select special lighting touches. Retasking again, she and Liggio's son, Vinnie Jr., took an antique five-bladed industrial fan Mark had found, separated it, placing the blades on an overhead shelf and using the stand as the base of a cocktail table with a rotating marble top.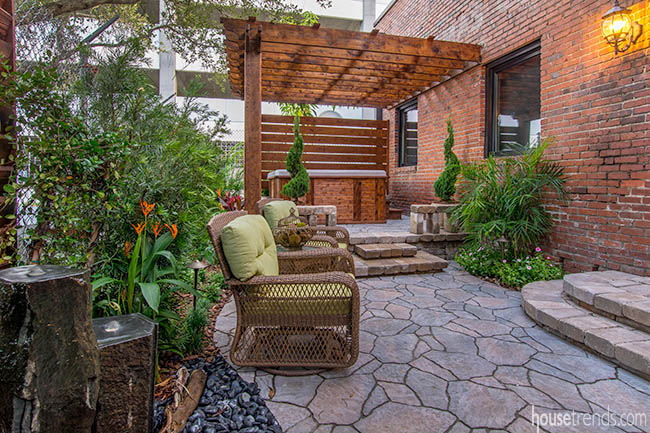 Well-planned adventure
Mark states that he was extremely satisfied with how the project turned out, giving the majority of the credit to his team that included Liggio and Ricciardi.  "We worked seamlessly together to solve problems, creating solutions almost daily," he says. "Working with them was a fun adventure."
Resources: Contractor: Vince Liggio, Elite Restoration and Construction; Interior design: Deborah Ricciardi, More Decorating Solutions; Architect: Hartman & Associates; Electrical: Jerry Wojcik, Star Electric Company; Floors and bathrooms: Steve Washburn; Tile: Decorum Tile & Stone; Cabinetry: Ted Null, All American Cabinets; Mural: Manny Lopez; Landscape: Carl Gennaro, Enviroscapes