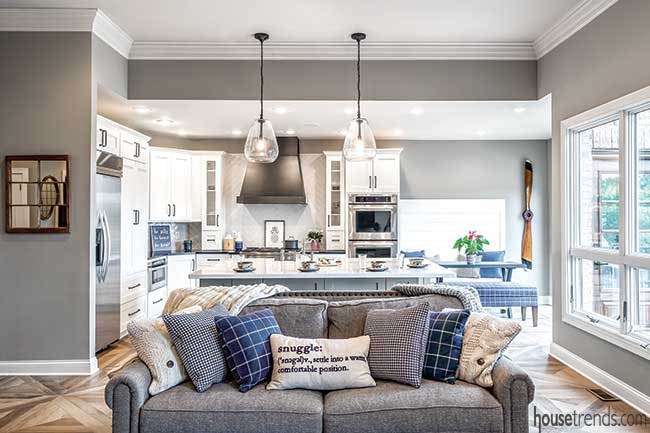 A home offers the stability we need when life seems to encounter endless change. This truth guided Kirk Reich several years ago when he sought a fresh start, but needed to keep the comforts his son had grown to love through his childhood.
Instead of moving to a different location, the new beginning took place in a whole house renovation. "It was important for me and my son to have a fresh start in life, but I also wanted to keep the continuity he had gotten used to in our current home," says Kirk.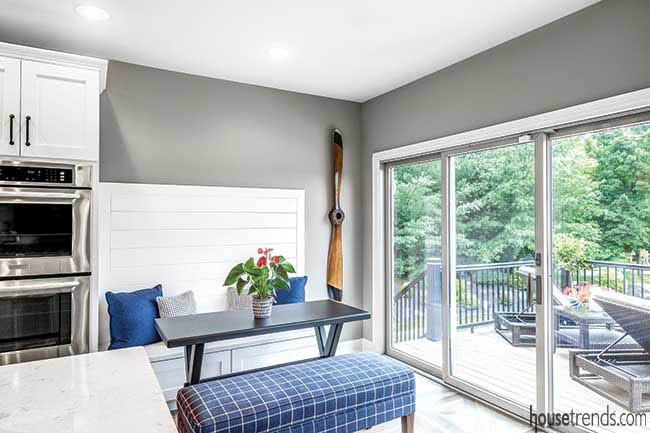 Inspiration from the Sunshine State
Kirk's 20-year-old home in Middletown still carried most of its original design and he was ready to refresh the tired and outdated looks. The entire process would eventually include everything from bathrooms, bedrooms and dining spaces and span a period of eight months. However, Kirk says the result was worth the wait.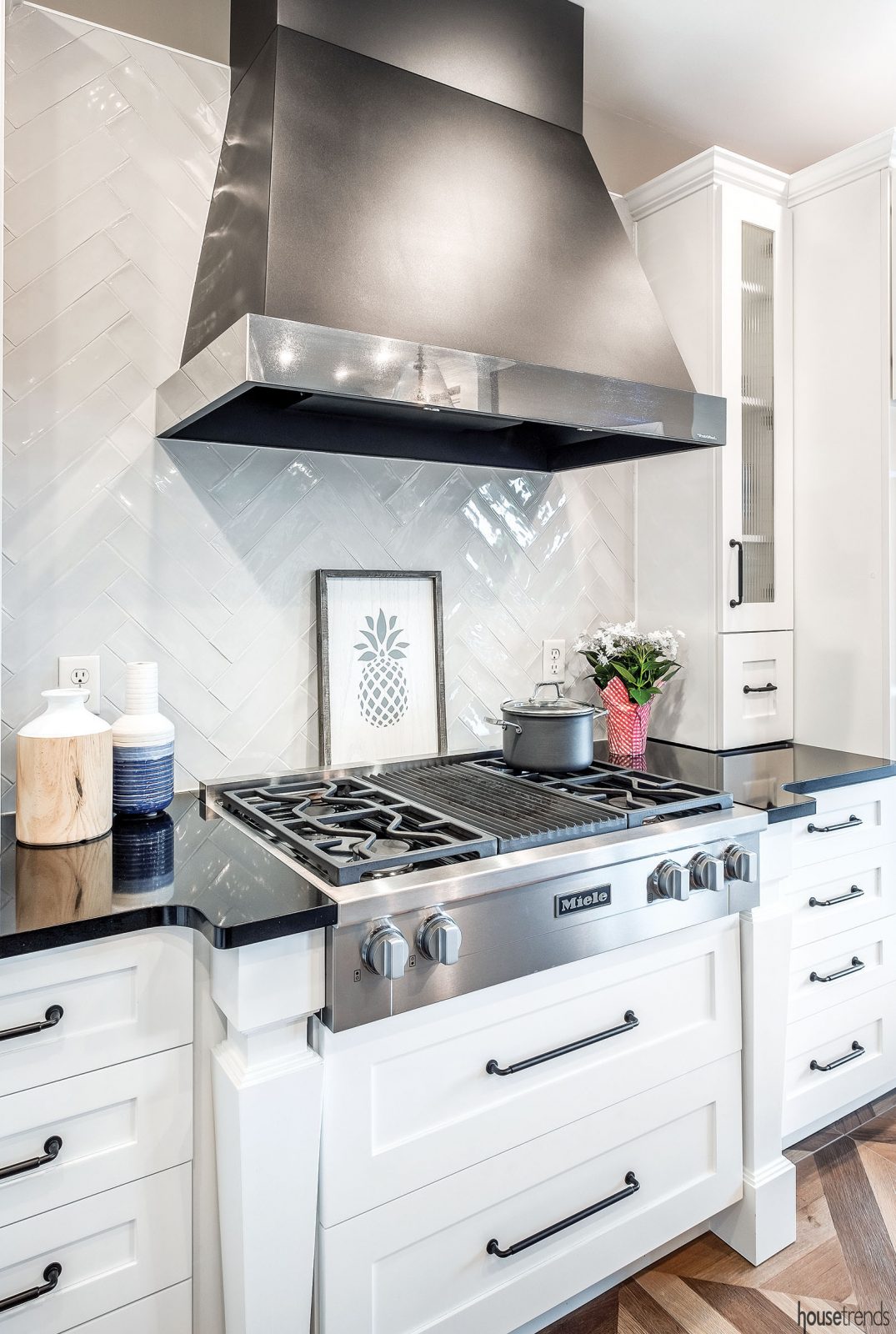 Work originated in the home's kitchen and the inspiration for the design came from a floor tile Kirk saw while viewing a model home in Florida. "I saw this 30×30-inch ceramic tile and said, 'That's it,'" he recalls. "I knew that was what I wanted in my home. It was rustic, and looked and felt like wood."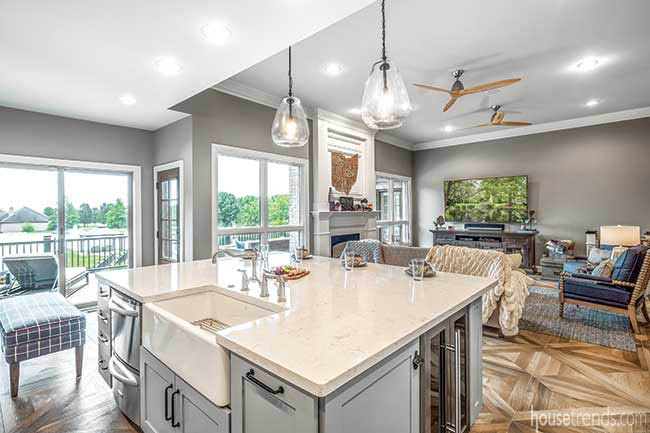 The tile offered the starting point Kirk needed, and he soon found a builder who would be able to make his overall vision a reality. He chose Keith Landis of Landis Builders to provide the personal attention and keen focus to detail he wanted. Kirk also chose The Requarth Co. to provide the kitchen's design. "They brought my idea to life and then added a few little touches here and there to create an overall cabinet layout," Kirk says.
Kirk's home wasn't like many older homes that are separated into spaces by walls or outdated layouts. He had an open-concept that just needed updated designs to take full advantage of the space that was already there. The kitchen's island, for instance, was small and constructed in two levels, which made it difficult for dining and created a more divided feel from the culinary space into the adjoining family room.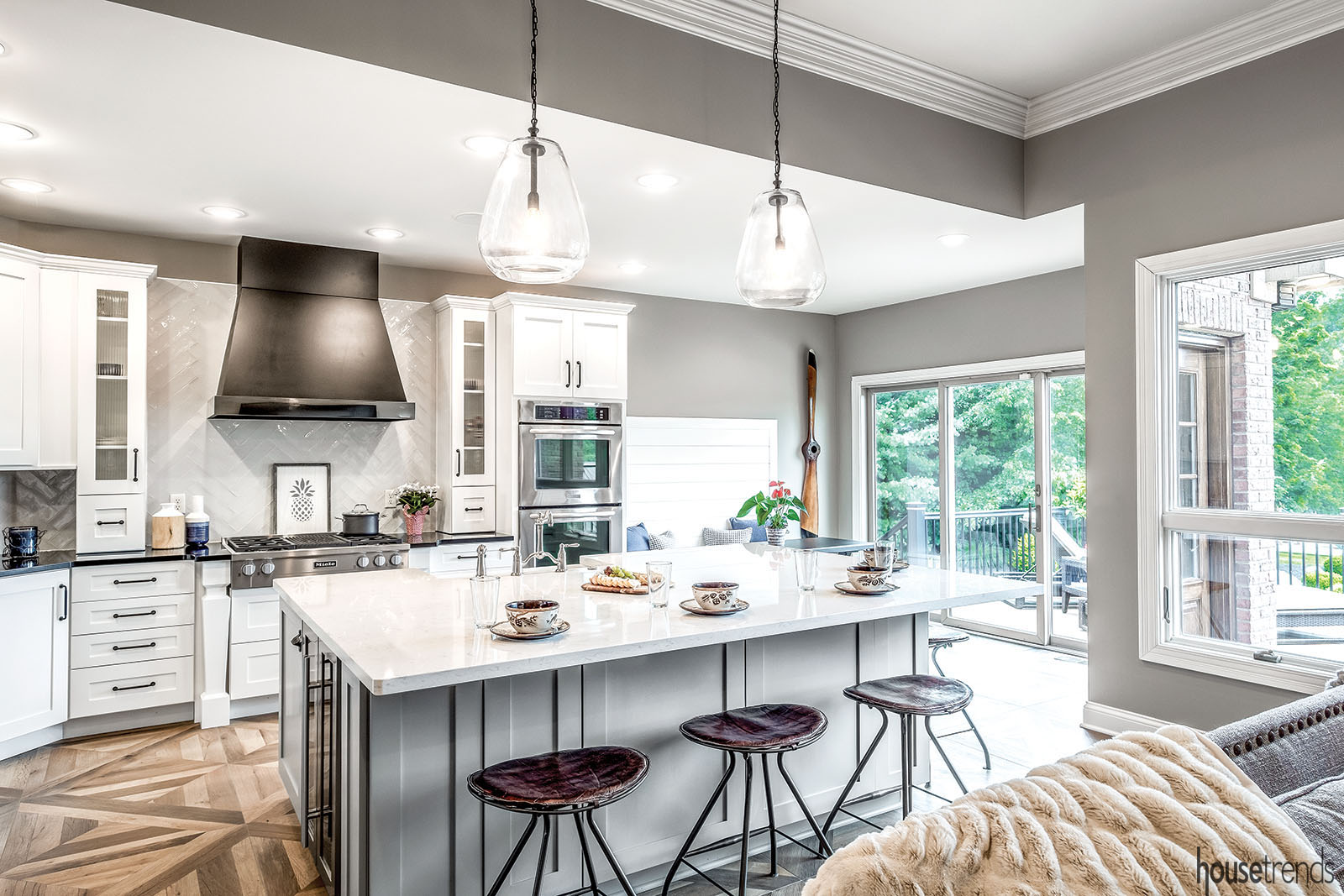 A larger island was constructed, allowing for plenty of space to entertain family and friends. White kitchen cabinets were chosen for the wall while the ones underneath the island were offset with a different light gray tone. The electric stovetop was switched out for the gas range Kirk had always wanted and Formica countertops were replaced with beautiful quartz.
Kirk had specific colors he wanted for his cabinetry so he chose Requarth's Timeless Cabinetry Collection, which allows customers to use any Sherwin-Williams' color they choose. The custom cabinets are constructed following green building standards and built in Requarth's downtown Dayton mill. Steve Dennis, a kitchen designer for The Requarth Co., is especially proud of the environmentally friendly line. "There's no formaldehyde since we use a latex finish and we ship the cabinets wrapped in blankets rather than boxes," Dennis says. "That way we eliminate the cardboard waste."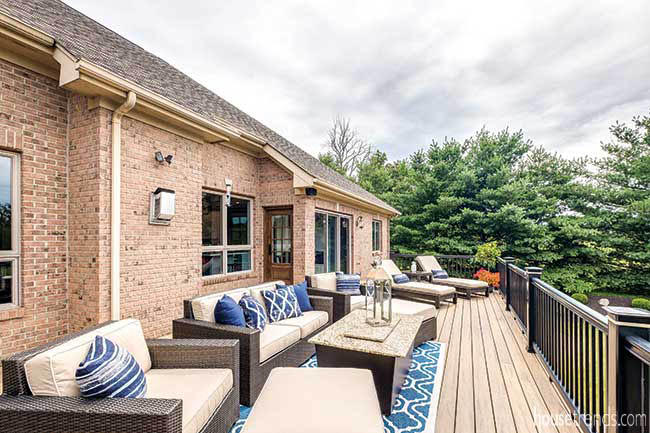 A beautiful outdoor counterpart
The work in the kitchen eventually flowed throughout the home, and the last piece of the puzzle in the total makeover was the home's outdoor living space. An existing deck off the kitchen, which offers spectacular views of the pond behind the home, was updated with new composite decking material and now includes a staircase down to the yard and new entertaining space below.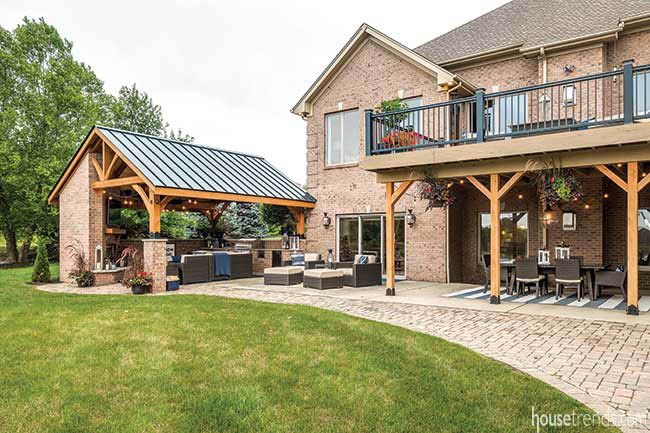 The new space includes a large covered outdoor kitchen and family room. Kirk originally envisioned an open-air space, but Landis used his professional experience and personal photos to convince him of something a little different.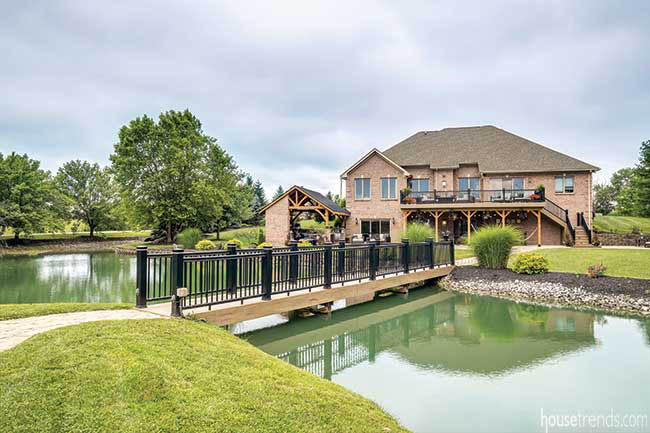 "I brought him photos of my home and said, 'Why don't you consider doing something like this?'" Landis says. "He was going to invest a lot into this space so covering it would ensure it lasted a long time."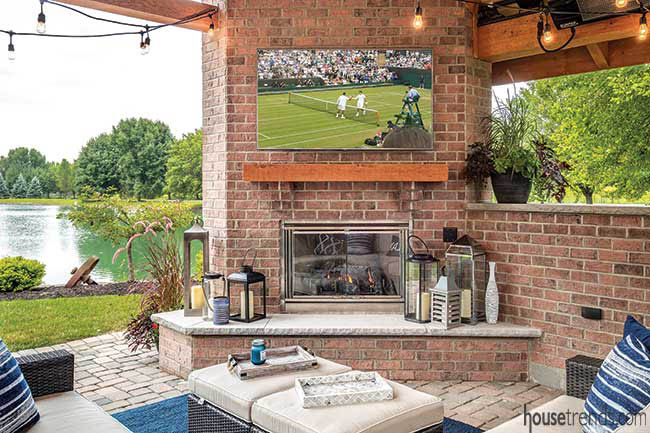 Kirk loves the space and spends the majority of his time relaxing in it. The outdoor kitchen area is equipped with everything he needs to go from prep to cooking to cleanup without having to go back inside. "I don't even have to run inside for a paper towel," he says. "I can do everything right there."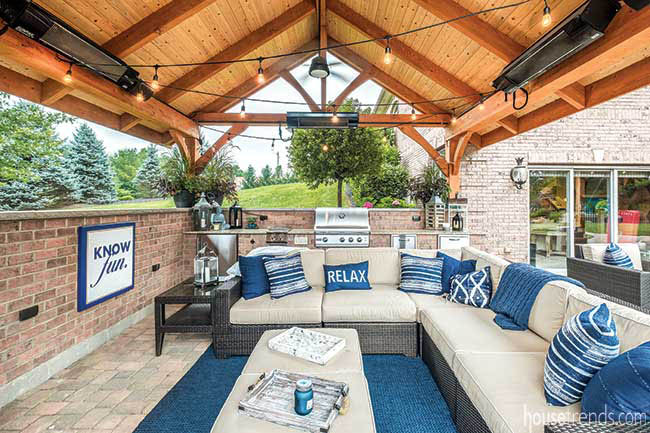 The flat screen TV, large fireplace and sectional sofa make it the ideal place to wind down from a long day, and heaters installed in the ceiling turn it into a three seasons rec room. The same pops of navy blue seen in the indoor kitchen and great room were carried outside. The rich color and texture seen in the area rug and accent pillows help to soften the cozy space.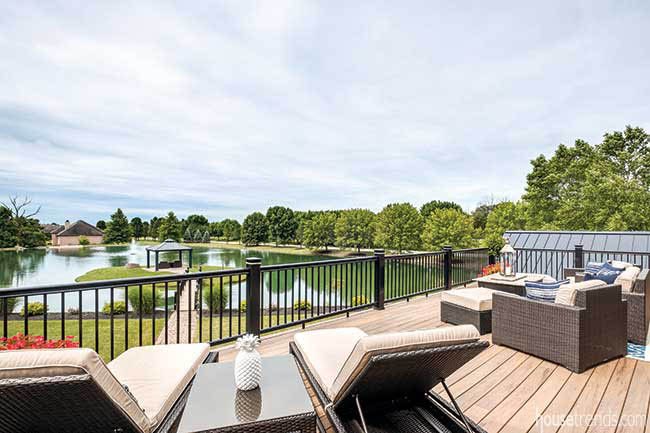 The perfect hangout
The home's redesign did exactly what Kirk had imagined when he first took on the project.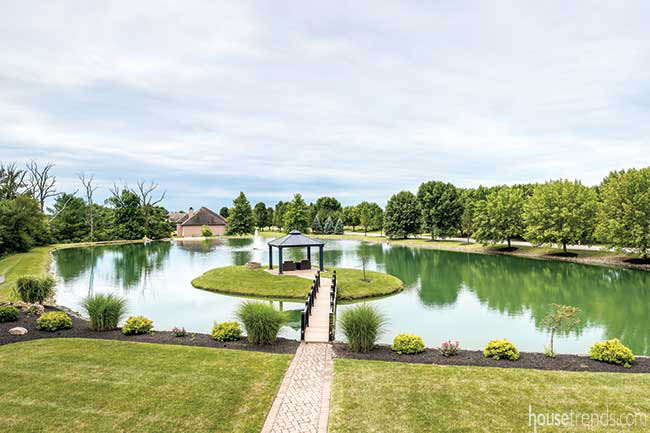 "Even though it looks different it's still the same space," he says. "We're the hangout house now, where all the kids congregate and that's something I like and wanted."
Resources: Kitchen designer: Steve Dennis, The Requarth Co.; Contractor: Keith Landis, Landis Builders; Interior designer: Cameo Stewart, Cameo Creative, LLC