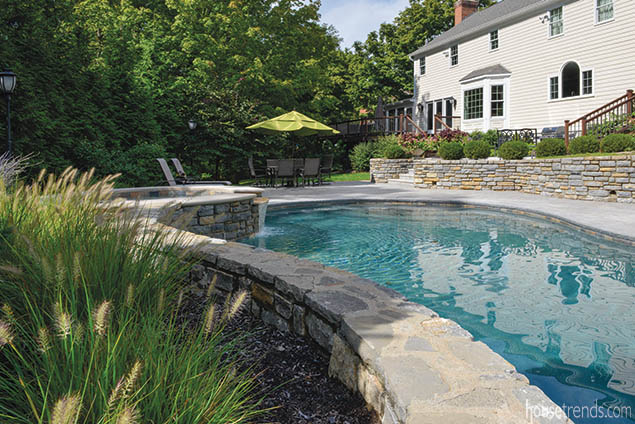 Written by: Jonathan Herbert/Photos by: Jon Keeling
After raising six children and living in the same home for 28 years, one couple decided it was finally time to create the perfect outdoor living space. The idea was theirs, but the decision to actually do it came from their children, even though they've all moved away from the tri-state area.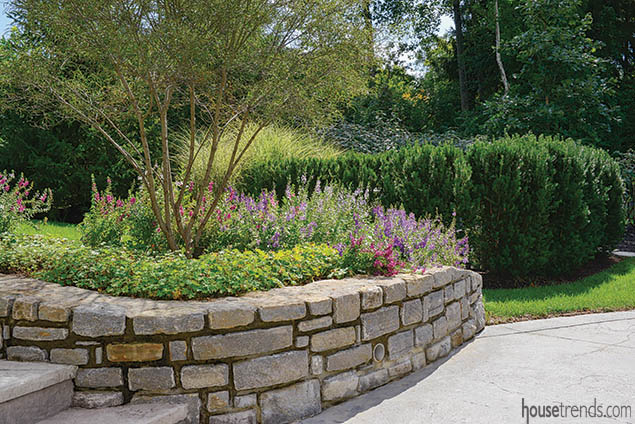 Where little feet once ran along old pavers that led to a splintered split-rail fence and an open, green lawn, now is a splendid bi-level outdoor living space with large tables perfect for gathering, and steps that run down past multiple curved stone walls, meticulously designed, outlining a large saltwater swimming pool. Green Giant arborvitaes along the far side of the pool provide just enough shade to complement sunlit areas, adding comfort to outdoor charm.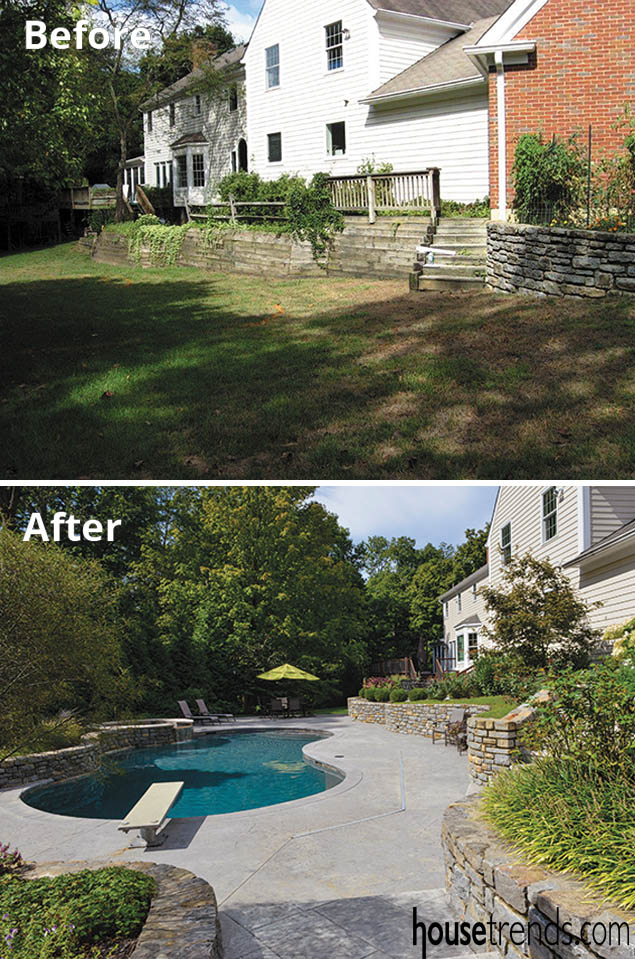 Finally the right time
The decision to wait on this backyard makeover was well thought-out. "A pool sounded like too much work while raising six children. We always had access to community pools and some of our children were on swim teams," the homeowner says.
Originally, the plan was to create a garden in the space but, "Our kids sold us on the pool idea," she says. "All six live away from Cincinnati now. They thought a pool would make home an even more attractive destination."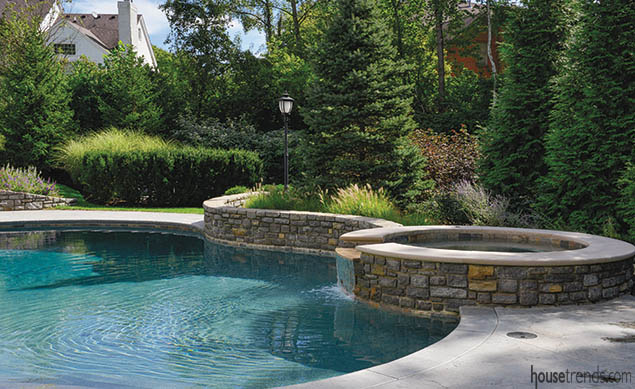 An informed decision   
"I initially tried to talk them out of a pool," says landscape architect Tom Fryman of Natorp's. The couple first asked him about this project in the summer of 2010.
Knowing pools require ongoing maintenance, they accepted that fact and stuck with the plan to have one installed and brought Fryman on board as a partner in the process.
"Tom captured our shared vision and helped us decide on what could and could not be done," the homeowner says. "He was able to transform our back yard that sloped down to a creek into a much bigger area."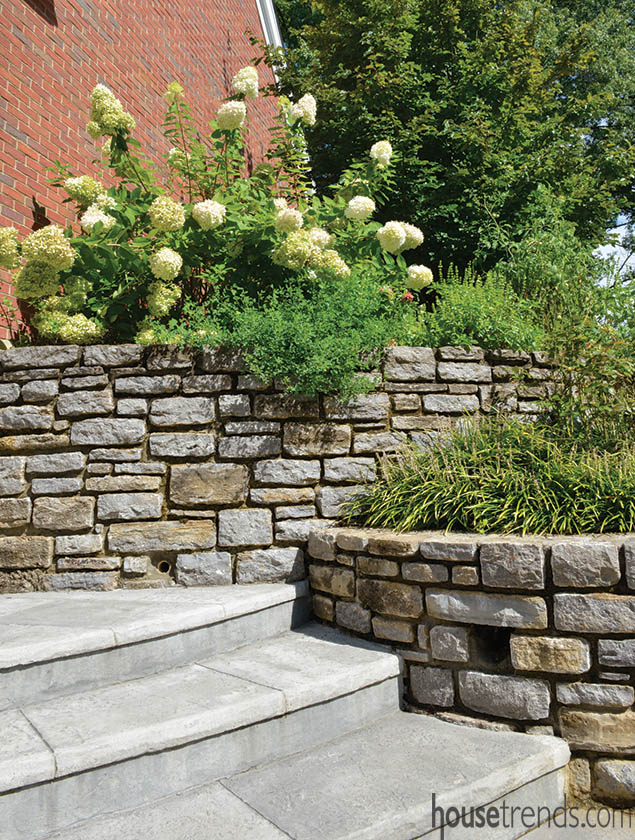 Fryman, in turn, describes the couple as having an incredible eye for detail. In fact, a few areas had to be reworked at their request.
"They are the ones who will be looking out their kitchen window at these stone walls and patio steps for years to come," Fryman says. "I always encourage clients not to settle below their standards because of a timeline. My job is to keep the project moving and ensure all contractors understand and live up to the client's expectations."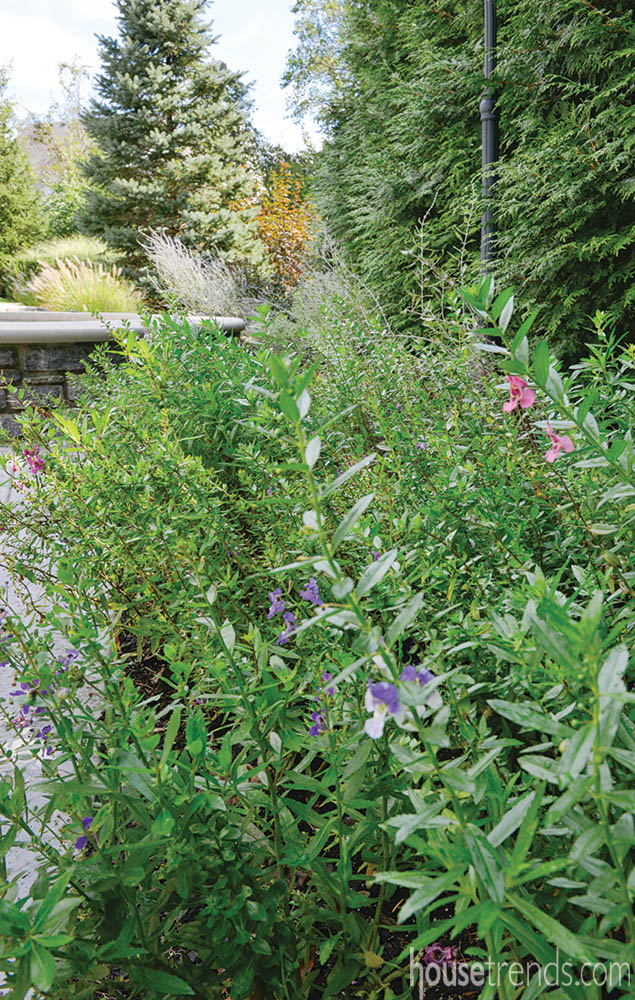 Despite the fact that they were working on a sloping yard in a rather confined area, the saltwater pool installation by Mid-American Gunite Pools went smoothly.
Amazingly enough, no soil needed to be hauled away during the dig. Instead, it was distributed to the neighbors who were happy to have it.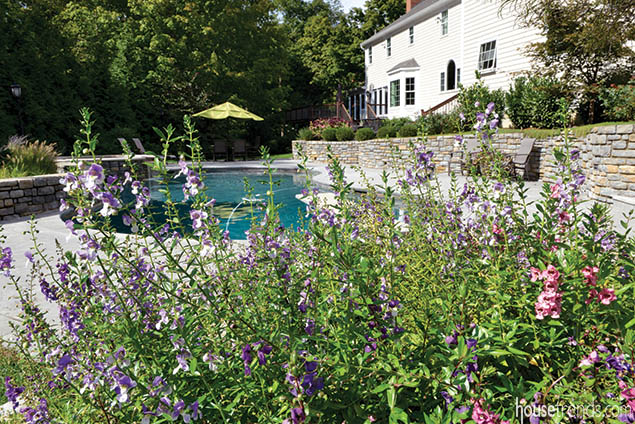 Plenty of pool time
During warmer months, the couple enjoys the pool, and the patio space provides sun and shade options most days after 2 p.m. When asked how much longer they plan on living here, they say, "Until retirement—at least another 10 years. The back yard is now a place that draws us outside."
Aside from family gatherings and evening swims after work, their motivation comes from a charitable place. "One of our favorite things is being able to offer it to friends with young families who don't have access to a pool, or to youth groups or other organizations that need a summer meeting or gathering spot," the homeowner says.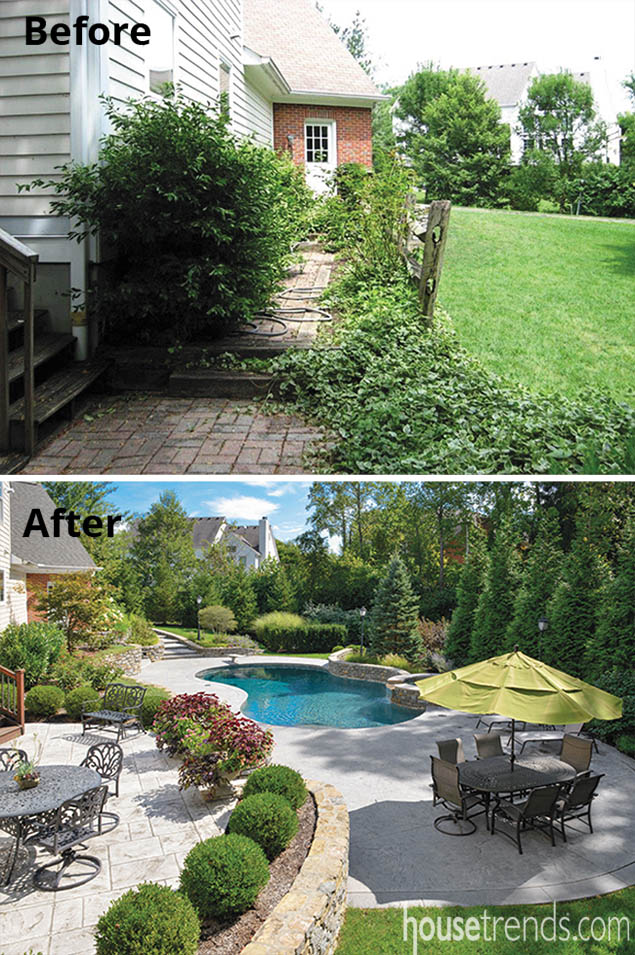 With the outdoor space they always envisioned right outside their kitchen window, they are in the next phase of family life. There is no better place to watch a large family grow up together than a green, open yard. But now, with their growing children moving through college and into adulthood, they have another reason to gather, stay connected and enjoy each other in a great outdoor living space built for them; as well as friends and other community families in need of a welcoming place to watch their own children play.
Resources: Landscape design, materials and installation: Tom Fryman, Natorp's, Pool: Mid-American Gunite Pools, Inc.; Concrete: Tri-State Bomanite; Lighting and irrigation: Vanderwist