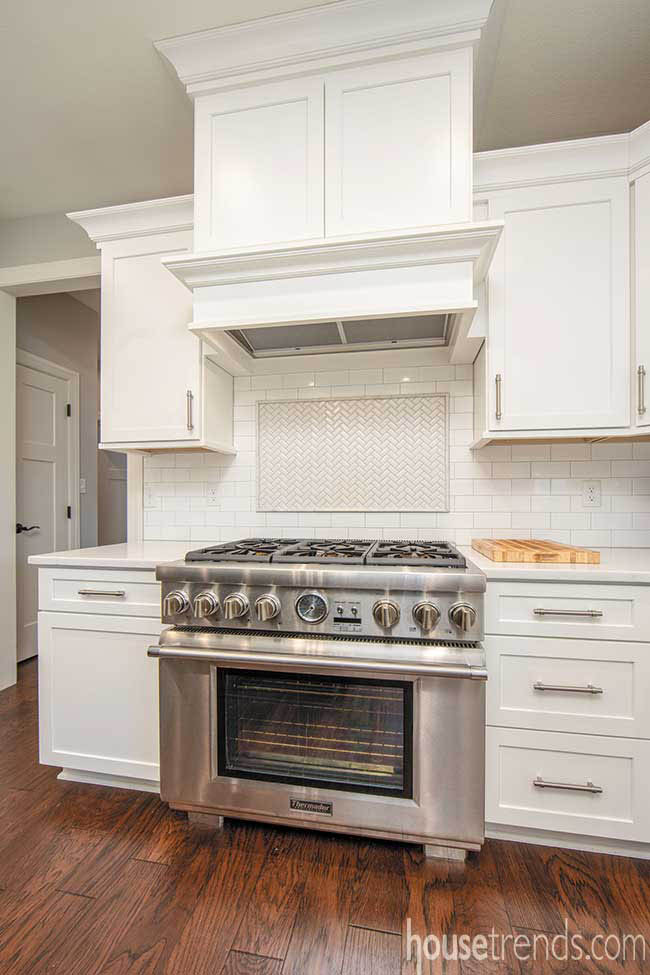 Log Cabin. The architectural phrase evokes feelings of coziness and warmth… lots of natural materials, lots of wood. While these traits may be nice on a winter vacation, one family was ready to step out of the darkness after living in their log home for 17 years. The Tilson family enlisted the help of Jeffrey Costa, operating manager of Costa Homebuilders to design and build a bright space for their multigenerational family.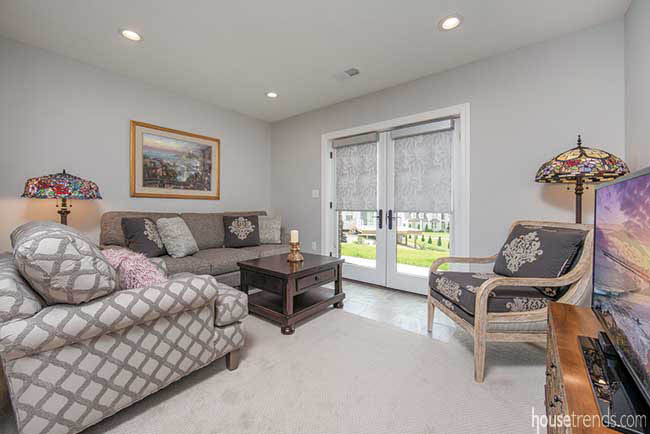 Three generations, three floors
"My mother, who's 85, fell and broke her hip two years ago," homeowner April Tilson explains. "She came to live with us, but was still very independent and wanted her own space and kitchen."
April and her husband, Todd, had discussed building a new, brighter home – down the road. "We never thought we'd build this soon, and it was hard to leave our log home because my husband and dad built that house," April says. "But it was a nice surprise to build this soon, because I love interior design and my husband loves the building process."
On the top of the Tilson's Must-Have List were separate spaces for their 14-year-old son, themselves and April's mother. A two-story home with a finished, walkout lower-level provided different living spaces for everyone. "My mom gave us free rein to plan her space," April explains of the lower-level in-law suite. "She wanted a full kitchen, bedroom, living area, bathroom and a big closet. She decorated her space herself."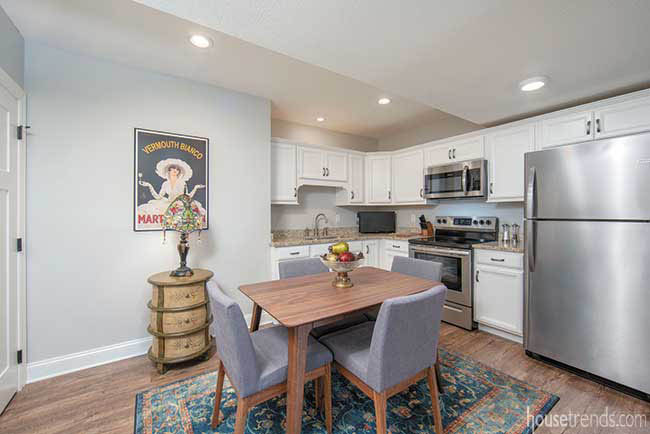 The family also needed to stay in their current school district for their son. It was difficult for the Tilsons to find land, so they built in an older development where they found a lot they liked.
"Our son is very close to my mother," April adds. "That's one reason she decided to come and live with us. He's been a great help to her and vice versa."
Costa says the finished lower level is a wonderful option for multigenerational families living under one roof. "It's not necessarily a new trend, but with the current building trend of fully finished lower levels, it works well if mom or dad wants to sell their house and move in with their children," he says.
"People don't want their mom or dad on the second floor. They like the idea of an apartment. Even if their family member isn't living there, it's great for guests. It gives guests some separation, like a hotel almost with a private entrance from a sidewalk off the driveway."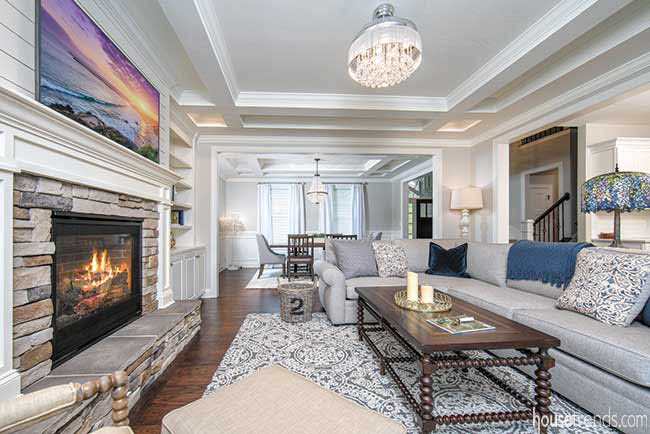 Costa collaboration
The Tilsons did a great deal of research before they began their construction project. "We went to several builders, and we selected Costa because of their reputation," April says. "Honestly, they made it very easy. With our first home there were a lot of ups and downs because we were doing it ourselves, but Costa made it very easy."
April and Todd had a vision board they'd created over the years, and originally they thought they wanted a Craftsman home. While the exterior still has touches of Craftsman architecture, the interior is clean and bright after all those years living in their log home.
"Because we'd had the log home, our tastes changed over the years," April explains. "I love art, and artwork looks so different on log walls. We just wanted light and bright and happy."
"They were very attentive to details," Costa remembers about working with the Tilsons. "They were very particular about having a 100 percent functional floor plan so they could use every square foot of the space.
"They had photos and magazines of what they liked, mostly Craftsman or cottage styles," Costa adds. "We took the couple's ideas and created a budget and designed a look that they were going for."
Costa explains he does not feel creatively hindered by homeowners with particular visions and ideas. "If somebody is skilled in interior design or construction, it's just going to make their house even better. We have a selection process and a time frame," he adds. "Whenever the homeowner has a good idea, they just get a better outcome. We help put their ideas to paper and then build them their dream home."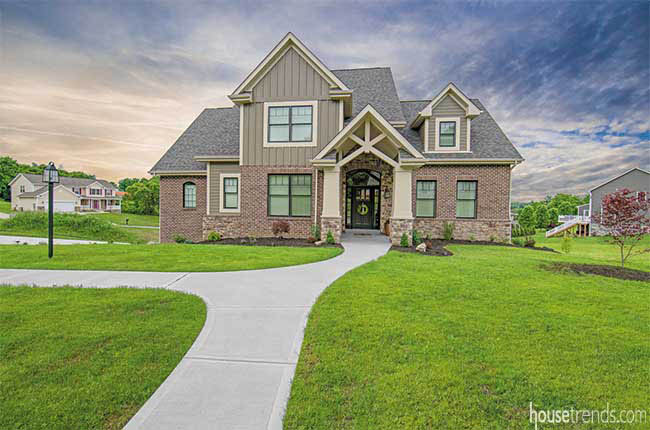 A brick house
"Years ago, a brick house would be nice," Costa remembers. "Then brick and stone would be nice. Now there are multiple surfaces utilized in the exteriors of homes."
The exterior of this home includes stone, board and brick. April says Costa was always accommodating any time they wanted to make a change. "In the very beginning we had our exterior materials picked out," she remembers. "My husband and I drove by another home with the same brick, and at the last minute we decided we wanted to change it. … They made it very easy."
"We're in the service business," Costa says. "We just went back and got it done for them so they were satisfied."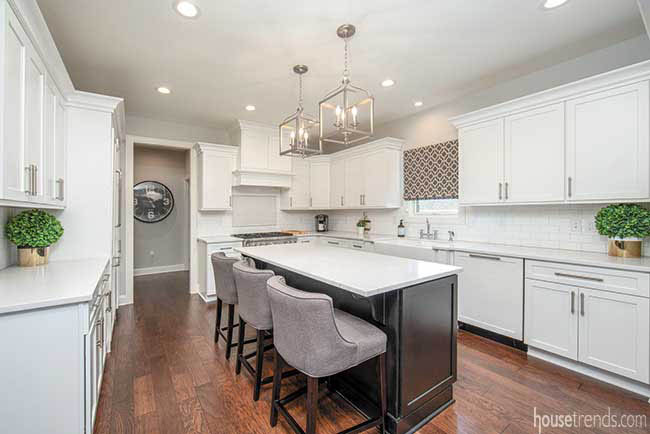 Working with white
April says the kitchen is her favorite place in the house. "I'm Italian and love to cook, so I'm the designated chef of the family," she says. "My family had an Italian restaurant for over 50 years and they were amazing cooks. That's where I learned to make my specialty – homemade gnocchi."
Cooking big Italian dinners for her family can get a bit messy, which April admits can be challenging with her white Quartz countertops and white tile backsplash. "I'm a little O.C.D. about cleaning, so that's been a change for me … but it's not as bad as I thought it might be."
At the last minute, April and Todd decided to upgrade to the Thermador paneled refrigerator and ordered panels for their dishwasher, too. "I love the look," she says.
April's hobby of interior design is on full display in the family's new home. So is her artwork. "I like eclectic pieces," she says. That includes a piece by artist Rebecca Puig from Sugarboo & Co. in the dining room. "It's nice and big," April adds. "The reason we bought it was because it brightened up our space in our log home, so I was glad it worked in our new home, too."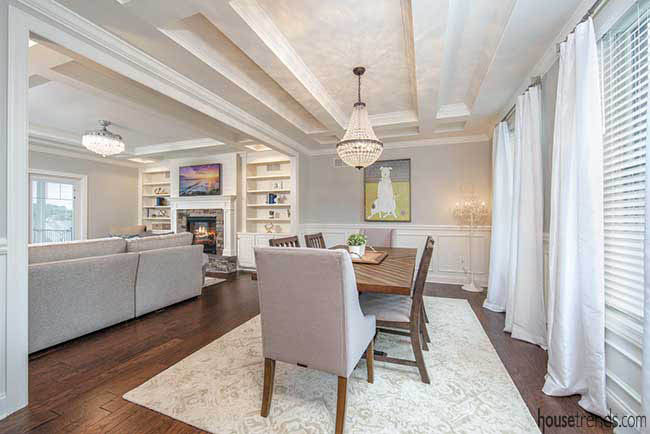 Bittersweet goodbye
April and her family love their new home, but she admits it was sad to leave their log home. Luckily, they sold the home to a couple that had always dreamed of living in a log home. "The log home sits prominent on a hill, on a road we drive every day. So we still get to see it."
Resources: Architect: Sweeney Shank Architects; Builder: Costa Homebuilders; Kitchen designer, kitchen cabinetry, bathroom designer and bathroom cabinetry: Canonsburg General Woodcrafting; Lighting: Pottery Barn and Kichler, Cardello Electric; Paint: Sherwin-Williams; Wall treatments and accessories: Restoration Hardware and Pottery Barn; Flooring: Rusmur Floors; Furniture: Pottery Barn and Magnolia; Window treatments: Pottery Barn; Windows and doors: Pella; Fireplace: Heat & Glo, The Fireplace and Patioplace; Kitchen and bathroom countertops: Aurea Stone Quartz, Primo Marble & Granite; Kitchen sink: Franke, Crescent Supply; Kitchen faucet: Whitehaus Vintage III, Crescent Supply; Oven, cooktop, refrigerator, dishwasher: Thermador; Bathroom faucet: Delta, Crescent Supply; Tub: Kohler, Crescent Supply