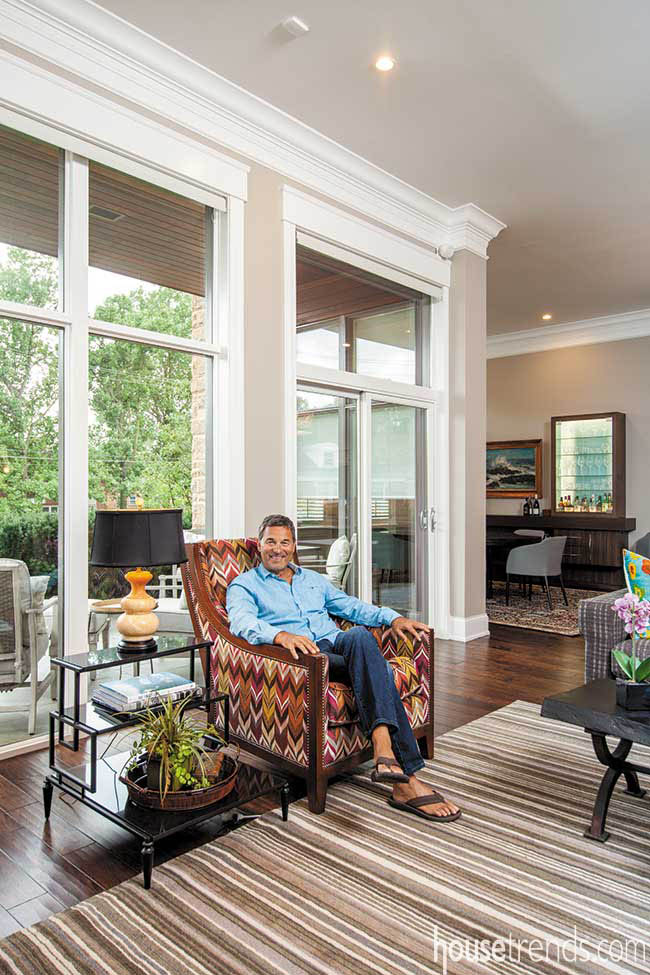 John Morelock loves living in Hyde Park. "It is the perfect location," he says of his contemporary condo nestled in the historic neighborhood at the heart of Cincinnati. "I'm a block off the square,
I can walk to Rookwood, or I can be in OTR in ten minutes."
The location was so perfect, in fact, that John bought his new home pre-construction. "They showed me a floor plan and I was sold," he recalls. So he made plans to pack up his life in Mt. Adams and move.
But as construction was underway in Hyde Park, John realized his former Mt. Adams furnishings wouldn't transition aesthetically to his new home. He also realized he didn't have a clear vision for the interior design of the space.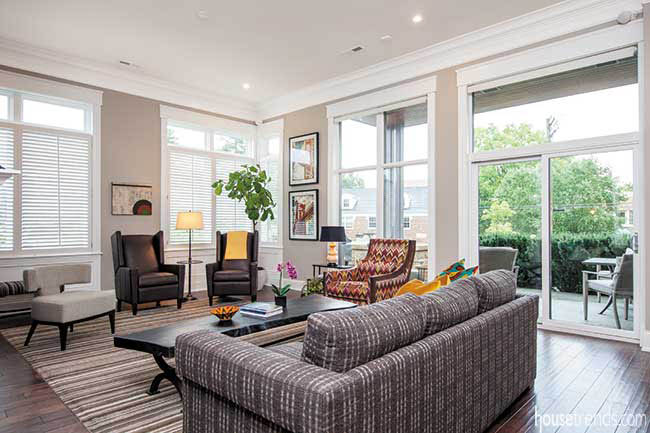 A nice couch
"I really didn't have a clue," John admits about making décor decisions. So he asked Julie Greiwe, with Greiwe Development, the firm that was developing the condominium complex 2770 Observatory. "She said she had just the guy for me."
Randy Basselman is a senior designer with Greiwe Interiors and specializes in creating comfortably chic spaces, which was of upmost importance to John.
"I told Randy I wanted a nice couch and a remote that works," John says with a laugh. "And he delivered. It's a great place to watch football."
The comfy, Bernhardt sofa is nestled in the open-concept living room, dining room and kitchen. The space appears larger than it actually is thanks to eleven-foot ceilings enjoyed by homeowners on the first floor.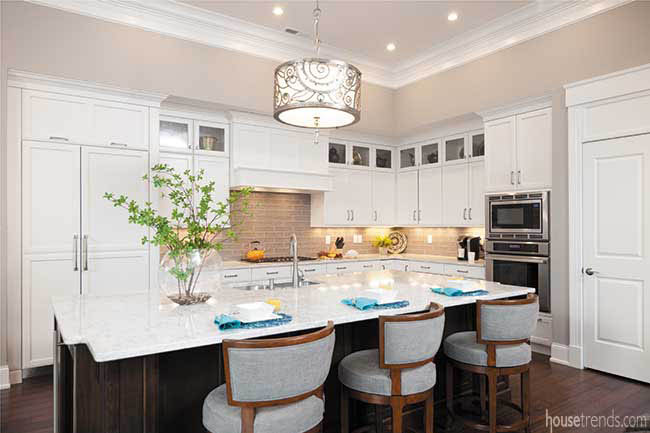 The gourmet kitchen has one of the largest islands in the building providing John with plenty of space for entertaining. While John does enjoy the room, he admits he eats out more than he cooks. The kitchen was designed to be simple and understated. "The Wood-Mode cabinetry was chosen to blend seamlessly with the trim work in the rest of the space," Basselman says.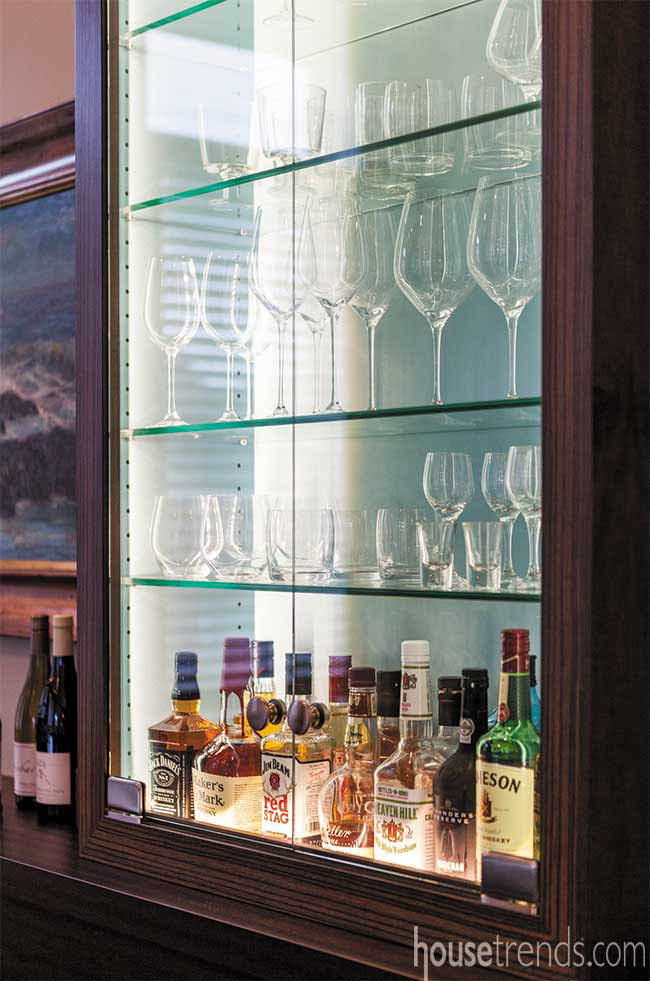 White, custom double crown molding and plantation shutters give the space a traditional nod to Hyde Park's history; while custom, mid-century-inspired built-ins play nicely with the building's modern architecture. Randy designed the bar in the dining room and the cabinets flanking the fireplace. The pieces were then fabricated and installed by Miller and Slay. "I wanted something that would be current, but not too modern," Randy describes.
John gave Randy carte blanche while selecting furnishings, fabrics, wall treatments and artwork. The latter became a focal point in John's home.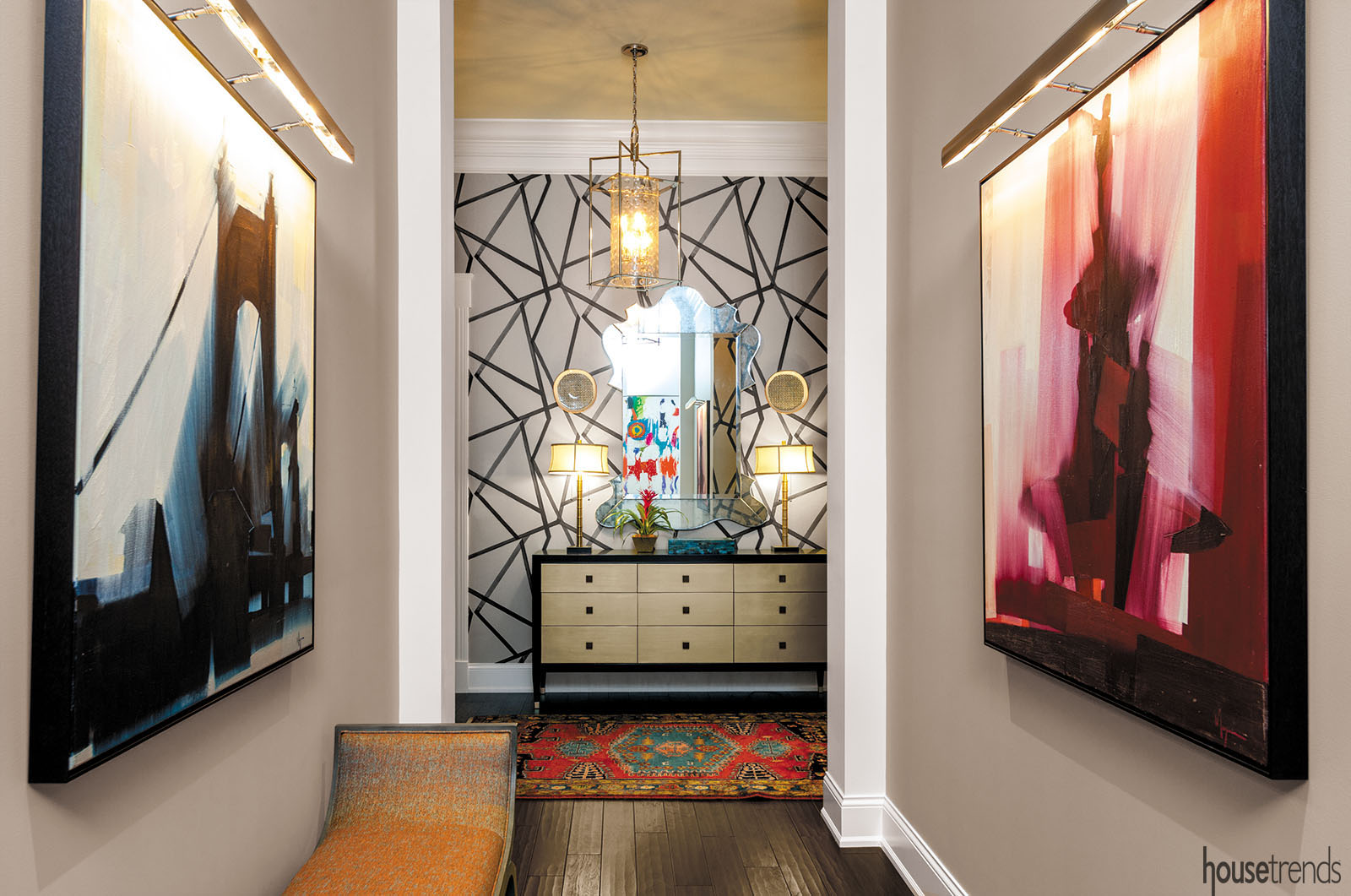 Art gallery entrance
The front door of John's home opens into a spacious foyer and then a hallway leads guests to the main living area on the right and bedrooms on the left. Randy wanted to focus on treating the foyer and entry hall as two separate spaces and focal points, as this would be visitors' first glimpse of the home.
The foyer features a bold wall treatment by Harlequin paired with a sleek chest of drawers. Decorative plates, featuring a pattern similar to that of the wall treatment, are displayed on either side of a more traditional mirror.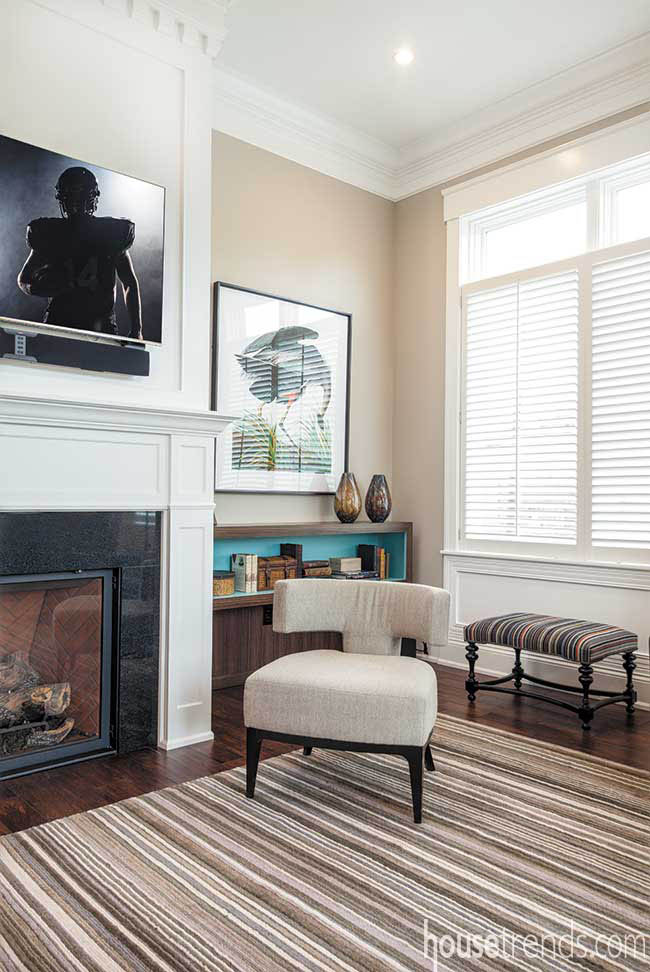 Because almost everything in the home was new to the space, it was important to Basselman that he mixed pieces to create the ambiance of a collection. The plates are an example of something that looks like it could have been in John's family for years. Basselman admits the plates are not originals or overly expensive. Instead, they are what he refers to as a designer find. Basselman loves working with clients to maintain their budget by mixing one-of-a-kind pieces with less expensive finds.
This can be seen in the entry hall. Basselman wanted to create a gallery feeling in the long, narrow space. "We needed some big pieces," he explains. "I tried to find pieces that looked like John's had them for twenty years."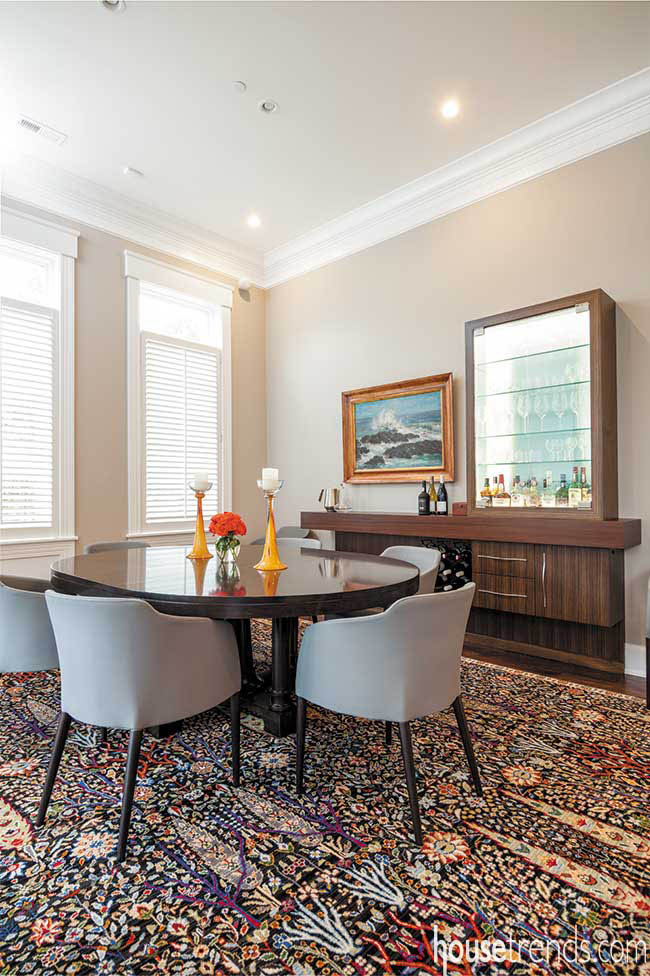 Two paintings of Cincinnati by local artist W. Michael Meyer pay homage to the city John has called home for thirty years; the city where he started his business and raised his four sons, who now all work in his company. A contemporary chaise rests under one of the paintings. Positioned at the end of the hall, and reflected in the entry mirror, a large, bold contemporary piece draws the eye into the home. This is another designer find that Basselman had to convince John needed to be in the space. "I'm not usually drawn to contemporary art," John explains. "But it's my favorite piece; so I'm glad Randy was persistent that it needed to be here."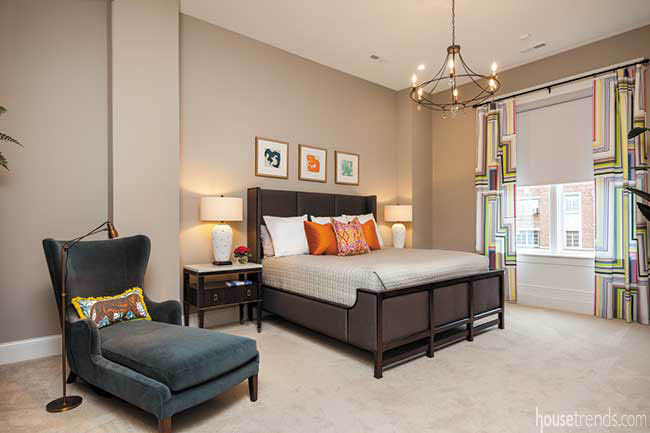 Focal fabric
Basselman advises homeowners on where to invest their design budget. He recommends quality upholstery, seating and furniture. Then you can fill in with fabrics, throw pillows and accent pieces that can interchange with trends and tastes. This design trick is showcased in the master bedroom where neutral, staple furniture pieces are paired with bold drapery, throw pillows and art.
"I showed John two options for the drapery and he liked the bold pattern," Basselman explains of the Christian Lacroix window treatments.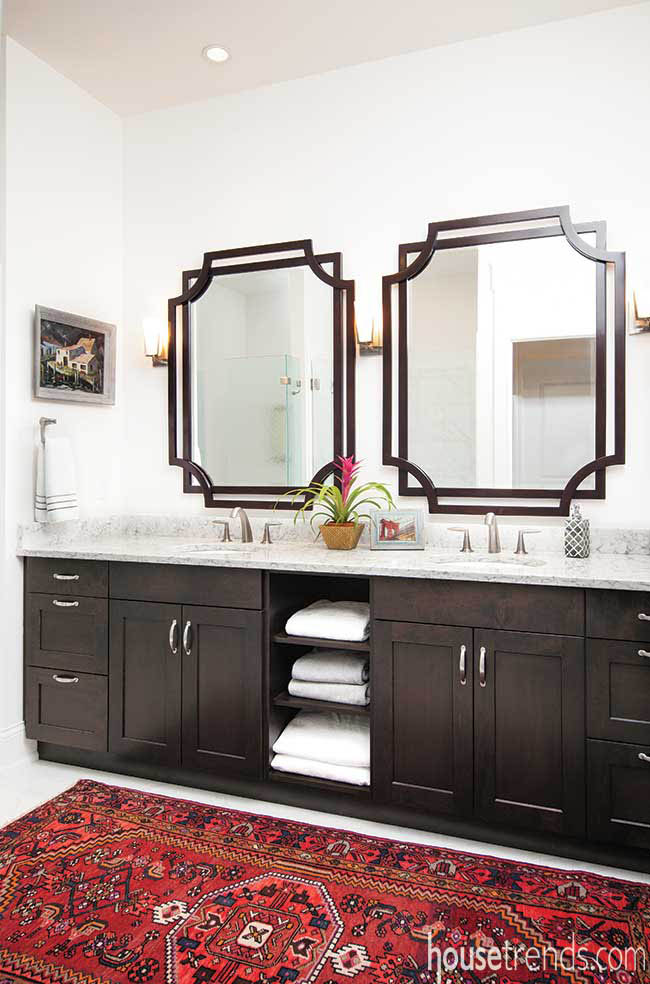 Respite retreat
John admits he's not home much. But when he is home he couldn't be more pleased with the way the design and construction of this space turned out; although he sometimes wishes he'd made his office a tad smaller and his family room a little larger since he enjoys relaxing on his comfortable couch and watching football with his remote that works…most of the time.
Resources: Developer: Greiwe Development; North American Properties and Sibcy Cline; Architect: GBBN Architects; Kitchen, bath and interior designer: Randy Basselman, Greiwe Interiors; MASTER BATH Lighting: Visual Comfort; FOYER Wall treatment: Harlequin; Furniture: Bernhardt; John-Richard; Lighting: Hudson Valley; Visual Comfort; LIVING AND DINING ROOM Furniture: Bernhardt; Century; Oggetti; Plantation shutters: Lafayette; Fireplace: Bromwell's; Mantel: G. Graham Wilson; Cabinetry: Custom by Miller and Slay; Hardwood and carpet flooring: Carpetland; Rugs: Custom, Greiwe Interiors; A/V and security: Sound Advice; KITCHEN Cabinetry: Wood-Mode, Auer Kitchens; Countertops: Quartz, Pure Granite and Stone; Backsplash: Adex Tile, Hamilton Parker; Sink and faucet: Ferguson; Lighting: Global Views; Furniture: Stanley; MASTER BEDROOM Window treatments: Christian Lacroix; Furniture: Hickory Chair; Bernhardt; Stanley; Lighting: Currey and Co.