Step into the kitchen of this handsome new home in the trendy Seans Woods neighborhood in Springfield and what grabs your attention first is the sheer beauty of the room. Banks of custom maple cabinets, elegant hickory flooring, leathered granite countertops—this space ticks all the kitchen design boxes.
But a closer look shows an ingenious design that allows the homeowners to have all the ingredients they wanted when Swafford Construction of Troy built this 11,000-square-foot house in 2014. Vicki Waker of Cabinet Creations Design Gallery in Kettering, who helped the homeowners remodel parts of their former home, was brought in to design this marvelous kitchen.
"I wanted a kitchen to cook in," says the mom of this family. "In our old home, I loved having people in the kitchen but they were always in my space."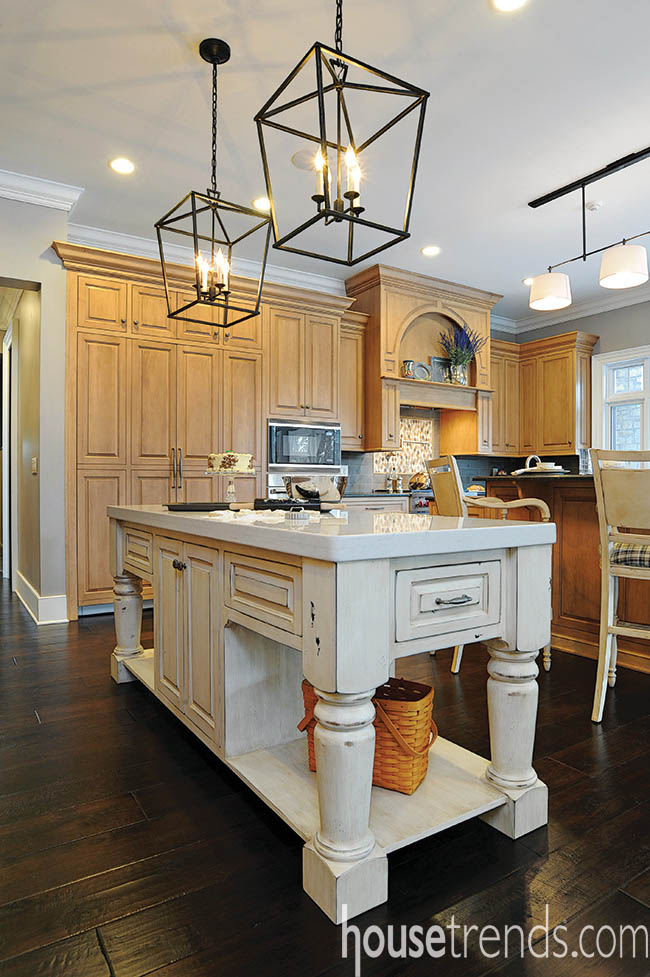 Now this cook has what she calls "the working corner" of her kitchen, close to major appliances, sinks and food storage. She can work to her heart's content and still enjoy the people who invariably gather here.
She also has a charming baking island, separate from the kitchen's larger two-tier island, custom built in an antique style. Its white finish offers another color to the kitchen and stands out against the natural look of the remaining wood cabinets. The baking island is also lower than traditional island heights, making it easier to roll out dough on the marble top that helps keep ingredients cooler. A mammoth mixer, concealed in cabinetry below, can be automatically lifted up when needed.
My daughter helps me bake here, and sometimes has friends over for baking," the mom says. "We really love this space, which I also use for setting out food for parties."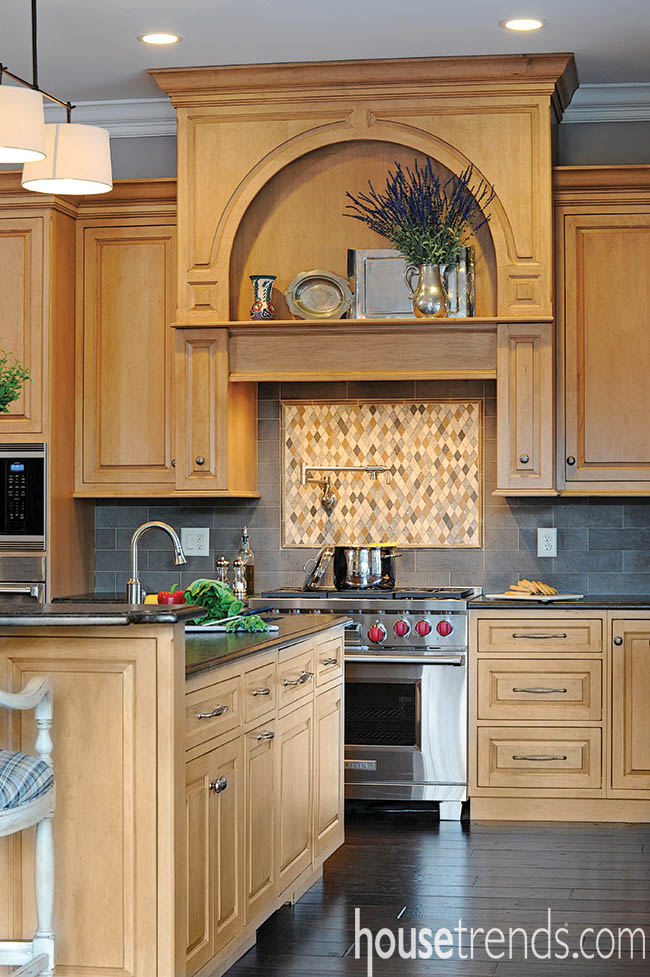 An abundance of other conveniences makes cooking easy for cozy and—and even considerable—gatherings. With a pot filler faucet in the backsplash behind the Wolf range, pots can be filled right at the stove. "I also love having two dishwashers, so I can always be cleaning my mess as I cook," she says.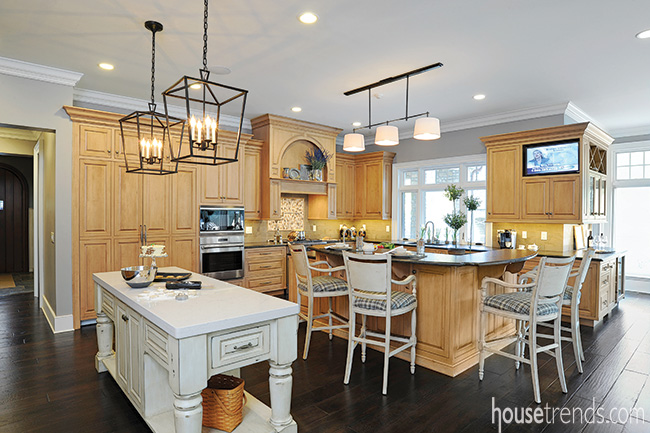 Many conveniences are artfully concealed behind lovely cabinetry, including a Sub-Zero 30-inch refrigerator and a separate 30-inch freezer.
"Also hidden away is a trashcan with Servo-Drive technology which can be opened with the bump of the knee, handy for when a cook has messy hands," says Waker, who also points out that beside the under-the-sink cabinet is one door revealing a pull-out towel bar and another cabinet storing a knife block and cutting board. A pair of spice racks is concealed in the range hood cabinetry.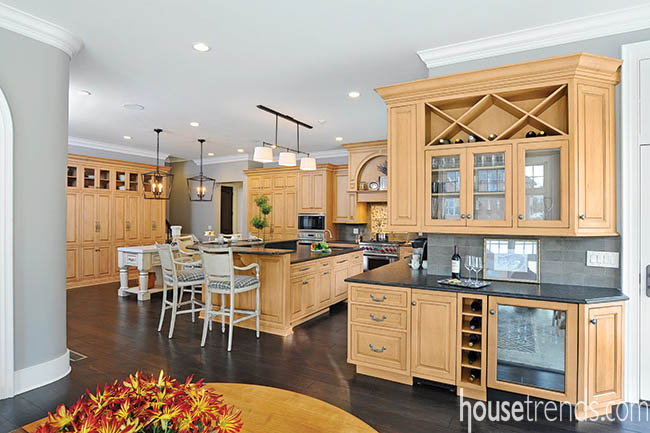 Moving around the corner from the core of the kitchen, a beverage station offers a smaller refrigerator just for storing cool drinks, an ice maker and lovely wine racks, all part of the cabinetry in this area which also holds glassware. This bar area is also part of the adjoining hearth room, with table, chairs and a fireplace.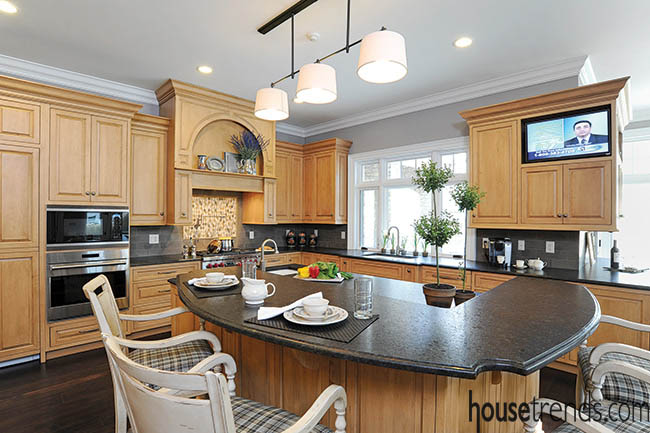 This is a cook's kitchen, a gathering place—yet it's the beauty of the kitchen that grabs you. "My husband was adamant that we not paint anything. He wanted wood surfaces to show and that's what we did," the homeowner says.
Waker worked with Randy Luken of Luken Interiors in Kettering who skillfully suggested paint colors, lighting, bar stools and other parts of this dream kitchen. "We all wanted the kitchen to blend with the other parts of the home," Luken points out.
"I like when a kitchen is timeless, when you know it can stay with a house forever, that it won't become dated," comments Waker. "This kitchen, which is in keeping with the old-world style exterior of the home, is one of those kitchens."
"We bought this lot when we were engaged, 20 years ago," the homeowner says. "For years, I have been accumulating a fat folder of ideas of what I wanted in a home. The right kitchen design was a huge priority."