"Can you build me a kitchen island that's curved, like a command module?" This was the challenge presented by homeowner Dr. John Fromkes to a few different builders when he and his wife Susan decided to remodel their kitchen. Cooking evolved into a passion for the homeowner since retiring in 2009, and he wanted a new space to captain for culinary journeys. He says, "We wanted something different. I like curves, I'm tired of rectangles and squares."  With an eye and perspective on how to artfully, and functionally, nestle a modern cooking area inside the home's beloved traditional aesthetic, the team at Nicholson Builders won the project.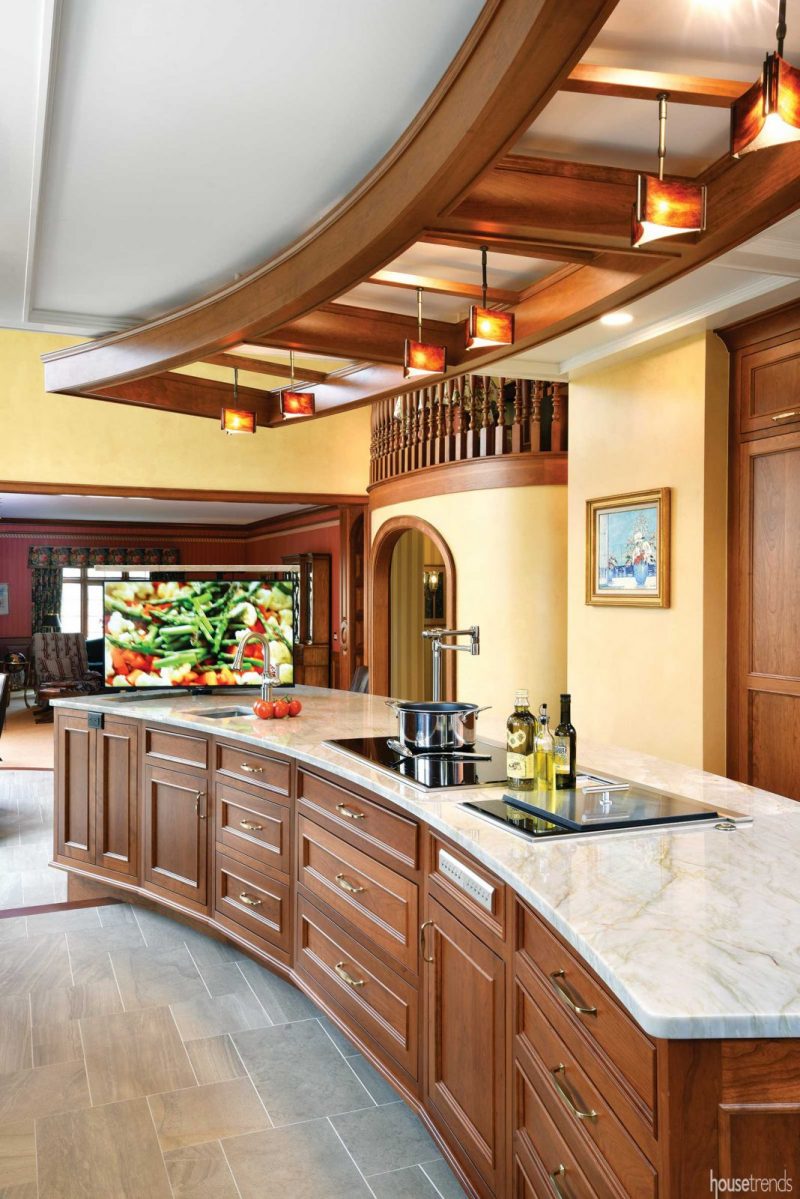 "There is a precedent for curved form in the house," says architect John Nicholson. "Dr. Fromkes wanted a command center, for the cooking area to surround him. So we studied the space and elements to be able to successfully nest a contemporary form into the stately, elegant home."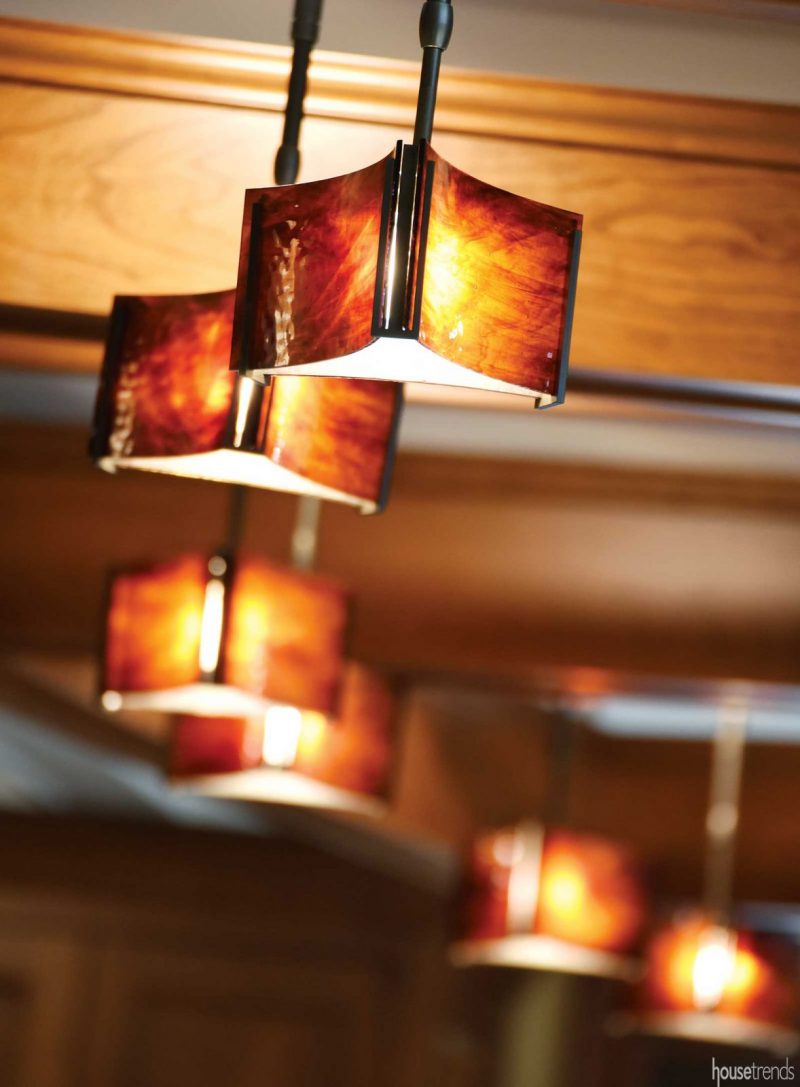 From the floor up
The manner in which Nicholson accomplished this task runs from floor to ceiling. It starts with the floor curve, that Nicholson calls "the magic line that connects the kitchen elements." The original space had two steps up from the eat-in area to the kitchen, which were outdated, inconvenient and caused more separation of the two areas. The new design lifted the entire eat-in area floor up a step with a flowing curve, setting up fluidity in the space nicely with the concave two-story bank of windows, and offering an easy one-step entry into the kitchen area.
Next, measuring approximately 16 feet, the island itself is a robust, modern cooking station. With its bowed shape and controls at the touch of a button, it gives John the command center he was looking for. An induction cooktop and deep fryer by Wolf nestled in Perla Nuovo quartzite countertops offer sophisticated function and appeal. A downdraft exhaust system is integrated in the countertop to be raised as needed. Designwise, it achieved the desired result, "It was challenging to integrate rectangular pieces, such as appliances and the ventilation system, into a curved form," Nicholson explains.
The ceiling design is another element embodying the curved shape. The piece tracks along the island, defining the ceiling in relation to the island below. Slightly dropped, ambient lighting adds a subtle touch of glow from the overhead framework.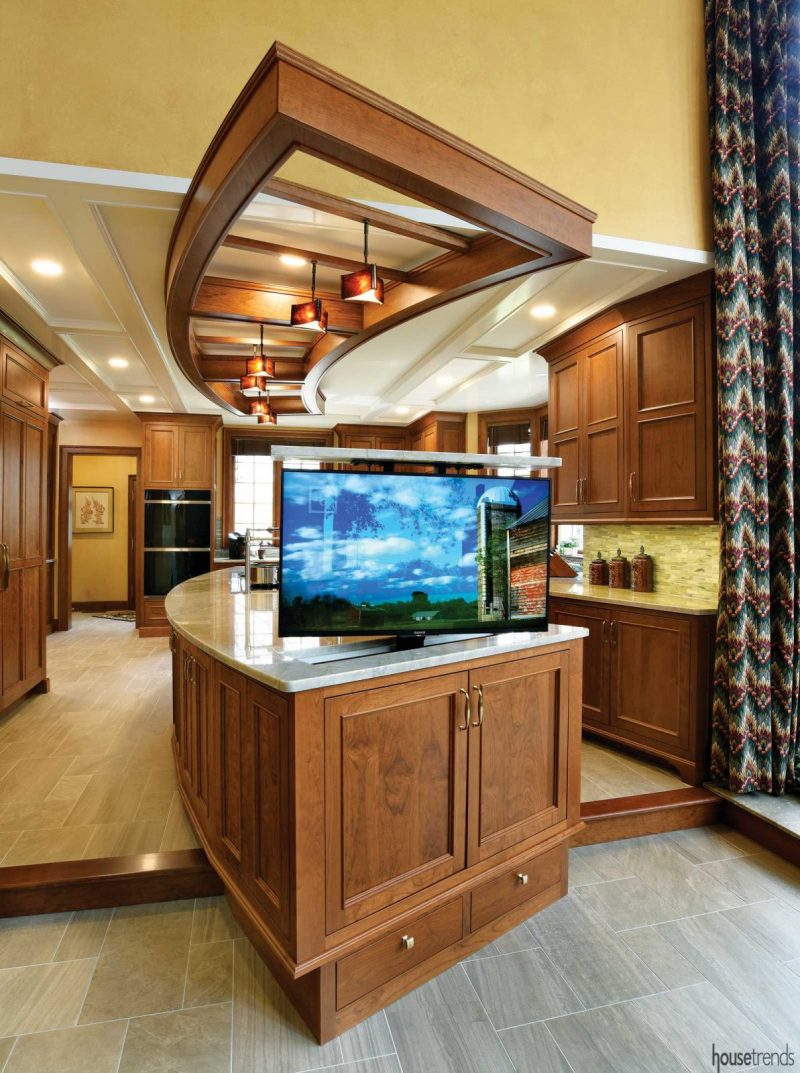 Anchoring the news
A television elegantly concealed in one end of the island can be raised when desired, and lowered out of sight when not. On a swivel, it offers viewing for John and Susan while cooking or eating at the table. "I love it when the TV comes up and we are cooking or just watching the news from the table," John says.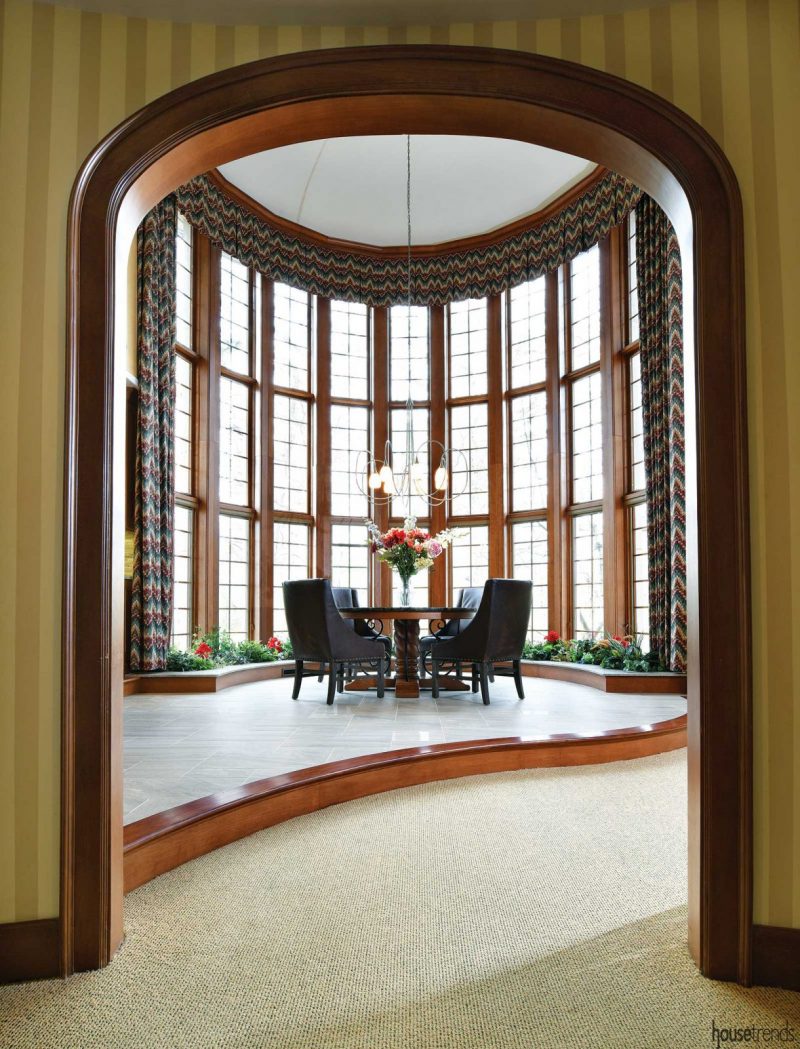 With an abundance of cabinetry and windows, the kitchen colors were chosen to integrate with the whole home. "There is a lot of cherry in the house, the cabinetry color was chosen to blend well with all of that," explains interior designer Amy Statler of Nicholson Builders. "The glass backsplash with soft neutral colors complements the cabinetry and doesn't distract from all the outdoor beauty."
After nine months of construction, the couple is enjoying their updated kitchen and a new cooking frontier. "Everything in that kitchen is so amazing," John says. "That kitchen gives me joy."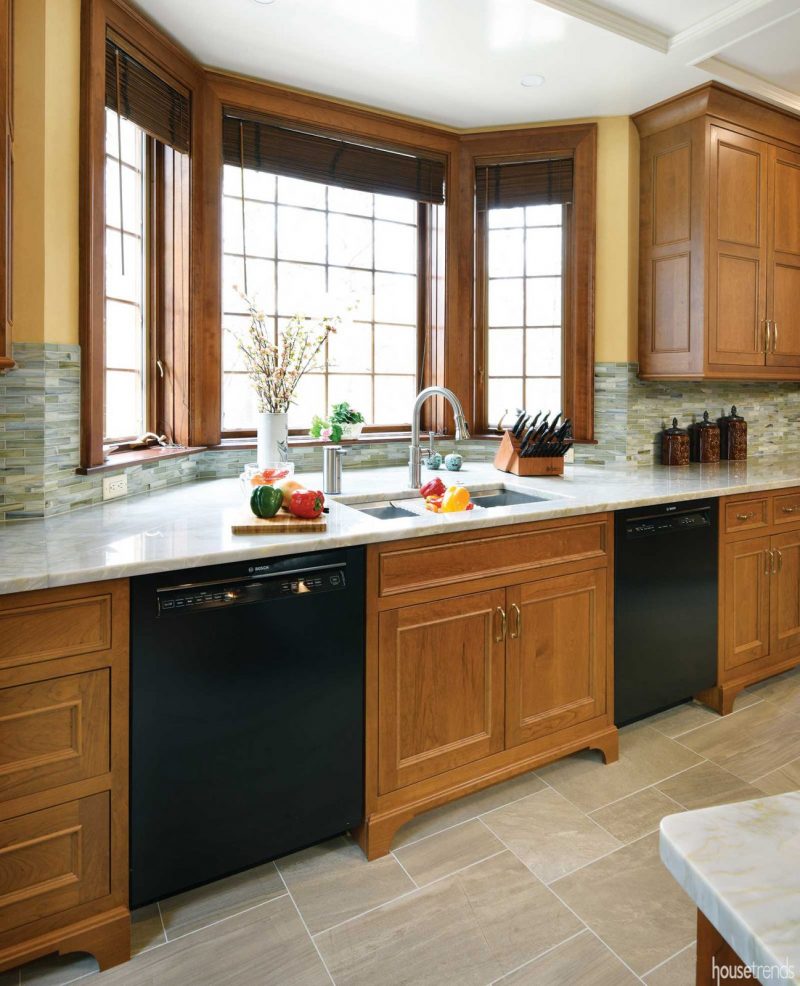 RESOURCES Design/build Nicholson Builders; Designers Amy Statler, John Nicholson; Cabinetry Custom by Yoder Custom Woodworking; Flooring Emil Stone Box tile, Hamilton Parker; Countertops Perla Nuovo quartzite, Blue Astrale on custom table; Countertop fabricator Modlich Stoneworks; Backsplash Lunada Bay Agate Vincenza, Hamilton Parker; Sinks Kohler; Faucets Brizo; Dishwasher Bosch; Cooktop Wolf; Refrigerator Sub-Zero 36" integrated with 24" integrated freezer; Oven Wolf 30" double convection; Lighting Island, chandelier and sconces, all from Hubbardton Forge; Painting Chad Hyatt
Article by Susan Zingraf/Photos by Daniel Feldkamp
Article appeared in Housetrends Columbus – May/June 2019