A desire for high-rise living with sweeping views of downtown Columbus—without being right downtown—led Bruce and Michael to Summit Chase in Grandview Heights, where they put a personal stamp on their newly renovated condominium on the 21st floor.  The panoramic views afforded by two 150 square foot balconies—one facing south toward downtown Columbus, sighting across the Scioto River, and the other overlooking the green, rolling landscape of Grandview Heights and Upper Arlington—immediately sold the couple on the nearly 1,300-square-foot space.
"Michael has a great eye for architecture and design, and he readily envisioned how we could convert a 1960s cut-up floor plan into the open-concept, airy and spacious home we now enjoy," Bruce says. The new Grandview Heights homeowners turned to Reliance Design Build, a local, family-owned business that deftly executed the couple's vision.
Reliance completely gutted the space, removing two walls that had enclosed the kitchen area, as well as a closet, which became the recessed opening to accommodate the new refrigerator.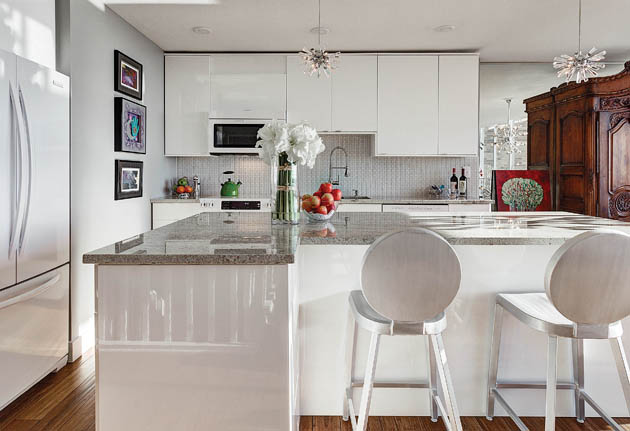 The homeowners kitchen space features white KitchenAid appliances and white, high-gloss, lacquer-like cabinets enhanced by River Granite countertops. With the vein of the pencil-edged granite running the length of the counter, the eye is directed into the living area, toward the beckoning view.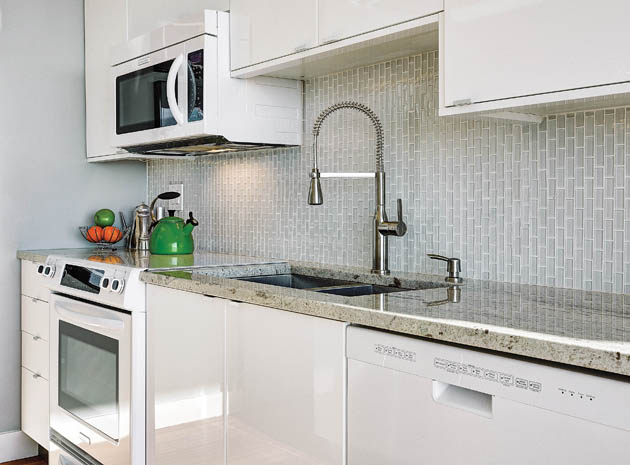 Vertically oriented, clear-glass backsplash tiles, visually elongate the work area, assisted by a tall, brushed-nickel faucet by AquaSource. Brushed aluminum seats at the counter complete the crisp, clean freshness of the kitchen, designed with entertaining in mind. "In 1965, when this building went up, no one wanted their guests to see the kitchen, but with this open concept—enhanced by the floor-to-ceiling windows overlooking the river and downtown skyline—the kitchen is an integral part of our entertaining area," Bruce notes.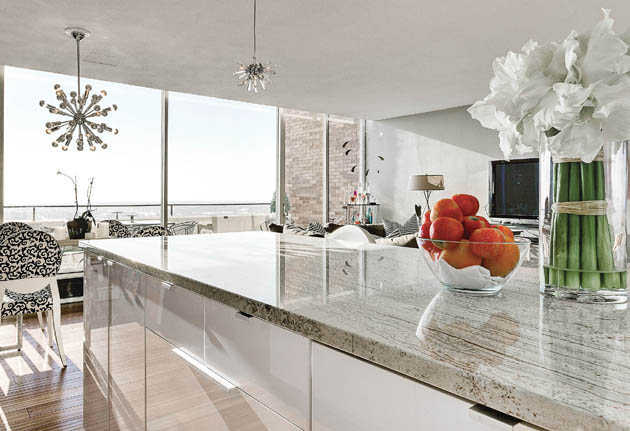 Windows dominate the wall space to take advantage of the magnificent views and also shine light on the sleek kitchen design, further emphasizing the clean lines and modern design of the room.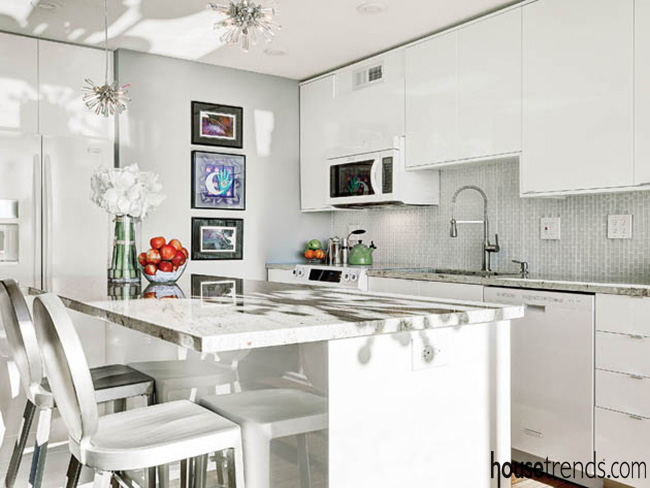 Scientists will say that white is not the absence of color; rather it results from the combination of all colors, which become individually visible when refracted through a prism. Bruce and Michael say that white—the main element of their décor—is restful on the eye, visually expands the space and provides a backdrop for the myriad of colorful animation cells they enjoy collecting.