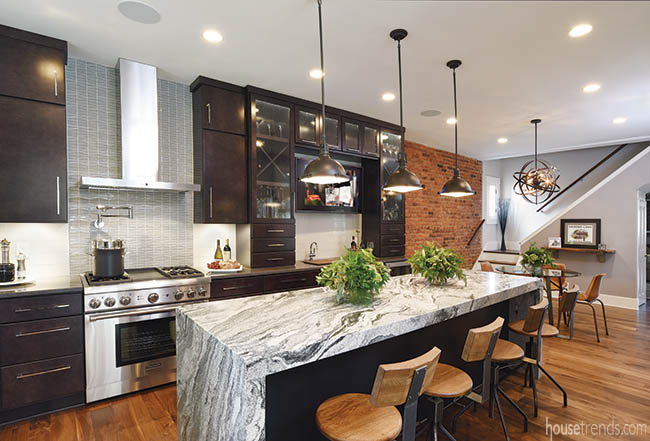 Written by Sarah J. Dills
It has been said that if you want to test your relationship, just renovate a house together. If you want to make it extra stressful, complete the renovation while you're living in the home. And if you're just a glutton for punishment, completely blow off the back end of your house… That is exactly what Ron and Aimee DeLuca tackled as their first, joint home renovation project…and they survived to tell about it.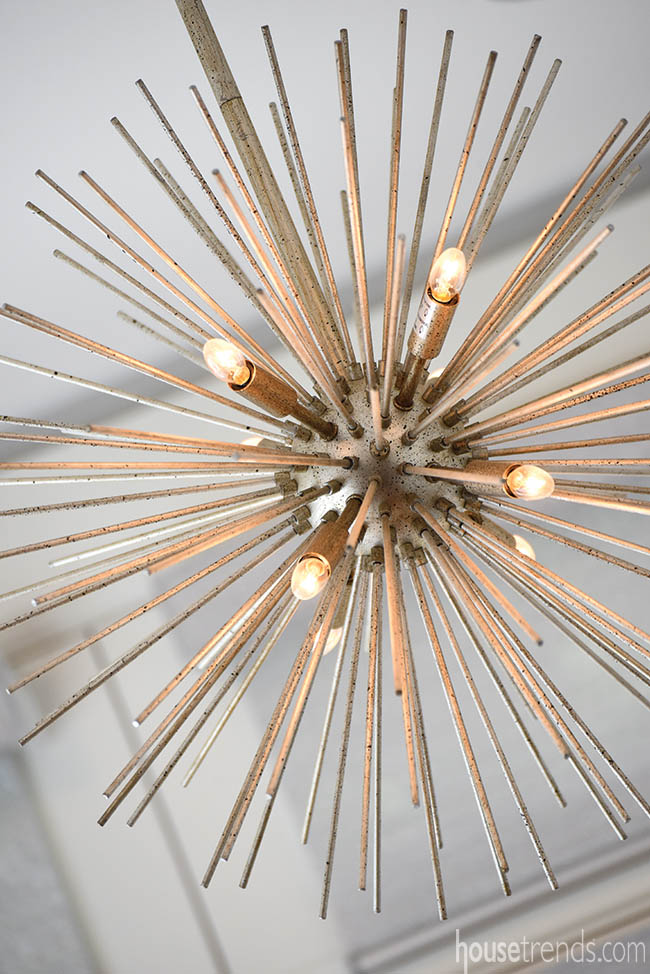 Location, location, location
Ron and Aimee have been married for five years, but their relationship began ten years ago in their beloved neighborhood, German Village.
"We love the charm and history of the area," Aimee explains. "And we are within walking distance of great restaurants. It's really convenient."
Aimee bought the home in 2004 when she was single.
"It had a lot of the elements I was looking for. It had the charm, exposed brick inside, a slate roof and was located on a brick street in a central location," she explains of the brick cottage built in 1895.
"Since it was just me when I bought the property, the lack of some of the modern amenities wasn't as much of a deal breaker," Aimee says of the shotgun style architecture and lacking master bathroom. "But it had a two-car detached garage, which is rare in German Village, so that was pretty lucky."
After Ron and Aimee married, they seriously considered a move, looking at several properties. But they kept coming back to the great location and charm of their own home. So after many years of planning, and countless hours searching the Internet for design ideas, Ron and Aimee decided to tackle the extensive renovation project.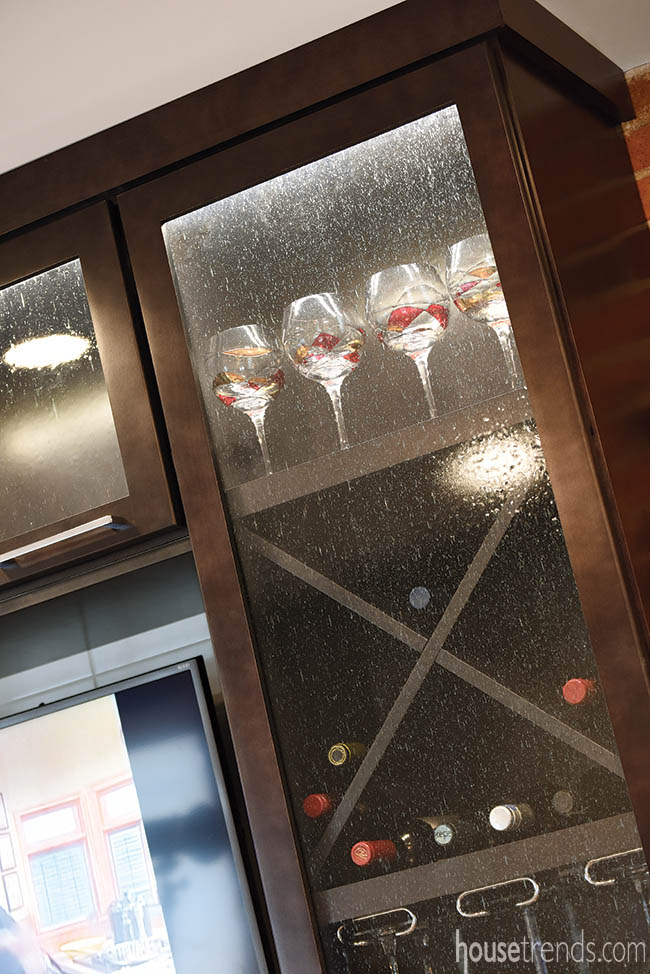 Must-haves
Aimee says she knew she wanted a master bedroom and bathroom overhaul that would include a walk-in closet. "We definitely needed a sizeable walk-in closet and master bathroom to feel like we had a real 'grown-up' house," Aimee says with a chuckle. "We wanted that mature sanctuary."
They found the perfect place to expand the second story of their home over the previous, first floor kitchen addition that had been added in the 1950s.
"The kitchen was a very old, one-story add-on from the 1950s," Aimee explains. "It didn't go with the house, had no flow, and was very outdated."
At the suggestion of a friend, Ron and Aimee met with Justin Collamore, president of Collamore Built, a residential design and construction firm.
Collamore specializes in working on older homes, so he was not intimidated by the challenges associated with a home over 100 years old. "If you go into a house built in the 80s, you know what you're going to find. But with older homes, it's always a challenge. You have to find creative ways to solve the problems you uncover. I like the challenge," he says.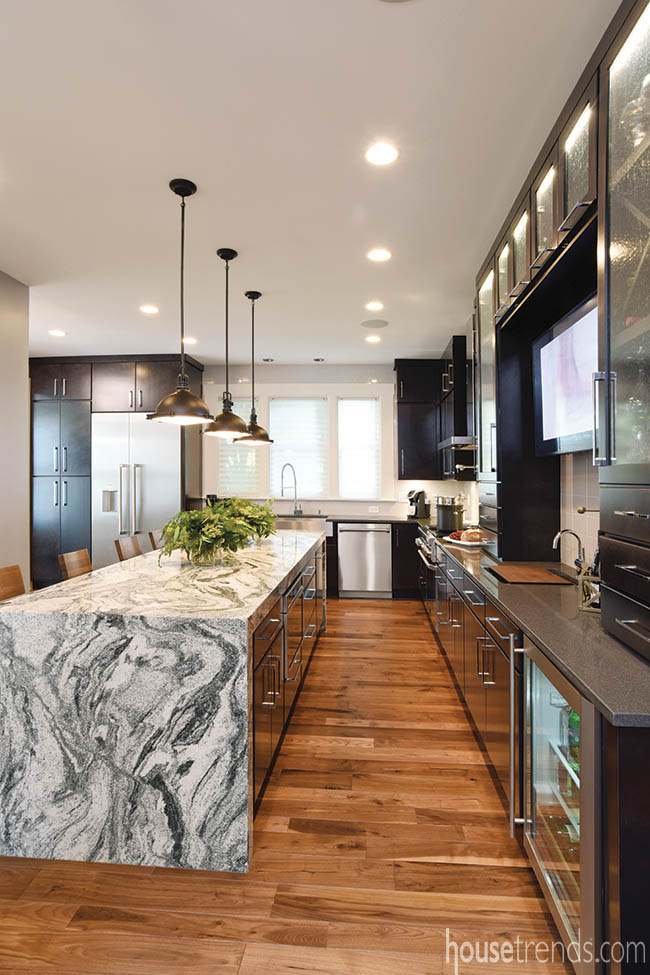 Let's go camping
Collamore has seen countless homeowners struggle to live through a complete renovation, and nothing is more challenging than being without a kitchen.
"Having your house remodeled while you live in it is like having a suit tailored while you're wearing it—painful, awkward and difficult," Collamore explains. "We try to make our homeowners as comfortable as possible, but we are very honest with them that it is going to feel like they are camping."
In Ron and Aimee's home, Collamore and his team had to remove the back, brick wall of the home. To keep the homeowners from totally camping, the crew built a temporary wall to separate the homeowners from the construction…and winter weather.
"The 'kitchen' was set up in the office," Aimee remembers. "We had four feet of space to leave our refrigerator and microwave, but luckily we live really close to great restaurants."
To expand the square footage in their kitchen, Ron and Aimee decided to eliminate the wall between the existing dining room and kitchen and add a sunroom. "We are not the type of couple to sit down to a formal dinner, so we didn't need a formal dining room," Aimee explains. "The kitchen was all about a space to entertain, and our old space was not conducive to that at all. It was at the back of the house and cut off."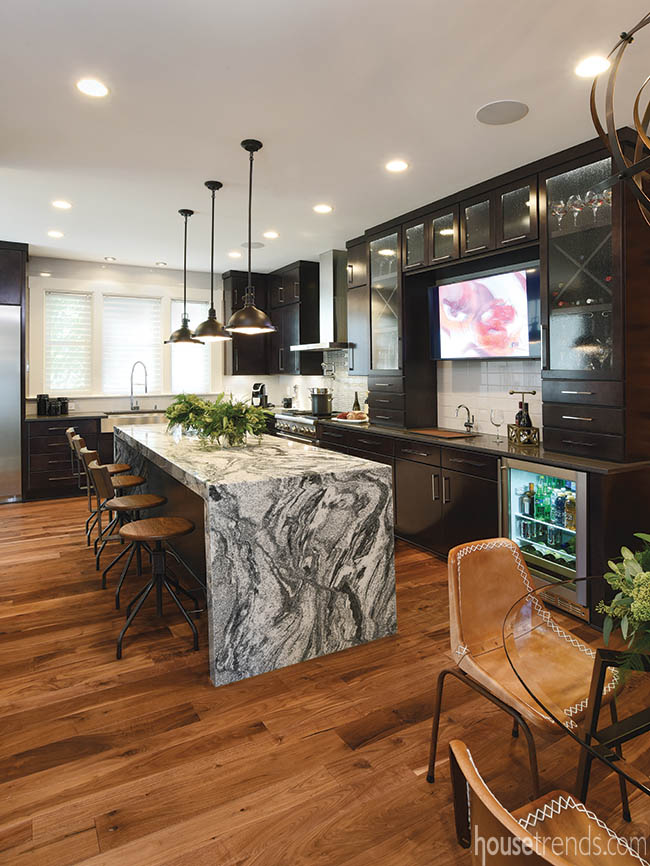 A space to entertain
Both Aimee and Collamore agree that the real showstopper of the renovated kitchen is the massive, waterfall island.
"That was my dream island," Aimee remembers. "I must have saved thousands of photographs, and the waterfall island in natural stone was something I kept seeing in the pictures I liked."
Due to the fragile nature of granite, Aimee says a lot of people tried to talk them into using quartz, but because it is a historic home, Aimee was adamant that the stone be natural.
"We did use quartz around the perimeter, which is more practical," Aimee explains. "But the island is a Viscount White granite."
Aimee and Collamore remember how challenging it was to find a company that could create the island to meet Aimee's needs and still meet electrical codes and building codes, especially after the first round of stone got ruined.
"We finally found Konkus," Aimee says. "They have the excellent craftsmen and state of the art machinery needed to get the double-thick, waterfall edges I was looking for. It was their skill and attention to detail that really made the difference. The island turned out perfectly."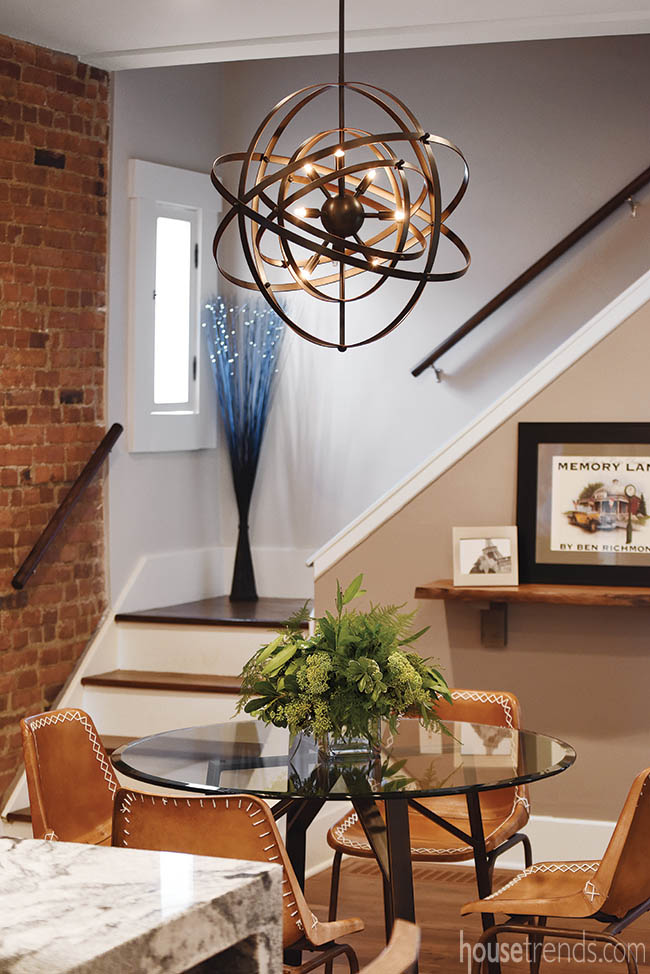 The detail is in the design
Because they removed the existing dining room to expand and open the kitchen, it was important to Collamore that they use design elements to define the dining area within the kitchen. He used an area of original brick wall to anchor the dining table.
"The brick had been covered with plaster, so we grinded the entire surface to smooth it out," Collamore explains. "It enhances the feeling of the space and links you in with the German Village charm.
"We also used various lighting to define the areas."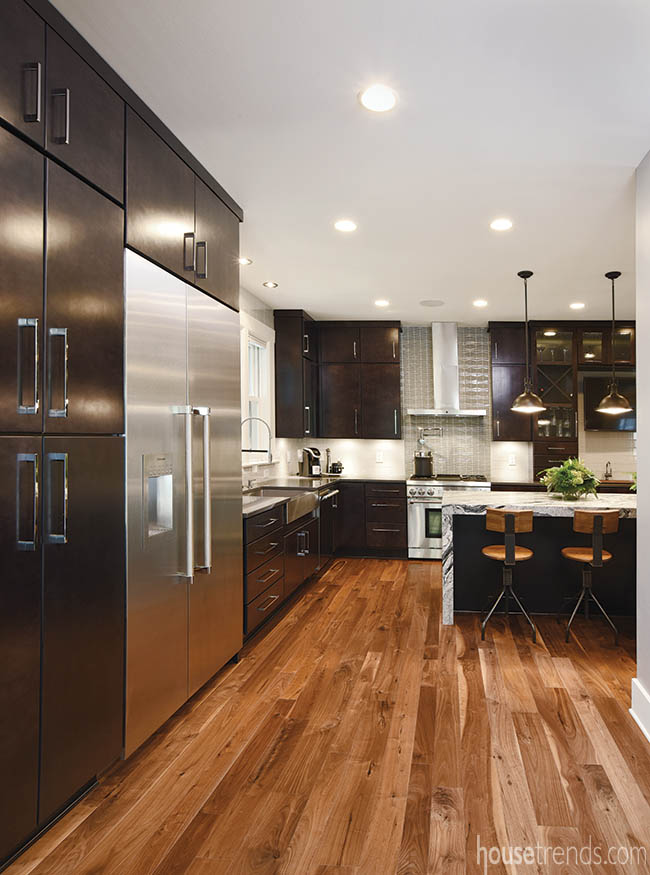 Aimee admits that Ron left most of the design decisions up to her, but he did want a comfortable space to cook. "He's Italian, so he likes to do pastas, and he likes to grill," Aimee says.
The grill is located in the deck and patio area off the new sunroom.
"Because Ron likes to cook, we wanted professional, industrial-looking appliances," Aimee says. "Thermador had a great esthetic and quality for the price."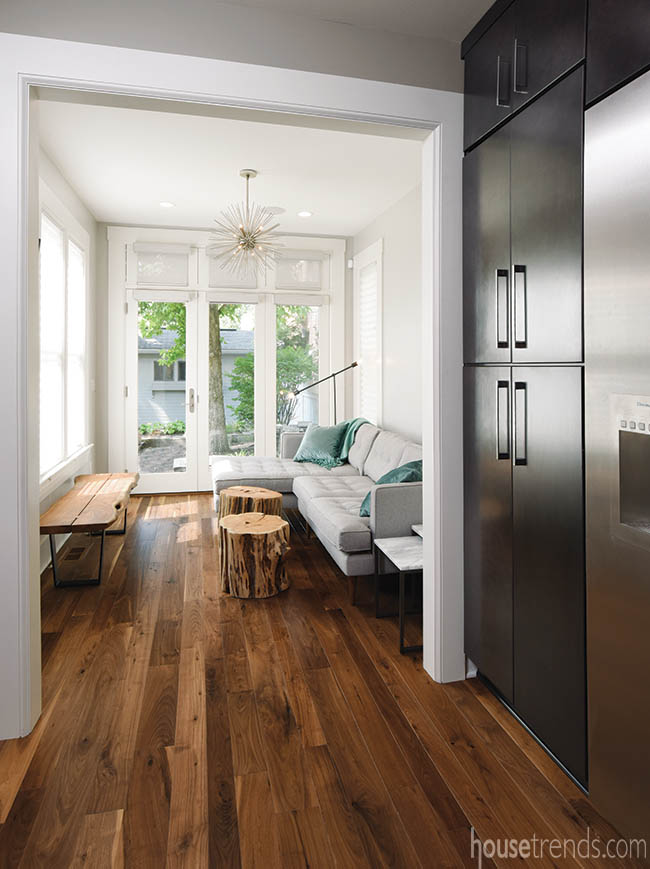 Party time
After the year-long renovation, Ron and Aimee are excited to be hosting parties in their new space. Aimee recently hosted a work function and admits that no one spent much time in the living room, opting instead to hang out in the kitchen and sunroom.
"We absolutely love it," she says. "We can have people over to watch a game, or I can sit at the island after a long day at work and enjoy a glass of wine while Ron cooks dinner. We're thrilled with how it worked out."
Resources: Contractor: Collamore Built; Architect: Behal Sampson Dietz; Interior design: Collamore Built; Cabinetry: Haas, Sims-Lohman; Flooring: 5″ walnut prefinished; Countertops: Perimeter in Zodiac Storm Grey, Island in Viscount White granite; Countertop fabricator: Konkus; Backsplash: Imperial Gris with Platinum Napier over range; Sink: Elkay Crosstown apron front, Worly Plumbing; Faucets: Axor Starck Semi-Pro, Worly Plumbing; Appliances: Thermador, hhgregg Fine Lines; Range hood: Faber; Lighting: Kichler Hatteras Bay over island, Maxim Sputnik over dining room table, Quorum Electra in sunroom