When Amber and Mark began searching for the perfect vacation home, they ended up finding it in their own back yard. They purchased the lot next door, extending their property to a little over two acres. The next step was to bring in professionals to incorporate unique landscaping ideas that would help them create their own piece of heaven. "Our English garden design was inspired by all of the places that we have visited," says Amber.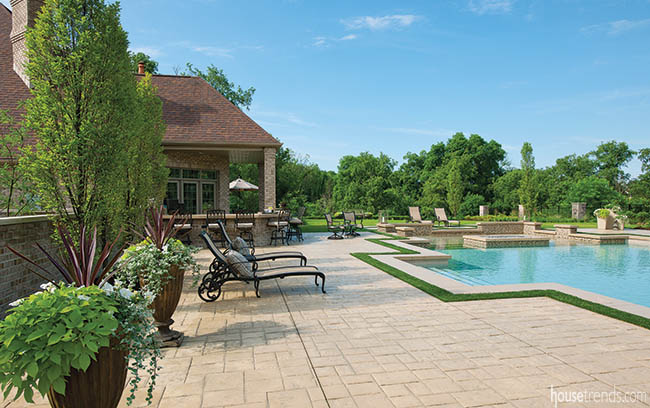 Rick Goga, owner of Artistic Pools, was brought on-board because of his great reputation for highly customized work. "The homeowners wanted a contemporary pool design with crisp lines and absolute symmetry," explains Goga. "When constructing a pool this large with so many right angles, every aspect of the building process has to be perfect."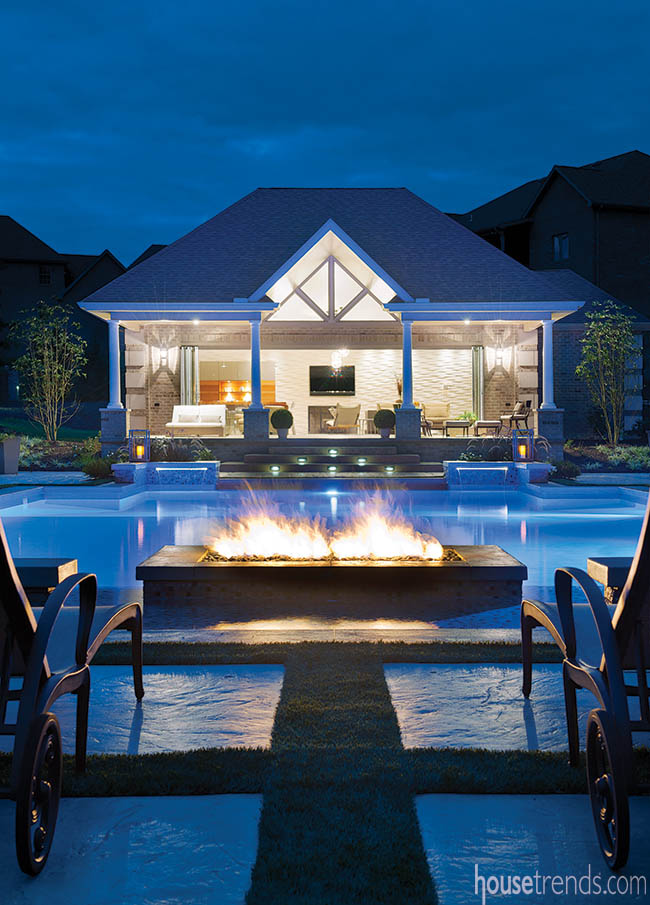 Unique to the pool is a beach entry, which keeps eight feet of the swimming area in only two feet of shallow water. "It's great for people with small children, and also for entertaining," says the owner. "We kept the fire pit in the shallow area so that our friends can mingle and sip cocktails around the fire, without leaving the pool." With its roaring fire pit, intricate light features, and two waterfalls, this day spa becomes an eye-popping stunner when the sun goes down.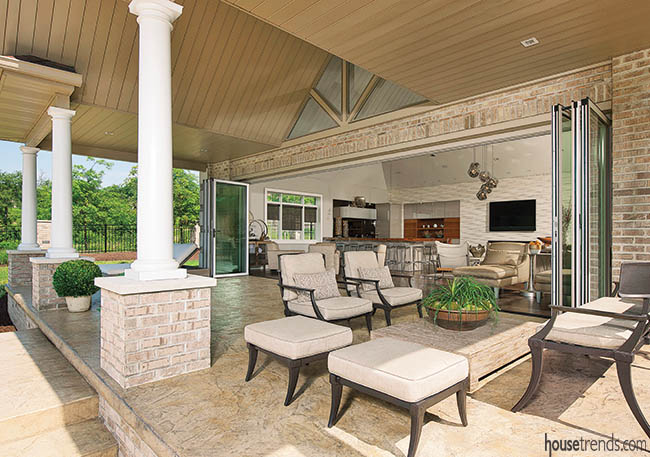 The pool house was designed with glass walls to give a wide-open view of the garden and pool. "We were able to achieve this with the use of sliding glass doors from NanaWall," says Goga. "These glass walls can be opened up to a 40 foot clear span, giving the pool house an amazing open look and natural feel." Radiant heat was installed in the floor of the pool house, enabling the family to keep the doors open during chillier months.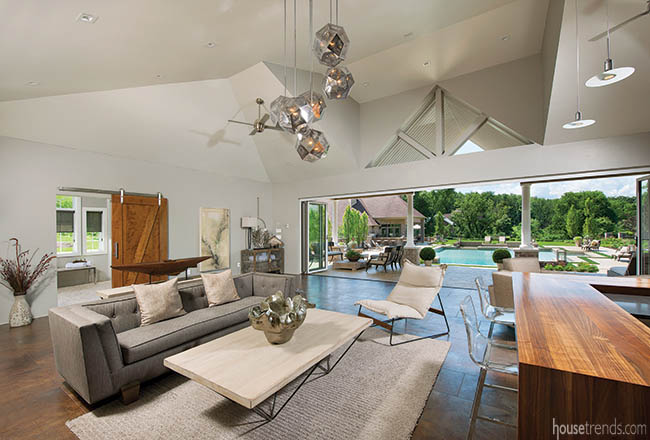 Right down to the white roses and lush greens, the couple wanted everything to fall within a monochromatic color palette. "We wanted it to be luxurious and subtle, yet look like one continuous project." Kimberly Smajda, owner of Haz Design, partnered with Amber on furnishings and accessories to create a fusion of their classic home with a modern pool house. "My clients went into this project with a trained and sophisticated, yet adventurous scope," points out Smajda. "I was instrumental in helping them mix fine materials but at the same time, edit the shine, luster, and pattern, so as not to be overdone."
An oversized wood-burning fireplace helps to keep the pool house in use year 'round. "We like to burn real wood, and the fireplace allows us to use the pool house in the winter."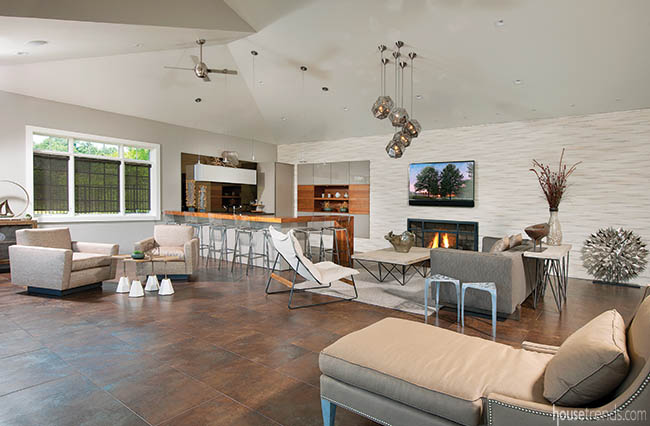 At a whopping 1,500 square feet, the pool house was designed to be one open living space. "I wanted a bar with the full functionality of a kitchen, and that's what Luxe did for us," says Amber. "We didn't want to see the traditional cabinets and appliances, so they hid everything and built it all in."
Brent Hugus, co-owner of Luxe Home and Design, was brought in to complete the trifecta of professionals on the project. "We listened to their ideas that they had for the space, then carefully chose appliances and finishes to fit," explains Hugus. "Both the owner and designer had a very clear vision on what they wanted, which made the project fun." Recessed cabinets were custom-made by German cabinet manufacturer Eggersmann. "Luckily, we were able to convince Amber to recess the back wall with the chimney depth, allowing us to then recess the cabinets which saved space."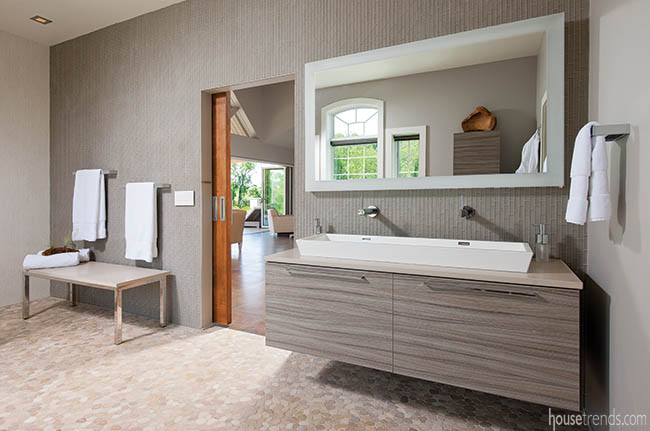 Keeping in beat with the rest of the vacation feel, they designed the spa-like bathroom with the same monochromatic palette. A large glass shower makes it easy for the kids to walk in and rinse off.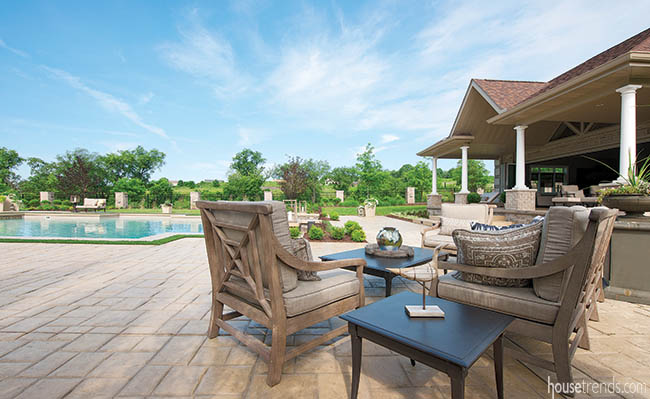 "Amber and Mark were very well-educated customers, and from the moment we met with them, they knew exactly what they wanted," says Goga.  "All of the landscaping ideas they had were well planned out which resulted in minimal changes to the project during construction." It seems that everyone involved in the collaboration of this flawless project worked together in perfect symmetry. The end result is a magical home away from home that happens to be in Amber and Mark's own back yard.
Resources: Residential designer, contractor, pool construction: Rick Goga, Artistic Pools; Interior designer: Kimberly Smajda, Haz Design; Kitchen designer: Tyler Folnsbee, LUXE Home & Design; Bathroom designer: Brent Hugus, LUXE Home & Design; Landscape designer: George Brown, Brown Design Group; Pool house doors: NanaWall; Lighting: Tom Dixon; Bruck; WAC; Flooring and bathroom tile: Porcelanosa; Window treatments: Hunter Douglas; Kitchen cabinetry: Eggersmann; Kitchen countertops: Silestone; Kitchen backsplash: Bronze mirror glass; Kitchen sink: Julien stainless steel; Appliances: Miele dishwasher and oven; Gaggenau refrigerator, Don's Appliances; Bathroom cabinetry: Furniture Guild; Bathroom countertops: Caesarstone; Bathroom sink: Wetstyle; Faucets: Dornbracht; Furnishings: Arteriors; Gabby Home; Patagonia; Global Views; Restoration Hardware; Custom tables: Iron Eden; S&J Decorative Finishes