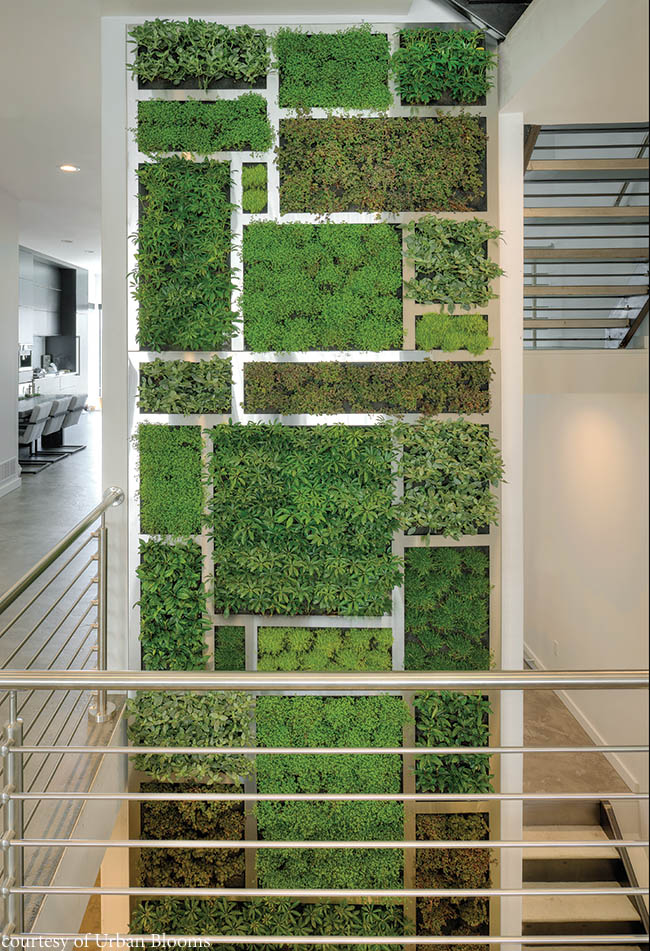 Written by: Ally Reuther
At one point in time, walls that were covered in greenery were considered unkempt. Plants were ugly scars on the otherwise beautiful façade of timeless brick homes. However, times have changed, and homeowners these days are branching out and turning toward fresh ideas like living walls.
Boasting captivating—and colorful—designs, living walls can be used indoors and outdoors. A hot trend, particularly in urban settings, the idea of living walls is growing on most homeowners and these colorful beauties are cropping up more and more often. "Living walls are unique and impactful art installations that can bring nature into any setting," says Tyler Wolf, Living Wall Specialist and Environmental Engineer for Urban Blooms, a Cincinnati-based living wall company. "While this is the most impactful in urban areas that lack nature, we have seen a lot of interest from homeowners, restaurants and office buildings in the suburbs."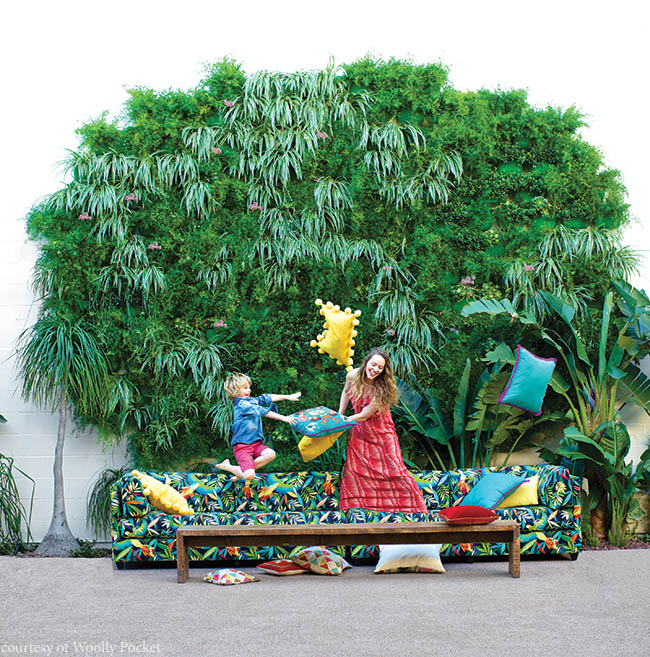 Growing pains
Native plants, herbs, tropical beauties…the options are endless when it comes to what plants to include in your vertical wall. The sky—err, wall space—is the limit, so to speak. Any space can be transformed into a living wall, although in general, the bigger the area, the better. "Traditionally, you want to use the same types of plants as they often have similar requirements that dictate the amount of light or water needed," says Wolf. "However, recently, with advancements in our zonal irrigation and lighting systems, we are experimenting with some hybrid installations where someone could have both tropical plants and edible herbs growing side-by-side."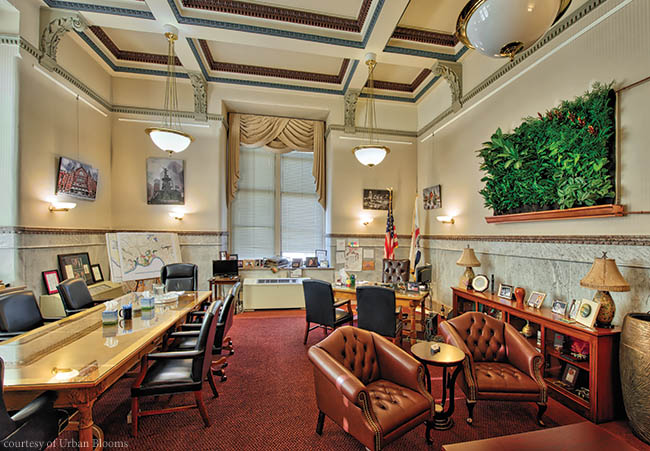 When it comes time to choosing the plants, Wolf says that there are some crowd favorites, and ones that they recommend people stay away from. "One of the most popular plants would be bromeliads, these are bright accents that become the focal point of any room they are in. Succulents are popular for beginners but we stay away from those plants as they often don't look great into the future." Another plant that his crew tends to avoid is ivy as it can so easily take over a space. Mint, on the other hand, is a species that thrives in almost any outdoor setting.
The homeowner can be as involved or distant from the project as they like. Some enjoy a hands-on position, meticulously selecting the plants that mimic the color scheme or aesthetic feel that they've dreamed up on their Pinterest board or in a scrapbook. On the other end of the spectrum, some clients simply give the professionals a rough outline of their whims and let them get to work, installing a structure that is capable of holding the weight of the plants desired.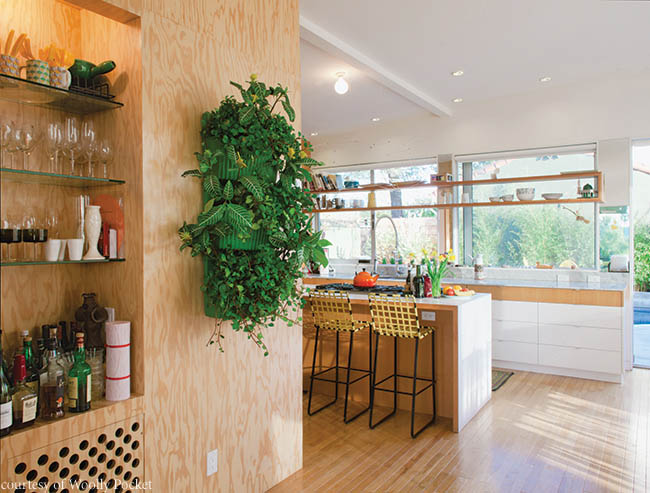 The cost of living
The structures differ from company to company, but the general gist is the same. Some become completely hidden behind the plants with time, while others remain visible, creating a cross between a living wall and a planter. One such example would be the Woolly Pocket, a product meant more for the owner who's looking to build a DIY living wall. "Our system is consumer friendly, which means that office workers and city residents inspired by commercial living walls can easily and affordably convert their inspiration to have fun with plants at home and in their offices," says Adlai Kunst, owner of Woolly Pocket. "Our customers are very happy with our product. They like the simplicity to install, plant and maintain."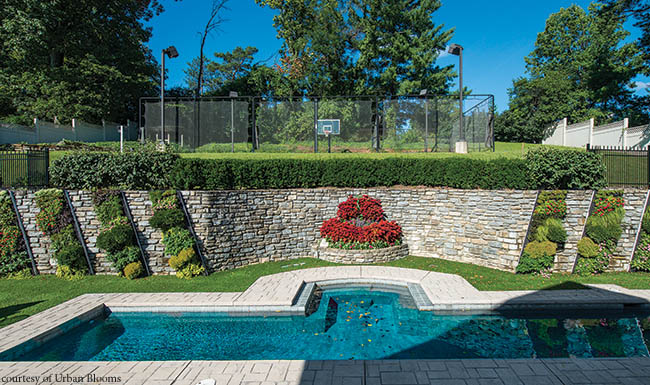 The majority of living walls come with some sort of irrigation system that keeps plants properly hydrated for a pre-determined amount of time. This price is generally included in the installation—or in the case of DIY, in the package purchased—and varies based on the company. "Typically, Urban Blooms' living walls are priced per installation, but a good average is from $90-$130 per square foot," says Wolf. This price includes design, installation, building materials, plant materials and the irrigation system.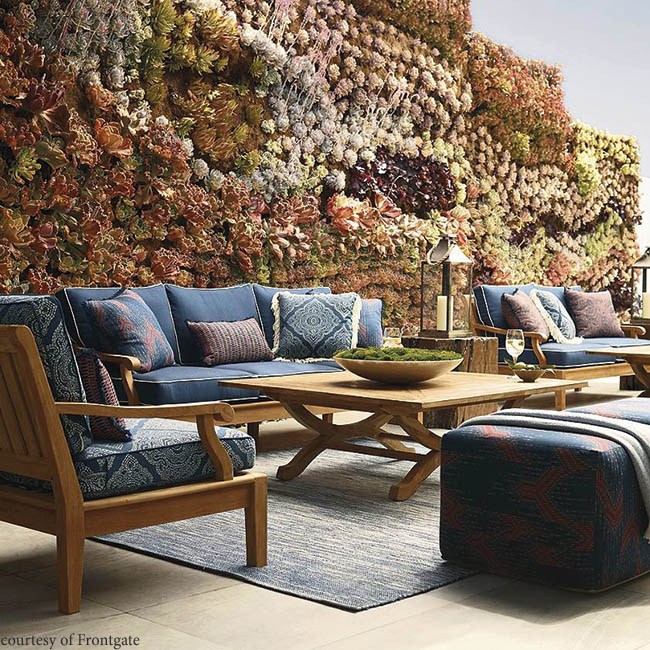 Breathe easy
It can take anywhere from one month to a year to construct a living wall, but the result can—theoretically—last forever. "Woolly Pockets are designed to last as long as you," says Kunst. "They are made from durable, 100 percent recycled milk jugs that can withstand the test of time." As plants are living, breathing things, their lifespan depends on the care and maintenance that they receive, but if the need arises, a plant can be replaced.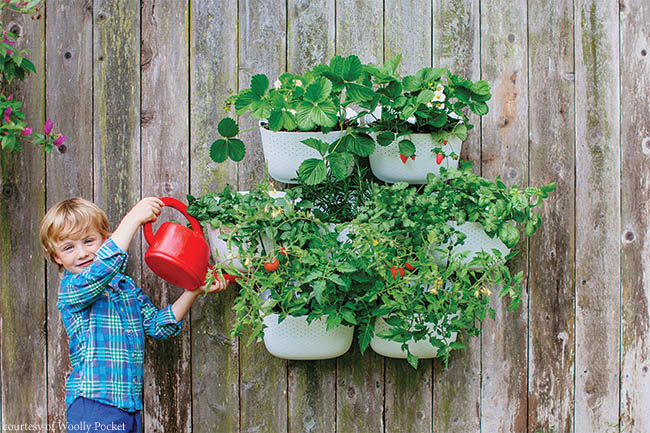 We've all felt it…stepping from the indoors to the outdoors, something shifts. It's a subtle thing, but it involves deeper breaths and clearer thoughts. That same reaction also stems from vertical gardens. Not just aesthetically pleasing, living walls also offer a vast array of health benefits, everything from removing cancer-causing VOCs to stress reduction and even increased immune function. "When homeowners, especially those with young children, hear about these benefits and see the beauty of our work, they are eager to explore the idea of a living wall in their home," says Wolf.