It is often said that our homes are extensions of our personalities. In the case of homeowners Amy and Paul Hamilton, there's no doubt that artistic temperament drives their home remodeling and design decisions—it shines from every angle and corner of the old house and nearby barn and she-shed (the female version of a man-cave) that they've worked to restore over the last 13 years.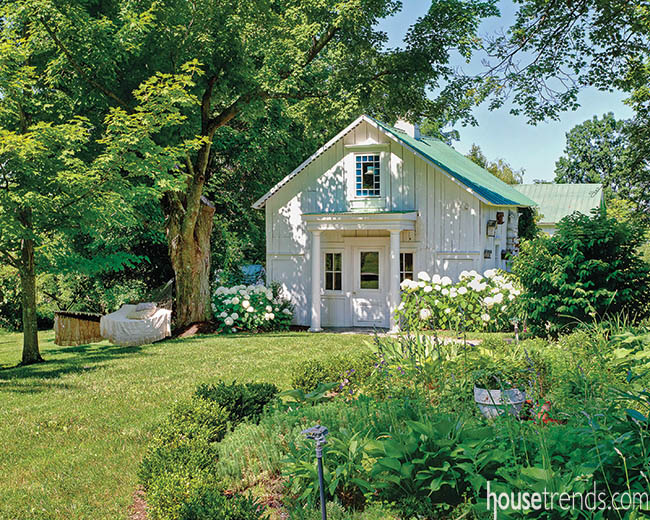 After tackling the necessary renovations at their main house and his own work studio, Paul moved on to this space. What was once a horse barn—something that the homeowners had no use for—was transformed into a charming she-shed that Amy uses as a work studio for her thriving hat-making business.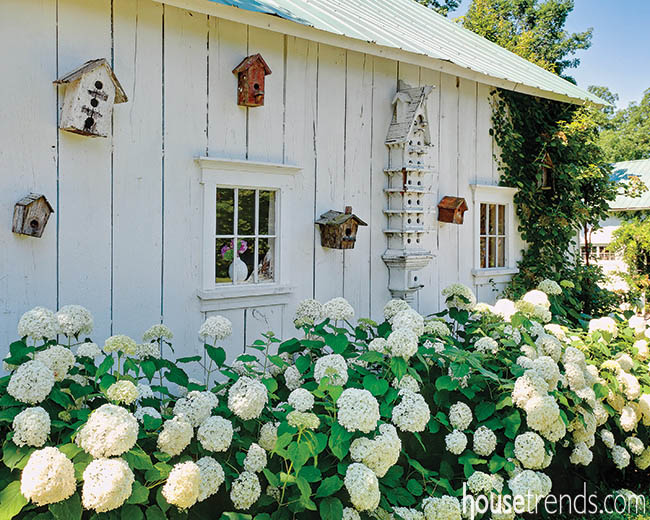 Both of these homeowners are lovers of all things nature and their property depicts that passion quite nicely. Vintage birdhouses made by Paul from reclaimed wood pepper the side of the building, while bright Annabelle hydrangeas flower over the surrounding landscape.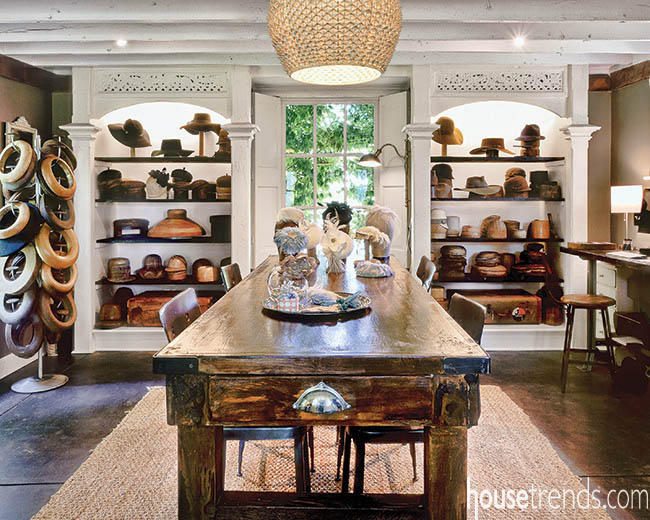 The natural charm seen on the outside of this building is easily carried over to the interior home office design. A long worktable with a rustic finish stretches throughout the room. Four chairs tuck neatly underneath it for longer work days —or for just kicking back and enjoying the calming atmosphere.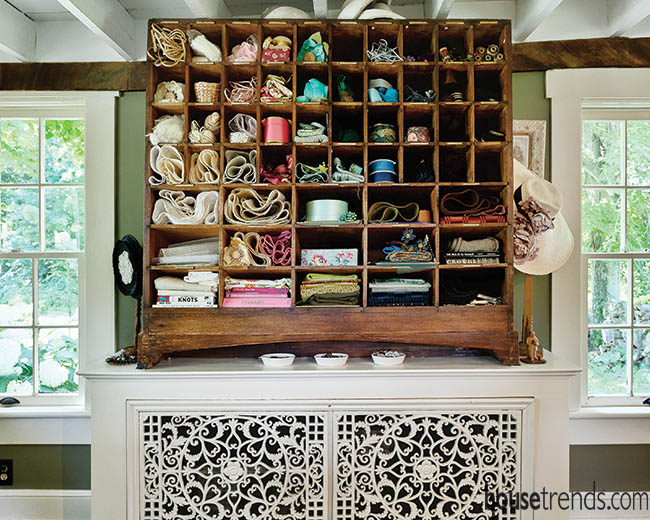 Some say that a clean work space is a happy work space, and this studio is no exception. The open shelves that Amy uses as storage have the double benefit of easy-access storage and showing off the bright colors of the various materials. The white artsy cabinet adds a sense of stability to the space as it balances out the colorful stacks of fabrics, but it's intricate pattern keeps it from being too boring.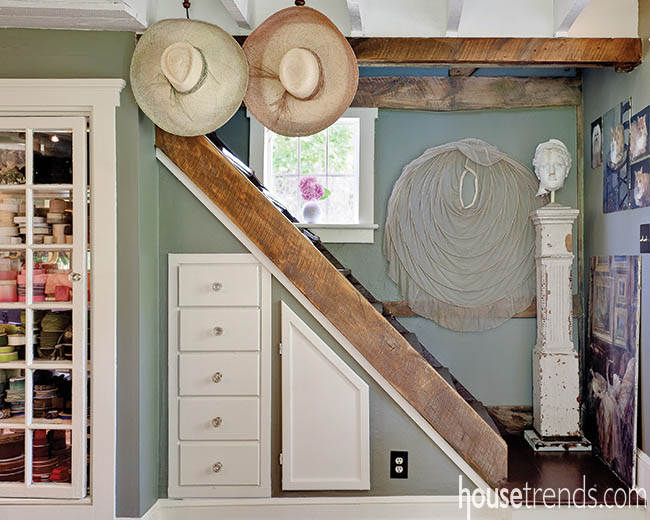 Amy's she-shed comes with an upper level—accessible by an antiquated-looking staricase—that she uses for additional storage.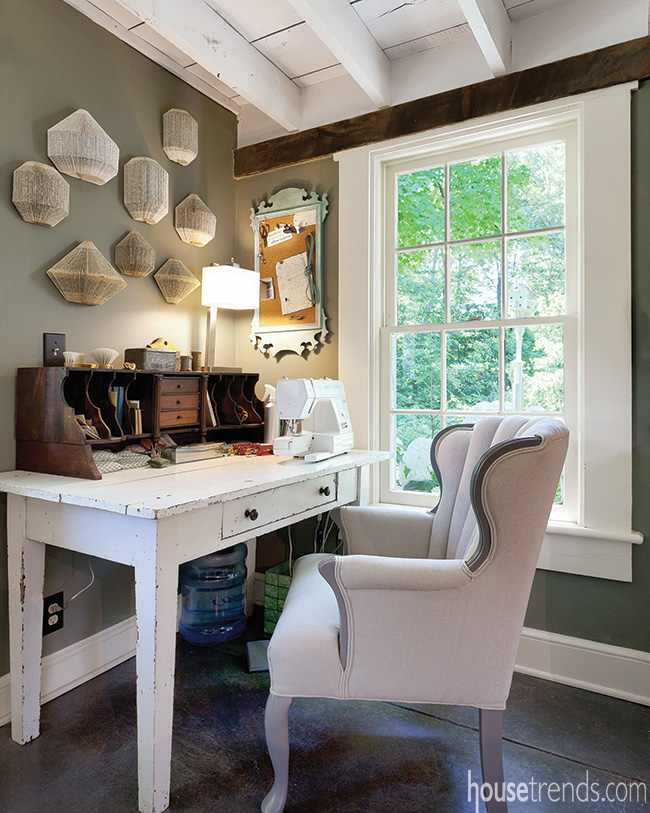 Tucked away into a corner of her home office, a rustic white desk offers a different sort of workspace, one where Amy can sit and relax while crafting up designs.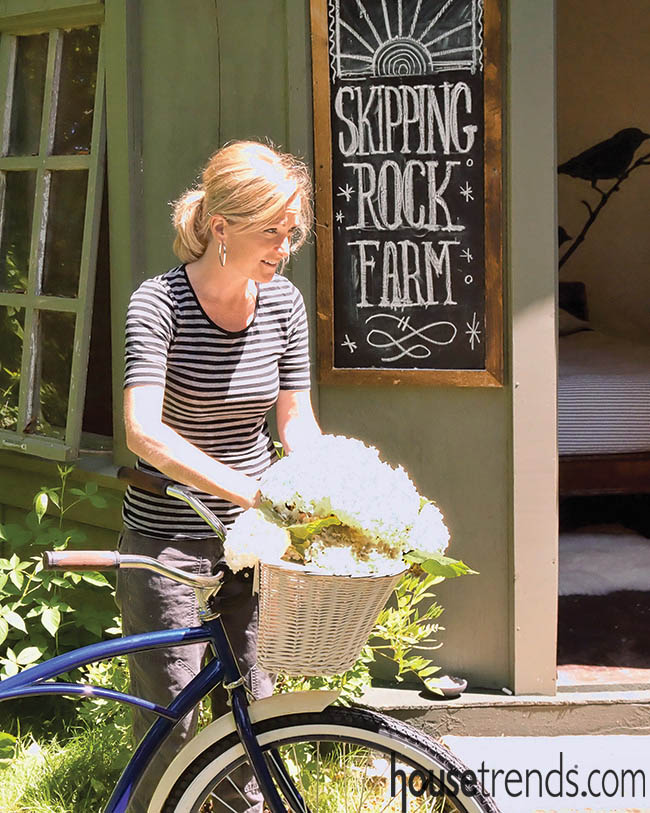 Amy and Paul love their new home and work spaces, but creative souls are restless souls, always seeking a new challenge. As artists thriving in this simple, natural landscape, Amy and Paul have a mind to create a similar space for other artists, a place where guests reside in diminutive, Waldenesque cabins—to paint, write, enjoy the beauty and solitude of nature, or commune with other like-minded souls—in fact, that's their next project and it's already underway.