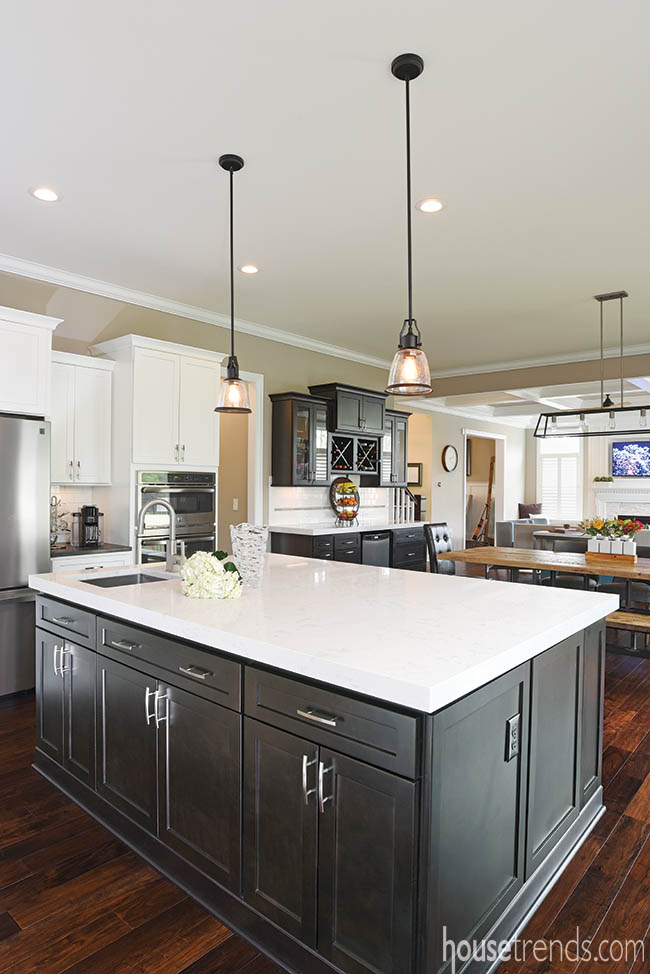 Written by: Karen Bradner/Photos by: Daniel Feldkamp
The house was a tear down, but the tree was a keeper.
When a Columbus area couple—both doctors—were searching for a home in Upper Arlington that would place them close to their offices and nearby hospitals, their search was coming up short.  They loved the community, but the houses they were finding in their price range were lacking some of the features they were hoping for: an attached two-car garage, an open floor plan, a large eat-in kitchen rather than a formal dining room and a first floor bedroom that might soon come in handy for aging parents.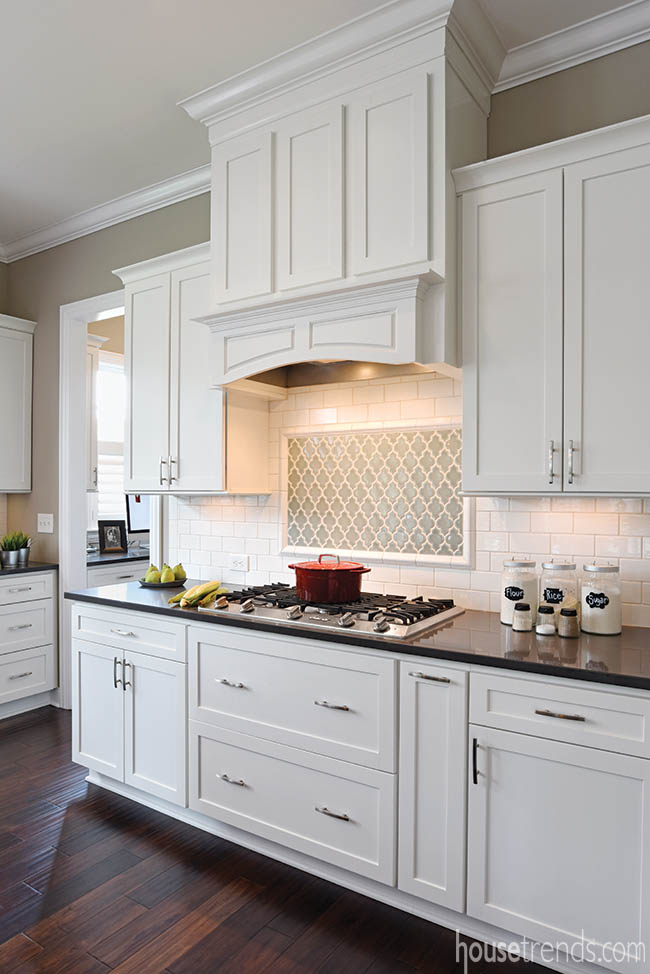 "Homes in Upper Arlington sell so quickly," says Linbee, who found that sometimes the decision to buy had to be made in a matter of minutes. When she and her husband Jason finally found a home that fit their needs, they lost out to another bidder.
Their realtor, Susan Wainfor of HER Realtors, knew Jason and Linbee had a lot on their wish list and whatever house they chose would likely need work.  Wainfor helped the couple buy their first condo as newlyweds, and then their Hilliard home.  She was familiar with their distinctive tastes and felt they would be a great fit to build a new home.
Even though the couple initially didn't want to build, Wainfor convinced them to meet with Mark Braunsdorf of Compass Homes. Braunsdorf was tearing down a house and creating two building lots in Upper Arlington and pitched the idea to them.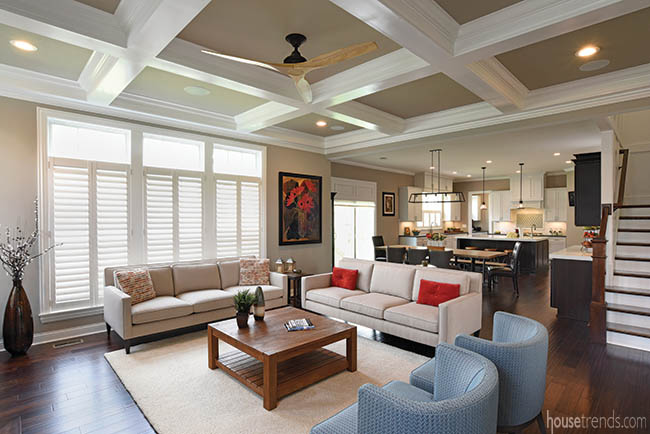 The location was perfect. Close to schools for their high school age son and daughter who is in middle school, walking distance to church, and best of all, close to work for both of them.
"It's not uncommon for us to get called in two or three times in the middle of the night per week, and sometimes even two to three times in one night," says Jason.
That makes sense when you discover that Jason and Linbee are both obstetricians.
"Our previous home was in the Hilliard area," says Linbee. "Hilliard doesn't seem like a far commute but doing the drive multiple times back and forth in one night could mean no sleep at all." Moving to a closer location would save hours of sleep and commute time every week.
"We wanted to minimize how much of our day was spent in the car, and maximize how much sleep we get because what we do is a 24-hour-a-day job."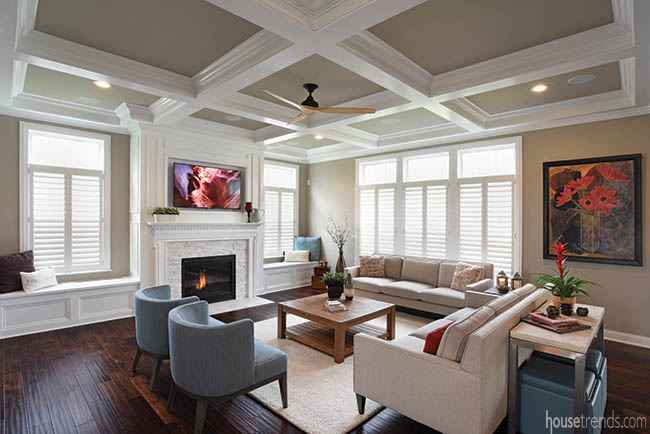 If it ain't broke
"We loved our original house, but everything we did was too far away," says Linbee. So, much of the inspiration for the couple's new build came from their existing home. After discussing what they liked, wanted to keep and wanted to change, Braunsdorf came to them with floor plans that they tweaked three or four times.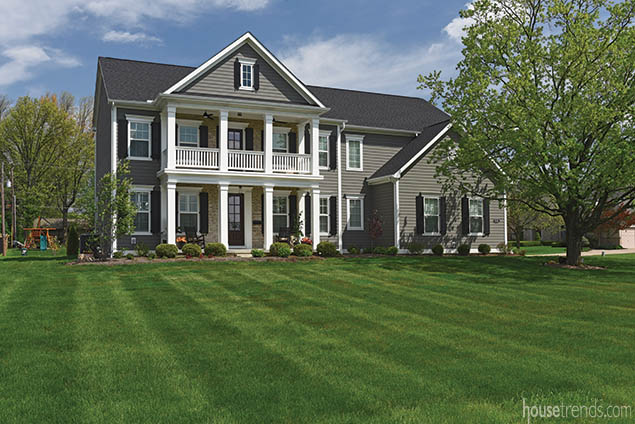 The couple originally wanted a southern plantation-style home with an upper and lower front porch and a gray HardiePlank façade with white trim.  When plans were submitted to Upper Arlington's building division, neighborhood compatibility requirements—which assure that new home builds and renovations fit in the surrounding neighborhood—required them to add masonry to the front façade.
Jason was not sold on the idea, but he and Linbee studied their options virtually by mixing and matching different bricks, patterns and treatments on their home computer. "We hemmed and hawed about colors for a good long time," Linbee says.
Their perseverance paid off. Now when the couple and any visitors to their home see the brick, they can't imagine the home without it.
"The entire exterior is all about Jason and Linbee," says Pamela Cinelli of Compass Homes. "That brick was a slam dunk on their part."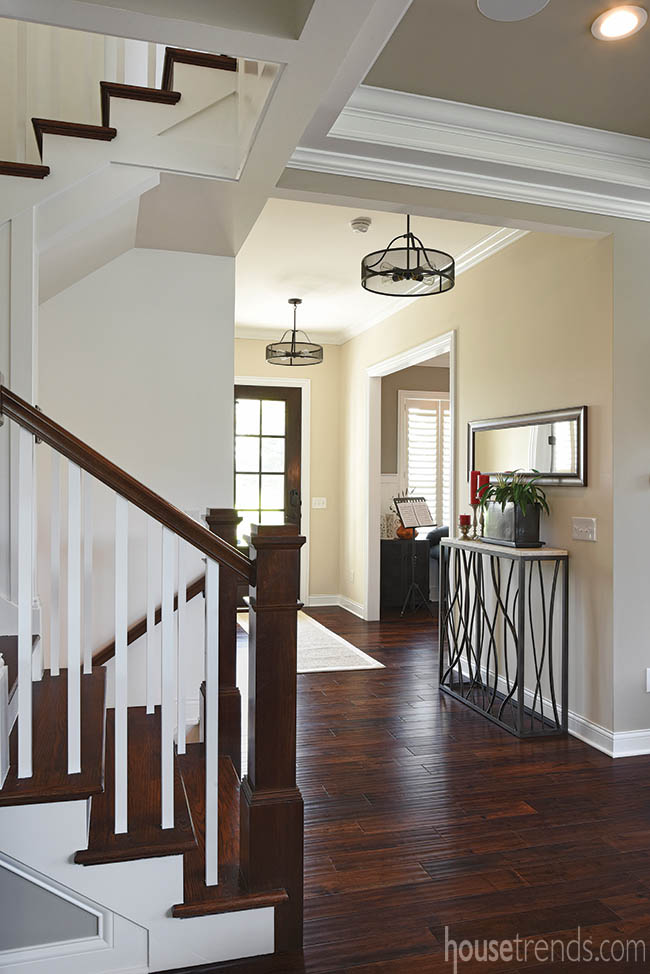 Hugging the tree
Linbee and Jason were hoping to save as many trees on the existing lot as possible. The Compass Homes team was on board with that request.  Number one on the list was a maple tree that stands over 50 feet tall, but was a bit closer to the planned site of the home than desirable. The Compass Homes team needed to figure out how to navigate around this tree without sacrificing square footage of the house.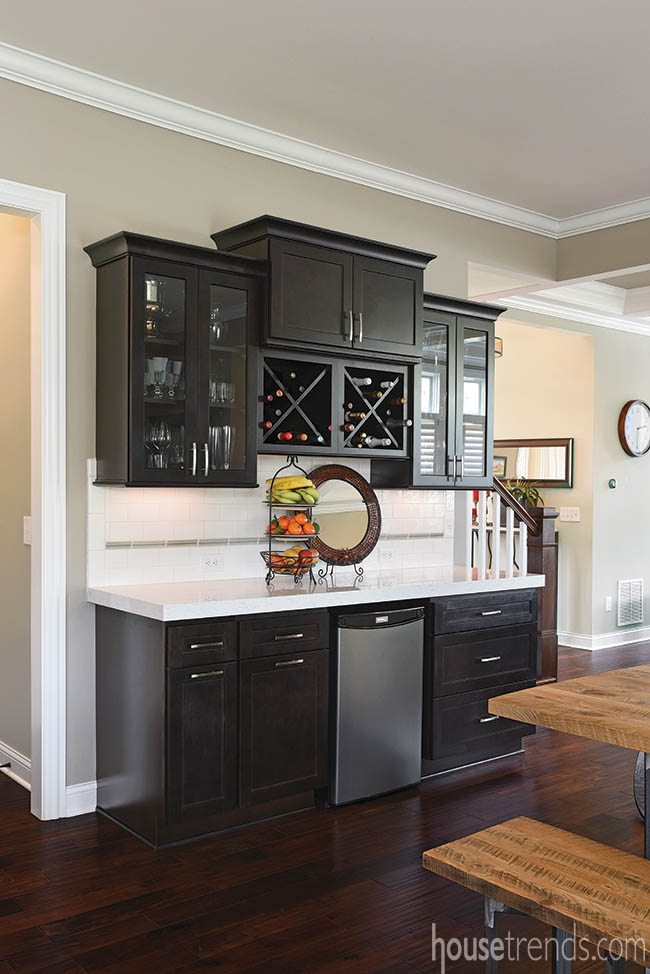 "We need at least 15 feet of clearance around the perimeter of the house to move a bobcat around," says Cinelli. "Plus we didn't want to damage the root structure."
The team brought an arborist in to tell them how to protect the tree and give the construction crew an idea of the root placement. Everyone involved with the project agrees that it was worth the effort.
"That tree adds so much to the look of the house," Cinelli says. "It makes it appear to have been here forever."
Room for everyone
The same care was taken to create an interior layout that was perfectly suited to this family of four. "We know how we function as a family," says Linbee. "We know how we use our things and where we need storage."
High on the family's wish list was a music room. Linbee plays the violin and Jason plays the guitar. Their son Jacob plays the piano, drums, guitar and clarinet and their daughter Alana plays the violin and piano, along with being an accomplished dancer. Both sides of the family come from long lines of musicians.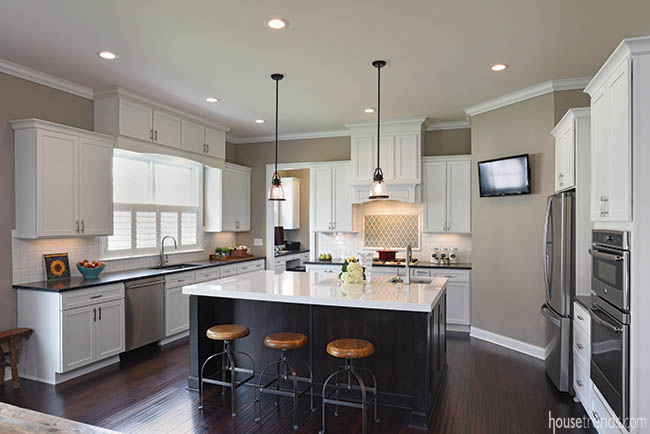 "It's in our blood," says Linbee.  "My mom played the piano and my dad played the guitar. My sisters and I all play the violin. Jason's dad has always been like the Piano Man, the life of every party. Now Jacob is coming into that role."
"It's amazing to be able to just sit and play music on the fly," Linbee adds. "We wanted this music room to be part of our central space because we use it so frequently."
Jason and his mom are singers and the whole family likes to join in. So it comes as no surprise, during family gatherings, much of the day is spent singing, dancing and playing together in the music room just steps away from the great room.
One of those occasions was Thanksgiving of 2016, which the family hosted just about a month after their move-in date.  "We had 22 family members here, with four cooks cooking." Linbee says, "It worked well because there are so many surfaces that are usable."
When it came time for everyone to have a seat for dinner, the open concept worked beautifully. An expansive nine-foot long table with a matching bench, which was built from salvaged wood by Alex Remley of Re:work Furnishings seated most of the gang. Between the table, the island and a nearby cocktail table, everyone was able to take a seat and be part of the holiday conversation.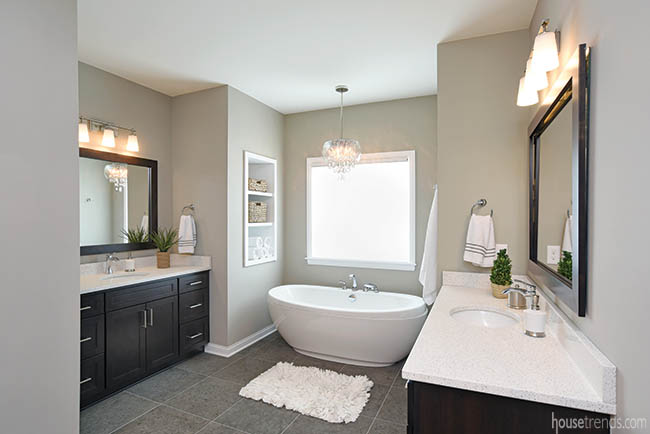 The right decision
Looking back on the unexpected turns their house hunting efforts took, Jason and Linbee agree that it all turned out for the best. They ended up with the exact house and the precise location they wanted.
"Land in Upper Arlington is expensive for a reason," Cinelli says. "It's an already established community with tremendous access to downtown and OSU and incredible walkability."
But in this instance, since the one home's tear down yielded two building lots, the cost of the land was more reasonable.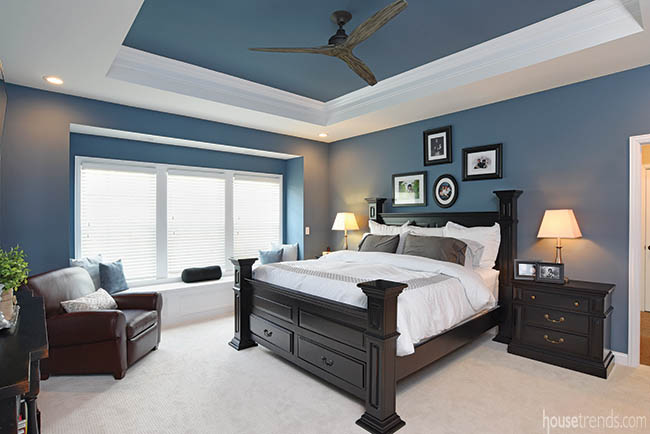 "During the process, we had doubts about building versus buying an existing house," says Jason. "There were so many decisions to make, there were unplanned costs.  But in the end, we lucked out. Considering we would have had to renovate any older house we bought, building here ended up being more cost-effective."
Sitting with his wife in matching rockers on the front porch of their new home on a sunny spring day looking out over the OSU golf course, Jason says, "At the end of the day, we got exactly what we wanted."
Resources: Builder, Interior designer: Compass Homes, Inc.; Kitchen and bath designer: Craig Shaver, Sims-Lohman; Landscape designer: Patrick Affourtit, Blendon Gardens; Lighting: Capital Lighting; Painting: Benjamin Moore and Sherwin-Williams; Flooring: Premiere Collection Hardwood and Bliss, Interior Surfaces; Simonton windows and Plastpro doors: APCO; Fireplace: Heatilator, The Hamilton Parker Company; Kitchen and bath cabinetry: Homecrest, Sims-Lohman; Kitchen island countertops: Cambria Torquay; Kitchen perimeter countertops: Silestone Marengo; Kitchen backsplash: Florida Tile and Walker Zanger from Interior Surfaces and The Hamilton Parker Company; Kitchen sinks: Revere; Kitchen faucets: Moen STo; Dacor cooktop and GE oven: JAE Company; Kitchen table: Re:work Furnishings; Bathroom countertop and sink: Distinctive Marble & Granite; Bathroom faucets: Moen Voss; Shower: Moen Velocity and Eva; Tub: Maax