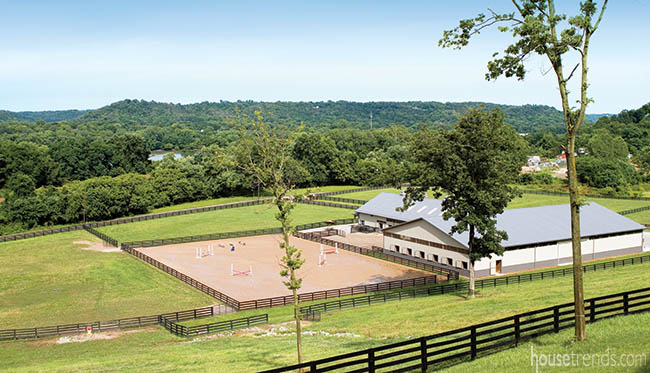 John and Dana Toebben's relationship has roots in horse country. "We met at Turfway Park race track," John says of the first time he met his wife.  So it's fitting that the couple now share a lovely estate overlooking the boarding stable they own and operate nestled along the Ohio River in Hebron. "I'm the horse girl," Dana explains looking out over her pasture where two mares are being led out into a lush, green field—their babies following closely behind. "There are some of my mommas and their babies."
John and Dana moved their horses to their 17-stall River's Pointe Stables in 2009 and began boarding horses in 2010.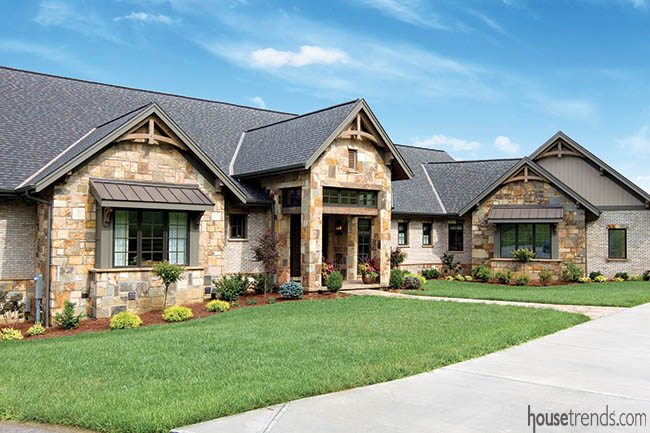 While Dana manages the horses, John manages the homebuilding side of the business. John is one of Matth Toebben's two sons who now manage the Toebben Companies. John oversees the residential design and construction side of the business, Toebben Builders. Their newest community, The Reserve at River's Pointe Estate is not only where John is building—it's home.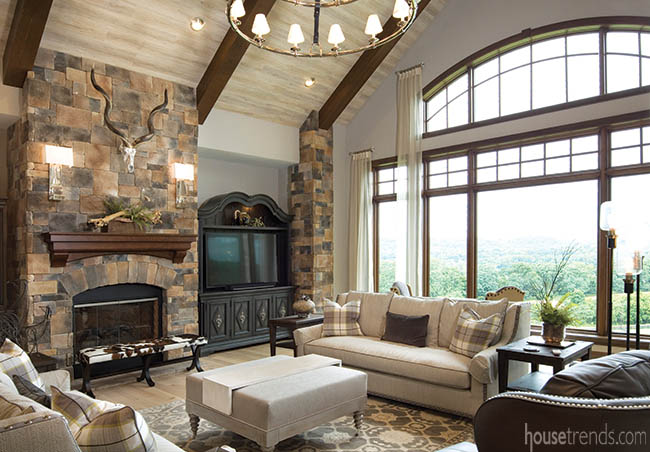 Million-dollar views
John and Dana were drawn to this property, which is 380 acres all together, by the 1.3 miles of river views. "We built our house to maximize the views," John explains of the home's backside facing the river. "This allows for the lower level rooms to have views just as amazing as those on the main level."
"We were always going to build here, but we didn't own the property until two-and-a-half years ago," Dana explains. "I went knocking on doors to find out who owned the property… I met a lot of our neighbors that way."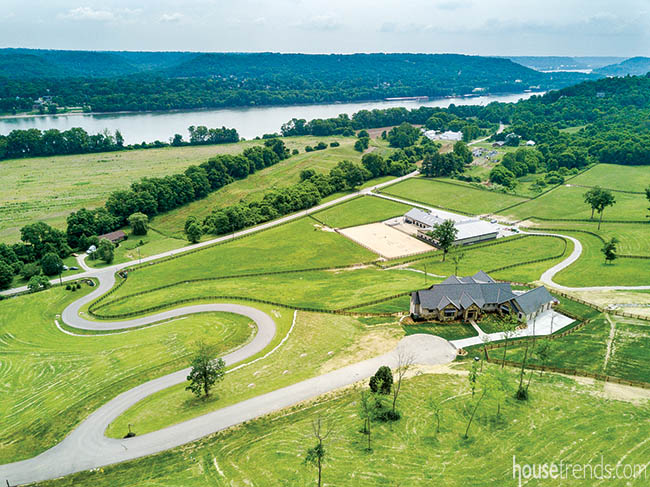 The Toebbens decided to develop the property into eight, two-acre lots. Boone County Parks owns the property between Route 8 and the river, ensuring the homeowners' views will never be obstructed. There are currently six lots available for development; and John and Dana are excited about meeting their new clients and neighbors.
"We're not just building custom homes for people," John says. "We're building a community of people who will be our neighbors. It's very important for us that we get to know these families as friends."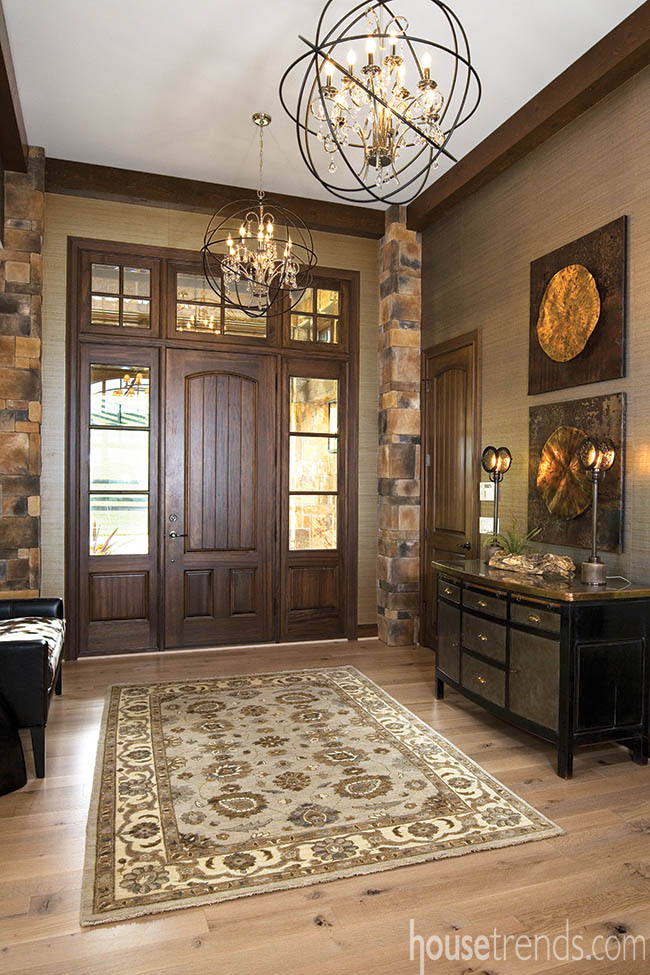 John and Dana enjoy inviting their new neighbors into their home to give their clients a glimpse of what their new homes might look like. And John and Dana's home is a showstopper.
"We've always known potential clients could visit our home to see a sample of John's work," Dana says of their life in the construction business. "But I have to say, it's much easier to keep the house open-house-ready now that most of the kids have moved out."
The Toebbens have five children. While their youngest still comes home during breaks from college, all of their other children have moved out. But John and Dana had their children, and first grandchild, in mind while building this home. A massive lower level is the perfect place to host family game nights, and a bedroom is devoted to their first grandchild, Ellie, with plenty of bunk beds for more grandchildren in the future.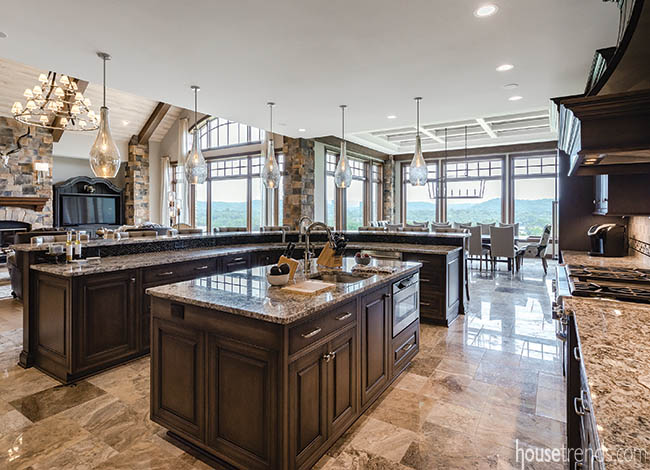 Wide-open spaces
When John and Dana began designing their home, they knew open-concept living would be key. "In our previous home, everyone wanted to be in the kitchen," Dana explains. "We had a four-person island before, so we wanted to make sure we had a lot more seating."
John and Dana worked with their interior designer, Erin Tuemler of Interior Design Consulting, to more than double the size of their massive, rounded island. The space has ample seating for nine and connects the three main living areas of the home; the kitchen, living room and dining room.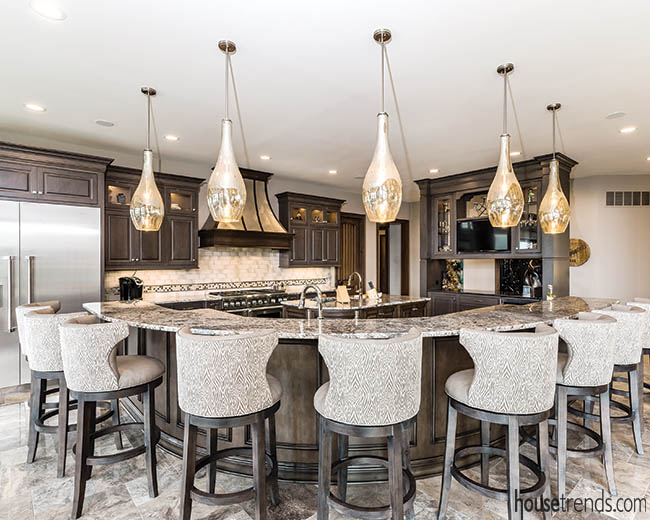 "We wanted to create separate living areas through our flooring choices, columns and ceiling heights," Tuemler explains. "But we also wanted to connect the spaces. The kitchen has two islands, the first being a traditional island and the second being a rounded bar with a large amount of seating."
The soft edge of the island is juxtaposition to the rectangular rooms and linear cabinets and flooring.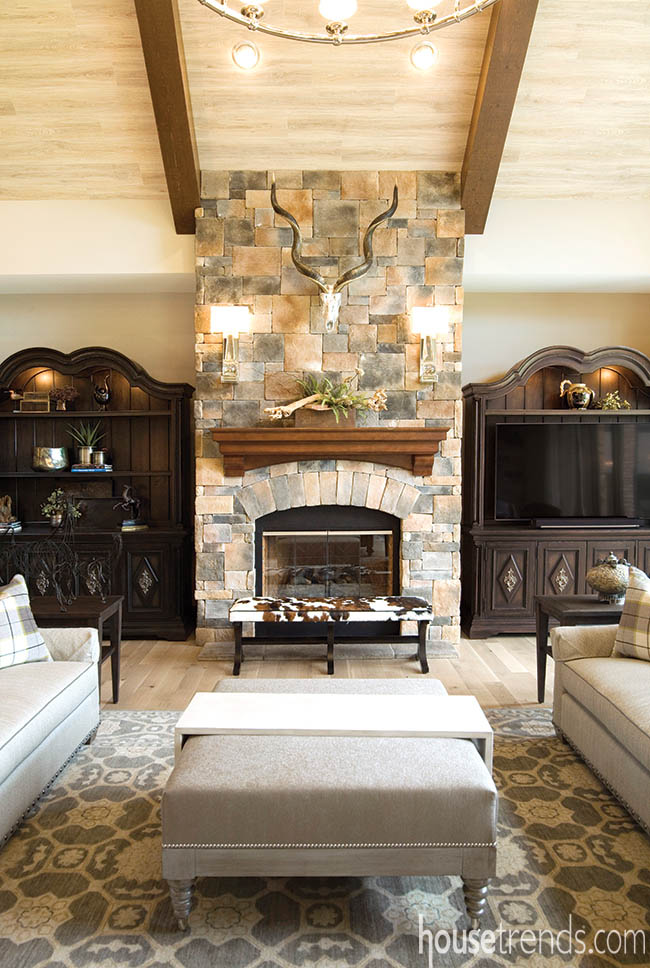 Clean slate
When John and Dana sold their Villa Hills home, it included all of their furnishings. "Erin had a clean slate," Dana jokes of having to start over with all new furnishings. "But it was a blessing because we didn't have to work around any of our old furniture pieces."
John and Dana love traveling out west where they ski and visit dude ranches. The family's love of the west can be seen in their architectural and design choices. Over 54 tons of crab orchard stone were delivered up the winding driveway to bring a rustic element to the home through exterior stone, interior columns and stately fireplaces. Stone columns usher guests through the entrance into the main living area. And an elegant Ralph Lauren Westbury double tier chandelier, featuring saddle and bridle details, is hung beautifully in the vaulted ceiling of the living room.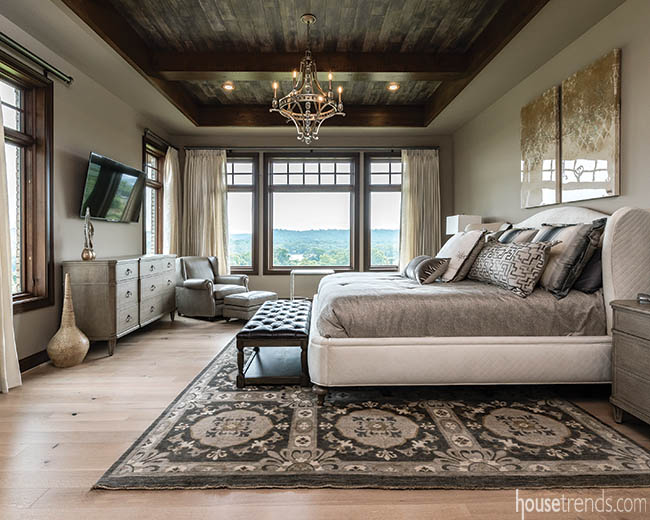 "The natural materials mix well with the elegant finishes and furnishings to create a casual contemporary style," Tuemler says. "We coordinated finishes, but didn't feel the need to make things too matchy-matchy."
A neutral base of gray colors flow beautifully with the rich finish of the trim and woodwork, while white oak and travertine flooring are calm and bright. "It's refreshing when clients go outside the normal choices," Tuemler adds of the crisp color choices.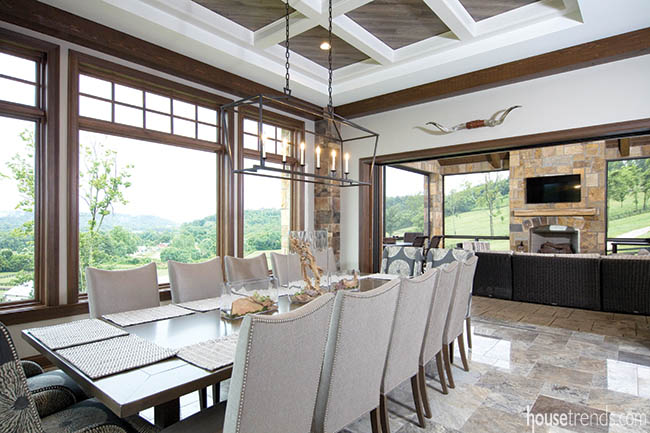 A custom-built dining table was designed to accommodate the family's love of entertaining. The solid wood table comfortably seats 14, but it was no picnic getting the piece into the home. "That is a solid wood top with no leaf," Tuemler describes. "It was interesting getting it in the house, but they were able to bring it through the front door."
The dining room maximizes the picturesque views of the river through two walls of windows and a wall of glass doors that open out onto the covered porch, creating an amazing outdoor living area.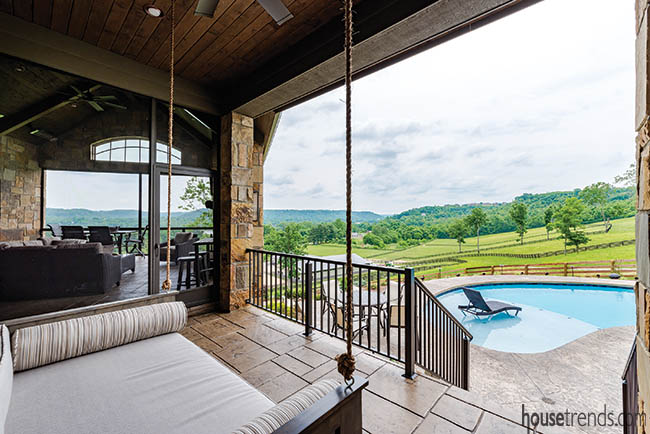 Wine country
John and Dana used California's wine country as inspiration when designing their covered, outdoor living space. Sliding doors open the dining room up to the screened, outdoor space that is equipped with infrared heaters installed in the ceiling. "These heaters are really popular in wine country," John says. "They allow us to use this space almost year-round."
Dana is learning to cook on her Wolf smoker and grill. "I just started, but I love it," she says. The hood exhaust system keeps the smoke at a minimum in the space.
A cable rail system provides safety for their granddaughter and guests while keeping the view as unobstructed as possible. Off the screened porch a covered patio features a swing bed, custom built for their first granddaughter—although John and Dana admit their dogs enjoy it more than anyone else. Down a few steps, guests can enjoy the pool that was also designed around the couple's granddaughter with a sun shelf and bubbling fountains.
Guests can exit the pool and rinse off in the pool bath located on the garage/laundry room side of the home. The large laundry room doubles as Dana's office. "I have a great window over my wood-top desk where I can look down over the stable," Dana says.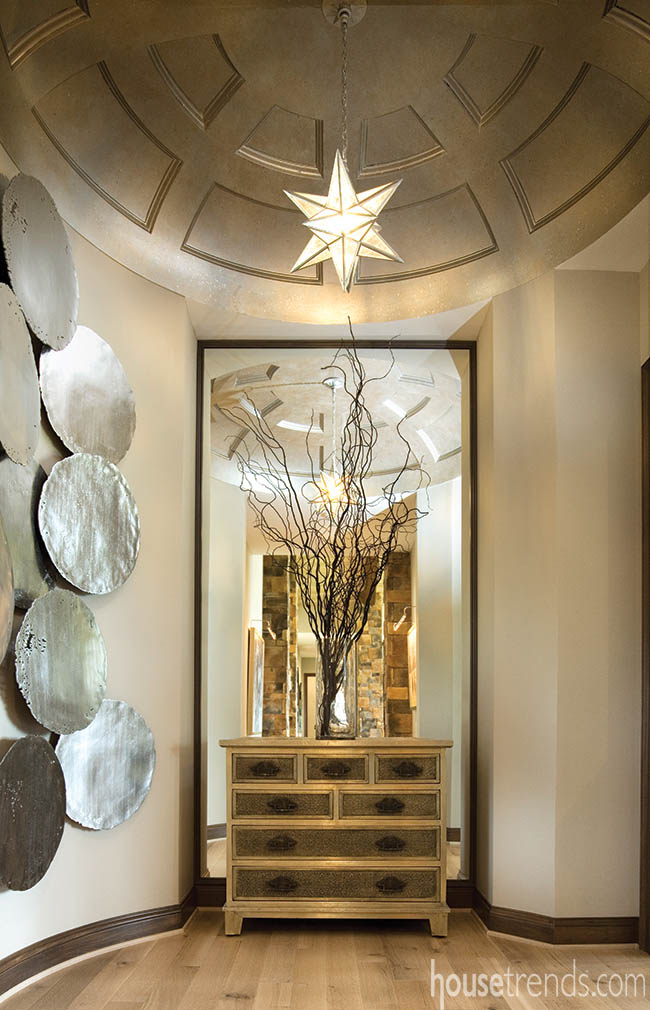 Master suite
On the opposite side of the home, John and Dana have created a luxurious, retreat-like master suite. Past the guest suite, the hallway curves and invites the homeowners to their private quarters with a custom-installed piece of art and floor-to-ceiling mirror.
Tuemler explains that the artwork was purchased as individual pieces and then designed to fit together on the wall. "We spent a lot of time deciding how we wanted this to look, and it turned out great," Tuemler adds.
The trio spent three days at the High Point Furniture Market and bought all of the furnishings for the home. "We had a blast," John says. "I wasn't sure I was going to have fun, but once we got there I really got into making selections."
The master suite features both masculine and feminine touches, appealing to both homeowners. The bedding and drapery are soft and flowing, while a leather bench at the foot of the bed and dark ceiling are masculine.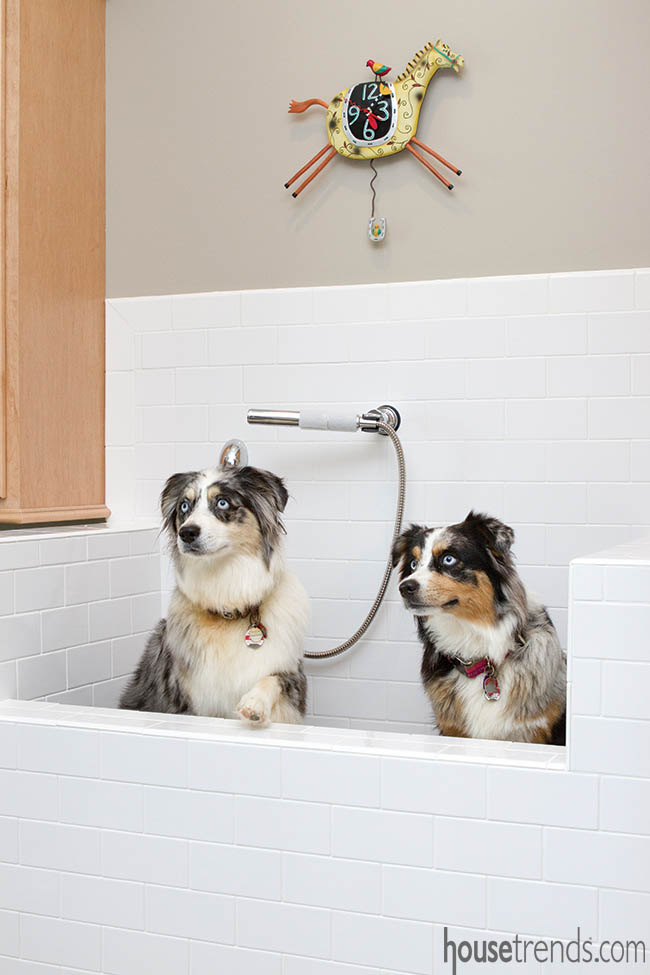 Home sweet home
John says it took one year, to the day, to build and furnish the family's dream home. And they couldn't be happier with how everything turned out. Dana, a recently retired schoolteacher, enjoys managing the horses and tending to her massive garden. "I've always had a garden," Dana explains.
"Salsa is her specialty," John adds.
"I just put in pumpkins, so Ellie can pick her own at Halloween."
And while John is busy with construction, he's taking time to enjoy game nights with his kids.  Clearly this is a home built with family in mind.
Resources: Architect: Jim Bauman Design; Interior design: Interior Design Consulting Inc.; Appliances: Custom Distributors; Carpet: Shaw Carpet from J.P. Flooring; Ceramic tile: Florida Tile and Daltile; Custom glass: Mirrors and More; Exterior stone: Designs by Russo; Faux finishes: Decorative Finishes; Fireplace: Astria Fireplaces; Front entry doors: Stained Glass Overlay; Furniture: Furnitureland South; Garage doors: AE Door and Window; Garden: Perfection Landscaping and Design, Inc.; Hardscape installations: TowneScapes; Hardwood flooring: Ohio Valley Flooring and JP Flooring; Kitchen hood: Metalcraft; Kitchen cabinets and granite: Sims-Lohman; Landscape: Egbers Land Design; Lighting: Lighting EFX; Mirrors and shower doors: Jack's Glass; Outdoor heating: Infratech; Outdoor kitchen cabinets: Atlantis Outdoor Kitchens; Outdoor kitchen hood: Distinctive Appliances Distributing; Pool: Kramer Pools; Railings: Superior Aluminum; Stair: Cincinnati Stair; Screens: Screeneze; Windows and doors: Pella Windows and Doors; Wood flooring: Kenmark Hardwood Floors; Select photos by: Justin Sheldon Photography
Article by Sarah J. Dills/Photos by Justin Sheldon Photography and Connie Kimsey