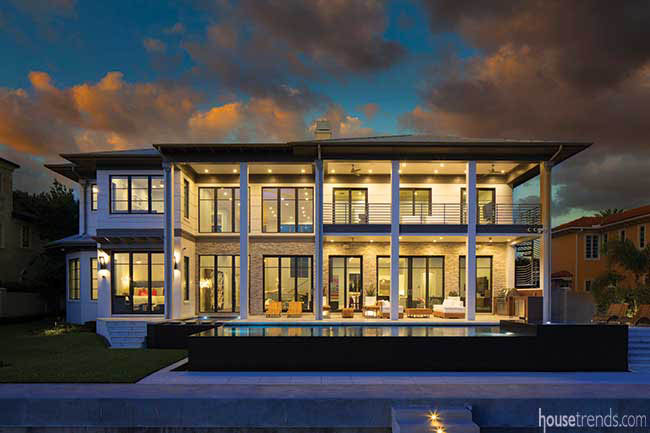 Inspired by luxurious trips to Europe and Mexico, Angel and Stephen Judge's new home in Tampa's Culbreath Isles is a portrait of contemporary architecture with exotic accents. "I knew, from the beginning, that I wanted the home to be a contemporary, mid-century home, and I wanted the décor to match the outside," Angel says.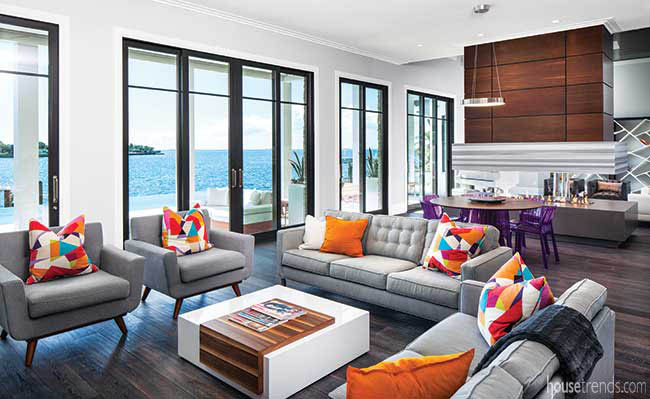 A strategic design
The five-bedroom, five-bathroom waterfront smart home with 6,200 square feet of living space features a hotel lobby-style suspended fireplace, a restaurant-esque pivoting front door, and a tranquil reflecting pool. "The art of placement, rooted in Feng Shui and the practical demands of nature, both played intricate roles in this home's design evolution," explains Mark Jordan, the home's builder and the co-owner of Sunset Properties of Tampa Bay, Inc.
The aim of the whole design was to accommodate a large, active family "while serving as a backdrop for elegant art as well as nature's showstopping displays," Jordan says. Stephen Smith, with Cooper Johnson Smith Architects, was brought in to design the home, successfully merging the Judge's wish list with the deed building restrictions in Culbreath Isles.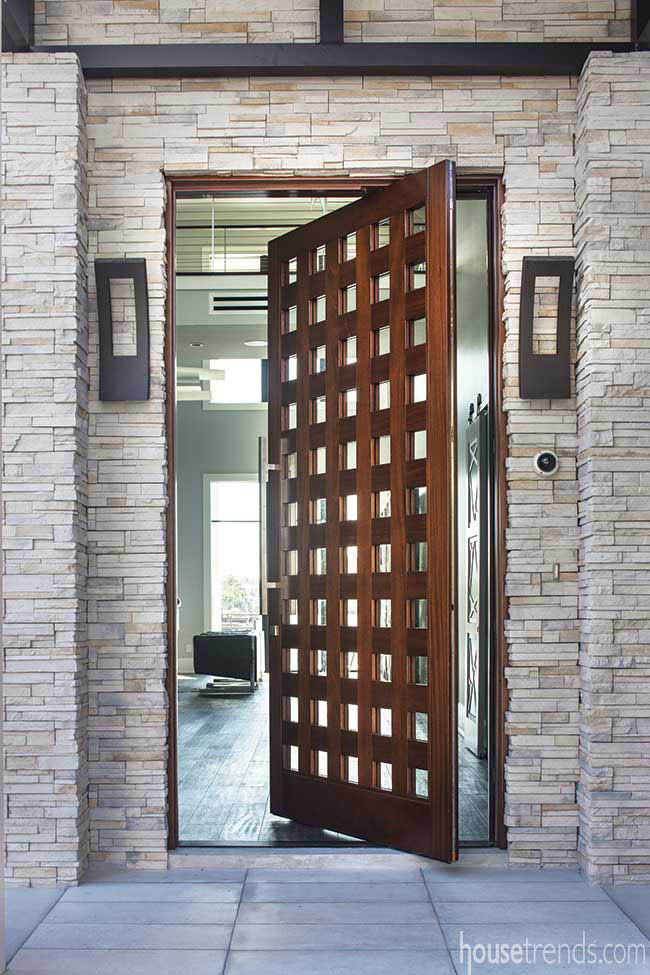 The interior of the home offers an abundance of unique features including a 900-pound sapele wood front door that opens with a finger touch; linear-patterned waterfall granite counters in the kitchen; a ceiling mount tub filler in the master bathroom; and cantilevered four-foot stair treads with stainless steel airline-cabled railings. The property surrounding the home is also adorned with a variety of elements including a living wall; a Zen garden; a four-sided infinity-edge hot tub; and a reflecting pool with stepping stones. Angel Judge did much of the conceptual interior design work herself.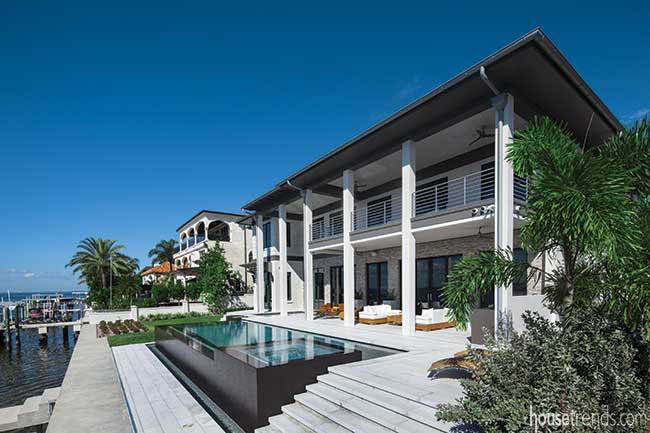 "We have four teenage children, three boys and one girl, so the common spaces are the largest areas in the home," Angel says. "The game room upstairs is just for the children and it has a back balcony. There is a pool deck and a dock, and they can come in and out freely from there."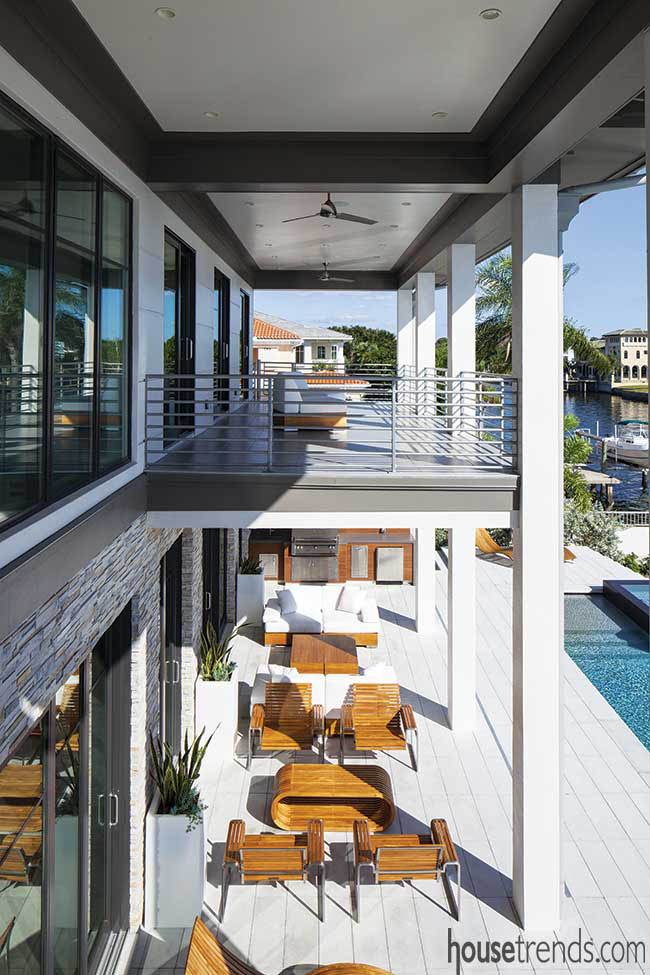 To make this indoor-outdoor living style a reality, several exterior challenges had to be faced. The potential for wind and high waves was one of Jordan's construction issues but, by planning meticulously, he avoided the expense of driving 30-foot-deep piles. Inside, the suspension of an eight-foot-wide, 1 ½-ton marble fireplace proved to be quite an engineering experiment. Engineered steel and framing allowed the fireplace to float as a centerpiece of the home.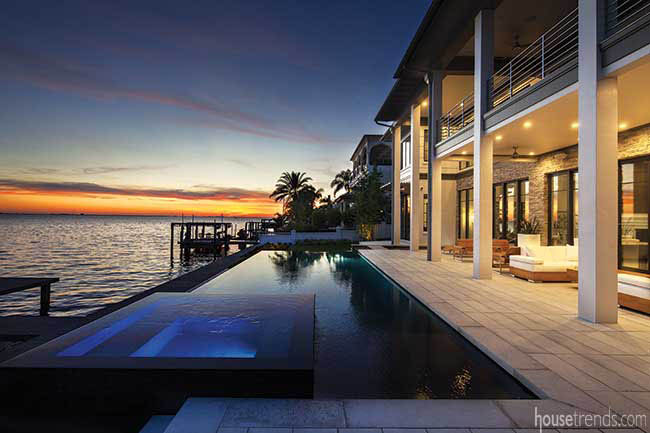 Thanks to the expertise of Eric Krause of Eric Krause Designs, Angel was then able to bring her interior design wishes to life. "With all the years of traveling we've done and places we've visited, I've taken mental pictures. And I've said, 'If I ever build a house, I'd love to fit this or that in.' I've kept ideas from our trips close to my heart," Angel says. "The infinity-edge pool was something I saw when we were in Cabo San Lucas. The reflection pool allows you to be able to see the bay from our front door, which was also an idea pulled from a resort in Cabo."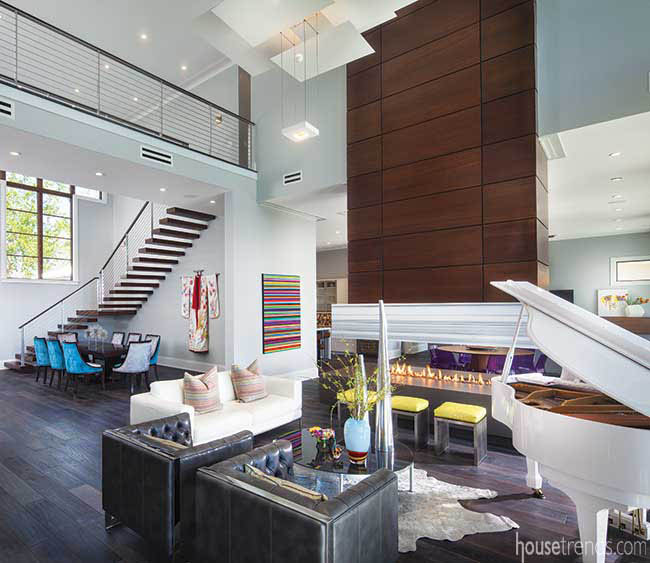 Beauty inside and out
Stephen has been equally entranced by the design elements he has witnessed while globetrotting. "We've had the ability to see different things and decide what was going to fit our lifestyle," he says. "We knew this project was going to be our dream house because we fell in love with the property when we first saw it. We always wanted it to be a two-story house. We wanted it to be open, airy and give that sense of arrival like you're walking into a boutique hotel."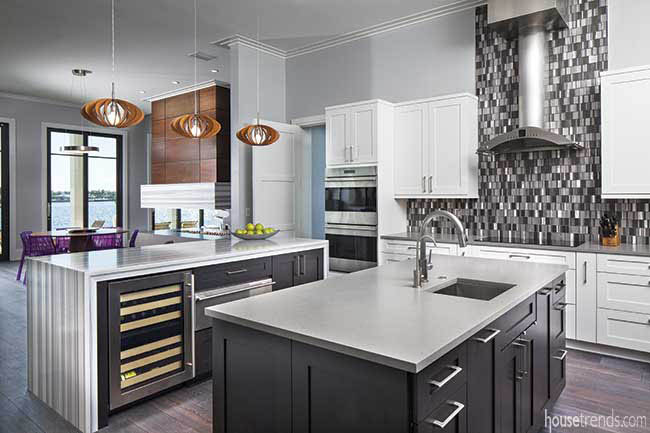 The home is as elevated décor-wise as it is technologically advanced. Inside the structure is a full security system, as well as iPads on the walls that control the music, sound system and lights.
"The way the design came together, we couldn't be more pleased with the finished product," Stephen says. "My wife worked diligently on specifications and what she wanted, but we met with Mark and the team every Friday morning. It was basically a 12-month build, which is pretty much unheard of."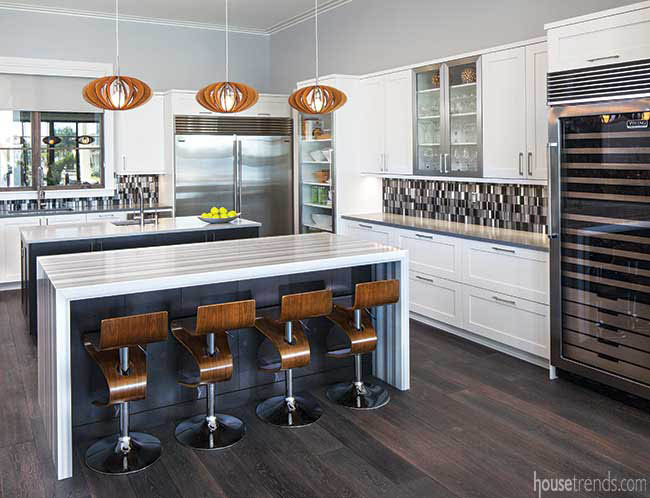 Fantasy comes to life
Now the Judges are savoring every inch of the space. "There's nothing more relaxing than sitting in the family room with a glass of wine and looking out over the infinity-edge pool and seeing the sunsets. We can prepare a meal in the kitchen and have a great view of the water," Stephen says.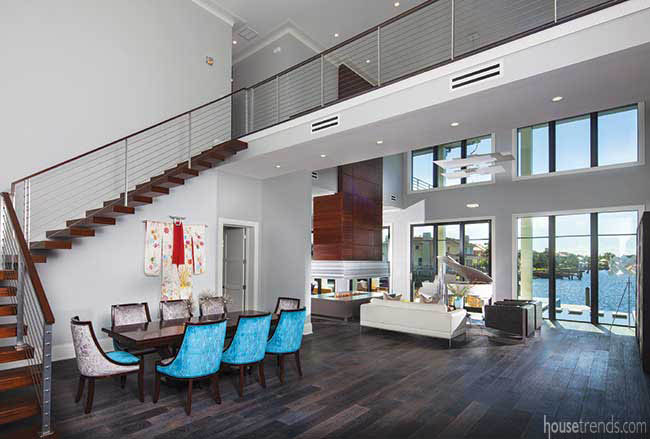 The couple points out that they do a lot of entertaining, with the kids and with their friends. "We have a lot of neighborhood parties," Stephen adds. "The house was designed with socializing in mind. It's also a place where our children's friends love to come hang out. We like that. It makes for better parenting."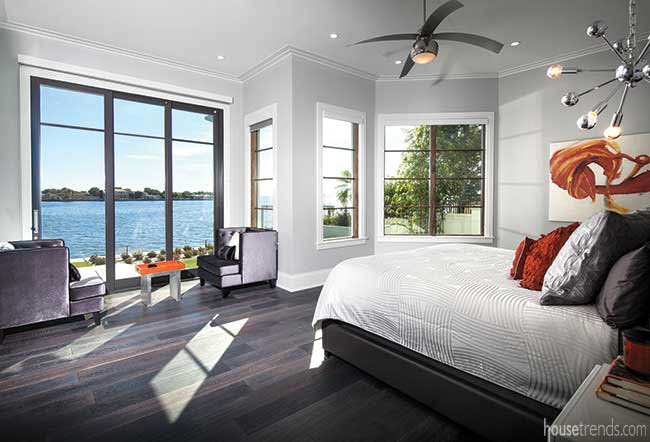 With Jordan's vision and execution, especially when it came to architectural and engineering feats, the Judge home became the fantasy the couple had always envisioned.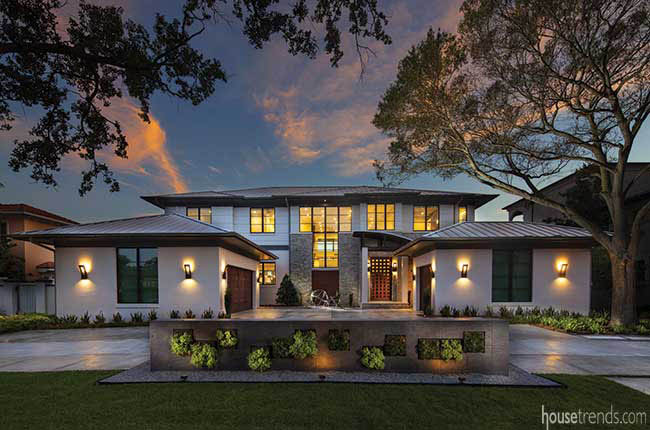 "They wanted something contemporary but not too harsh. Through the design process, I was there with them, making suggestions throughout. The product turned out gorgeous," Jordan says. "It's also special when the clients become dear friends. We strive to create finished products that owners can enjoy and love for years."
Resources: Builder: Mark Jordan and Peter Kieffer, Sunset Properties of Tampa Bay Architect: Stephen Smith, Cooper Johnson Smith Architects Interior designer: Eric Krause, Eric Krause Designs Cabinetry: Olde World Cabinetry Countertops: Europa Stone Appliances: Ferguson Pool: Holloway Pools Hardscapes: Keystone Landscape