Arrive at the home of "Mj" and John C. Gray and when you ring the doorbell, you'll hear 14 Verdin cast bells sound out The Ohio State University fight song. Having a bell tower alcove in the home is just one of the delightful surprises here in a spectacular residence and grounds, dubbed by the owners as "The Farm."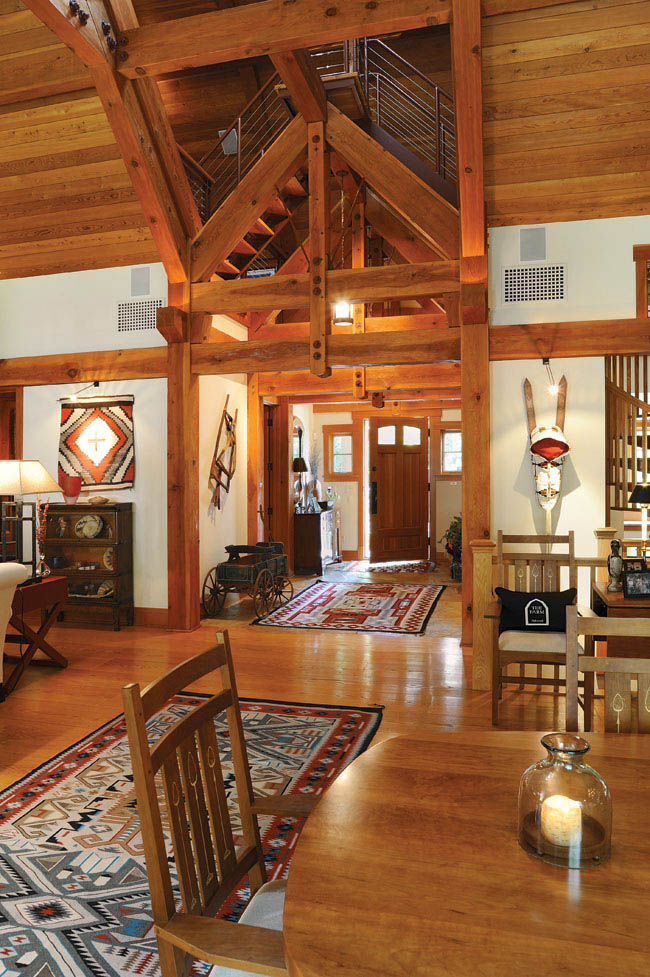 Mj has made her mark on The Farm by "topping off" rooms that needed a bit more finishing. "John encouraged me to do my own thing," she says.
The home was custom built by Steve Schlater, owner of Brackett Builders, Inc. of Troy. Shortly before Mj and John married, Brackett Builders expanded the master suite and renovated the kitchen.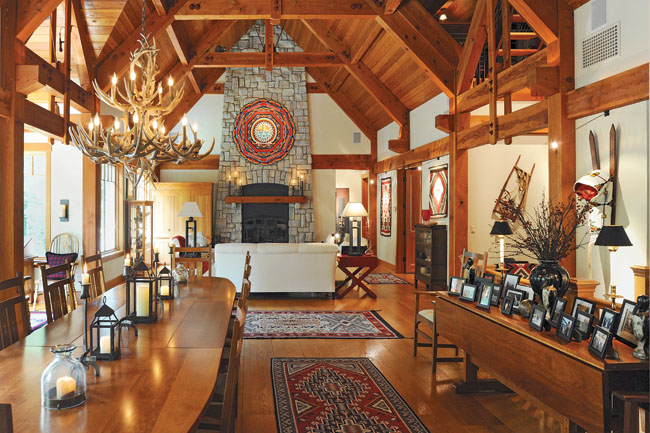 John's favorite room at The Farm is the magnificent great room, which runs almost the complete width of the home. Mj chose a neutral color for the upholstered pieces, to not compete with the rugs and other attention-grabbing appointments such as the massive stone fireplace featuring a God's Eye tapestry by Sandra Hamana on a Hopi Reservation.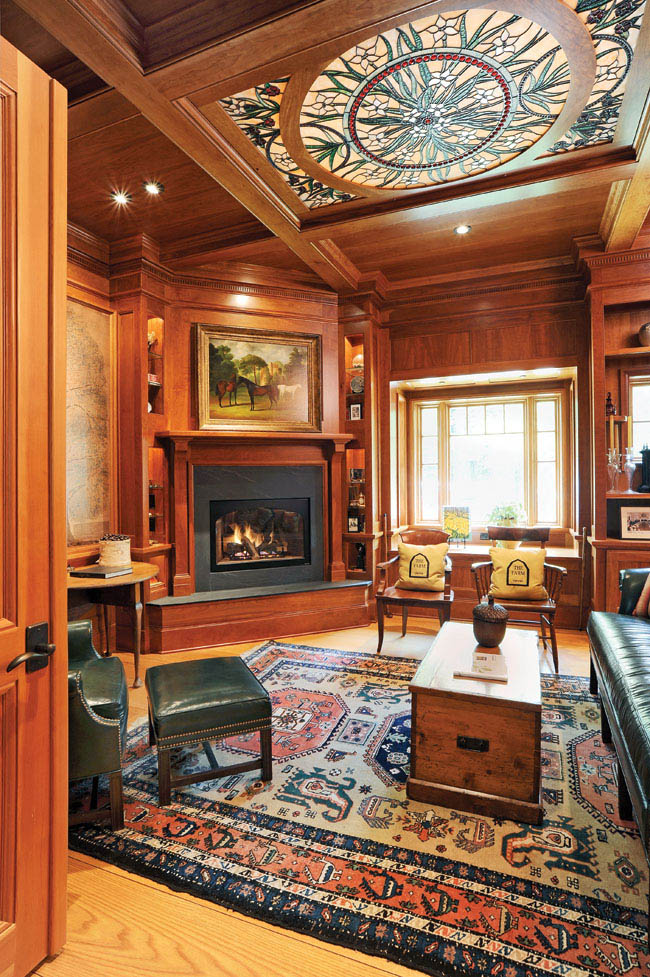 The first floor's library, with elegant emerald green furniture, features a handsome, rich coffered ceiling with a stained glass window. John's collection of stained glass, mostly from Colorado, was acquired before the home was built.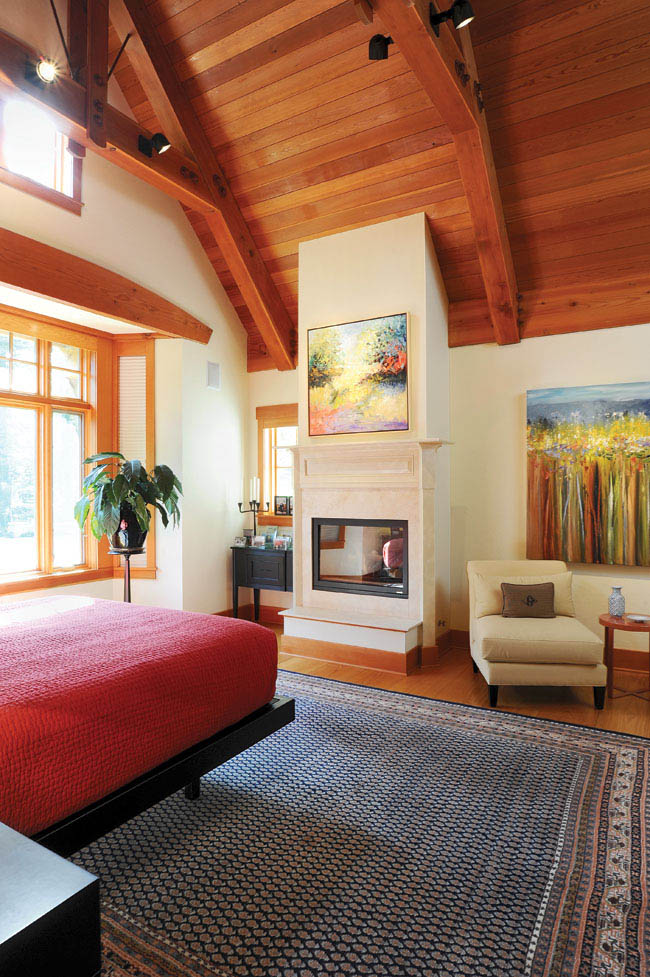 The spacious master suite features the art of Michael Ross and a platform bed designed by John. Custom cherry cabinets in the bathrooms have ingenious foldout mirrors and "garages" to house the sitting stools. The size of the walk-in closet verges on "drive through."
The home's lower level walkout includes a billiard room with quite a display of OSU memorabilia, John's alma mater.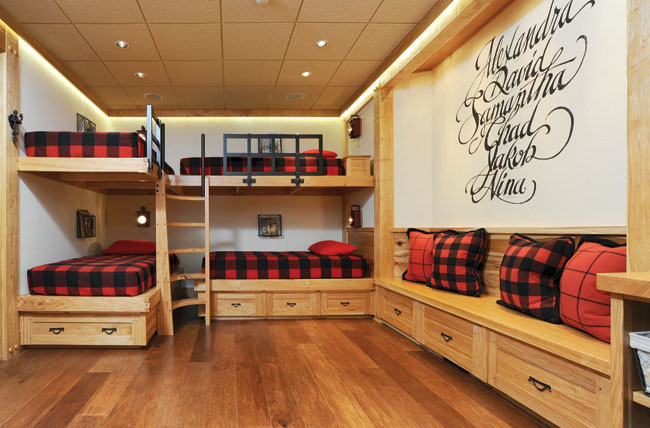 One of three guest bedrooms on this floor is a Western-style bunkroom for when the six grandchildren stay over, including for the annual "Farm Camp." The bunk beds were custom made by Staton from that same hickory tree that fell in the storm.
RESOURCES Architect Hagman Architects, Colorado; Builder Brackett Builders, Inc.; Flooring Carlisle Wide Plank Floors; Cabinetry and woodwork Tim Staton, The Joinery; Countertops Granite; Corian; Lighting Area Electric; Antler chandeliers Crystal Farm Antler Chandeliers, Redston, Colorado; Stonework Stum Mansonry, Inc.; Fresco painting Richard Mantia; Native American rugs Primarily from the Cameron Trading Post in Cameron, Arizona and Garlands Navajo Rugs in Sedona, Arizona; Amphitheater Fulmer's Landscaping; Bells The Verdin Company