From the pleasing repetition of Georgian-style architecture to walking trails that seamlessly connect to the town center, there's an effortless refinement in the city of New Albany, created through careful planning and exacting standards.
For one family, a home in the New Albany Country Club community offered that ease of ready-to-wear luxury, plus ample upgrades. As an entry in the Building Industry Association of Central Ohio's 2010 Parade of Homes, the 5,300-square-foot home is a showcase of function and beauty, with well-considered features including a carefully crafted courtyard.
Working within the confines of a tight lot—and with the neighborhood's architectural review committee, landscape designer Marc Aubry with GreenScapes Landscape Co. turned negative space into an award-winning outdoor destination.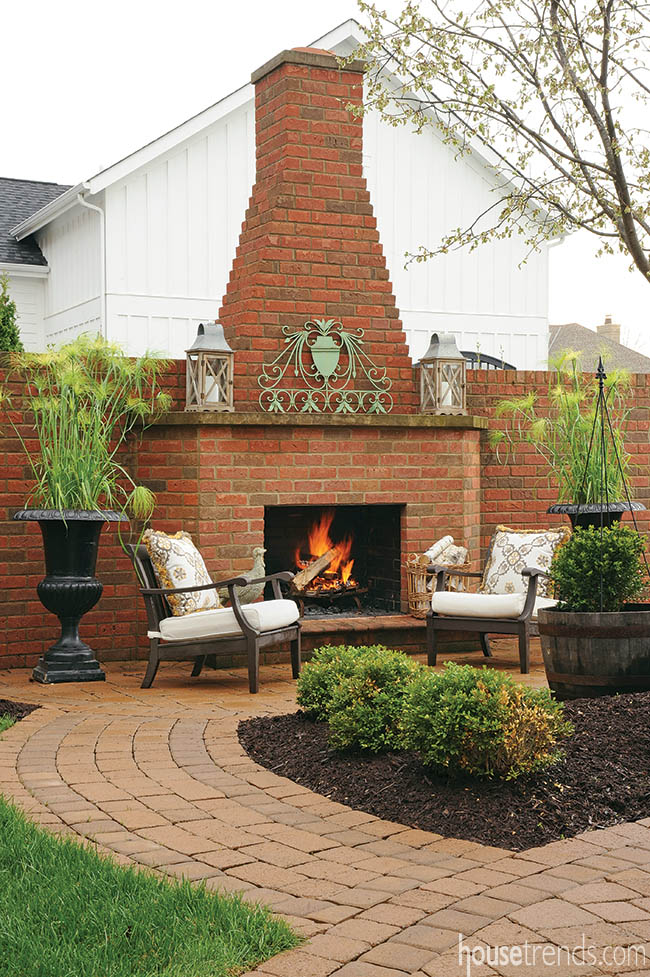 Architectural plans for the property called for an L-shaped home punctuated by a detached two-car garage. Aubry recognized the three-sided courtyard space that the layout created, as well as the need for a sense of separation from nearby neighbors. Working with builder Weaver Custom Homes, he added a red brick wall that stretches away from the home, yet doesn't meet the garage—providing definition and a touch of privacy without making the space feel closed-off. "If you didn't have that wall, you'd feel like you were in your neighbor's yard," Aubry says.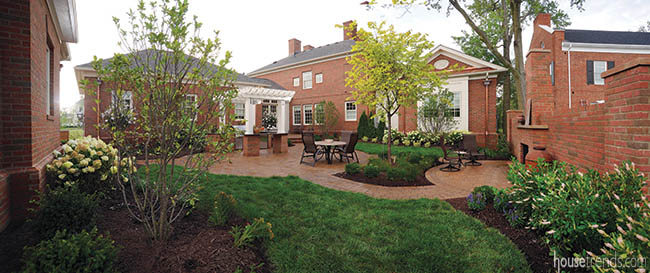 Just as the city of New Albany prides itself on "leaving nothing to chance," every element of Aubry's design has a purpose—and usually more than one. A wood-burning fireplace, for example, breaks up the visual monotony of the wall, but also creates a space for hearthside chats. Strategically placed islands of landscaping bloom with annual flowers, evergreens and perennials like hydrangeas, roses and Jane magnolias, providing color much of the year. More importantly, they also allowed Aubry to create a range of areas for casual or formal outdoor living like relaxing and entertaining, despite the courtyard's limited footprint. A small island, dressed with planted and potted boxwoods and an elm tree, separates the fireplace seating area from a larger entertaining space—which includes a dining patio and a pergola outfitted with a built-in grill, refrigerator and bar. Over time, the tree will also provide a large canopy and welcome shade, Aubry says.
Throughout the courtyard and outdoor kitchen area, variations in the reach and orientation of concrete pavers provide a subtle visual guide, grounding each space like an area rug while connecting it to the rest of the property. A medallion design, for example, marks an entry to the courtyard, where corners of the house and garage meet the driveway. "Because New Albany homes are traditional, they're very angular and rigid. But the house has some very subtle curving cues that we picked up and used," Aubry explains.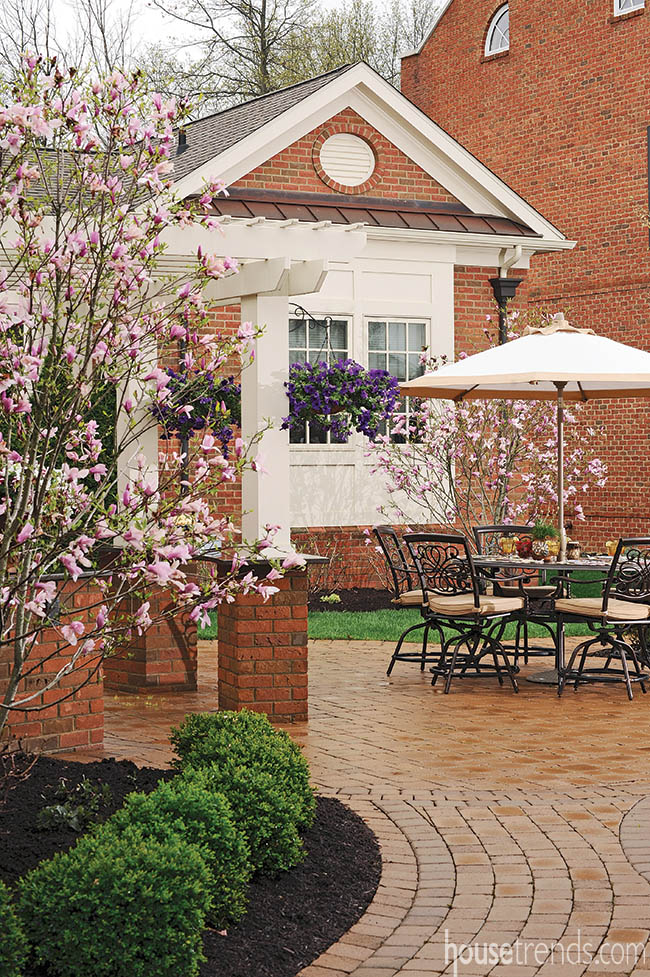 Similar to the dimensional differences that Frank Lloyd Wright and mid-century modern architects used to define private and shared spaces within a home, the curving perimeter of the paved space expands in the more "public" areas—ballooning out around the dining table. It then splits into two thin paths to reach the fireplace and narrows, leading toward a private lounging patio with accompanying patio chairs, tucked into the elbow of the L-shaped home. Here, French doors conveniently open to the dining room, making a relaxed evening all the more effortless.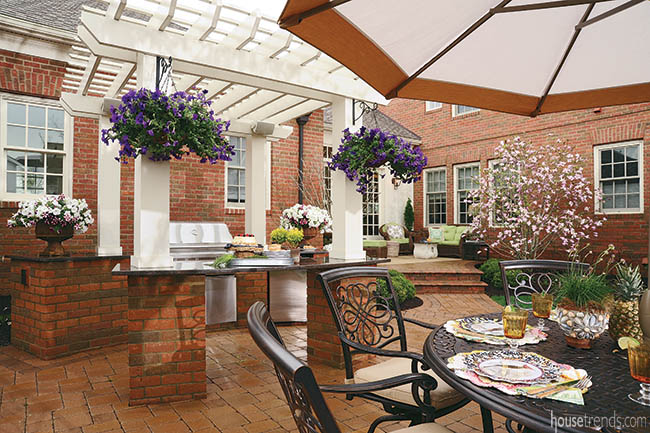 While the family has plans for a few more outdoor upgrades, they see no room for improvement in this well-planned space with its variety of outdoor landscaping ideas and gathering areas, which earned the Parade of Homes' top awards for landscape architecture.