Tim and Beth Gregson's three daughters are ready for summer. In fact, they've tested most aspects of the outdoor living space, like the backyard pool and spa, a few times since February. "They jump into the pool and then quickly make their way to the warm waters of the spa," Tim says with a laugh. "However, we've all enjoyed a few nights sitting in the spa as a family, so I'd say we're all ready for summer."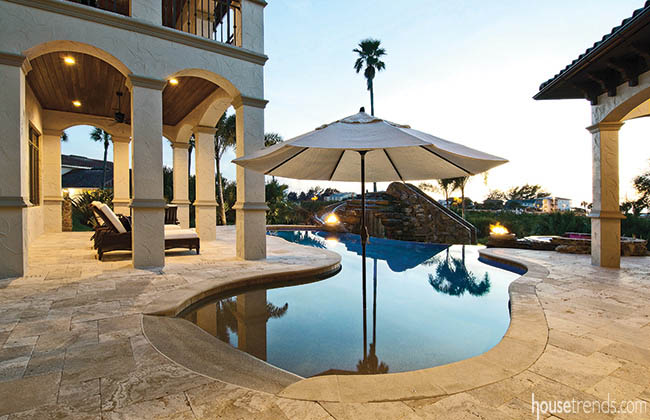 As soon as the mercury rises, the Gregson family will likely spend the majority of their downtime in the great outdoors behind their Largo home. Situated along the Intracoastal Waterway, and offering views of the Gulf of Mexico, Tim says he couldn't pass up the chance to build the home on the lot. "We lived in a beach house, which we loved," he explains. "But this is a piece of family property, with Beth's mother living next door. To live along the water, here in Pinellas County, is such a rare opportunity."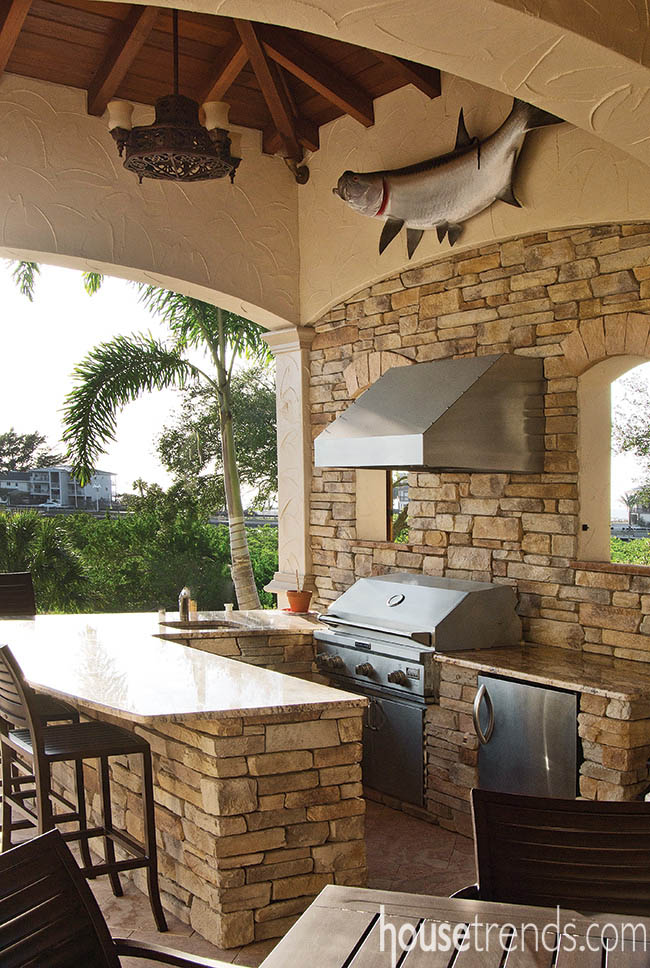 Tim based the construction of the house, as well as the pool and outdoor living space, on the views. The back of the Spanish Mediterranean-inspired home offers covered porches and patios, as well as a complete outdoor kitchen and living room boasting a fireplace and television. "We can grill out in the afternoon and sit by the fireplace in the evening, rain or shine," Tim says.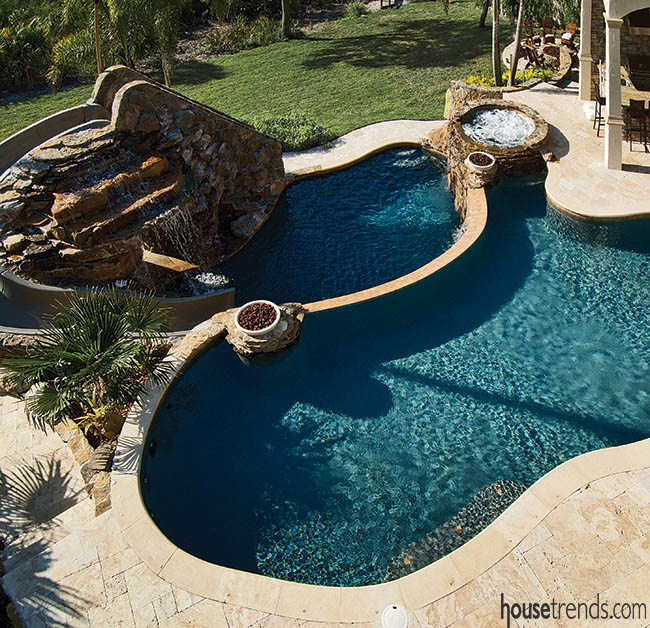 The Gregsons turned to Patrick O'Connell, owner of Landmark Pools, to help them construct the luxurious pool and spa. O'Connell credits landscape architect Billy Barber with creating the overall design. "This was his first project when he came to work for me," O'Connell says. "What he came up with was out of this world."
Since the property slopes down toward the water, O'Connell and Barber had two choices—build a retaining wall to establish a level yard or create a pool that conforms to the lot. Barber went for the latter choice by drawing up a plan that included two pools with an attached spa and rock mountain. "Since the pools are staggered and the mountain is down below, our views aren't obstructed," Tim says.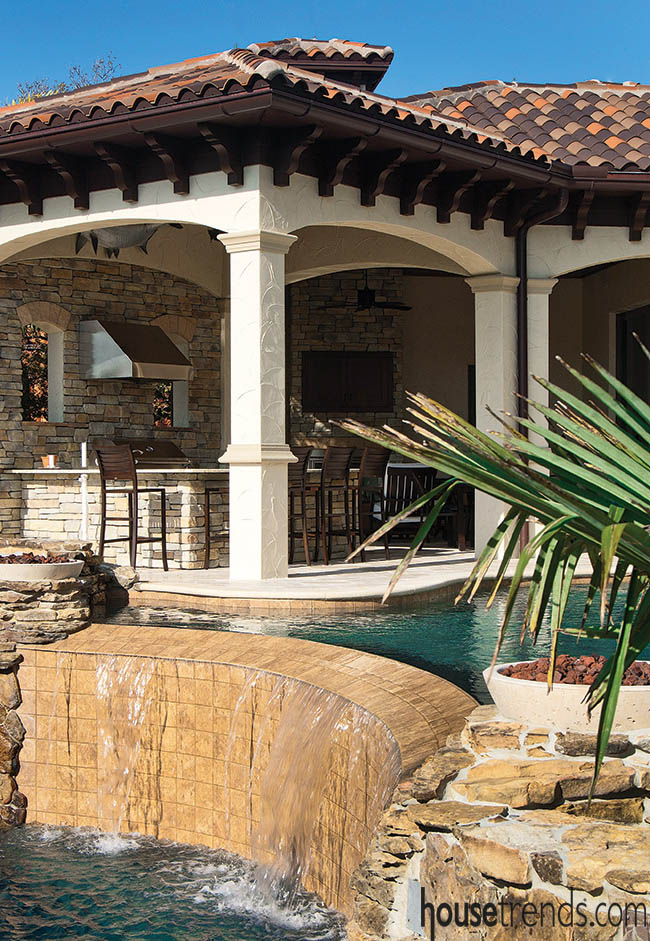 The upper pool is 4 feet deep and includes a beach entry and Badu swim jets, perfect for doing laps or other water exercises. An infinity edge spills over to the lower pool, which is 7½ feet deep and serves as the access point for the curved slide built into the rock mountain. "This is one of the girls' favorite features," adds Tim.
O'Connell used real rocks and boulders to create the mountain, which also features a cave and waterfall. "That cave is the real deal," O'Connell says. "Some of the boulders we used weigh over 2,000 pounds."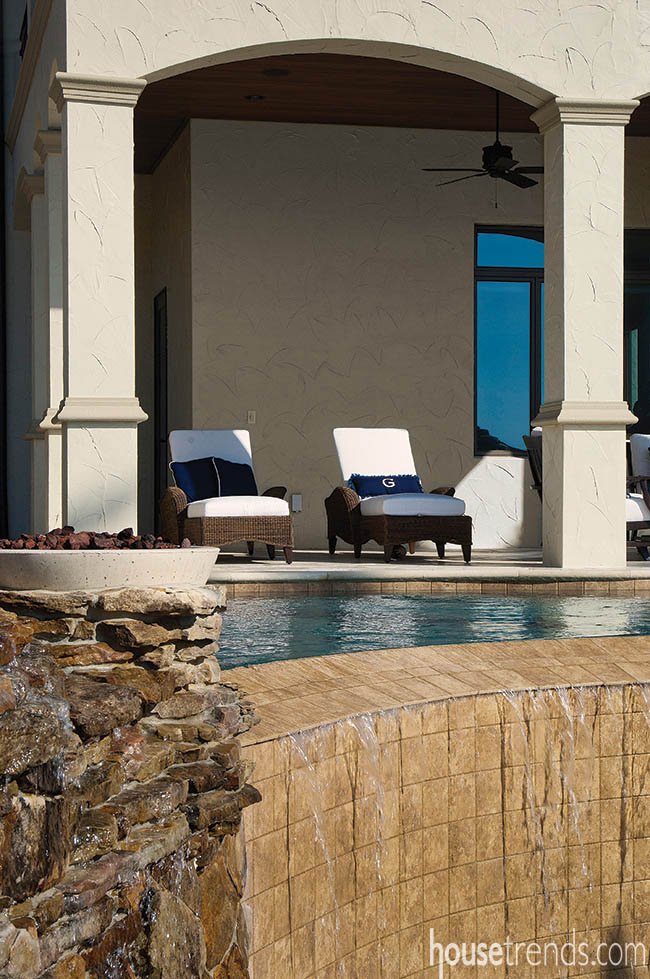 The Gregsons are ready for backyard barbeques and pool parties with friends and family. But, more importantly, Tim and Beth are looking forward to those quiet family moments, where they can just enjoy time together. "Our oldest is 12, so we know that times will change," Tim says. "We wanted to create a safe environment for the girls to enjoy as long as they can. We intend to create memories here that will last a lifetime."