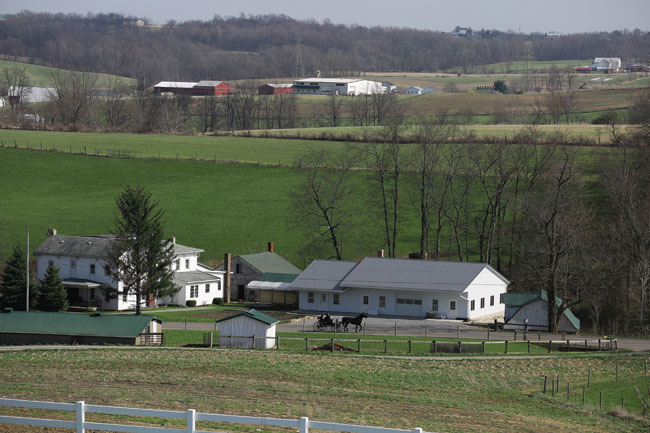 Sam has an amazing view from the back of his house – a picturesque pastoral scene with the Ohio hills rolling on into the distance. It seems appropriate that he has created an equally dramatic outdoor living space against that backdrop.  "We wanted a place where we could entertain guests, where the kids would bring friends over, basically social outdoor living," explained Sam.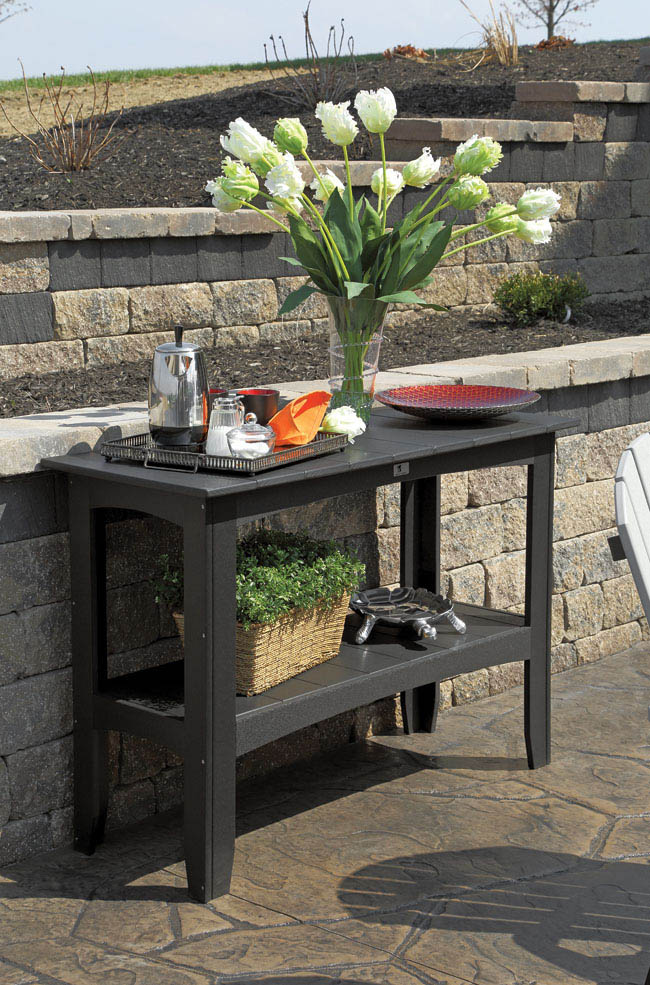 Jason Chupp of Grandview Landscaping created a series of retaining walls that cascade down from both sides of the house to wrap around the patio, using Unilock concrete pavers to replicate the feeling of stone. A bold contrasting line of accent pavers runs across the top of the antique-textured walls.
This is a reoccurring theme throughout the design, including the custom bar topped with granite built beneath the porch.  Four bar-height swivel chairs are a modern take on a classic Adirondack design, featuring wide slats rounded at the top and Sailcloth Shell cushions for comfort.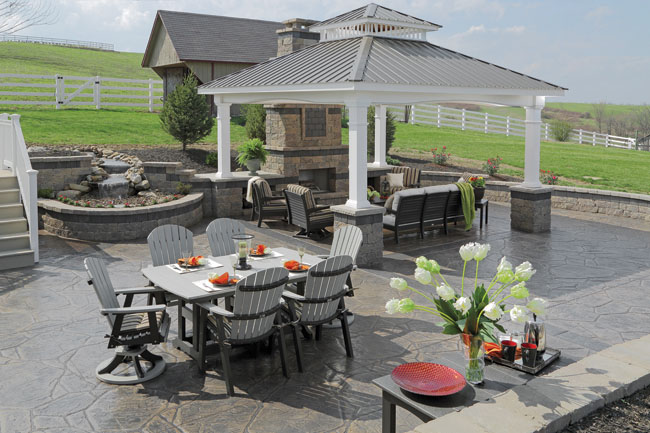 Grandview Landscaping installed one of their signature water features to meander along the right side of the house. Bound by field stones, the water runs to a pleasing waterfall, tumbling onto more natural rock.  The water is then pumped back to the top, creating a pool-less fountain eliminating the maintenance hassle of standing water.
The16x16 Victoria pavilion that shelters the custom fireplace was strategically placed right next to the waterfall. "The whole combination of water and fire together is soothing," says Sam. The classic roof is supported by four columns made of wood wrapped in white vinyl. "I really wanted the structure to be maintenance free," explained Sam.
Also made from poly lumber, the dining set to the right of the pavilion can also weather Ohio's severe winters. Four side chairs are paired with two swivel  rocker chairs at the head and foot of the rectangular dining table. Picking up the black line motif, the dining pieces are grey with contrasting black accents and Foster Classic striped cushions.  Set against the nearby wall, a black buffet table makes serving easy.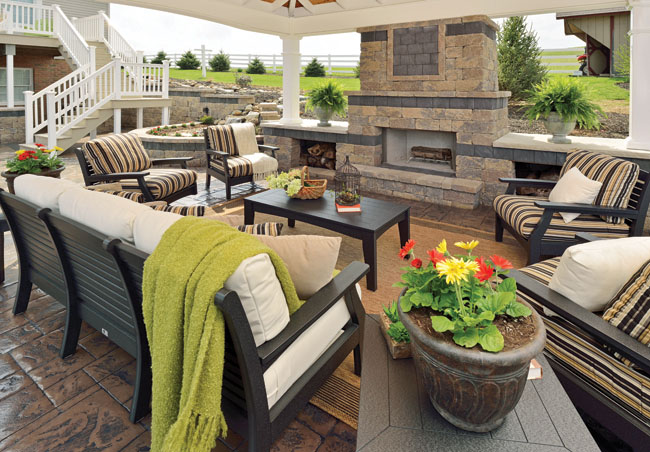 Constructed from the same replica stone as the walls, the fireplace takes up the black line motif repeating it to accent the textured hearth and mantel. Convenient nooks keep wood dry and at hand.  Grandview also created a simple yet striking black square above the hearth mirroring the deep cushioned Classic Terrace seating in black around the fireplace.  "It looks like nice living room furniture, but it's made from recycled milk jugs.  It won't fade; and can be left outside all year," explained Sam. Looking for a green option, he purchased everything from Berlin Gardens' line of poly lumber furniture. The chairs are upholstered in a black, white and beige stripe pattern.  These Foster Classic Stripes are repeated in the throw cushions on the Sailcloth Shell cushions of the sofa, interspersed with others in Canvas Heather Beige.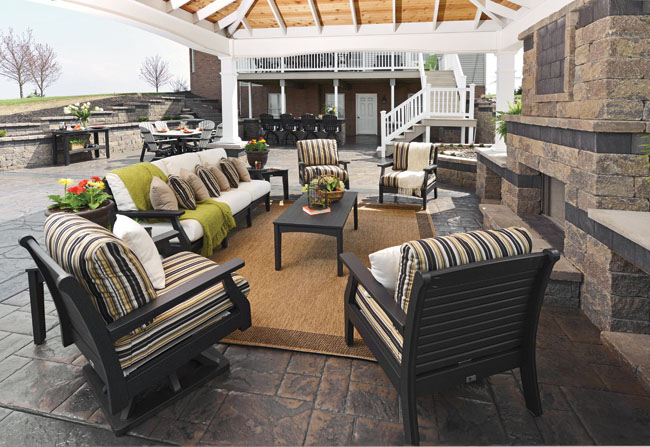 "We love the color, the construction – everything!  It turned out even better than we could have expected," smiled Sam.