When Dr. Dominic Angelo Rizzo and Dr. Elizabeth Brown-both podiatrists- moved into their Madeira home, they planned on doing renovations. About 200 years old, with an addition in 1915 and a small remodel later on that updated the electric and added central air, the home was in need of some TLC, so the homeowners went to JDH Remodeling to help them carefully reconstruct the past grandeur of the home while simultaneously adding modern amenities.
As the careful deconstruction began, the team discovered the original structure and its 17-inch-thick masonry exterior walls were not only sound, but hid spectacular artifacts. "We had no idea what was behind the plaster. When we started pulling it off, that changed everything," Fox says. Adds Rizzo, "When we took out the plaster, we immediately said, 'We have to carry this through the whole house.'"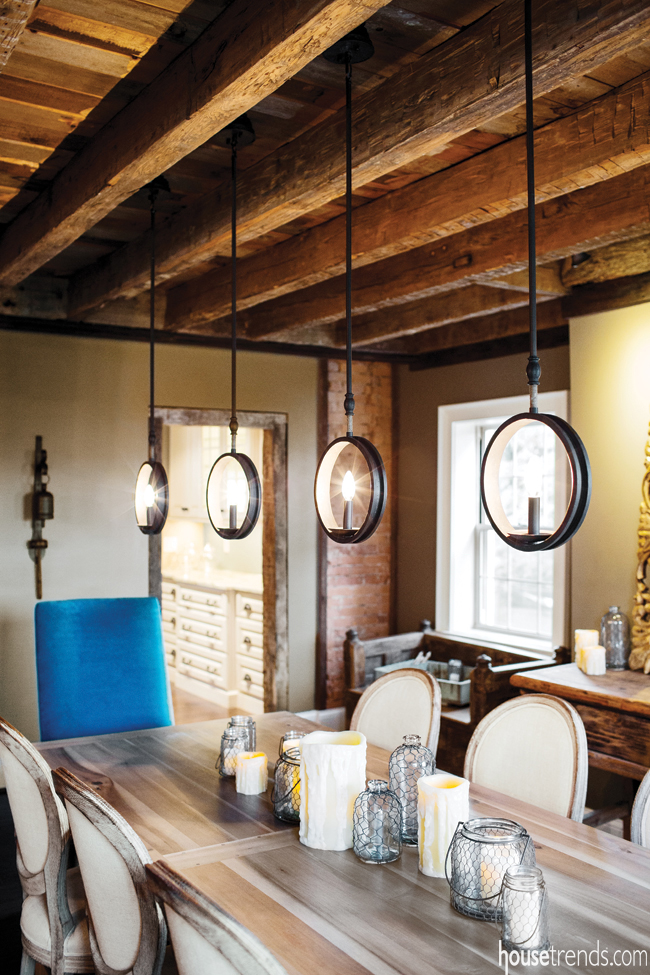 The greatest discovery occurred when the first-floor ceiling came down, revealing 200-year-old hand-hewn beams that still provide structural support. "You can still see the old 1815 bark," says contractor Ryan Kuenkel, owner of JDH Remodeling. "Their main objective was to not lose the character of the home."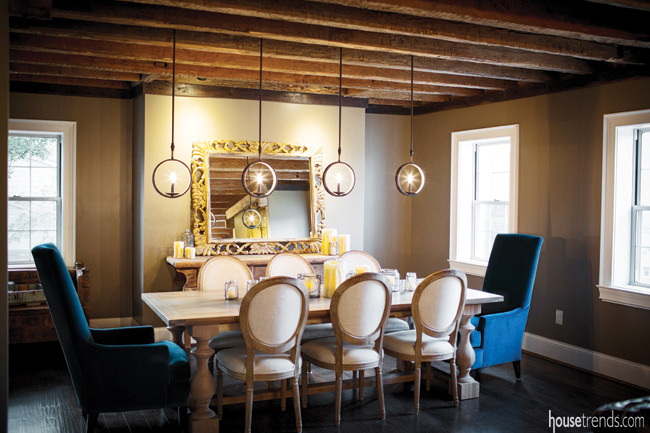 The cozy dining room pays a tribute to the home's history with the wood beams in the ceiling, as well as the hardwood floor. The bright blue chairs, however, hail from this decade and help to give a modern touch to the room, a room that the homeowners hope to be using for many years to come.
Resources: Builder: JDH Remodeling; Architect: Perry Bush Residential Designs, LLC; Designer: Kimberly Fox Designs; Flooring: Flooring America; Kitchen and bathroom cabinetry: Kitchen Concepts; Kitchen and bathroom countertops: Sims Lohman; Kitchen sink(s), faucet and appliances: Ferguson's; Bathroom sink: Sims Lohman; Bathroom faucets: Ferguson's; Lighting: CLC Lighting Design; Painting/wall treatments: Sherwin-Williams; Wallcovering: Kimberly Fox Designs; Furniture and accessories: Kimberly Fox Designs, Arhaus, Restoration Hardware, Antiques; Home theatre: Hanson Audio and Video; Landscaping and stamped concrete: Townescapes; Windows and doors: Carter Lumber; Wine niches: JDH Remodeling