From the street it looks like a dentist's office or a municipal building. Anything but a house. Its exterior walls are metal, adobe colored like some sort of misplaced Arizona office building and wood beams, huge windows and stainless steel accents make it appear rugged, almost eternal.
Yet for Bob and Debbie Darden, this somewhat ambiguous structure is more than a house, it is a dream home. Situated on a sloped, wooded lot in Bentleyville that angles down from a Union Cemetery near the road to the Chagrin River at the back of the property, the site and the home that stands there has been dubbed the Ponderosa.
"That came out of the construction process," Bob says. "I was here every day and one of the guys started calling me Ben Cartwright. The Ponderosa theme stuck through the process, with different site managers taking the names Hoss and Michael." The Dardens even considered having their doorbell play the theme from the television show, but opted for a sign in the turn around instead.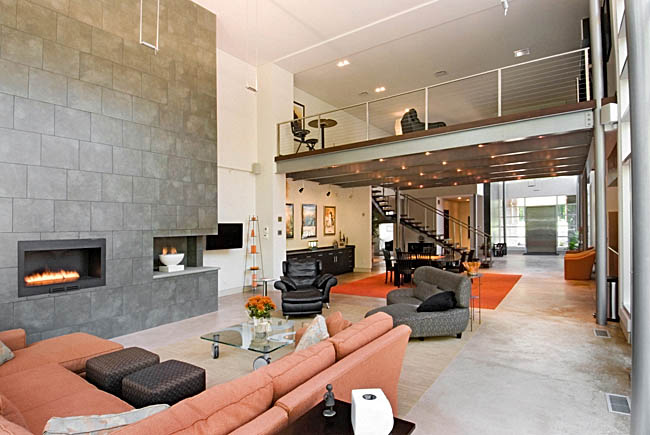 The end result is a home that can be both warm and stoic, hard and soft. The front entrance is dominated by 20-foot high windows and a 300-pound stainless steel door. Stepping inside, visitors can look all the way to the back of the home and beyond, through the foyer, dining room and living room via an open floor plan and floor-to-ceiling windows on the back of the house.
Above the dining room is the only second floor room in the house—an elevated media loft that is girded by exposed steel beams and hangs suspended with open-air sides to the foyer and the living room.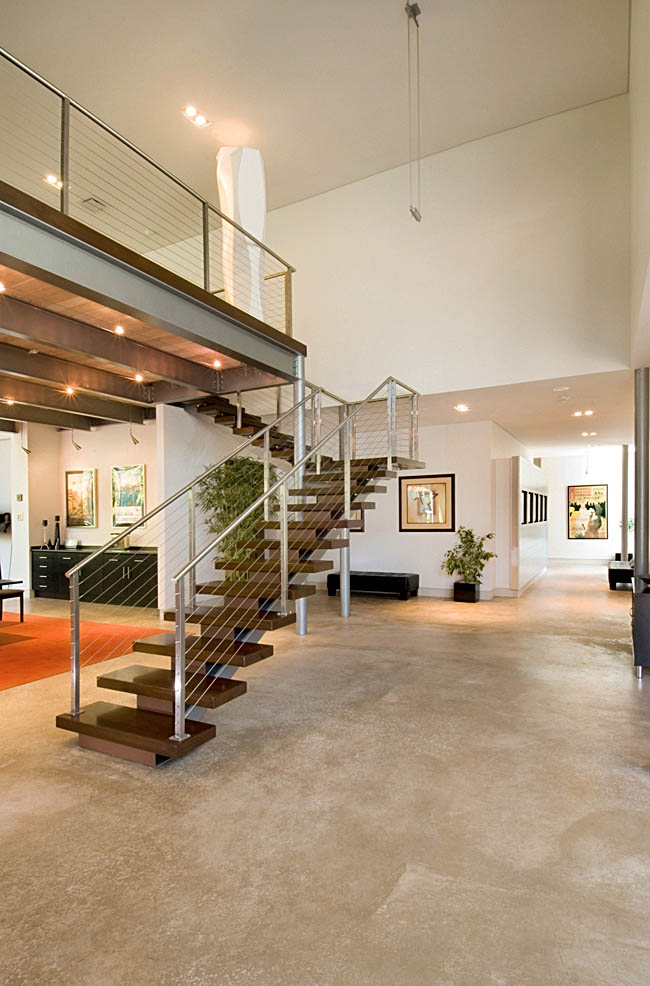 Underfoot are concrete floors tinted a slight and subtle tan and warm with whole-house radiant heating. When standing in the foyer, guests can turn left down a 100-foot house-length hallway to the "public" areas: kitchen, game room, indoor pool and locker room, or right to the private areas: den, bedrooms and children's play suite.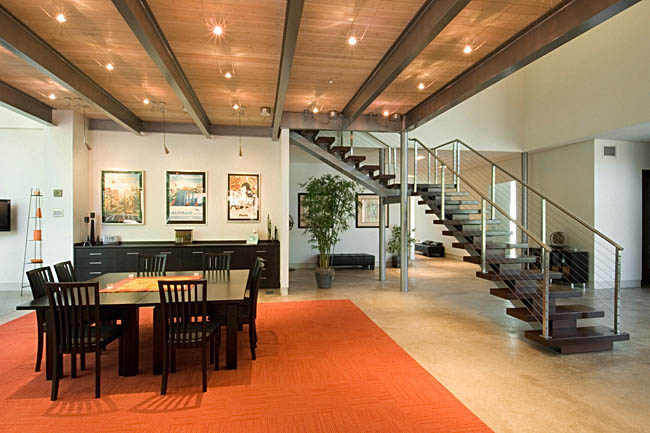 The large, square formal dining room table is the centerpiece in the two-walled room, but does nothing to block the view from the front door to the trees along the back of the property. Both the Dardens say they made a point of having several visual passages from front to back in order to open up the home to as much natural light as possible and bring as much of the outdoors inside as they could.