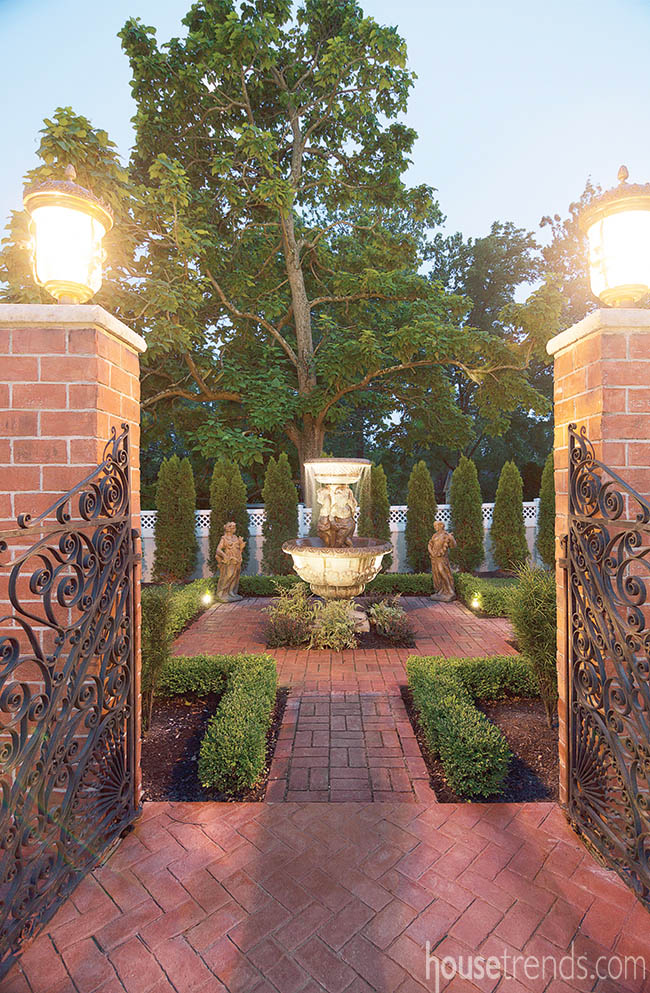 When it was time for Madeira homeowners Steve and Leslie Gordon to renovate their back yard, there were a variety of options swimming around about what to do with the space. "Leslie really wanted a pool," Steve explains. "But I grew up in a house with an in-ground pool, and it was my job to clean the pool every weekend— and this was back before automated cleaners—so I wasn't wild about the idea."
"Leslie worked on me and worked on me… and I said, 'If we're going to do this, we're going to do it right.'"
And do it right, they did. Leslie started by placing paper cutouts of the project components on graph paper.  Steve then used his background in drafting to draw a rough sketch of what the couple was looking for, and they set out on a journey that took them back to the streets of New Orleans.
Finding a theme
"We really didn't know what we wanted, so we first thought about a lagoon-style pool," Steve says. "But we quickly decided that wouldn't match our home."
The couple lives in a Victorian farmhouse built in 1859. They have restored the home with architectural integrity and furnished each room with period antiques.
Steve and Leslie have traveled all over the world, and different areas of their home are based on different travels. One of the places the couple always admired was New Orleans.
"If you walk through the French Quarter, there are beautiful walls around these stately houses with gates that lead into courtyards," Steve describes. "These courtyards typically have fountains, wrought iron fences, gates, brick walkways, statues… Everything we wanted, and we could use many of the antiques we had collected."
After the couple decided on a theme, they realized they didn't know much about getting a pool built. But Steve had some drafting experience, so they took some measurements and came up with a rough sketch of their vision.
More than a pool
"We started showing our design ideas to different pool companies and often heard things like we build pools… what you want is much more elaborate," Steve explains of their plans that included an outdoor kitchen, fire pit area, stucco walls and water features.
"We met Klimat Master Pools and realized they were the right people for the job," Steve continues. "We asked them if they could refer anyone to do the pool decking.
"They asked me who was doing the electrical work, and I asked them if they knew anybody… This is how I fell into the role of general contractor."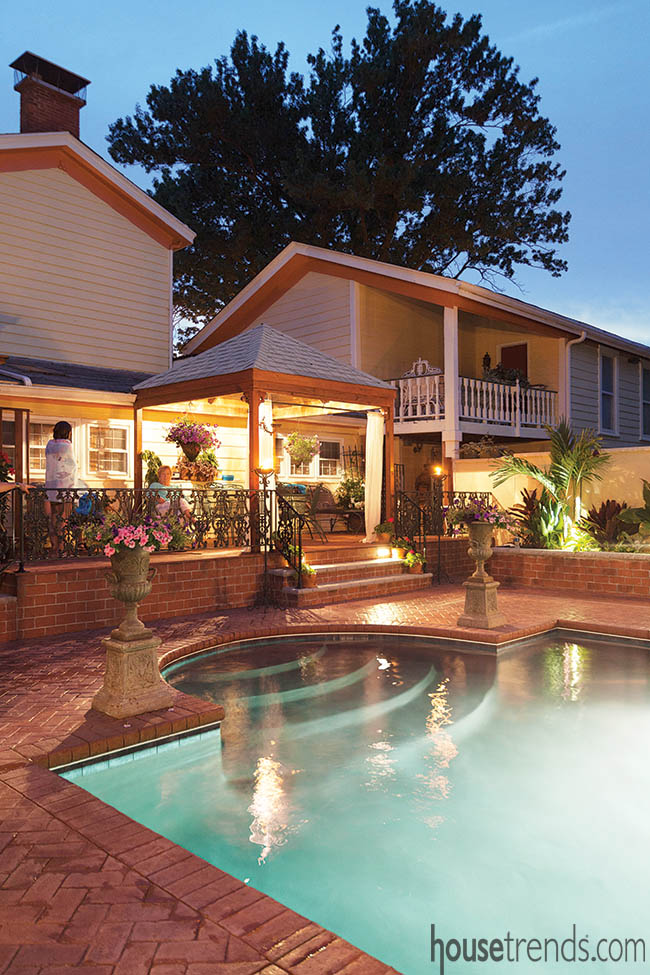 Steve says it wasn't intentional that he ended up managing the project, and it wasn't until he hired LaMond Design that he learned the landscape architect usually handles all aspects of projects like these.
"When a contractor collects their twenty percent, they earn that money," Steve says with a laugh.
John Remke, sales and design consultant with Klimat Master Pools, remembers Steve and Leslie's project fondly. "It is nice when homeowners like Steve and Leslie come in with sketches and ideas of what they want. It makes our jobs much easier," Remke explains. "They wanted to create a New Orleans garden with old-world charm."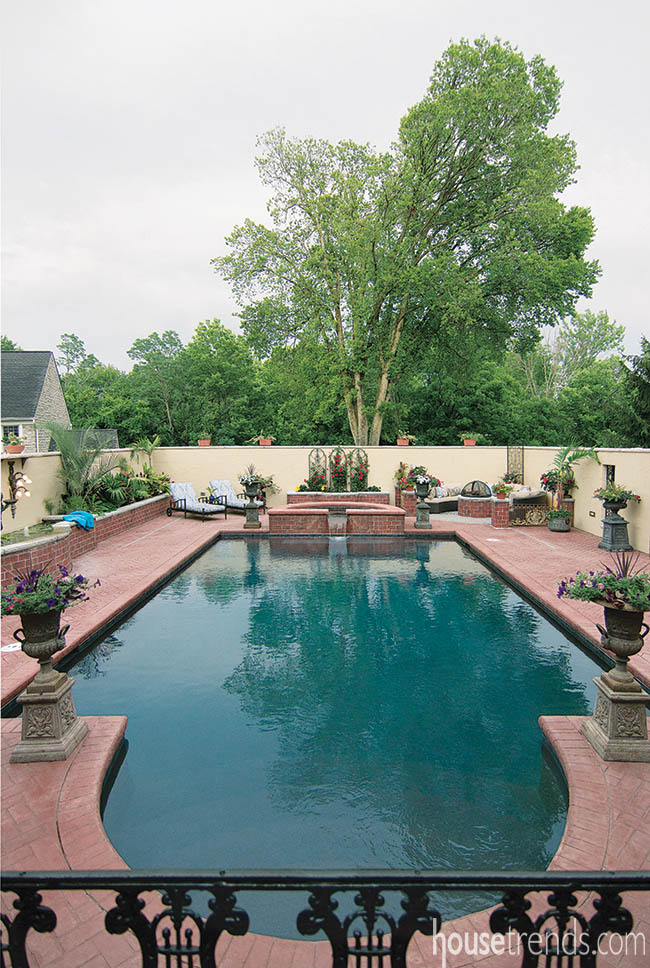 Privacy please
"We realized early in the design process that we wanted privacy around the pool because of the houses around us," Steve says. "Tri-State Bomanite worked with us to create a stucco privacy wall. It's a six-foot wall made out of cinder block, covered with stucco and textured to look old. The concrete blocks on top were made to look like stone."
Tri-State Bomanite also created the pool deck out of pressed concrete that looks like a herringbone brick pattern. "They made us all look good," Remke says of their craftsmanship.
"We wanted it to look like real brick that had been there a hundred years," Steve adds. "And they did it. They are true artisans."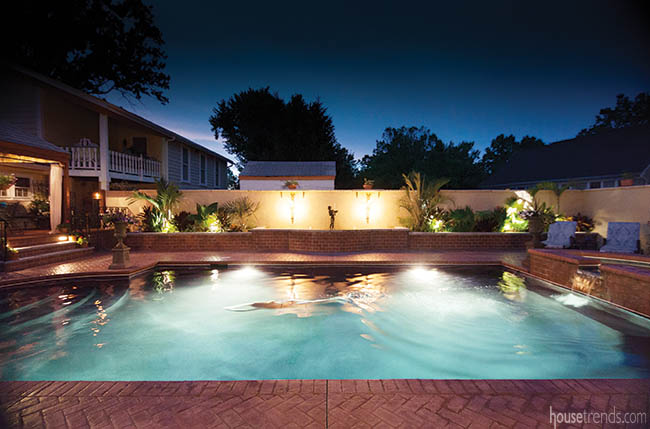 When in Rome
Remke explains that Steve and Leslie decided on a Roman-shaped pool, where two half-circles flank the main body of the pool on each end. One of the semi-circles is the spa and the other is where the steps lead into the water.
"About forty percent of the pools we design incorporate the Roman shape," Remke adds. "People like the classic look, and it fit well with Steve and Leslie's overall theme." 
Originally the pool was turned at a 90-degree angle from where it is now, but due to property codes and sewer lines, the surveyor told Steve and Leslie they had to change their plans. The couple realized their yard drops off in the back; so twenty truckloads of dirt were brought in as filler.
"Some things happen for a reason," Remke says of the setback. "We all agree that the pool looks great where it ended up."
The pool has a blackish interior, which Steve explains is more of a dark charcoal grey. "With the water in, it looks like a beautiful, deep forest green," he describes.
The two swim jets that were installed to create a current for swimming laps make this pool unique. Remke says his company only installs one a year. "This was a challenging project due to the size of the space we had to work with," Remke describes. "We went with a smaller pool size, but the homeowners still wanted to be able to use their pool for exercise. When pools aren't large enough for swimming laps, the swim jets are a great alternative."  Leslie also wanted a bench in the pool beneath the waterfall so she could enjoy the water pouring onto her neck and shoulders.  Klimat Master Pools measured her height to ensure the bench was positioned perfectly.
Planting perfection
LaMond Design helped Steve and Leslie design the brick walkway that goes back further in the yard to a small courtyard with a large, two-tiered fountain from Aquatic & Garden Décor. "The landscaping will grow and give us more privacy," Steve explains. "LaMond helped us get all the tropical plants we wanted to create that New Orleans atmosphere."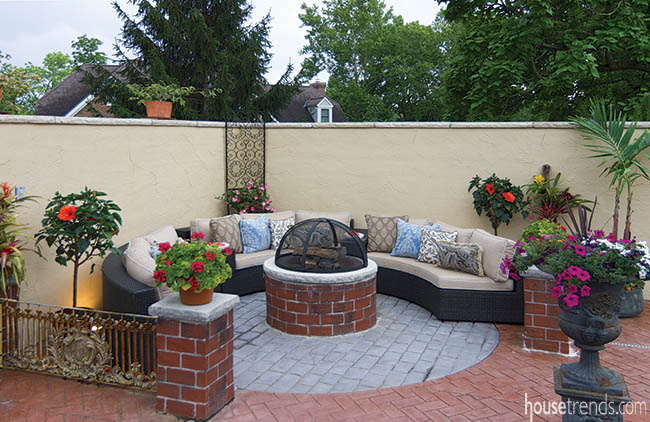 All the plants had to be taken out of their outdoor planters and brought indoors for the winter. The landscaping team will come back to Steve and Leslie's home in May to transplant them back outside.
"The large ones are in water permeable bags that prevent the plants from becoming root bound and make it easier to move them inside," Steve describes. "We have them all in our sunroom all winter."
To make room for all of their tropical plants to become their roommates during the winter, the couple built a small greenhouse between the sunroom and kitchen where the plants will live starting next winter.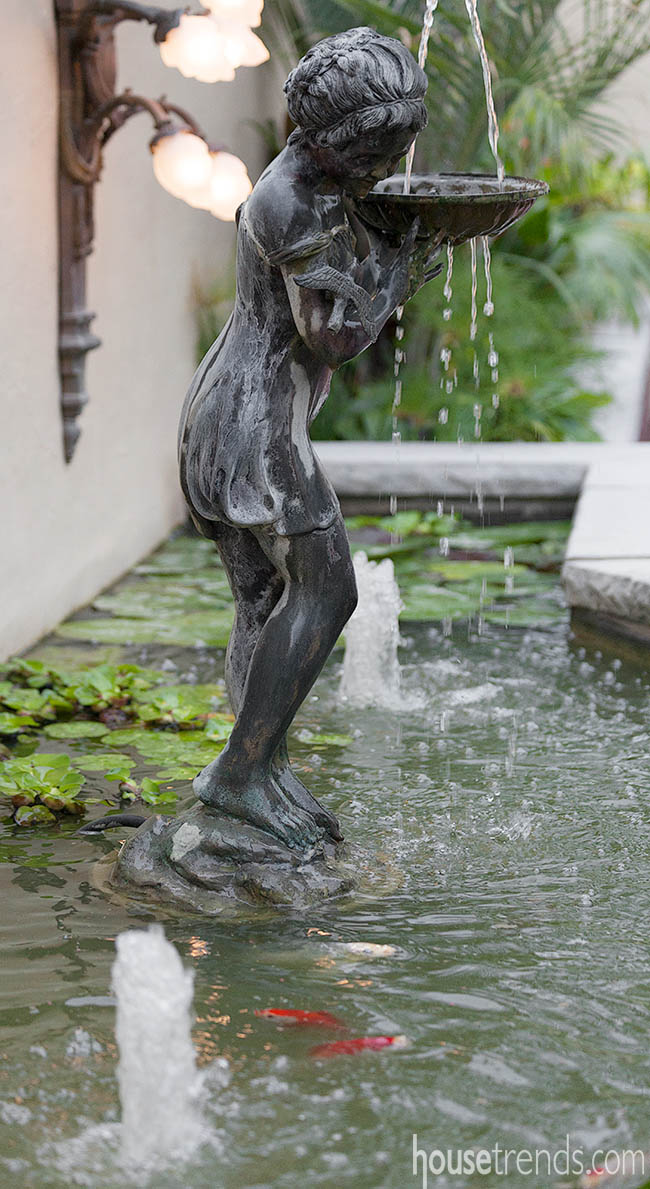 Fountains and water features are also a large part of Steve and Leslie's overall design. "Because we live on a main street, we wanted a lot of water sounds to mask the sound of the traffic," Steve explains. "There's a waterfall from the raised hot tub to the pool, a big fountain outside in the courtyard, a large fish pond, and we have a small fountain."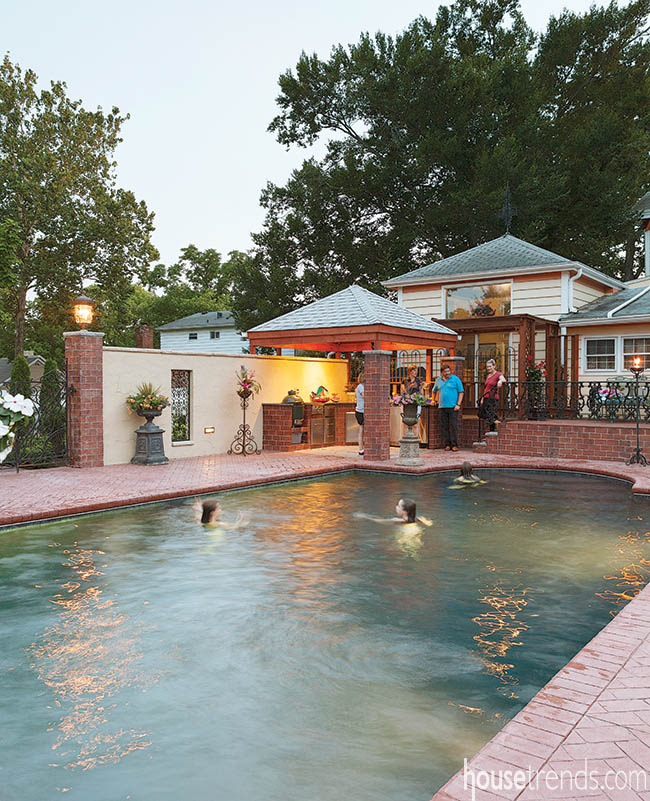 Pool party
Steve and Leslie cannot wait to get back to their little slice of New Orleans again this summer. The couple enjoys cooking in their outdoor kitchen while their guests enjoy the pool and fire pit. And although their dogs might not have been happy with them during construction, now they too enjoy the new outdoor space.
"We couldn't be happier with how everything turned out," Steve says. We worked with a team of masters. They all did such beautiful work."
Resources: Pool construction: Klimat Master Pools; Concrete pool decking and courtyard wall: Tri-State Bomanite; Landscaping design and installation: LaMond Design; Electrical & lighting: Executive Electric; Plumbing: Queen City Mechanicals; Kitchen cabinets: Bogart's Woodworking; Countertop fabrication: Stone Design; Countertop granite: Mont Granite; Kitchen stainless inserts and appliances: Watson's; Iron banisters: Elsmere Ironworks; Carpentry: Hoyle Construction; Iron powder coating: Custom Paint and Powder; Welding: Schirmer Welding; Outdoor furniture: Frontgate; Antique accents: Everything But the House; Wrought iron railings: Oley Valley Architectural Antiques; Fencing: Mills Fence Company; Faux brick & wall painting: T & T Custom Concrete Finishes; Appliances: hhgregg Fine Lines; Tropical Plants: TriState Foliage; Plants: Natorp's, Pipkin's and Lowe's; Lighting fixtures: Hazel Glas and Palette Studios; Surveying: J. J. Duffy and Associates; Fountains: Aquatic & Garden Décor
Written by: Sarah J. Dills/Photos by: Connie Kimsey