A charming, sprawling house perched atop a gently rolling hill in Mt. Lookout was a welcome sight for sore eyes when a couple, transplanted to Cincinnati from Denver, was searching for the right home in a neighborhood that fit their family of three. Everything felt good about the place, that is, until they took a look in the backyard and saw a dilapidated outbuilding that looked like it was suffering from years of neglect. Apparently, the structure had been a deal breaker for previous potential buyers, but this particular family decided to go ahead and take the plunge. "Our plan was to tear it down," says Gina Rambo-Navarrete who moved into the house with her husband Ken and son Alex in April of 2011. "It needed a lot of work. The cabinets were rotten and the whole place smelled." But when neighbors heard about the plan to raze the building, Gina says, "They thought we were crazy."
That's because the neighbors knew the history of the place. The 900-square-foor cabin originally was built by the home's second owner, who happened to be Warren Giles. Giles served as the general manager of the Cincinnati Reds from 1937-1951, leading the team to a World Series championship in 1940. He was also the National League president (1951-1969). Legend has it that players would enjoy the occasional downtime in this early rendition of a man-cave.  Once the family learned of the home's history and the community's passion for their baseball team, they decided to preserve this slice of Reds' history.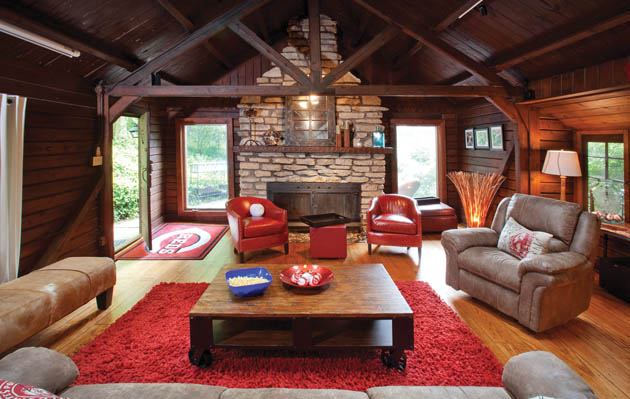 The good news is that, now, due to the family's historic preservation jobs, even after the extensive restoration process, it's tough to distinguish the improved and replaced elements of the cabin from its decades-old original parts. Even though the structure is about 50 feet from the back door of the family's home, it has a warmth and charm that can rustle up the feel of a rustic getaway. But don't be fooled. The cabin has all of the modern conveniences needed to throw a good party.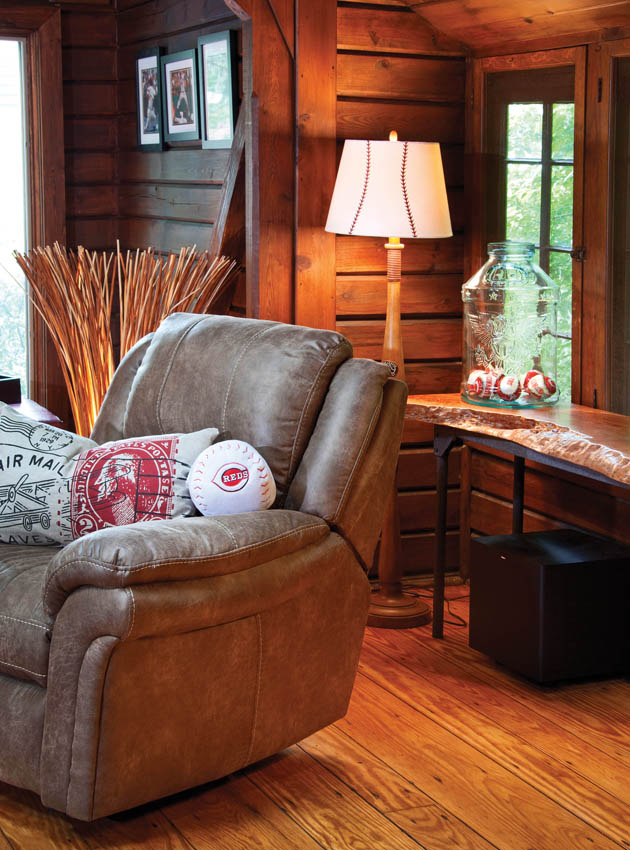 While Gina has ensured that all decorating ideas give reverence to the Reds, the allure is enhanced with a foosball table, a popcorn maker, a snow cone station, and a projection screen that pulls down from the beamed ceiling for movie night, which according to Alex is "perfect to host movie night for me and my friends." "It's pretty much my cabin," says 10-year-old Alex. "My mom and dad sometimes come to the cabin, but usually it's just to clean up."