Ask any Buckeye fan and he'll tell you that Coach Jim Tressel knows a thing or two about football teamwork. Jim and his wife, Ellen, applied the team concept when they assembled professionals to update their 1978 Upper Arlington home. The Tressels moved into their 7,500-square-foot French Provincial home in 2003. "We really liked the tranquil setting," Ellen says of the 2.5-acre property. Empty nesters, the roost is now ruled by their Maltese dogs, Scarlett and Gracie, instead of their 4 children.  Their general contractor was G.O. Justus, of Justus Creations Custom Builders, Ltd. They met Justus when he was the foreman for a previous home the Tressels owned. "G.O. is our guy, the one we call," says Ellen. "We trust him and his quality of work never disappoints.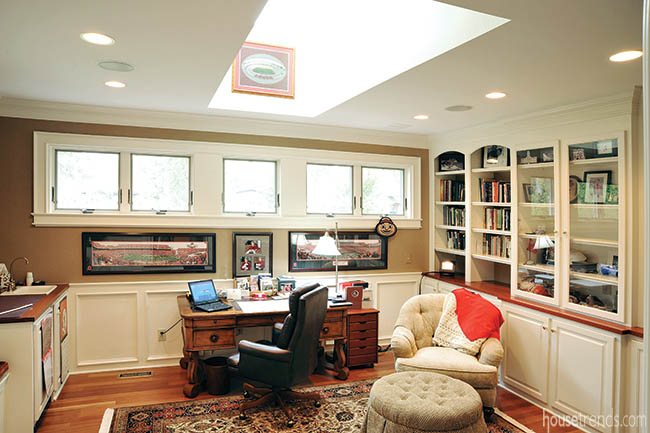 The first project Justus designed and built for the Tressels was a 24×30-foot woodshop behind the garage. While Ellen's hobbies are swimming and golf, Jim's hobby is woodworking and the woodshop allows ample room for Jim to work on projects with his son, Zak.
Next, Justus' company added a den to give the Tressels "his and her" offices separated by French doors. They are custom finished by Justus and his brother, Brian, and include a built-in trophy shelf/bookcase and file cabinets. The Justus brothers are trim carpenters by trade so they do a lot of the building themselves. "We're not typical builders since we actually build," says Justus.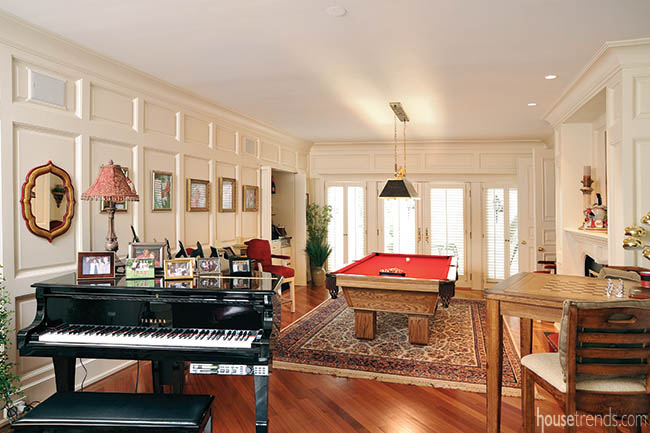 Interior designer Melinda Peters Elliott of Fine Designs and Interiors, Ltd. was recruited to join the team. She had worked with Justus on other projects. "Melinda understands that I want a warm, inviting feel to our home, something to put people at ease," says Ellen, adding, "I don't want our home to be a showpiece with untouchables all over the place."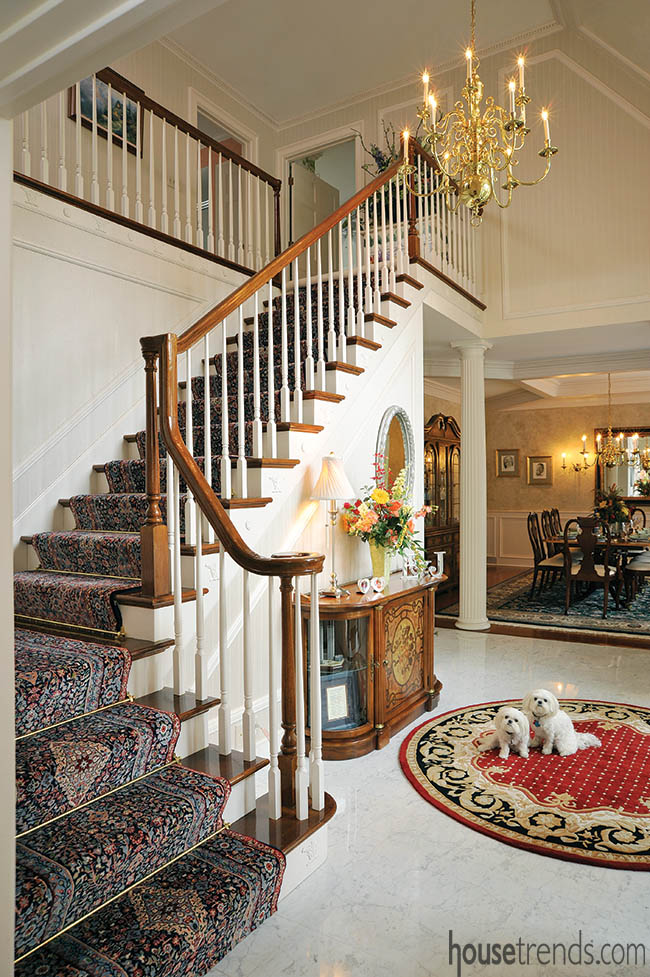 Ellen describes herself as a "basic beige" person. "I like a neutral base with accent colors, particularly red. It's nice to change things around and update," she says.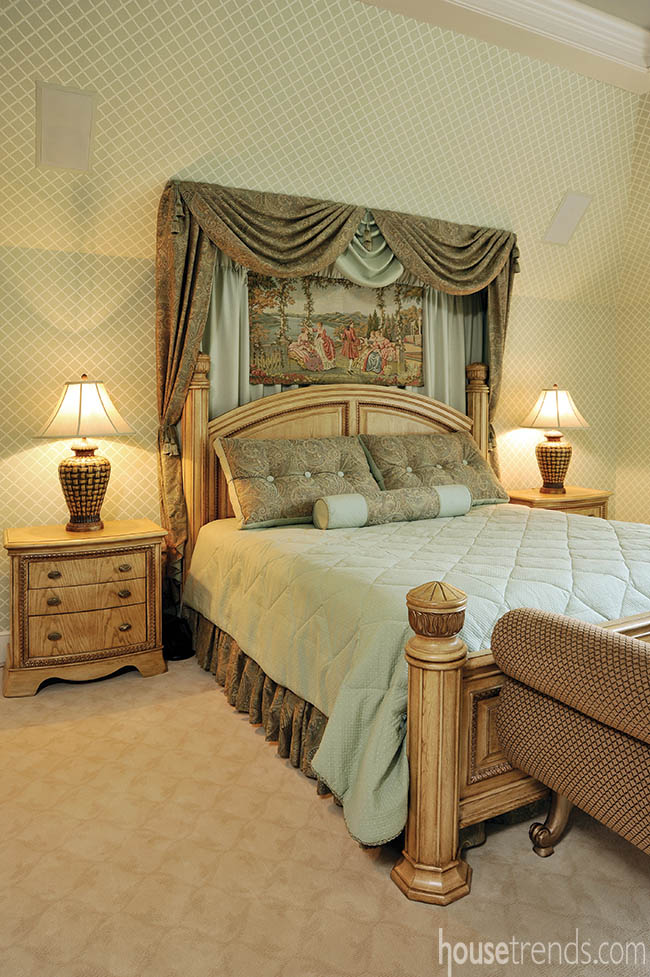 "I clicked with Ellen and was able to find rugs, accessories and fabrics that I knew she would like," says Peters Elliott.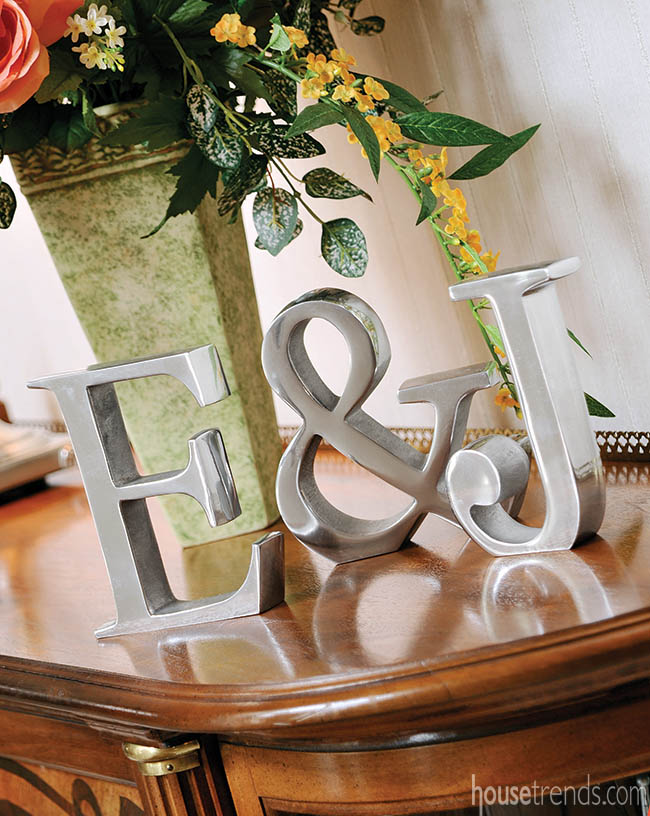 Together the team worked on another addition. "Ellen called and said, 'G.O., I've been thinking we could add a sunroom to the great room.' She always has good ideas and this one made total sense because it provides additional space for entertaining overflow," explains Justus. "It's a seamless addition; from the outside it looks like the room was always there." Fittingly, the sunroom has several large windows which provide more natural light. Peters Elliott selected subtle greens accented with coral for the furnishings and rugs.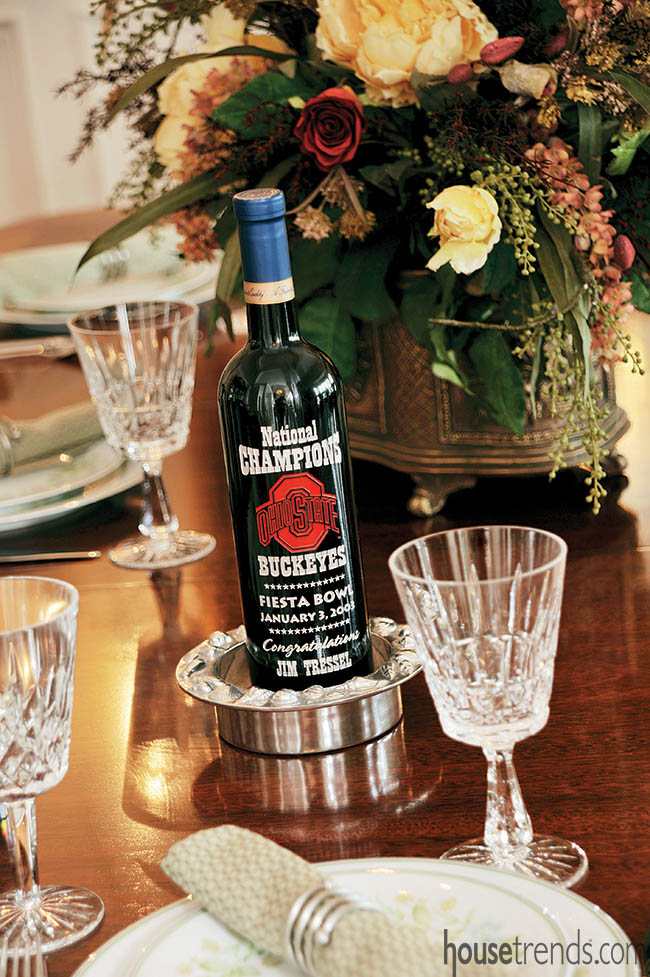 Entertaining is serious business in the Tressel home, particularly in the fall during home game weekends. "It's common to have guests here Wednesday through Sunday," says Ellen.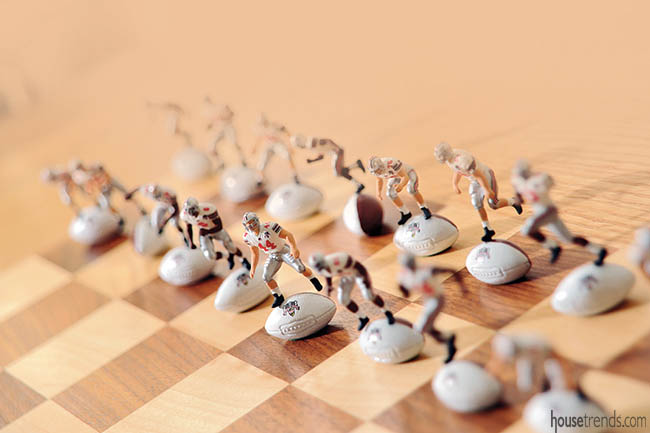 Fall football is closely followed by the holiday season, and the Tressel home hosts large parties. In December and January they host parents of recruits who, Ellen explains, "spend so much time on campus, but here they finally get a chance to kick their shoes off. Several arrive at one time on a bus. We usually serve hors d'oeuvres or dessert. The television is on with football games. I want people to feel at home."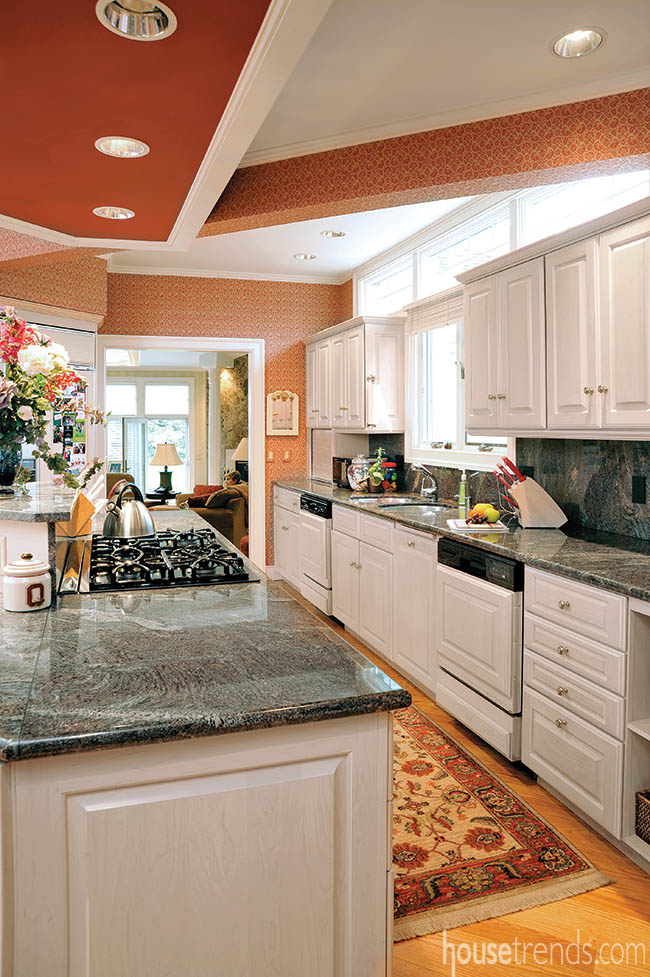 In the spring they would love to have a barbeque for the players, and although one has been discussed and even planned it has yet to happen for one reason or another. Ellen notes with a chuckle that, "Coming to the head coach's home is somewhat like going to the principal's office," so they don't have the players over often.
"Football is a 12-months-a-year job. You're just short-changing yourself if you don't take a break in July," Ellen says.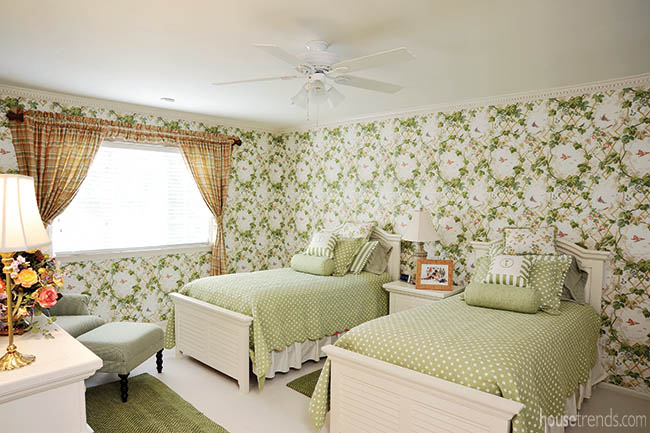 The Tressels then enlisted Justus and the team's help to enlarge their guest suite. This time it was a dormer to add more space and light. "This was Ellen's idea. She wants to know how things are built and how they work and jumps right in regardless of how dusty or torn up the space is," he says.
The suite has a clean, organized feel designed by Peters Elliott. Silhouette blinds were installed which she describes as being a soft shutter that you can roll up. "They provide privacy but let in light too," she says.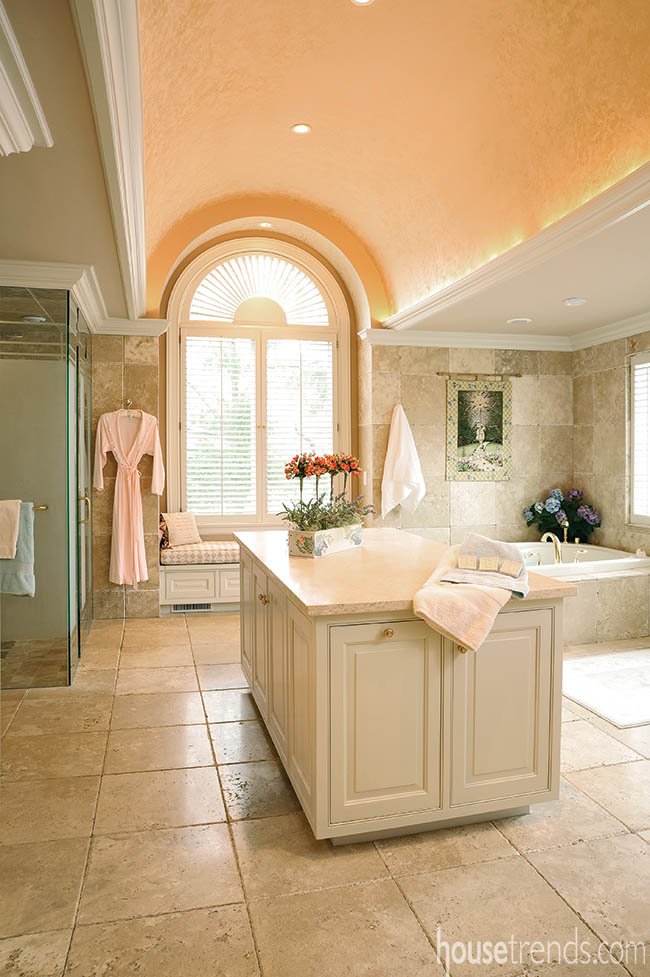 During the school year the guest suite is occupied three days a week by Bob Mansfield, the football team's "academic encourager." Bob is a retired school principal whose job is to check the players' classroom progress. Ellen pointed out that such monitoring was based on a program Jim started at Youngstown State and has been so successful that other OSU teams are doing something similar.
The Tressels' large lot provides plenty of privacy but plenty of grass to cut. This is not a task they contract out because Jim likes the job. "He has very long days, 12-14 hours, and he is out the door at 5:00 or 5:30 a.m.," says Ellen. "He gets on the John Deere and puts on his headphones. That, to him, is relaxing," she explains. Ellen cuts the grass too, but defers to Jim when he calls and says, "Save the grass for me!"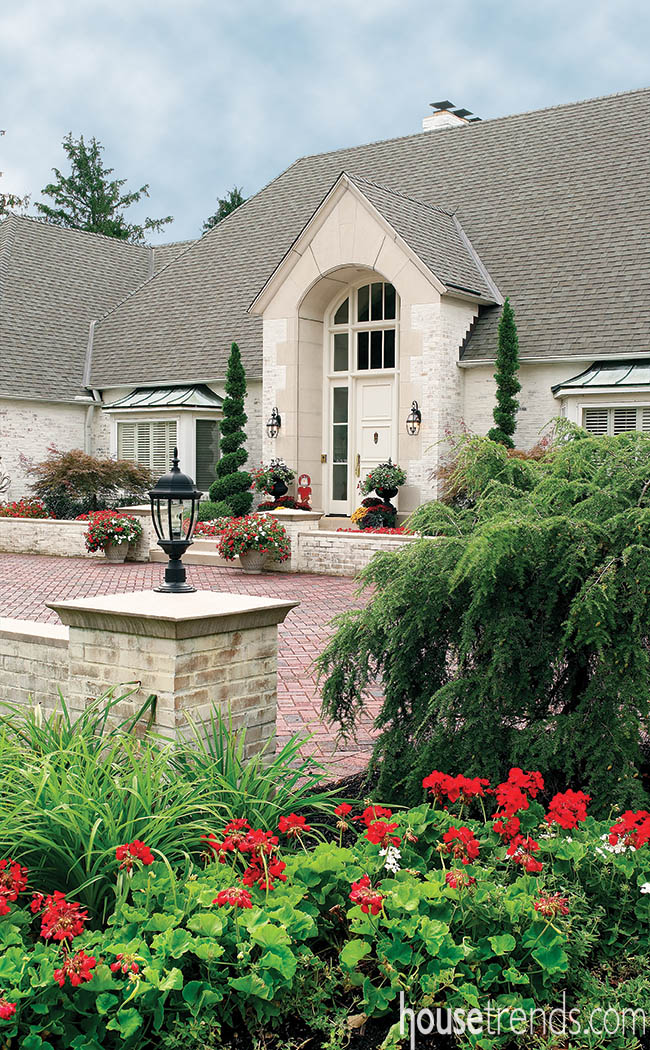 Grass cutting is one thing, but weeding is another. The Tressels work with Mandy Bonnette of Down the Garden Path for their landscaping design. "Our goal was to make the yard and gardens more maintenance-free," Ellen says. "Down the Garden Path knows how to do that," she says.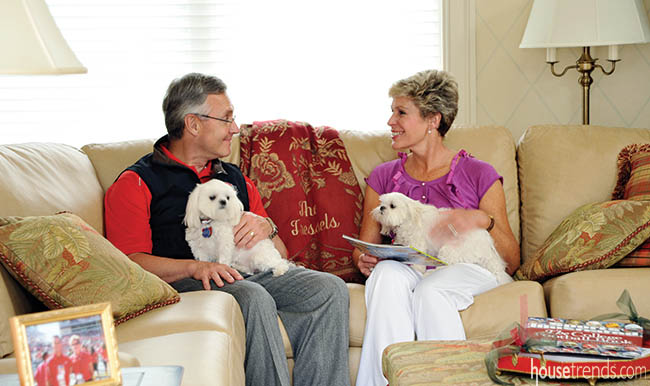 The Tressels believe that when recruiting a team of professionals, integrity is as important as the quality of workmanship. Jim Tressel sums it up this way: "G.O. is a craftsman extraordinaire, but more importantly, he is trustworthy. Whether we are in town or not, G.O.'s dependability gives us peace of mind that the job will be done well and our home is in great hands."
Justus modestly concedes that he's earned the Tressels' trust. "We even let the dogs out."
Resources: Designer: Melinda Peters Elliott, Fine Designs & Interiors, Ltd.; Builder: G.O. Justus, Justus Creations Custom Builders, Ltd.; Cabinetry: Wood-Mode Fine Custom Cabinetry; Faucets: Moen; Oven and cooktop: GE Appliances; Refrigerator: Sub-Zero