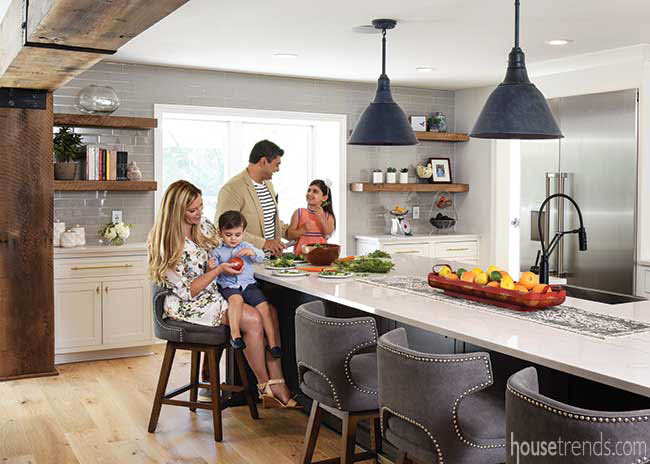 They met at college. After that they lived together for five years. Now they are closer than ever and recently embarked on a major home renovation together. They make their moves and decisions as a unified team and have complete trust in each other. Sounds like we might be talking about a married couple right? You would think, but in this instance it's a homeowner and her long-time interior designer best friend: Kerry Gor and Emily Knoppe.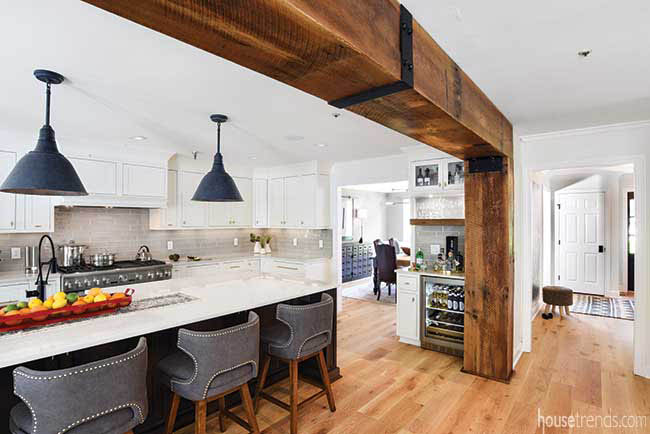 Kerry met Emily while they both were undergrads at OSU. After graduation, Emily has worked as both an interior designer and realtor; Kerry as a small business owner and entrepreneur, most of the time alongside her husband Krupal Gor.
Kerry met Krupal at age 14 when her family moved to the Columbus area from Lima and she took up residence in the home behind his. "He would walk me to the bus stop," she says. Once they were in college the couple started dating.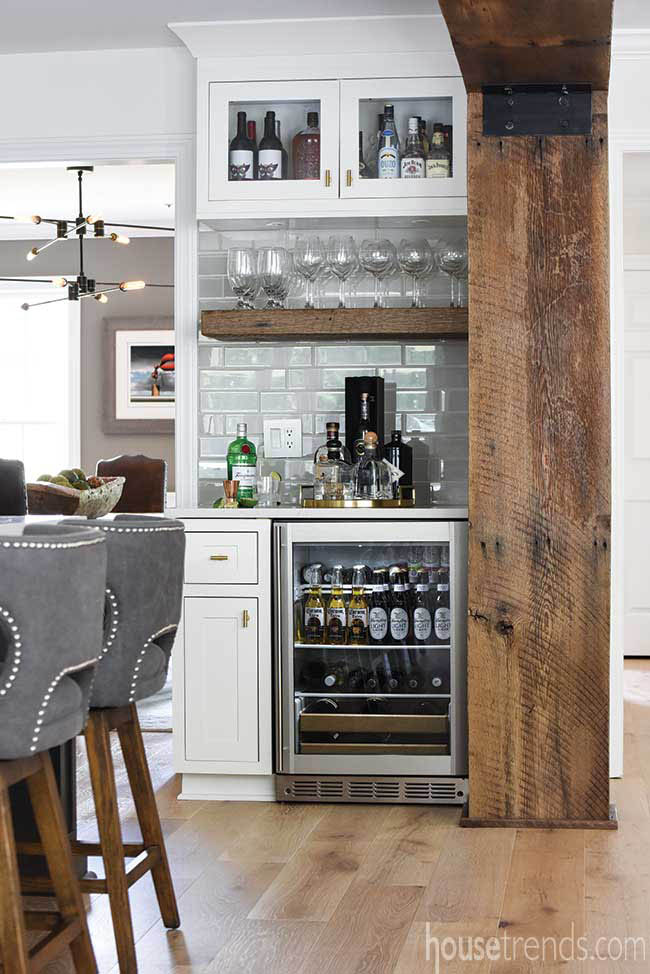 Fast forward
Several dates and a few years later, the now married Kerry and Krupal are parents to two young children and were looking for a house where they could raise their family. Their wish list was fairly specific. The home needed to be in a quiet, diverse community inside the 270 freeway with a fairly good size lot. Plus, it would be great to have a pool and a cul-de-sac location.
Last summer, Emily put on her realtor hat and found them the perfect place. "It's tough to find land inside 270," says Krupal.  "She found everything we wanted."
Plus the setting was idyllic. The house sits on 1½ acres in an established Worthington neighborhood with a back yard that's hard to beat. An inviting oversized pool and nearby pergola are positioned perfectly between the home and a heavily wooded section complete with a creek running through it.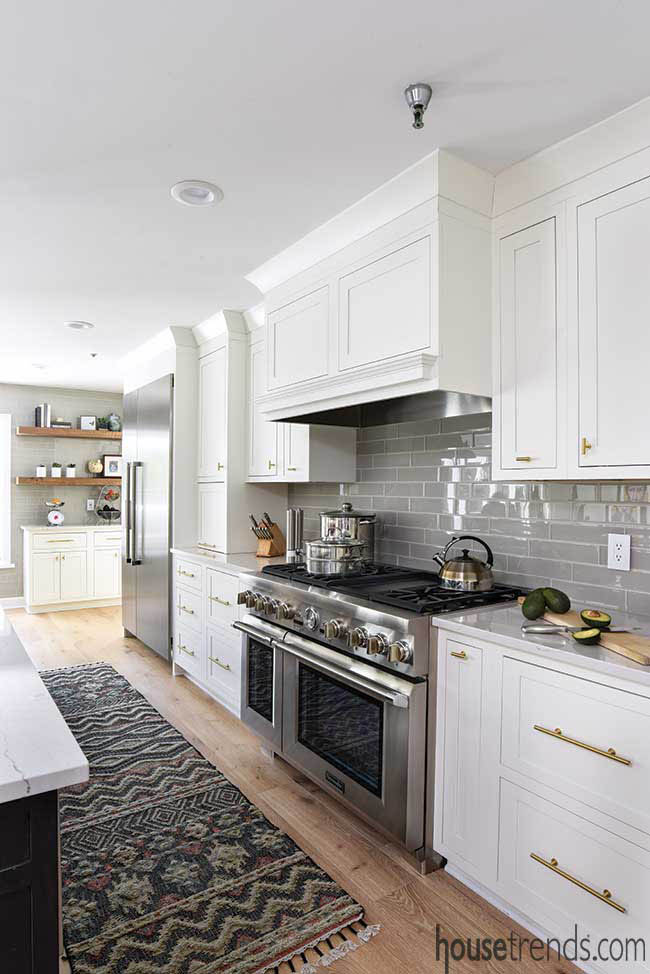 Interior upgrade
While all the major boxes were checked, there were a few adjustments that needed to be made to the interior.  "It was not the open concept we wanted inside," says Krupal. Fortunately, the family selling the home had the 30-year-old plans which indicated which walls were load bearing. Once the team at Riverstone Construction came on board, their architect confirmed the kitchen wall could be removed and the floor plan could be changed up.
"We fell in love with the outside space," says Krupal. "Once we found out we could make the inside what we wanted, it was a no brainer."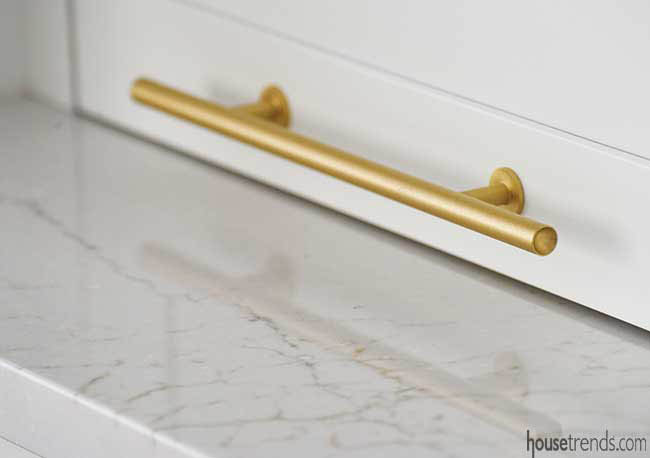 To make the main level of the home more open, Emily, now in her interior designer role, suggested tearing down a wall that ran most of the length between the kitchen and the family room. To brace the new opening, a 20-foot support beam was put in place and wrapped with repurposed wood. A black iron strap covers up a seam in the wood. Emily added a second one for good measure.
"I wanted it to look as realistic as possible," she says. "A beam that large would need support."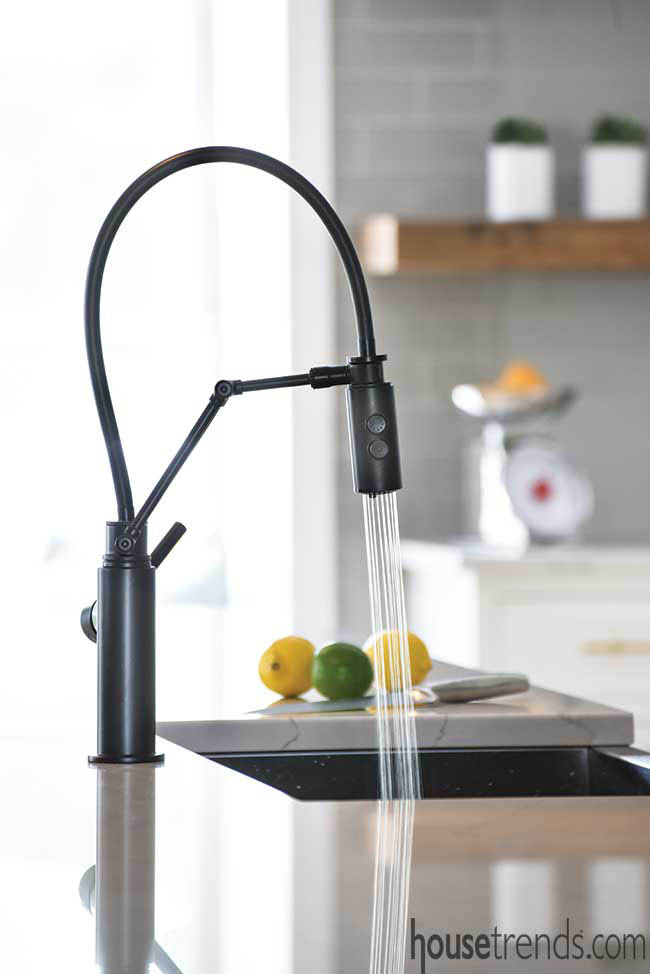 An opening to the adjacent dining room was also enlarged substantially. A formal living room was closed off to become a study and a former mother-in-law suite was reworked to become a playroom for their 4-year-old daughter Esa and 2-year-old son Leo.
"It was a complete first-floor gut," says Kerry.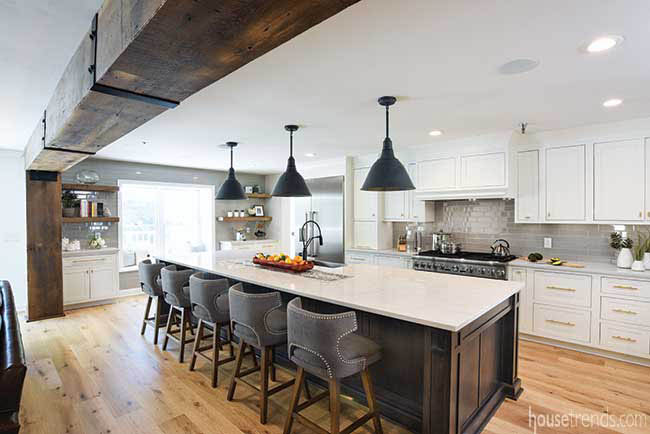 Plenty of elbow room
This is a couple who loves to entertain, so much of the renovation was focused on the kitchen.
Emily worked with Marni Cercone, who was a kitchen designer with Rite Rug, to remove walls and reconfigure the floor plan to grow the kitchen space by about 50 percent.
A 12-foot long island that seats five comfortably stands at the center of the space with three oversized weathered zinc light fixtures adding a dramatic touch. Emily was confident about the outcome thanks to her diligence during the planning stage.
"I always lay everything out to scale," she says. "I use blue tape, blue tape, blue tape." The designer marked out the dimensions of the island on the floor and cut circles to mimic the widest part of the light fixtures and laid them on top. She, Kerry and Krupal were convinced that it was all going to work out just fine. "We trusted our designer," Kerry says.
"Little lights would have been too lost," Emily adds.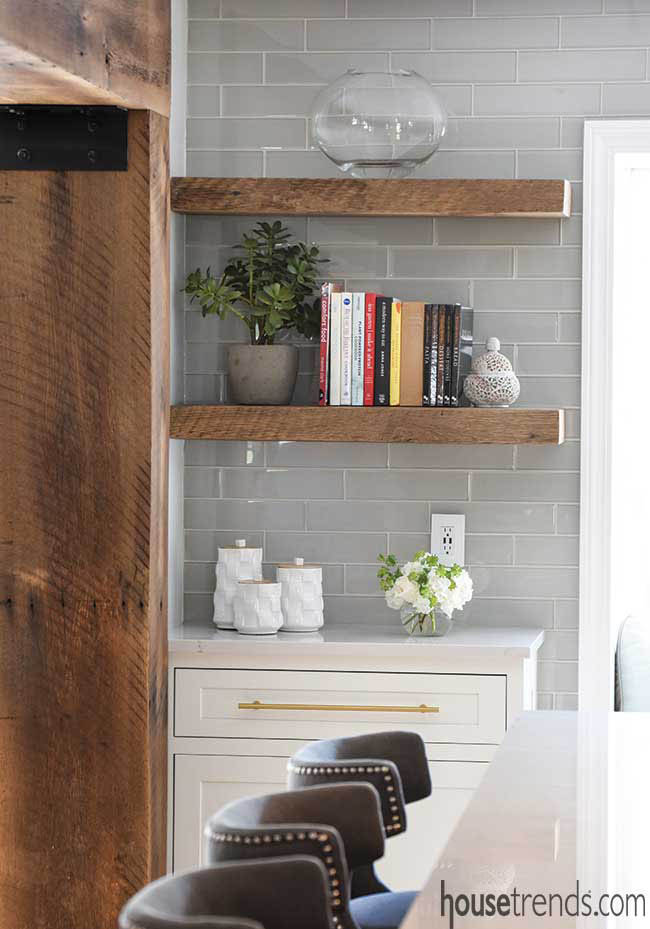 Tie-breaker
On the very rare occasion when Emily and Kerry couldn't agree, they would call for Krupal to be the deciding factor. "We wouldn't tell him which of us liked what," Kerry says. "But inevitably he would side with Emily."
Krupal says that when it came to major decisions he definitely had a say so, but he acknowledges that most of the time the choices where handled by Kerry and Emily.
One such occasion occurred when it came time to select hardware for the space. Kerry, Krupal and Emily visited Linda Manket owner of Premium Hardware. Krupal says Linda served him a drink and directed him to the lounge area where he happily relaxed while the women laid out their options.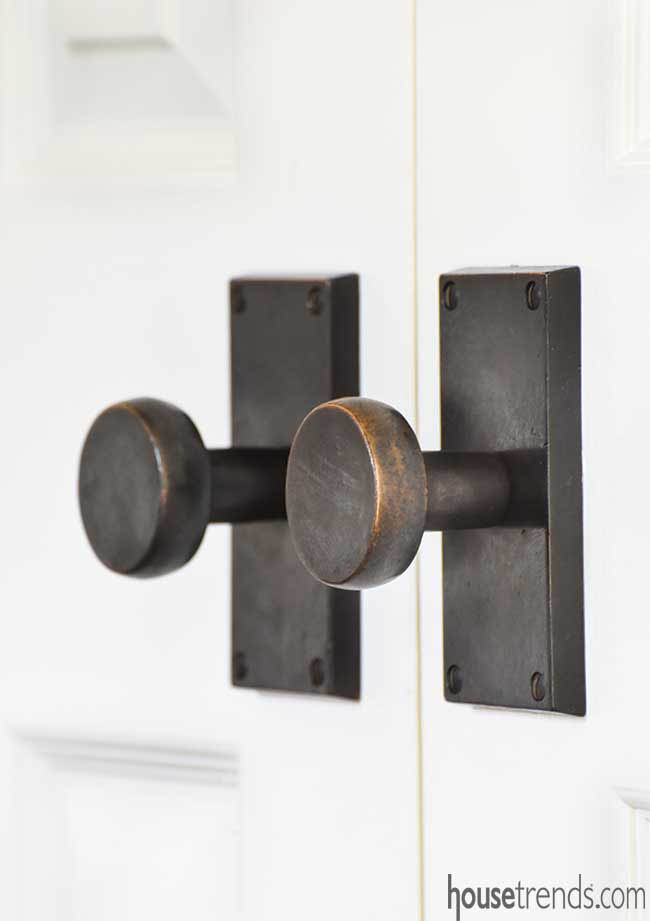 Among many hardware decisions made that day, the group selected matte black iron knobs for the interior doors throughout the home, and brass hardware with a champagne finish for the kitchen cabinets. "The long thin handles were Kerry's idea," Emily says. "They kind of just go away while standing out."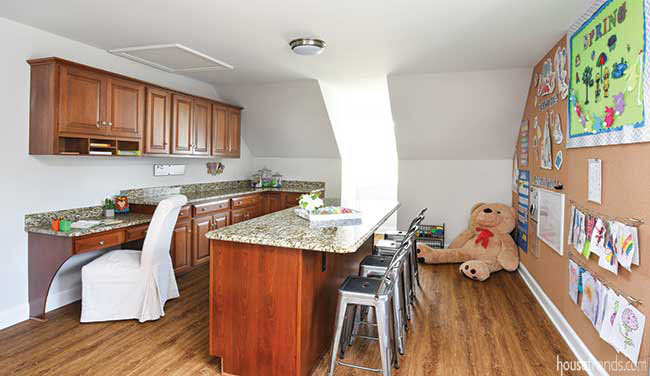 Crafty re-use
Not wanting to waste the original cabinets, the couple decided to create a craft room on the third floor in what had been an attic. While Emily suggested this room wait while the team focused on the first floor renovation, Kerry pushed to move forward.  "It was crazy to waste this space with all these windows in it," she says.
Several wall cabinets and the island were repurposed for this area which Kerry uses for play time, educational opportunities and her own gift wrapping and crafting projects.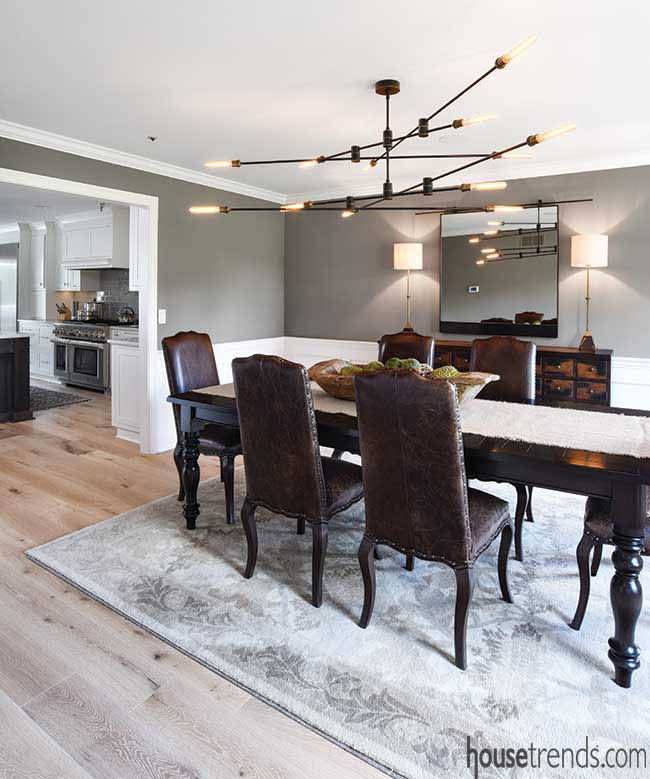 Built for company
Recently the family celebrated Leo's second birthday with several of his cousins, aunts and uncles visiting from across the country.
"I always see us as having guests," Kerry says. Emily agrees. "It's one of the reasons they bought this house. Kerry goes all out when entertaining. There's always a theme and she dresses full out. This is the house you want to be in."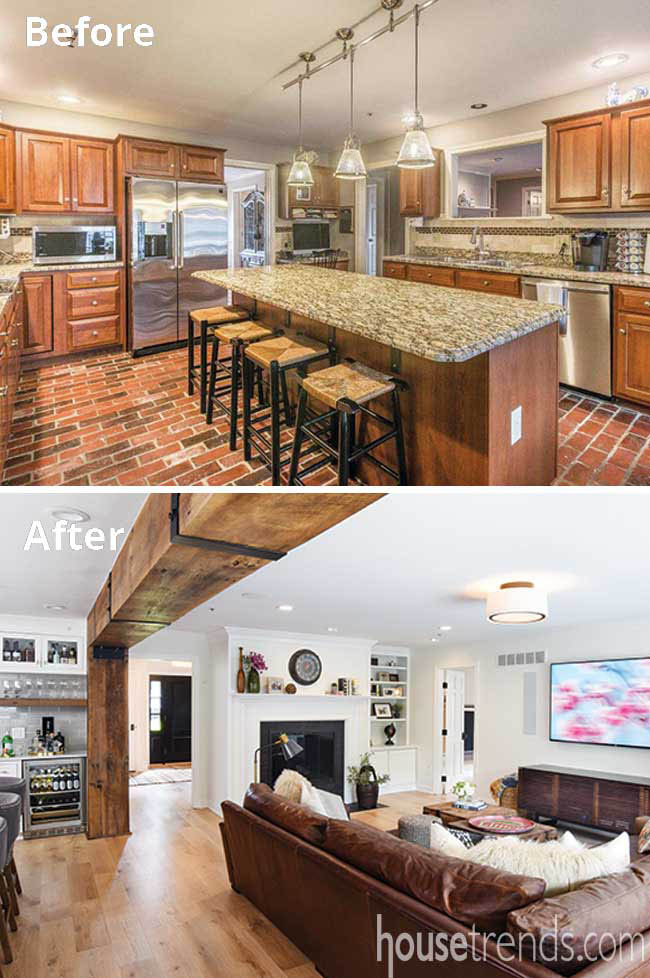 Ties that bind
While a major renovation such as this would often put a strain on the relationship of those involved, that's not so in this case. Emily reports that Kerry "was the easiest person I could ever work for." Kerry adds with a laugh that she has become even more dependent on her friend's design talents.
"She has ruined me," Kerry says. "I can't make a decision without her."
Resources: Interior designer: Emily Knoppe, Rigsbie LLC; Kitchen designer: Marni Cercone, Rite Rug; Emily Knoppe, Rigsbie LLC; Realtor: Vutech and Ruff, HER Realtors; Lighting: Northern Lighting; Restoration Hardware; Furniture and accessories: Trove Warehouse; Elm & Iron; Restoration Hardware; Flooring: Rite Rug; Kitchen: Shiloh cabinetry, Cambria Ella countertops, tile backsplash, Blanco sink, all from Rite Rug; Plumbing fixtures including Brizo Solna faucet: Carr Supply; Appliances: Thermador; Hardware for cabinetry, doors, and entire first floor: Premium Hardware; Steel beam: Riverstone Construction; Beam wrap and floating shelves: Edgework Creative; TV, built-in speakers: Genesis Audio; Landscaping: CRS Landscaping