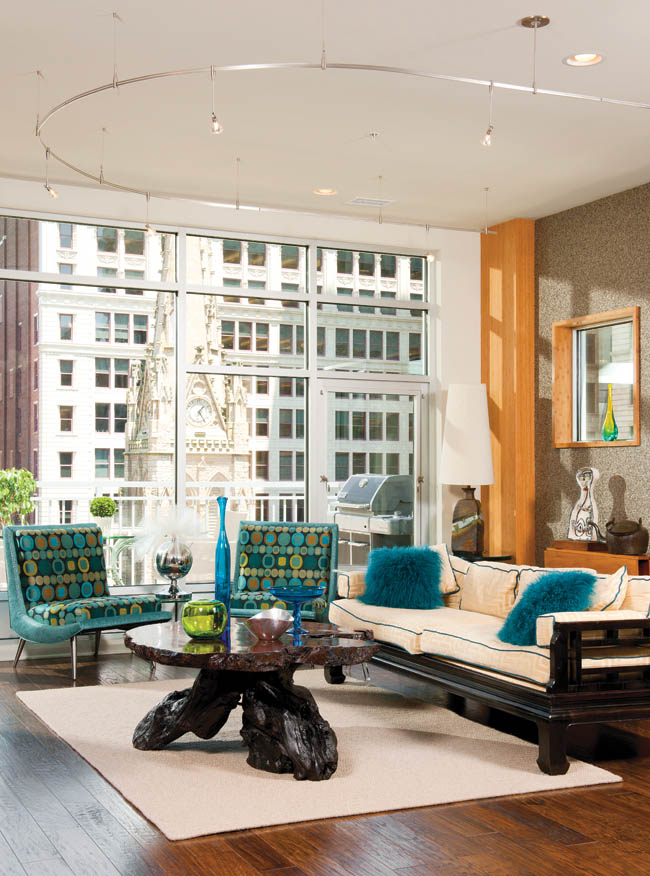 The McCarls were in the process of looking at several different residential complexes in the downtown area when they walked into Piatt Place on a whim. They were on a tour of a unit on the seventh floor when they stepped out onto the balcony. "The view was astounding. I couldn't believe it and I wanted to live here immediately," Tammy recalls.
Stretching out before them was a magnificent view of downtown Pittsburgh, complete with the steeples of Trinity Cathedral and First Presbyterian Church. "The interior was great, but the outdoor living space, in the heart of a city no less, was what sold us on moving here," Tammy says.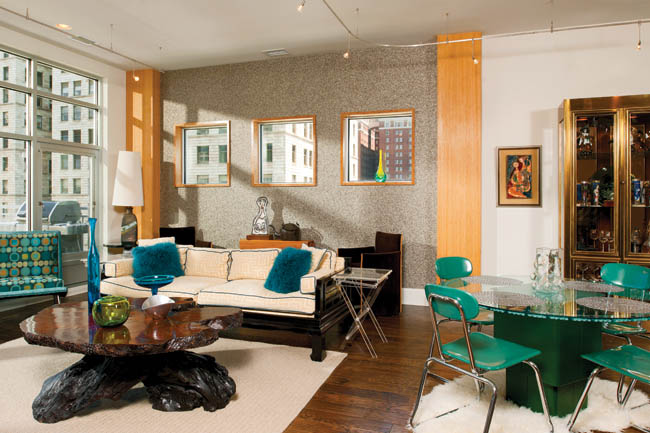 Merging old and new is something Tammy loves to do, and the living room proudly displays her love of Mid-Century art and 1960s and 70s furniture. From the vintage black lacquer sofa to the green and chrome 1950s school chairs around the White & White glass dining table, which turns into a coffee table thanks to a remote control, everything has a place. "Everything here has a story, which is what makes it truly unique," Tammy says, as she quickly describes the 1950s coffee table she bought from a woman in California. "It's made from the trunk of a sequoia tree after it fell. It is French polished, with a beautiful grain. I had it in my old house and I had to bring it with me."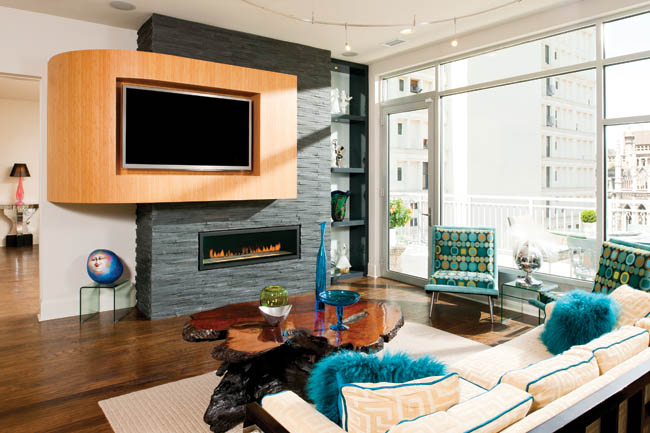 In order to incorporate modern conveniences, such as the flat screen television and fireplace, the couple brought in Randy Snell of Archetype Design Studio. Snell surrounded the fireplace with grey textured stone tile, an accent Tammy loves because it plays off the colors of the church steeples. The stone also complements the opposing wall, which is covered in Phillip Jeffries Granite Stone. "It's a wonderful wall covering that gives a rich, textured look," Snell says.
Snell offset the television and placed it on a swivel so it can be viewed from the kitchen. A bamboo veneer surround gives the television a look all its own.
Resources: Kitchen designer: April Spagnolo, CKD, Kitchen & Bath Concepts, LLC; Contractor: RDC; Millcraft Industries, Inc.; Kitchen cabinetry and radius glass countertops: Pedini; Kitchen countertops: Vangura; Rex Glass & Mirror; Kitchen & Bath Concepts; Backsplash: Glass tile, Ceramiche Tile & Stone; Kitchen sink: Franke, Seymour's; Kitchen faucet: KWC Ono, Seymour's; Appliances: Miele dishwasher and double ovens; Wolf cooktop; Sub-Zero refrigerator; Faber hood with stainless steel cover from PMI; Supplied by Hilmon Appliance; Kitchen lighting: Tech Lighting, Archetype Design; Living room wallcovering: Phillip Jeffries Granite Stone; Fireplace and waterfall: Napoleon Quality Fireplaces; Fireplace, television and water feature design: Randy Snell; Stone and porcelain tile: Ceramiche Tile & Stone; Bamboo Fireplace veneer: Winfield Designs; Fireplace cabinetry: Mapletree Furniture Makers