The foundation of Brenda's Arts and Crafts-style home truly is the custom woodworking that was all created from timber cut from the property. Maple, white oak and cherry trees were all harvested by one man who came to saw down the trees, haul the logs to the barn, and then begin the painstaking project of cutting them into pieces. After four months of drying, the wood went into a kiln before landing in a mill shop where it was prepared for indoor use. Because Brenda used wood from her property, it vastly cut-down on the environmental impact of the project. Her woodwork and cabinetry wasn't manufactured in a large factory and it didn't have to be shipped across the United States. Most of the work was completed on-site.
Orrin Macik of Macik Custom Wood­working & Contracting LLC was brought in for the vast undertaking of transforming this wood into a work of art. Years of experience and an understanding of the challenges that lay ahead made his company a perfect fit for Brenda's plans.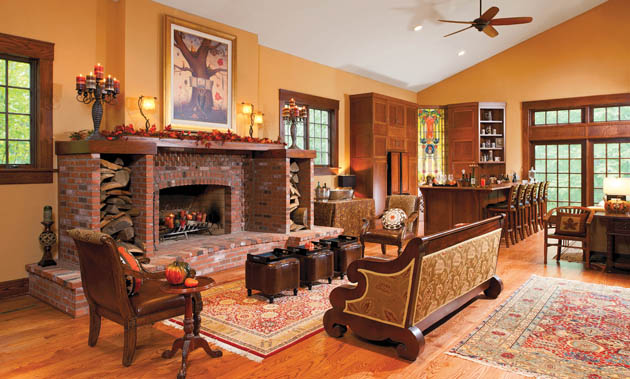 Sectioned into separate seating areas, the expansive great room was designed with lots of entertaining in mind. "There is no space within the room that is larger than a couch and a couple of chairs," Brenda points out. "You don't feel like you're in a cavernous space, which was intentional." The backlit, stained glass bar was rescued from a Victorian home that was being torn down. Much like in a Frank Lloyd Wright design, the space is a continuum that allows your eye to follow an uninterrupted line from one room to the next. The windows are actual doors, with some opening 16 feet to make you feel like you are part of the setting. "This is an Arts and Crafts-style house on steroids," she laughs.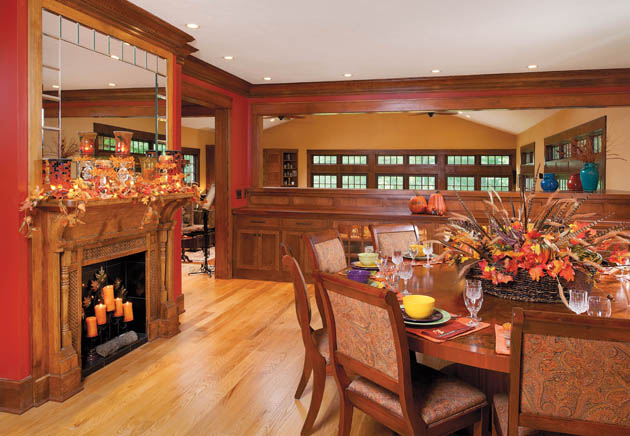 Brenda wanted the dining room and great room to be separate but to also feel like one big room. "This room isn't fussy in that you simply have a buffet and a table with chairs," points out the homeowner. "It's a purposeful room with a beautiful window area that looks more like a framed photo."