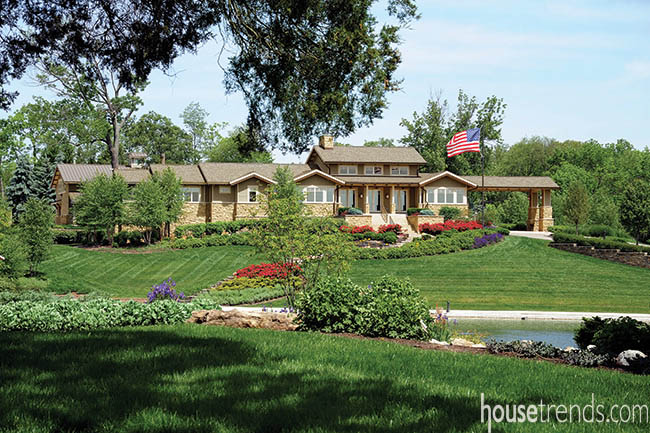 There isn't a shortage of wildlife scampering around Fox Hill. In fact, the name Fox Hill stems from a chance encounter Bob Mills had during one of his many adventures touring his Beavercreek estate. "I like to go into the woods," he says. "Shortly after I bought the property, I was in the woods and came across a red fox, and the name Fox Hill was born. It fits with the surroundings perfectly."
For those lucky enough to wander around the estate, it's easy to understand why Bob loves spending his free time here. Fox Hill consists of 50 pristine acres complete with a number of amenities, including a roughly 12,000-square-foot house, a pond and a swimming pool.
Bob was looking for property for two years before he purchased this lot in 2003. "When I found out this place might be for sale I jumped at the opportunity."
His first order of business was to construct the three-acre pond. Bob carved out the specific spot, keeping in mind that his home would one day overlook the pond. Today, irrigation and pump systems keep the water crystal clear, while ducks have managed to make the pond their home. The pond is fully stocked with an assortment of fish, from largemouth bass and bluegill to trout and black crappie.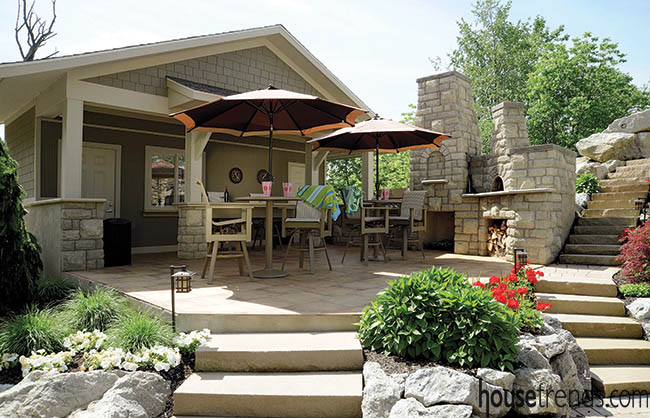 On a typical summer weekend, you'll find Bob fishing with his grandchildren and then heading up to the pool, concession stand, playhouse and playground he had installed last year on the opposite hill facing the house.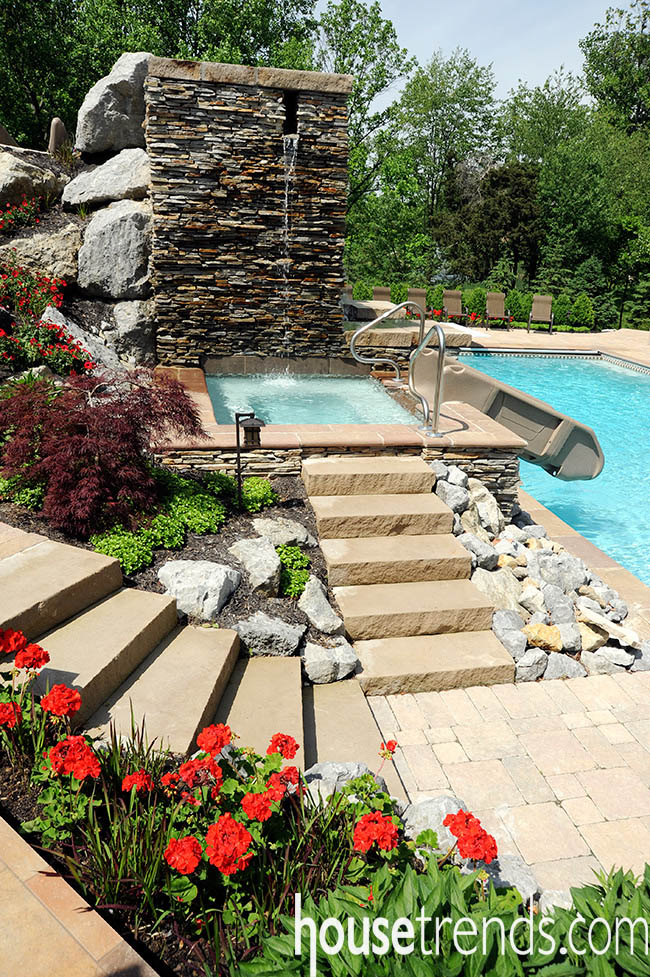 The idea for the pool design came after the grandchildren went on vacation to Florida. "They stayed in a private home that had a mini slide from the hot tub to the pool and they loved it," Bob says.
The small slide led to the creation of the stone mountain with waterfalls and the large slide. "I probably got a little carried away with the big slide at the top of the mountain, but it happens to be one of the best features," he adds.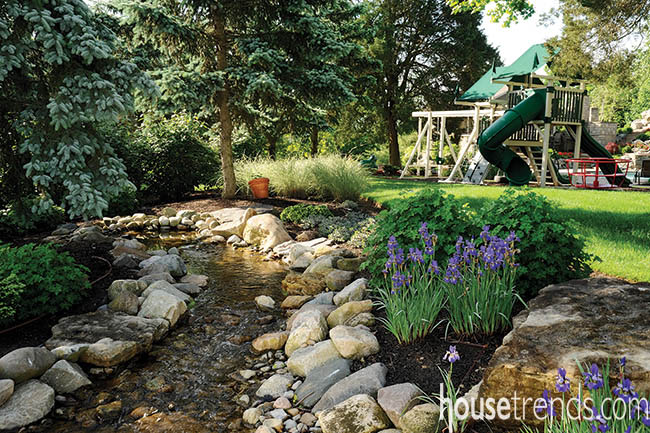 Bob had the playground installed on a grassy area right near the pool deck for his five grandchildren to use. A small creek runs behind it, winding its way through the yard and down to the pond.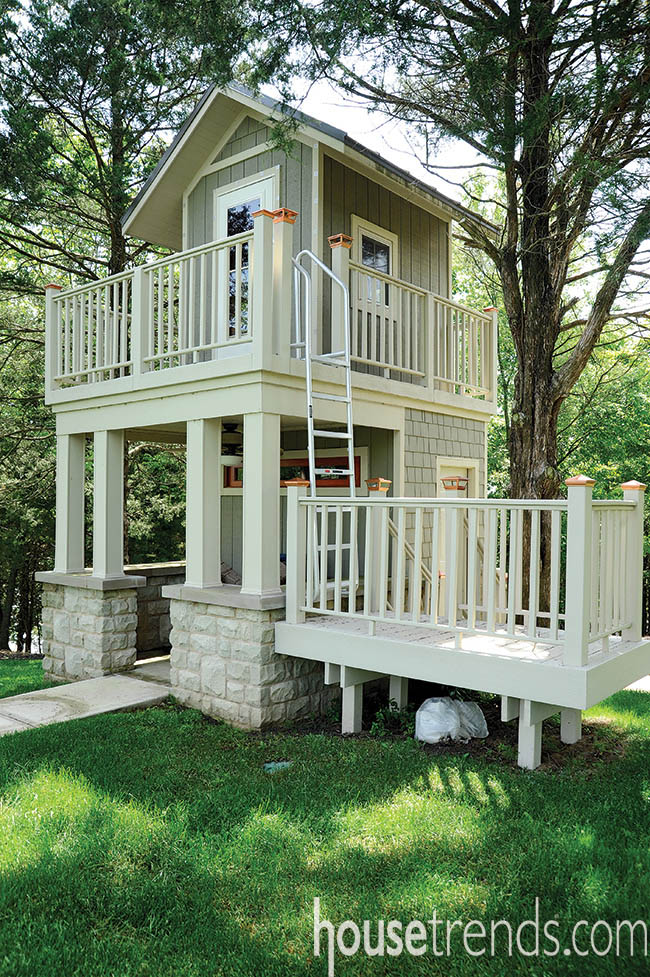 The playhouse, which mimics the Arts and Crafts style of the main house, is a big hit with the grandkids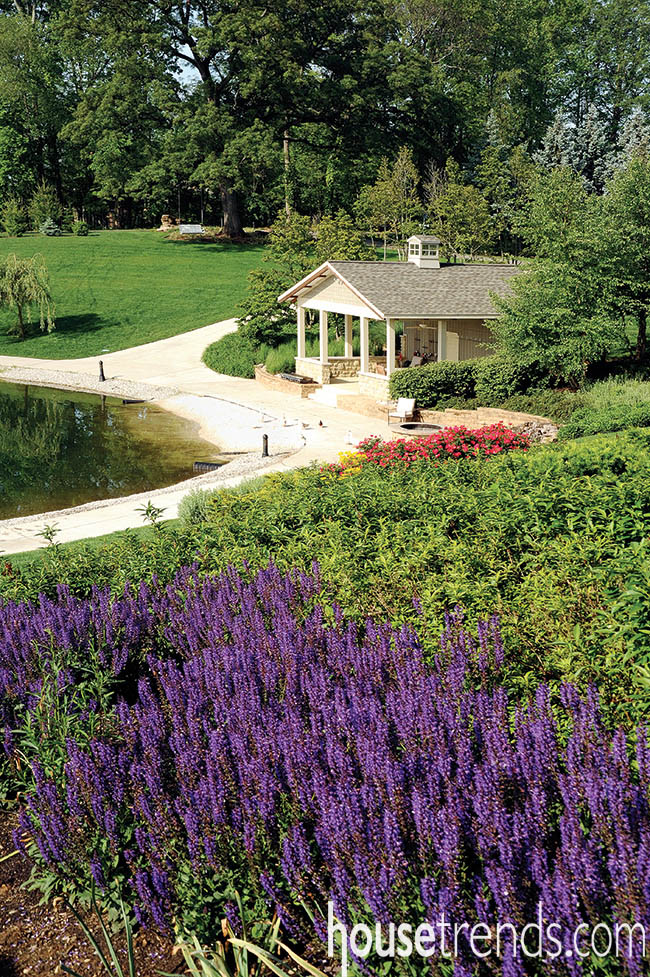 Flowers bloom all over Bob's property, whether wild or in one of his many garden areas, the most interesting of which is his community garden set up just this year. "We used to grow pumpkins in the garden, and then give them away. But last year we had more than we could handle," Bob says. "This year we thought a community garden and a small pumpkin patch would work out better."
Thirteen families have vegetable gardens this summer. They take home what they can eat and the rest is donated to the Foodbank.
In addition to this garden, Bob is cultivating a corn field, has a small Christmas tree farm and grows all his own trees for transplantation on his commercial properties. His philosophy is simple, "Life is really short and you have to take the time, to find some time, to enjoy life. That is what I do here, and I love every minute of it."