Situated along a wooded ridgeline in Marietta, Ohio, the home of Christopher Brunton and Candy Davis appears to have been built over several decades by generations of homeowners, completely unfettered by rules and convention. Seemingly based entirely upon soaring whimsy, the home's design is, in fact, entirely grounded in time and place. Approached by a beautiful country lane crowded with rhododendron, azalea and forsythia, the 3,600 square foot home reveals itself as both random and ordered, jarringly unexpected, yet comfortably familiar.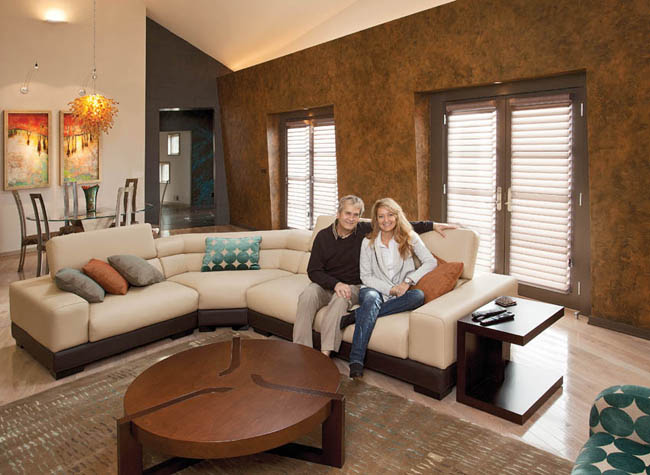 Candy explains that the couple's home, newly constructed in the fall of 2011, is a perfect reflection of her fiancé's personality: "Chris is very laid back. He's really a former hippie whose lifestyle today is more conservative, so the house is kind of his alter ego," she chuckles. "We both enjoyed working with our architect, whose imagination, along with an ability to translate our sense of fun into a livable space, made this a delightful experience," she adds.
Architect Kent Thompson of archignition Studio, confirms that the interior of the home, as atypical as its exterior, is a reflection of its occupants.
"Good architecture is about creating a space that is interesting and functional, but has meaning that is relevant to personalities as well as to place," Thompson says. "Candy and Chris both wanted something radical and unusual, but friendly. I think we achieved that," he says, in explaining how the exterior gives a nod to its southern Ohio context.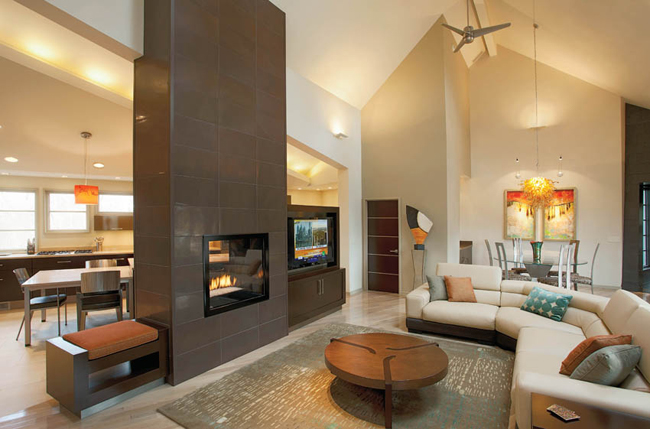 Once inside the home, sleek sophistication blends with unpredictable eccentricity to create a quirky and contemporary vibe. To the right of the tower entry foyer, small windows set at cockeyed angles extend a fanciful welcome to visitors. The main living space features an upward-zooming ceiling that sets off the soaring fireplace in the center of the room.
"I also had so much fun working with Pam, our interior designer, who has a knack for understanding exactly what we were looking for and knowing how everything goes together," says Candy. "The neutral palette she helped us find, as in the beautiful Roche Bobois leather sectional in our living room, helps create a calming balance to our quirkiness," she says.
Pam Holschuh of Copper Leaf Interior Design Studio, coordinated design aspects with Thompson, as well as builder John Gillard of Gillard Construction, to satisfy the couple's desire to reflect their lighthearted approach to life in their surroundings.
The kitchen sits on the other side of the fireplace, giving the living room and kitchen a very open, connected feeling. "The wall of windows in our kitchen accentuates the sleek lacquer of the cabinets. And, the quartz countertops actually sparkle, which is great, because I'm a big fan of bling, right down to the gas-fired crystals in our fireplace," Candy says.