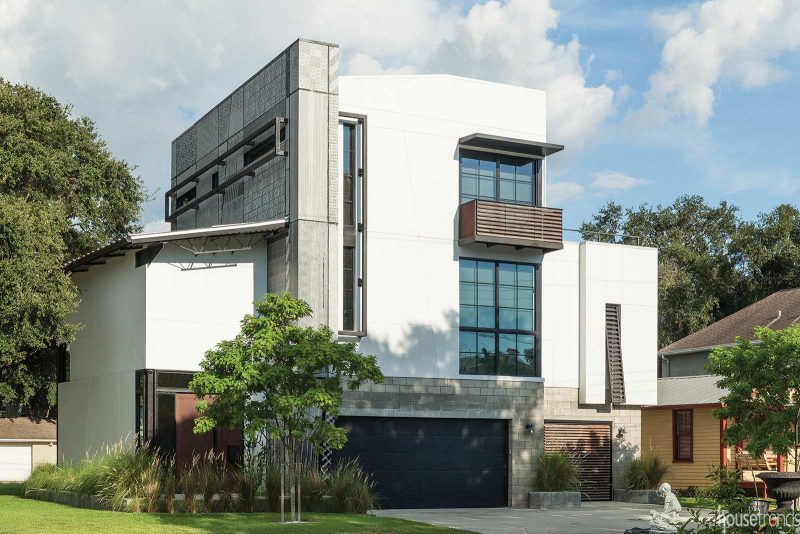 Situated in North Hyde Park, just north of the boundary of the Historic District, this three-story, contemporary home, with its expanses of concrete, metal and glass, still manages to fit right in to the tree lined streets of this old neighborhood of small bungalows, newer Mediterranean-style homes, and a mixed variety of townhome complexes.  Tobin Green designed and built this 3,100 square-foot, fun but sophisticated, art-filled home for himself and his wife Bianca, marrying their mutual eclectic tastes and style with a strong nod to Tobin's love of industrial textures and materials. He has dubbed this unique, highly livable style, "urban progressive."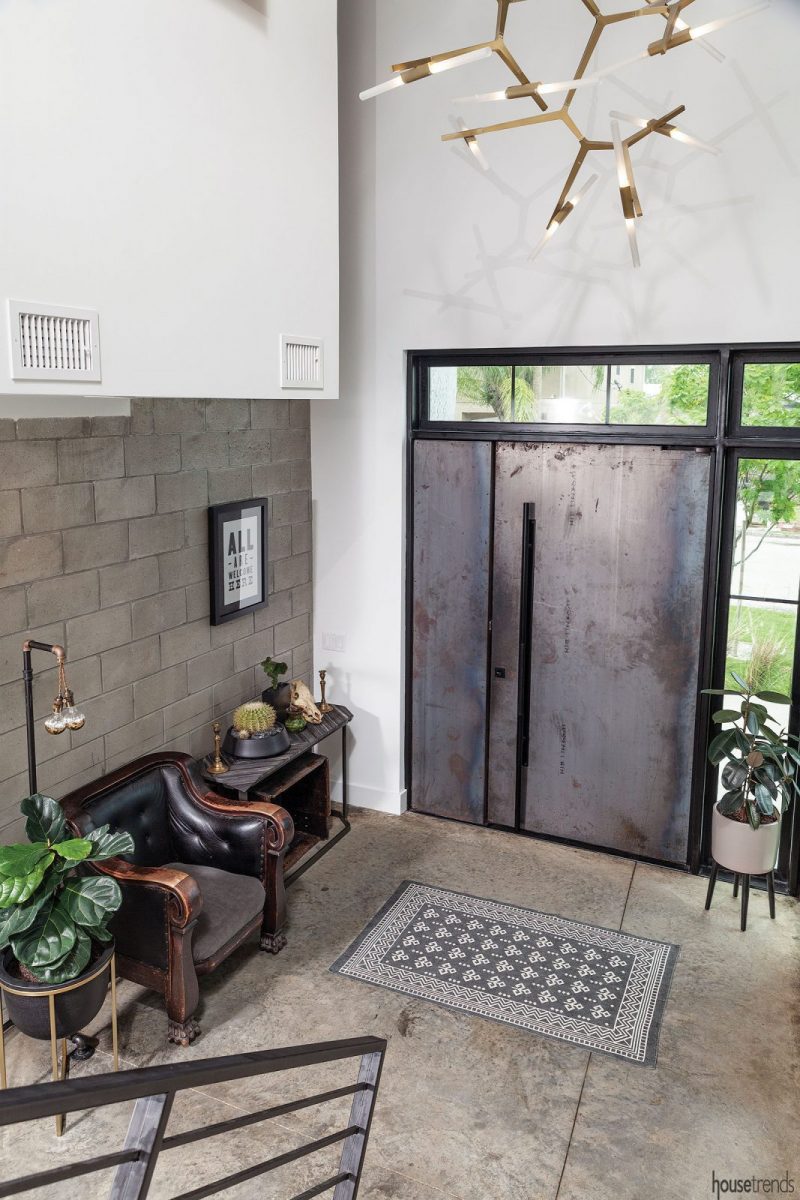 Character on the first floor
The fun begins even before you enter the house. A large concrete wall that bisects the home features fascinating "graffiti" style art in elegant textural patterns made with layer upon layer of stenciled graphics created by the internationally known muralist Bask, who now lives in Tampa Bay and is a close friend of the Greens. Bask warned them that the neighbors might be a touch concerned by the chaotic appearance in the initial stages, but that it would look amazing when it was done. He was right. The many patterns and textures, created in blocks, are subtle yet engaging and draw the eye. Other industrial textures including the Corten Steel front door, raw concrete block walls, stippled black metal garage doors and throw-back style aluminum roofs, confirm the impression that every single surface was very carefully thought out. Angles, a signature element in the logo of Tobin's company AADMIXX Design+Build Studio, are worked into the design in unexpected ways including wall angles, rooflines and even window mullions.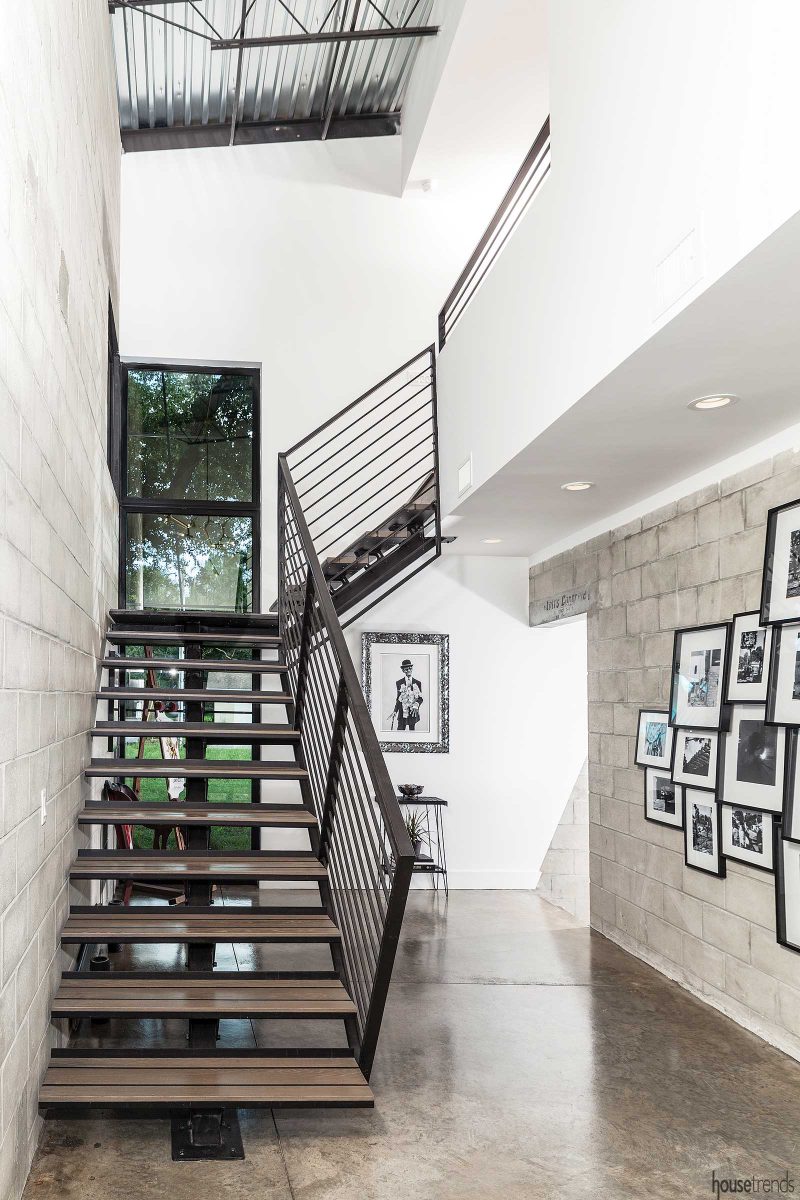 Stepping inside the gallery foyer offers another interesting juxtaposition of textures. Structurally the space reflects Tobin's industrial fascination, with raw concrete floors intentionally showing the rough handling of construction; the nicks and dings left exactly as they were. Large floor-to-ceiling windows bring in light, while the concrete block inner wall and custom designed black steel staircase are reminiscent of a luxuriously renovated historic warehouse loft.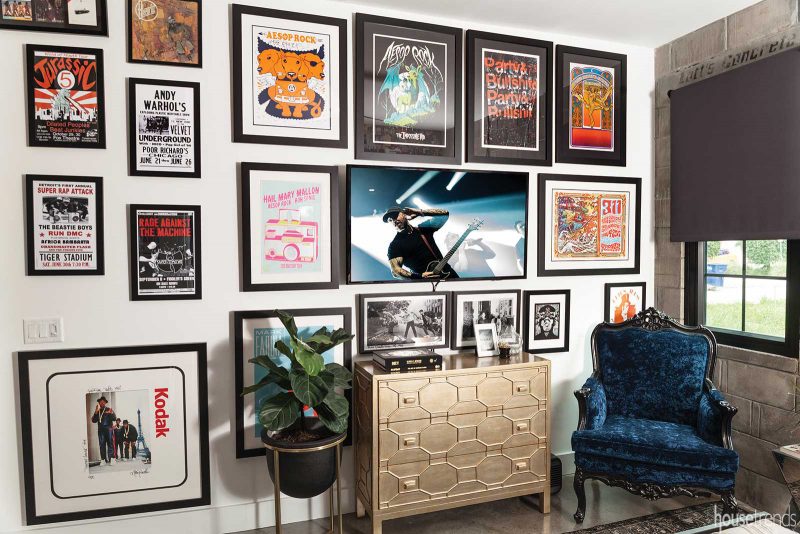 All these hard surfaces are softened with carefully chosen furniture including a worn antique leather chair, plants and of course, wonderful artwork.  Artfully documenting the construction from start to finish is a wall of framed black and white photographs, by friend Greg Bryon of Pep Rally Inc., taken with an antique Hasselblad camera.  A large Bask painting hangs in a specially designed alcove adjacent to the front door. The rest of the ground floor includes an over-the-top guest suite with an homage to music including framed music venue posters and a colorful collage wall made with the covers of favorite CD's, plus Tobin's office, and a two-car garage.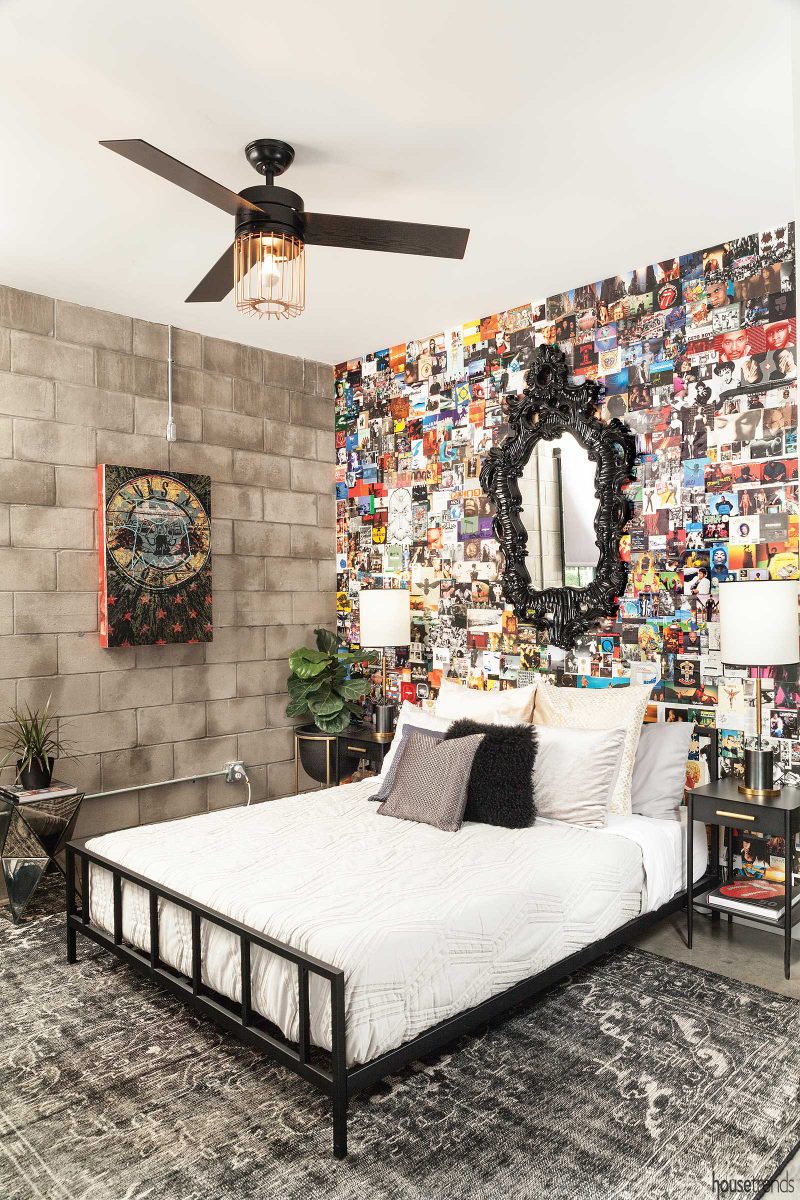 Loft-inspired second floor
The second story of this home is the daily living space incorporating a loft-like feel with large windows and a wall of fully retractable glass doors opening out to a large outdoor covered patio. The open floor plan creates a spacious living area encompassing a living room, side seating area, open kitchen and a dining area. The kitchen counters and bar, as well as the bathrooms throughout the house, stay in the industrial mode with handcrafted custom concrete countertops, designed and built in a collaboration with Jonathan Haywood, owner of Béton Studios, another friend in the creative world.  "Tobin came to us eight months before we got into the project," Haywood says. "Concrete is a 'chameleon' of a product that can look totally different depending on what you are looking for." On this project, they used a steel trowel finish to give a more tactile characteristic. As Haywood says, "It worked really well in this visually rich environment."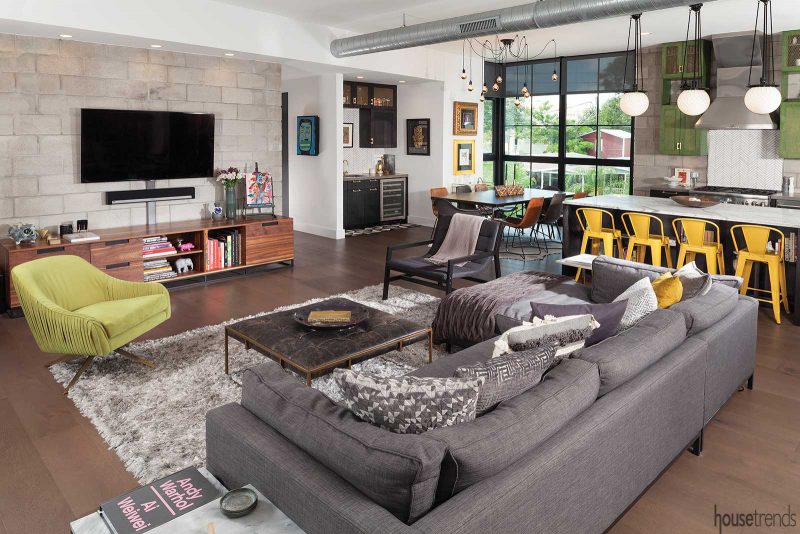 The Green's love of metal shows in the interplay of different metal finishes in the kitchen from the brass kitchen sink faucet and handmade brass drawer pulls to the use of stainless steel and black metal elsewhere. Unique touches can be found everywhere from the brass mesh inserts of the high kitchen cabinets, to self-designed island pendant lamps with a mesh pattern mimicking the cabinets. Tobin worked with Andrew Watson, the owner of Built, to design an elegant wood and metal bookcase and the wood media cabinet for the living room, as well as other furniture in the home.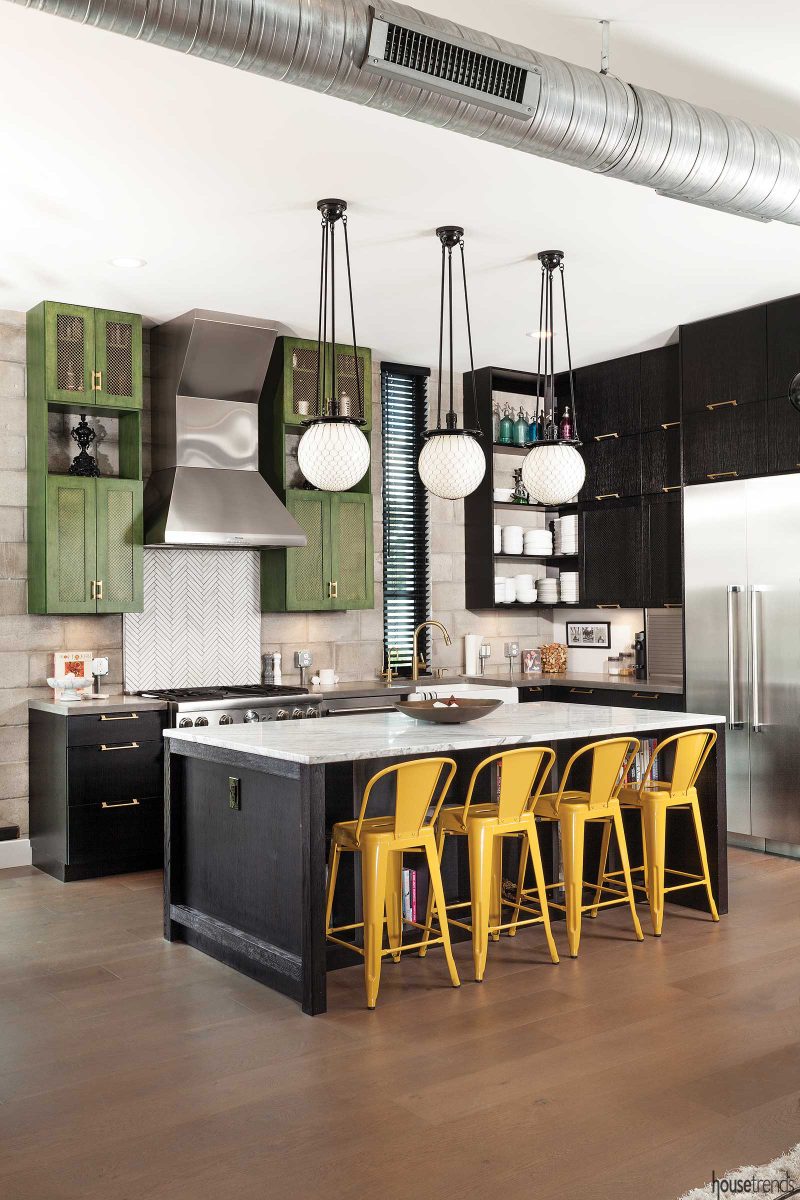 Bianca's study is also on the main floor, a more feminine space but still with a unique style and tongue-in-cheek sense of humor, as evidenced by the animal skull wall hanging and funky orange couch. Bianca was deeply involved in the home's interior design and her strong sense of style is found throughout. Wallpaper, once loved, and later reviled as a design tool, is revived in this home with fun patterned accent walls that are sometimes not quite what they appear to be.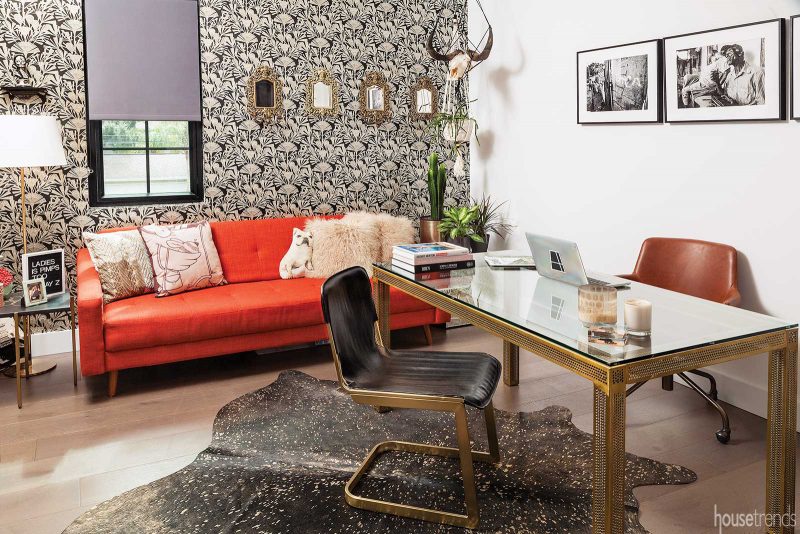 Bianca chose red toile wallpaper for the black and white main floor bathroom. However, this wallpaper, titled "Brooklyn Toile," is designed by Mike D. of the Beastie Boys, one of Tobin's favorite bands. Instead of vignettes of flowers, animals or pastoral French countryside scenes, close inspection reveals images of Brooklyn life including the Brooklyn bridge, street scenes, and even the Nathan's Hot Dogs logo.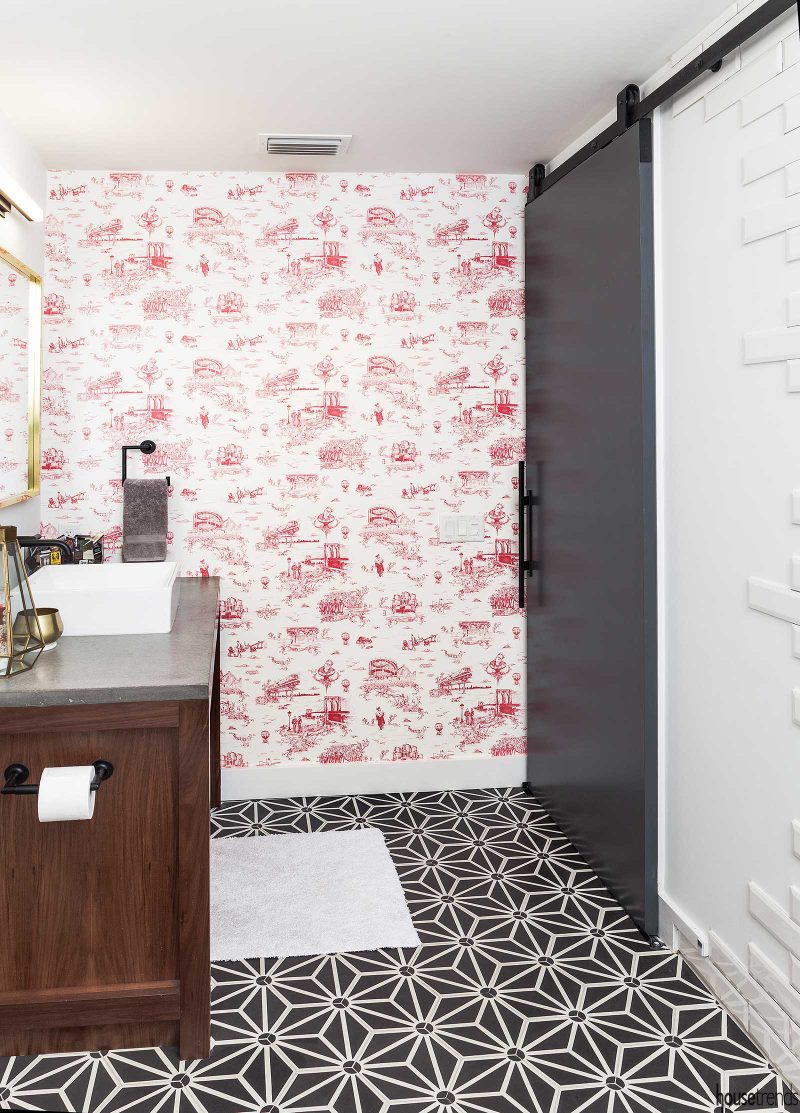 Private oasis on the third floor
Moving up the stairs to the third floor master suite, the black and white, geometric patterned clay tile risers were custom designed in collaboration with local supplier Cement Tile Shop to pay homage to Tampa's Cuban and Spanish heritage. Black and white pencil drawings and the black railing tie the color elements together. The Greens love to travel and are always on the lookout for design ideas they can incorporate into their home. A recessed cove light along the side of the staircase is an idea inspired by a favorite hotel in New York City.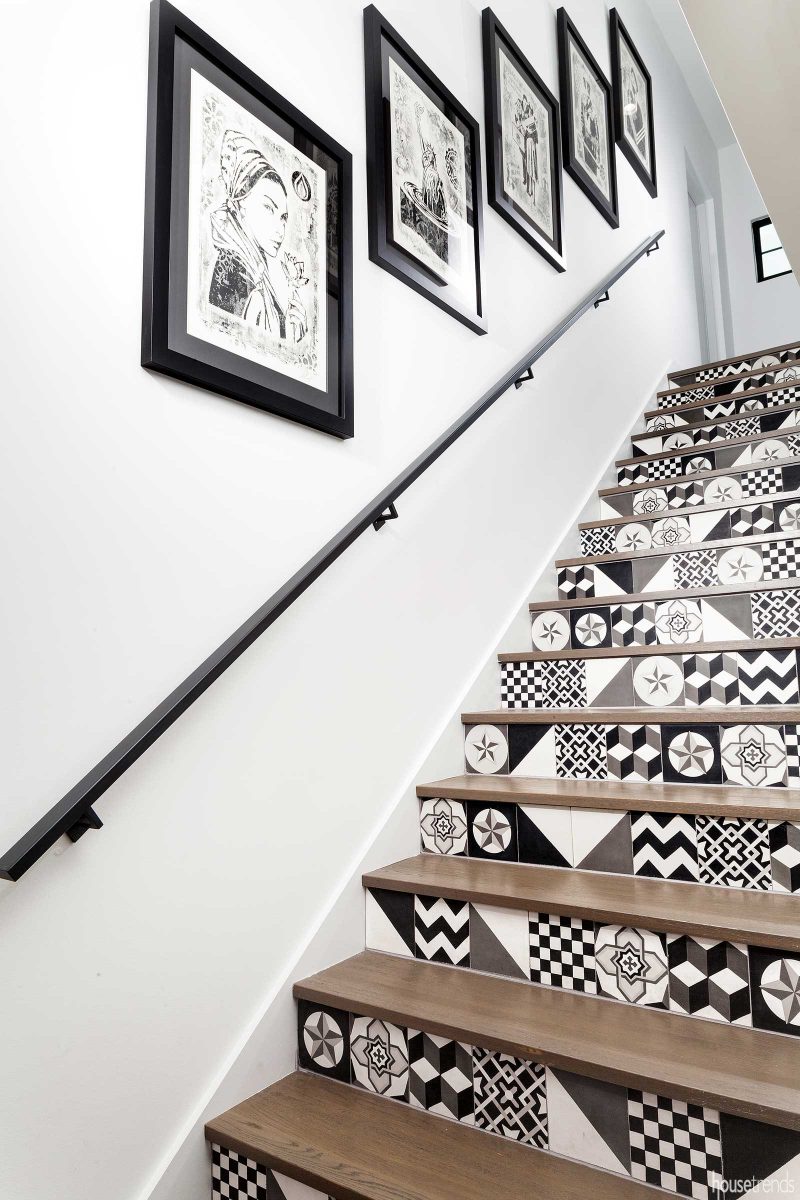 The large foyer space at the top of the stairs is currently occupied by Bianca's drum set, a long-held passion brought to life. Collaborating with Giancarlo Giusti, the owner of Módulo, another local design/build fabricator, Tobin designed a balcony of black forged steel, providing sunset views across South Tampa.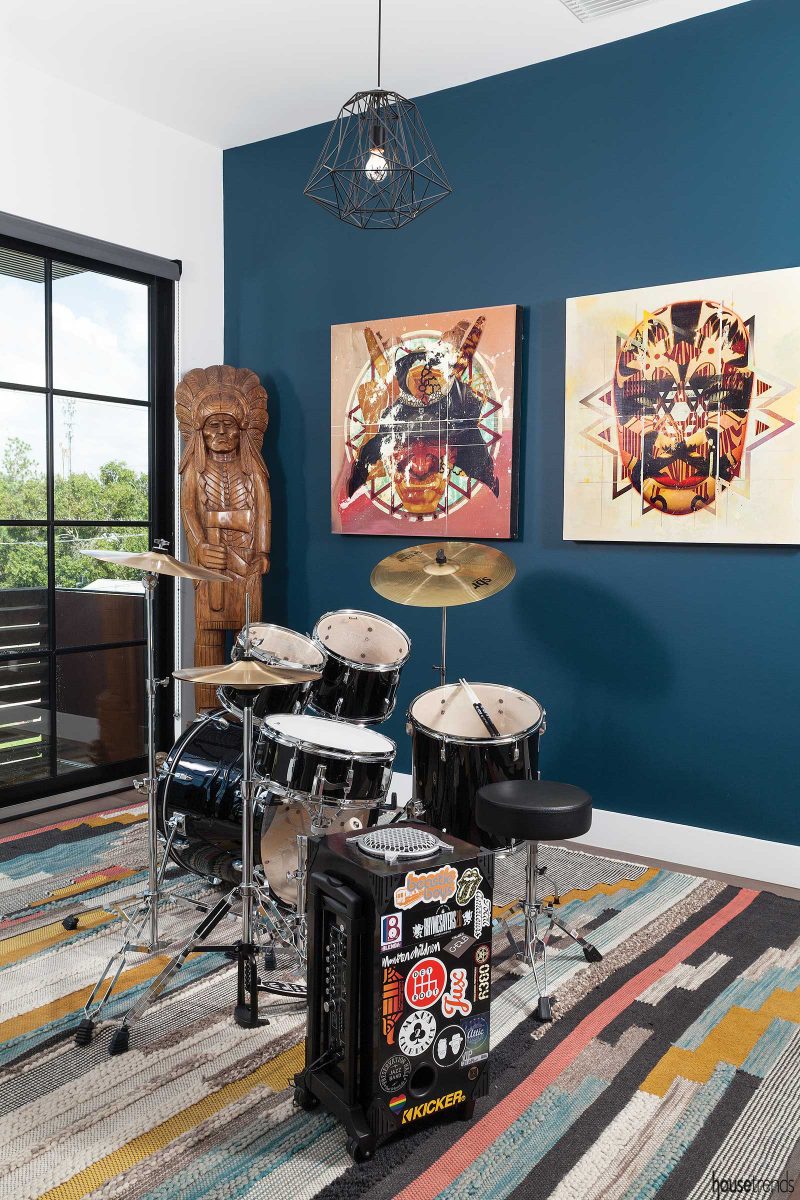 From there, the upper floor opens to the spacious master bedroom featuring neutral and gray tones. Spacious walk-in closets for Tobin and Bianca keep clothes easily tucked away while a large master bathroom offers clean lines and plenty of counter space. In this bathroom, Tobin chose a traditional design element using hexagon floor tiles and updated it by using them in marble in a slightly larger size. The white porcelain subway shower tiles, another historic style, are slightly longer than usual and end in a staggered design for a unique look.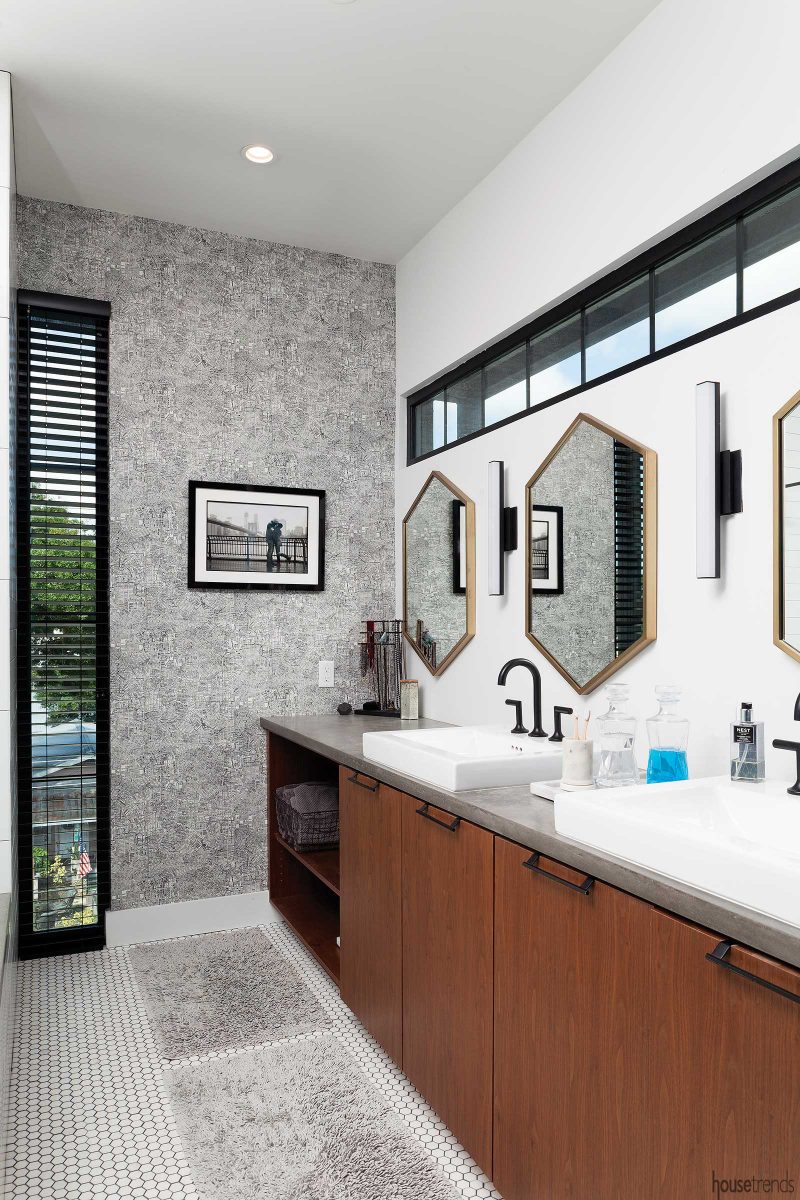 Injecting a dose of urban progressive style is a big leap for this historic part of town, but the Greens have created a whole new look that feels just right.
RESOURCES Architect and builder AADMIXX Design+Build Studio; Exterior custom design features AADMIXX and Módulo; Interior custom design features and furniture AADMIXX and Built; Custom concrete Béton Studio; Cement tile Cement Tile Shop; Art collection and photography Bask; Greg Bryon, Pep Rally, Inc.; Tristan Eaton; Shepard Fairey; Tyree Guyton
Article by Amy Diehl/Photos by Joe Traina.
Appeared in Housetrends Tampa – November 2018
To read about another urban home, this one in the Channel District, check out: