Cleveland Indians pitcher Carlos Carrasco and his wife, Karry, built the ideal home in Odessa's Steeplechase neighborhood last year for their young, busy family. The couple hoped to create an atmosphere that offered the classic elegance they desired, along with a comfortable vibe that would allow their children to feel right at home. By combining those elements they were able to create the ultimate home for all ages.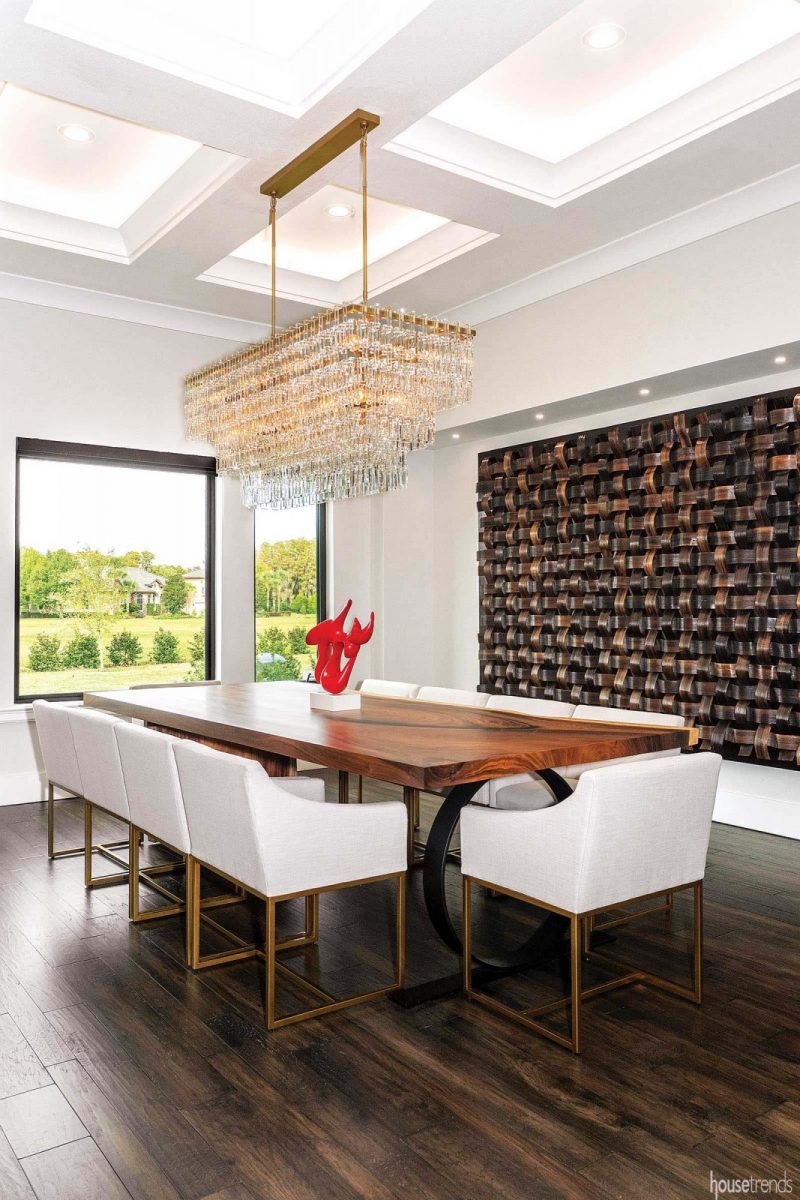 Comfort and style
The Carrascos approached interior designer Andrea Canedo, of Andrea Canedo Design, to help them bring their vision to life. "I refer to their house as livable luxury. It is a chic, sophisticated and comfortable house in which each family member can express themselves," Canedo says. "It's suitable for kids but also elegant."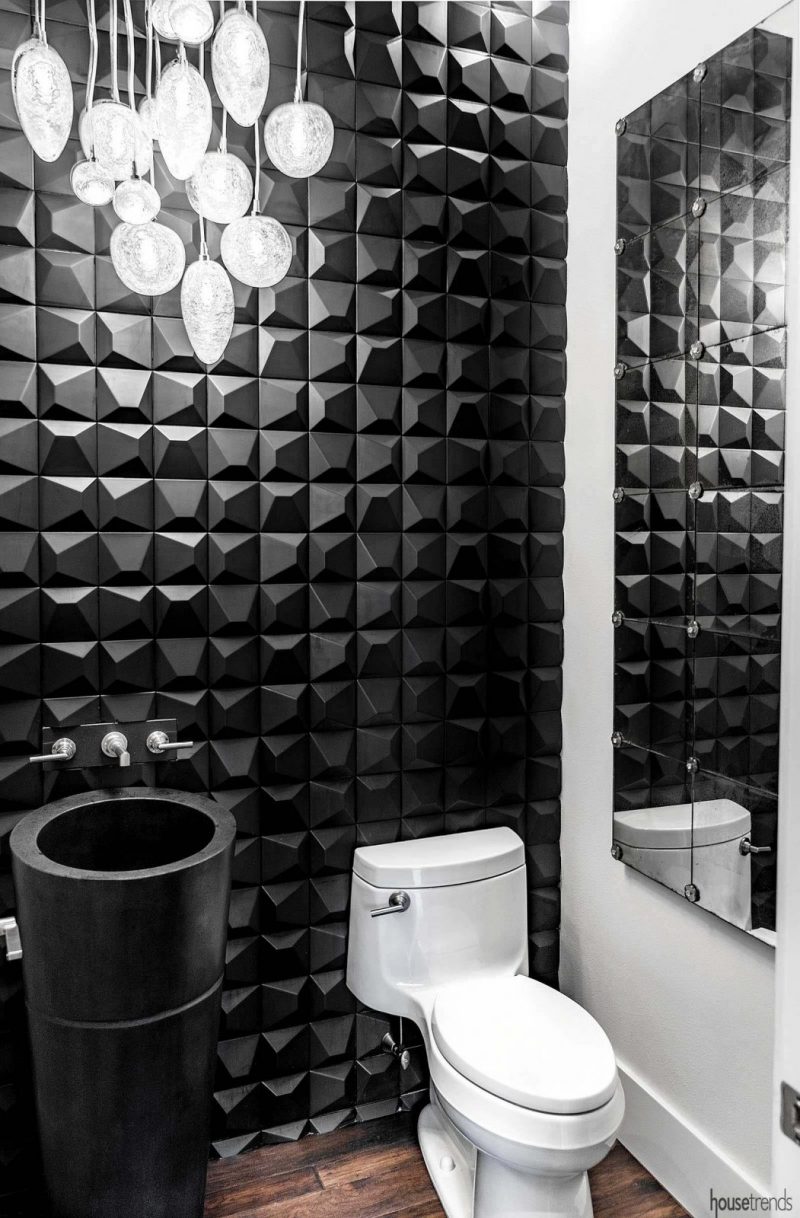 Canedo, who operates her interior design firm out of Clearwater, offered her expertise to help Carlos and Karry design the 7,100 square-foot, six-bedroom, eight-bathroom home in the sumptuous Odessa gated community. "This is a young, very busy couple with five kids ranging in ages from two to 16," Canedo says. "They travel a lot, they entertain, and their kids always bring friends over to the house."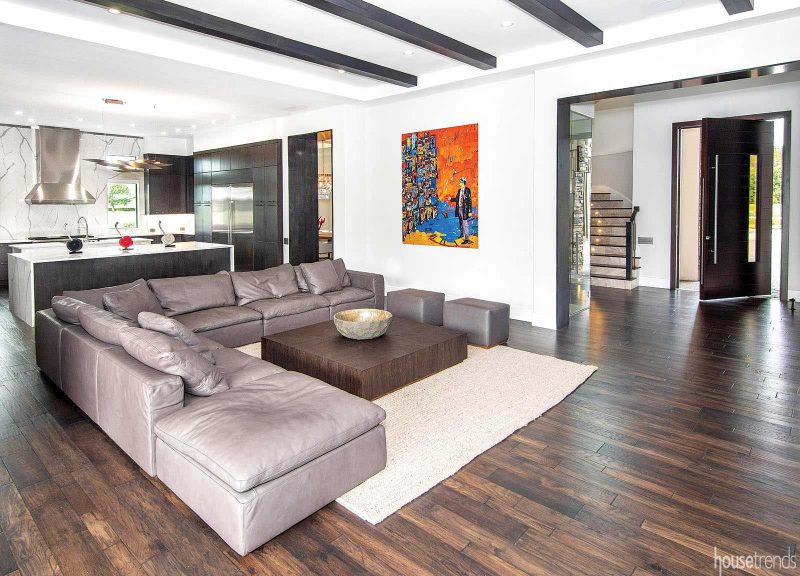 One of the initial, awe-inspiring elements of the home is the stairway, with its steps made of marble and wood. Each marble riser has a light that illuminates the path. The wine cellar and formal dining area showcase the Carrascos' passion for natural, organic elements. The 14×4-foot glass-enclosed cellar has marble floors and a stone accent wall, with both floor and ceiling lights. The round, soft shape of the wine racks is elegant and contemporary.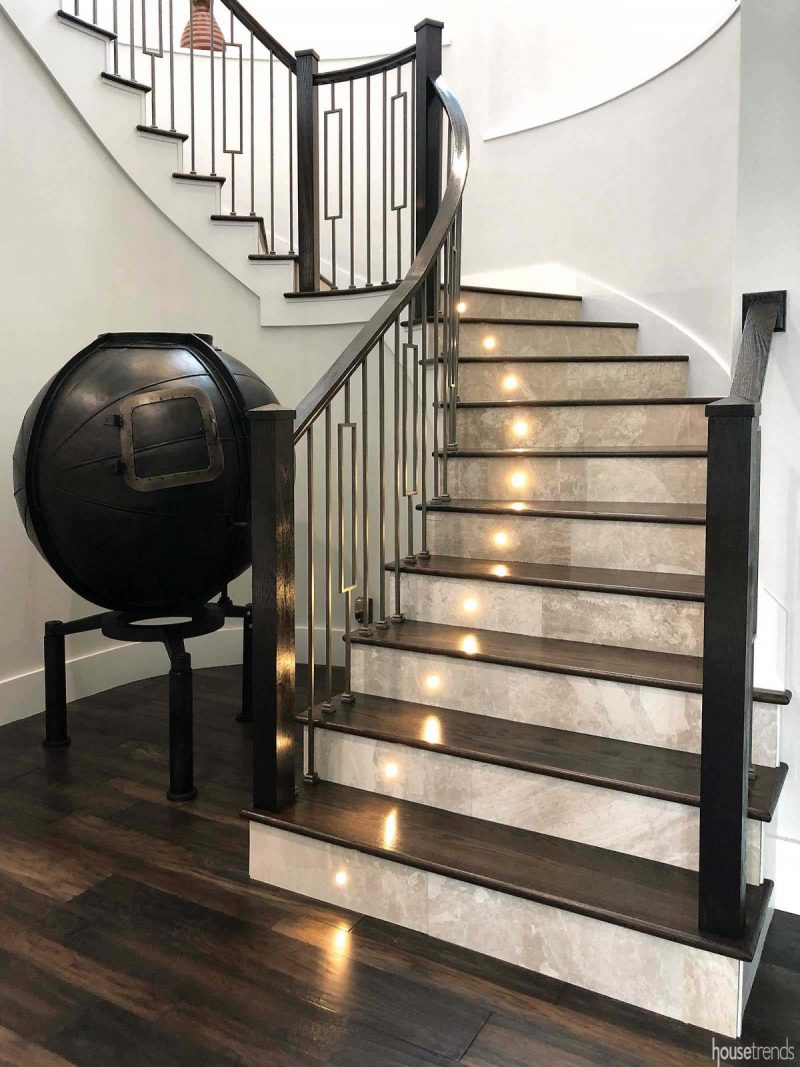 The dining area is warm and inviting, with a custom-made exotic wood table created by Peter Erdei of Erdei Designs in Clearwater that comfortably seats 10 people. "This table was made from a tree harvested from the rich soils of Costa Rica. Instead of being turned into mulch or returned to the soil, this beauty was repurposed into an exquisite dining room table for the family," says Erdei.
Enormous bamboo wall art and a Restoration Hardware crystal chandelier that sparkles to cast colors around the room complete the design. "The chandelier is beyond stunning and each geometric crystal is a piece of jewelry," Canedo says.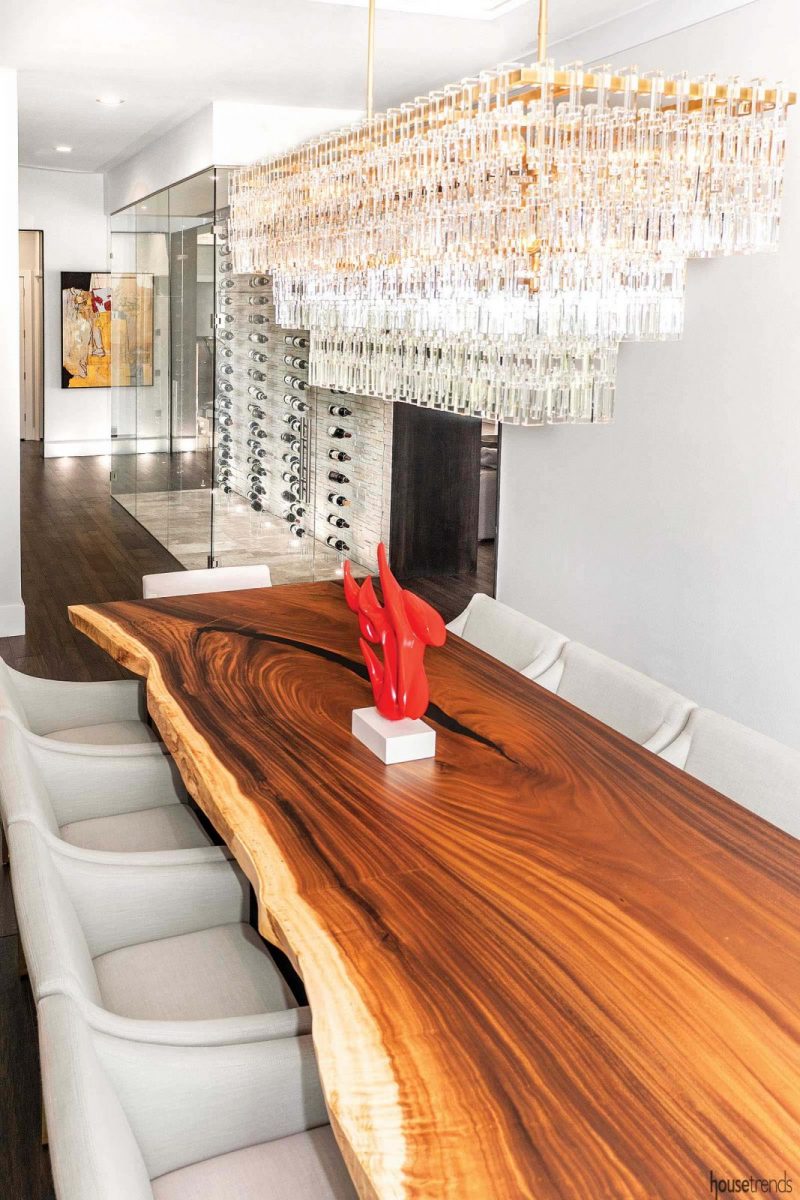 Family-friendly design
For a family of seven that relishes entertaining, the living areas were of utmost importance to Canedo when it came to maximizing the design. "The Carrascos usually have friends and family over, so we paid special attention to create functional living areas that are kid-friendly while staying elegant and sophisticated," she says.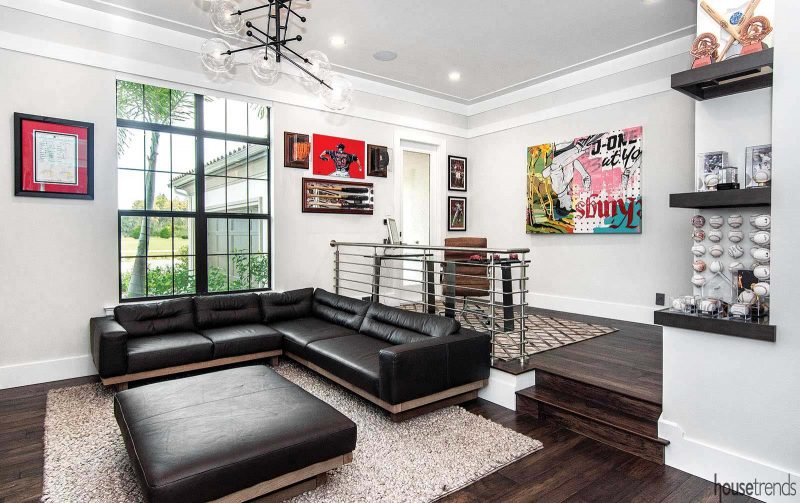 The kitchen is home to two islands—one with a work area featuring a sink and two dishwashers and another colossal one with a quartz waterfall countertop. "To contribute to the contemporary clean look, we used solid wood flat-panel doors and quartz for the countertops and backsplash. We used the same quartz for the countertops and backsplash, which goes all the way to the ceiling," says Canedo. "By using the same material we were able to give the illusion of two waterfalls—one created by the countertop-to-ceiling quartz backsplash, and the other seen in the big island's waterfall counter."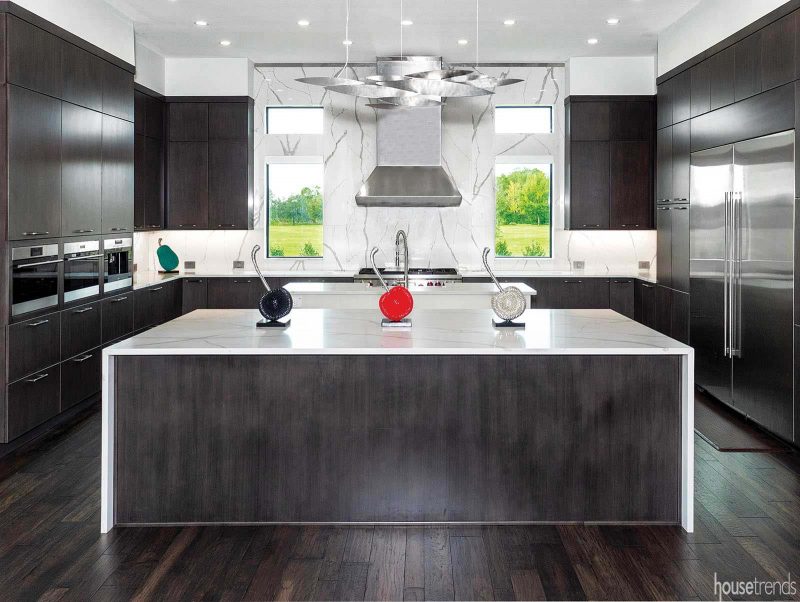 The family room has a giant, easy-to-clean leather sectional sofa that seats at least 10 people. In the everyday dining area is a custom-made barn door with stainless steel and rustic wood elements, which gives a modern look to a typically traditional design piece.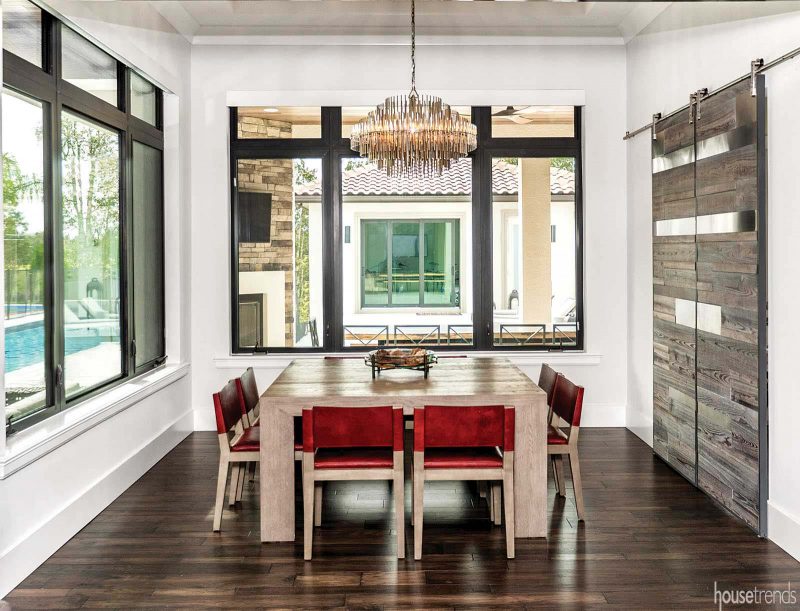 Relaxation is key
The natural accents in the master bathroom create an "oasis of relaxation," Canedo says, while the soothing palette of the master bedroom suggests intimacy. The bathroom has a freestanding bathtub with an adjacent natural stone wall and chandelier. There are separate sink areas, a vanity area and shower space.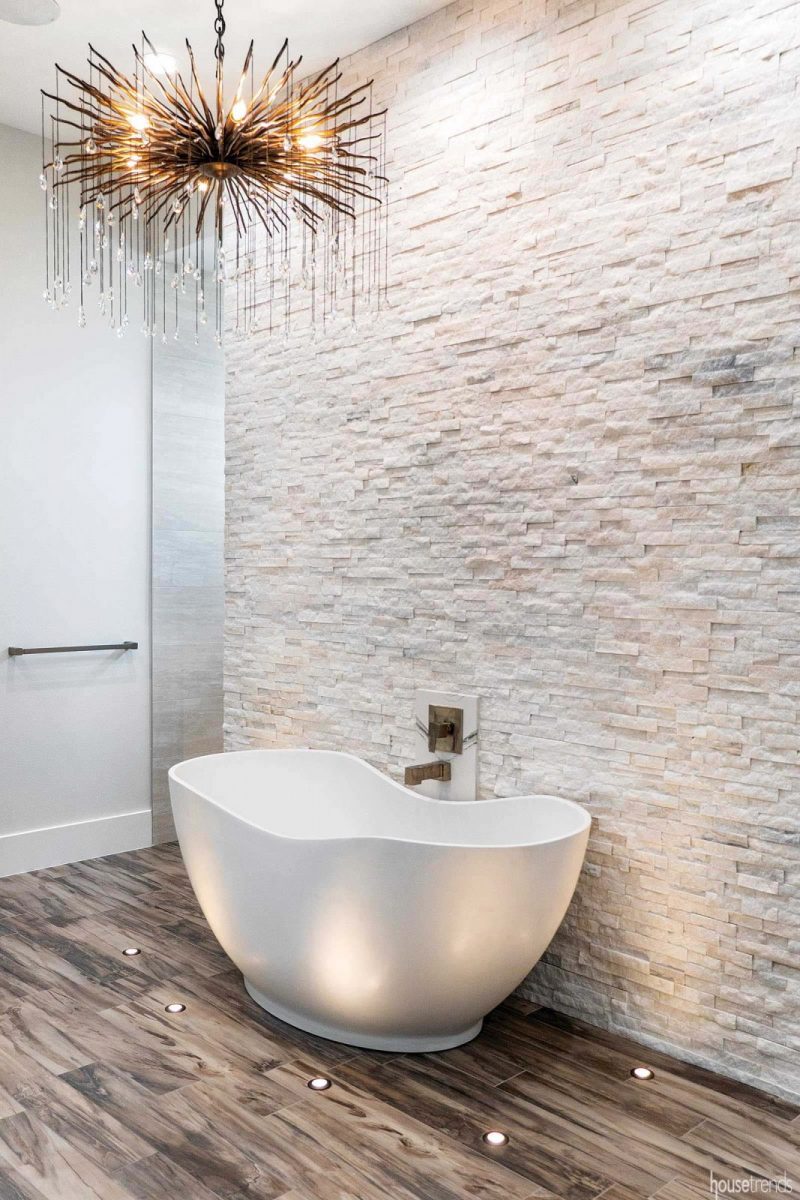 "They are a very fashionable couple, so we added a pop of drama. The textures of their closet bring the couple's fashion to life," Canedo says. "We created a sitting area with baroque-inspired furniture that reinterprets the old Victorian era in a modern, creative way by using polymer as the upholstery material. The glass-spiked chandelier, the red rug and the whimsical art contribute to the mood."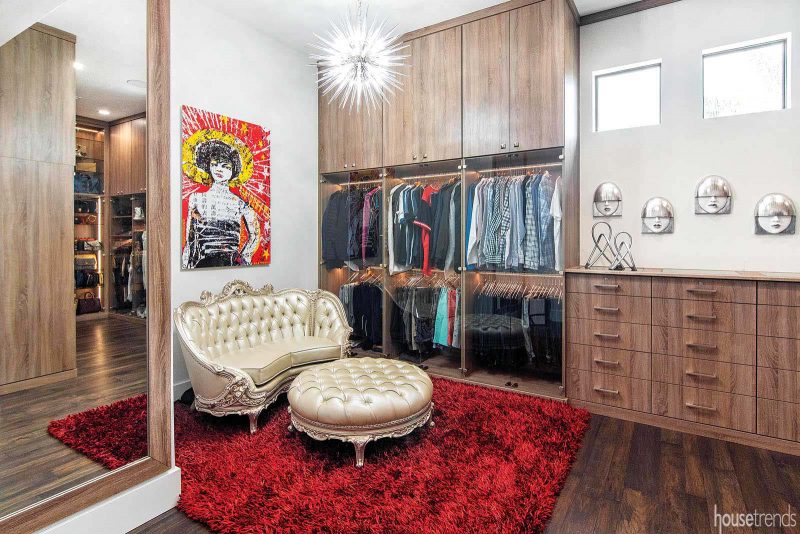 Outside is a prime space for entertaining, with another table made by Erdei Designs that seats 16-plus people, two lounge areas, a fireplace, a pool area with a children's water park, and comfortable furnishings.
"The outdoor space is perfect for enjoying long nights and for sharing good food with family and friends," Canedo says. "This family really wanted a comfortable house that would show their personality—a space that could allow each family member to unwind and express their individuality. I think we achieved that."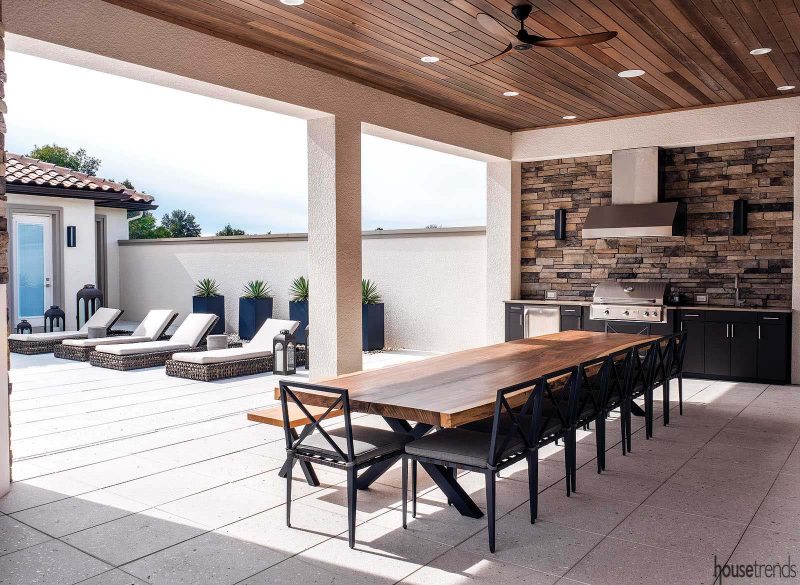 The Carlos Carrasco Foundation
The Carrascos are also philanthropists. Their nonprofit organization, The Carlos Carrasco Foundation, was founded in 2014 to help build "a stronger, smarter and healthier America by providing impactful resources for disadvantaged youth in the United States and Latin America." The foundation strives to create outlets that promote and reward academic excellence, leadership development and positive behavior. For more information, go to
carrascofoundationvenezuela.com.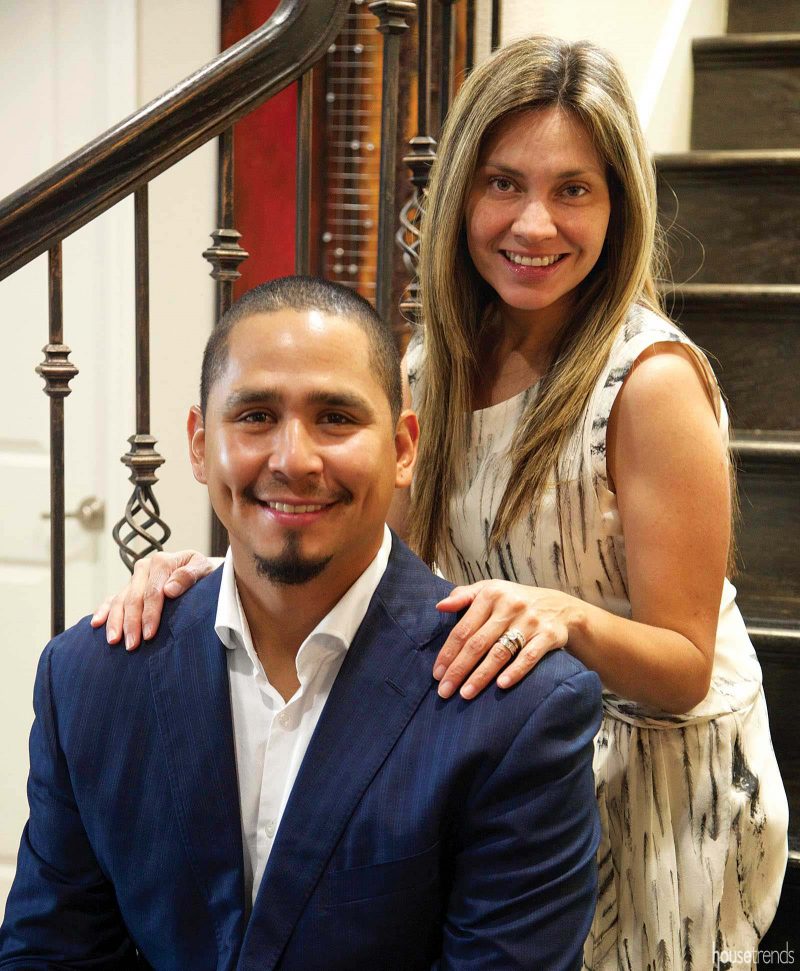 RESOURCES Interior designer Andrea Canedo, Andrea Canedo Design; Builder Arthur Rutenberg Homes, Lyons Heritage Tampa, LLC; Landscape designer Hive; Kitchen cabinetry One Stop Kitchens & Bath; Kitchen countertops and backsplash Zodiaq Calacatta quartz; Custom wood furniture Peter Erdei, Erdei Designs; Closets Southern Closet Systems; Rugs Loloi Rugs; Window treatments IWS Shutters & Blinds; Hive; Art D-Gallery, Alison West Brown; Furniture Restoration Hardware; Lighting Oggetti Luce; Currey and Company; Visual Comfort; Dining room chandelier Marignan linear chandelier by Restoration Hardware; Painting Sherwin-Williams Incredible White, Reserved White and Origami White
Article by Abby Weingarten/Photos by Garrett Brown
Article appeared in Housetrends Tampa Bay – July/August 2019
To see another home with a modern aesthetic and eclectic lighting, search: Mid-century reimagined