A couple of weeks ago, when the weather was unbearably hot, our Senior Graphic Designer Tara decided to make the shrimp lovers in the office a delicious helping of this Orange Brown Butter Shrimp from Pinch of Yum. Tara did not make any alterations to the recipe and found it to be very easy to follow. Almost too easy, she said, with a smile, reflecting on the experience. The most labor intensive part of the process was peeling and deveining the shrimp, which she did with a friend – one of our editors – Karen.
Our taste testers enjoyed the finished flavor combination, which they called, "refreshing," "satisfying," and a "nice sweet on sweet combination."
Connie Kimsey photographed the shrimp on a granite remnant called "Donna Sondra" from Cincinnati Stoneworks.
Here is the recipe Tara followed for the shrimp. To see more, including some process photos and the story of how the recipe was developed, visit Pinch of Yum.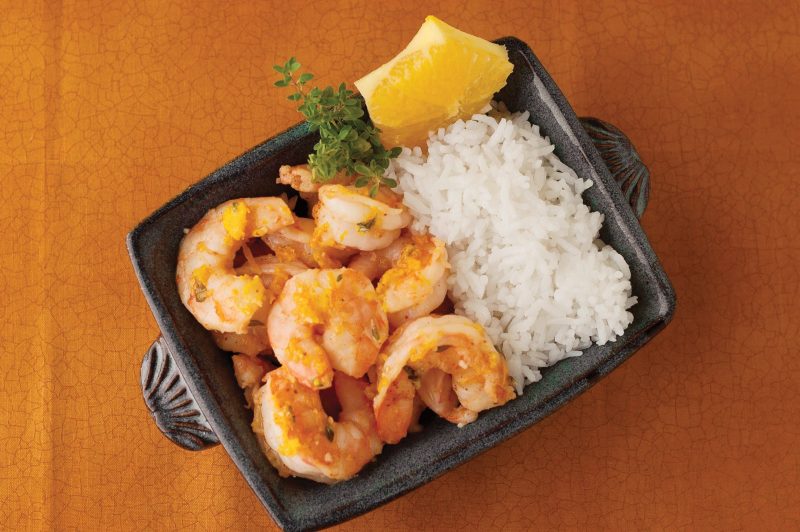 INGREDIENTS:
½ cup butter
1 teaspoon fresh thyme
zest of one orange
2 teaspoons minced garlic
2 lbs. shrimp. We used frozen. It's easier if you can find it peeled and deveined, though if you need to do the peeling and deveining, having a friend to help is useful.
½ teaspoon chili powder
salt and pepper to taste
INSTRUCTIONS:
Melt the butter in a medium skillet over low heat. Add the thyme leaves. Stir and simmer, keeping the heat low, for 5 minutes or until the butter reaches a golden brown color. Remove from heat and stir in the orange zest. Pour the butter into a small bowl and let it rest for a few minutes.
Using the same skillet, with a light coating of the butter remaining, add the garlic and saute for 1 minute. Add the raw shrimp and the chili powder; shake or toss in the pan for 3-5 minutes or until the shrimp is no longer translucent. We served it along with Veetee Thai jasmine rice, which helped to cut some of the citrus flavor, but you could serve it with a variety of other side dishes.