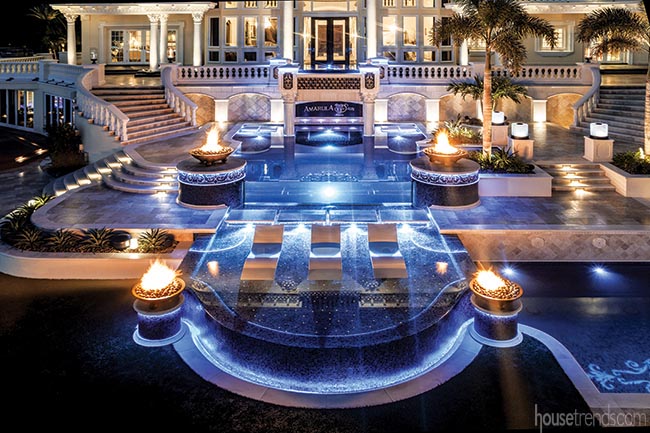 Whether it's a balmy summer evening or a crisp fall day, there's nothing better than taking a deep breath of fresh air and languishing in everything the outdoors has to offer: relaxing breezes, fragrant blooms and plenty of greenery, to name a few. The majority of homeowners, it seems, are dedicated to appreciating these simple pleasures, showcasing this by crafting outdoor living spaces of all shapes, sizes and purposes. Whether you're looking for outdoor entertaining ideas for yourself, or are just a nature aficionado, you're sure to love this collection of stunning outdoor areas.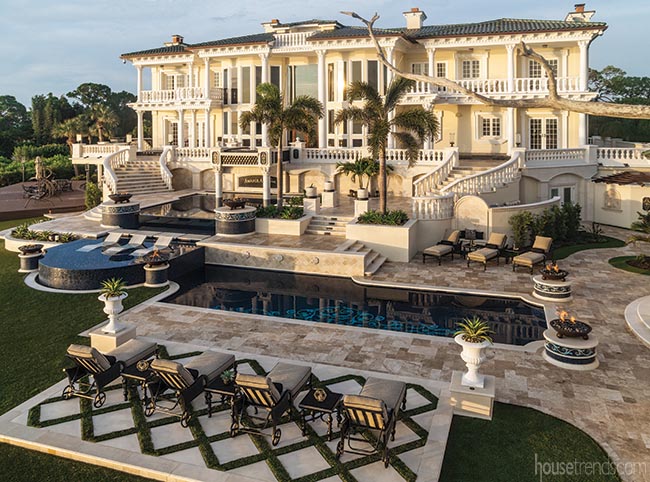 BRIGHT idea: Add multiple levels for visual interest
Photo by Joe Traina
This two-million-dollar plus outdoor masterpiece is located north of Clearwater Beach, Florida. It's hard to describe its splendor and unparalleled design. Starting with the infinity edge hot tub on the second floor balcony, a waterfall spills over into a 10-foot deep plunge pool. Water then cascades over an acrylic wall to a lounge pool that is adorned with 24-karat gold tile that sparkles in the Florida sun. From there a 40-foot lap pool leads to the sunken circular fire pit and full outdoor kitchen. Fire bowls elevated on pillars wrapped in beautiful mosaic glass tile, an abundance of strategically-placed LED lighting, and a plethora of other unbelievable features make this outdoor living space unlike any other.
To see more of this outdoor living space, go to housetrends.com and search: Amarula sun
RESOURCES  Pool Ryan Hughes Design/Build; Tile Keystone Tile; Oceanside Glasstile; Pool tile and mosaics Ray Corral, Mosaicist; Fire features Grand Effects; Artificial turf Easy Turf; LED pool lighting PAL Lighting USA; LED landscape lighting FX Lighting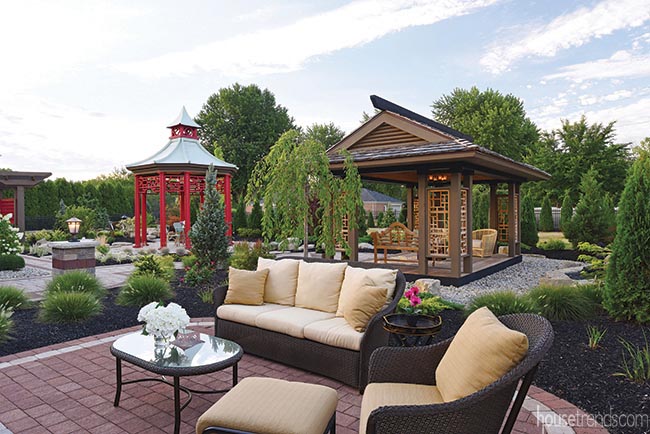 BRIGHT idea: Asian influences add character
Photo by Daniel Feldkamp
Inspired by a photo of a Japanese gazebo from the National Arboretum in Washington D.C., this Sidney, Ohio back yard offers several living spaces designed with an Asian flair. The striking red gazebo is the showstopper in the space. Constructed of wood and fiberglass posts, the gazebo features a penetrating solid color wood stain to give it the red hue. Japanese architectural elements, such as the carved transoms and angled roofline, complete the overall look. In addition to the gazebo, the back yard offers a pergola that is perfect for outdoor dining, a meditation pavilion with Japanese influences, and a cozy fire pit area.
To see more of this outdoor living space, go to housetrends.com and search: Balancing harmony and nature
RESOURCES  Contractor Paver Planet; Landscape and structure designer Dwight Goodin; Paver Planet; Pavilion furniture Frontgate; Fire pit M Concrete Studios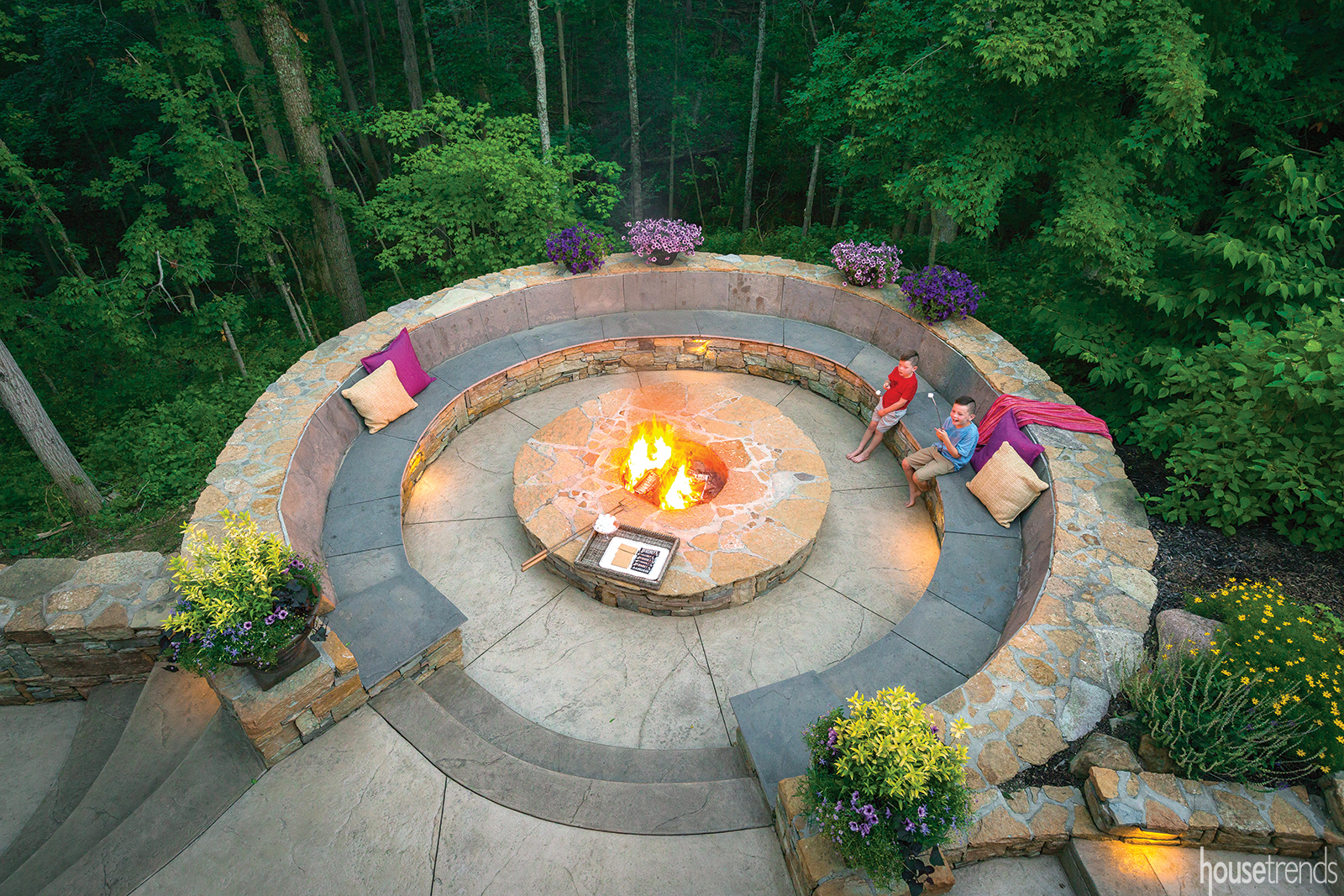 BRIGHT idea: Attract a crowd
Photo by Ross Van Pelt
Wanting to carve more usable space out of their sloping, tree-filled back yard, a Cincinnati couple called upon the talents of landscape designer Adam Erbaugh. The designer created a living area and bar area under the deck, stone steps leading from the driveway, and lush landscape beds. But a major focus of the project was a large stone fire pit and seating area that would be placed on the edge of the woods. There's room for at least 16 people to gather around a glowing fire pit, which the homeowner (mother to Landon and Gavin who are pictured) jokes is big enough to be seen from space.
To see more of this home, go to housetrends.com and search: Slam dunk
RESOURCES  Landscape design and installation TowneScapes; Stone mason Bill Canter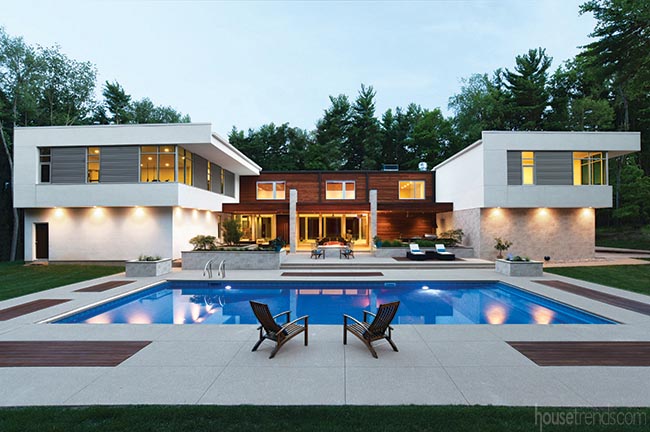 BRIGHT idea: Take Minimalism to the Max
Photo by Daniel Feldkamp
On a wooded lot off a country road in Granville, Ohio, east of Columbus, sits a 10,500 square foot contemporary work of art. This geometric residence serves up minimalist style with a sophisticated modern appeal. Walls of continuous 10-foot windows in the central living space showcase the outdoor wooded setting. "We wanted to bring the outside in, and the inside out," explains Jim Ogden, the home's owner and builder. The outdoor entertaining area is a resort-like setting with a large, rectangular pool, outdoor kitchen and glass fire pit. "We do tons of entertaining," Ogden says. "We can have 50 people out here and not feel it."
To see more of this home, go to housetrends.com and search: Minimalist to the max
RESOURCES  Builder Jim Ogden; Architect Shawn Bogenrife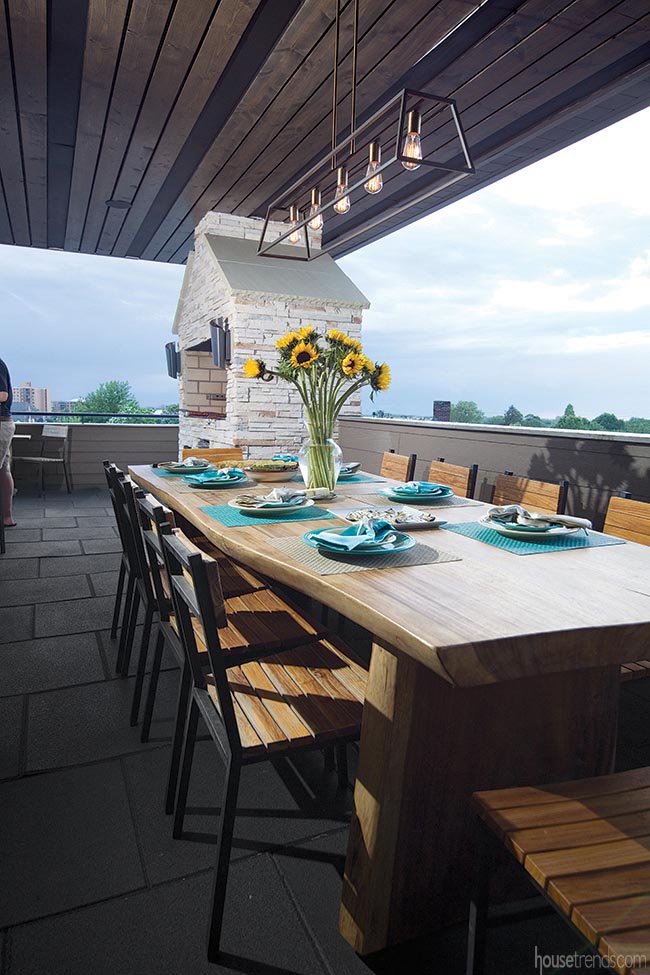 BRIGHT idea: Use the view to your advantage
Photo by Connie Kimsey
Taking advantage of the surrounding view of Cleveland's Little Italy, these owners created a gorgeous upper-level patio. With 75 percent of the space covered under a roof, plans never have to change due to rainy weather. A lengthy live-edge table offers plenty of seating options for dinner, while an out-of-sight bar boasts stools and standing room for a casual cocktail hour. The one-of-a-kind grill was inspired from the owner's trip to Italy and sees regular usage as the owner is a frequent cook, making meals that he often garnishes with herbs from his own garden—a quaint, yet effective space just on the other side of the patio.
To see more of this outdoor living space, go to housetrends.com and search: Upper level oasis
RESOURCES  Interior designer Barrie Spang, Associate ASID, Sapphire Pear; Builder Payne & Payne Builders; Lighting Hinkley Lighting; Furniture Bernhardt Furniture; Accessories Sapphire Pear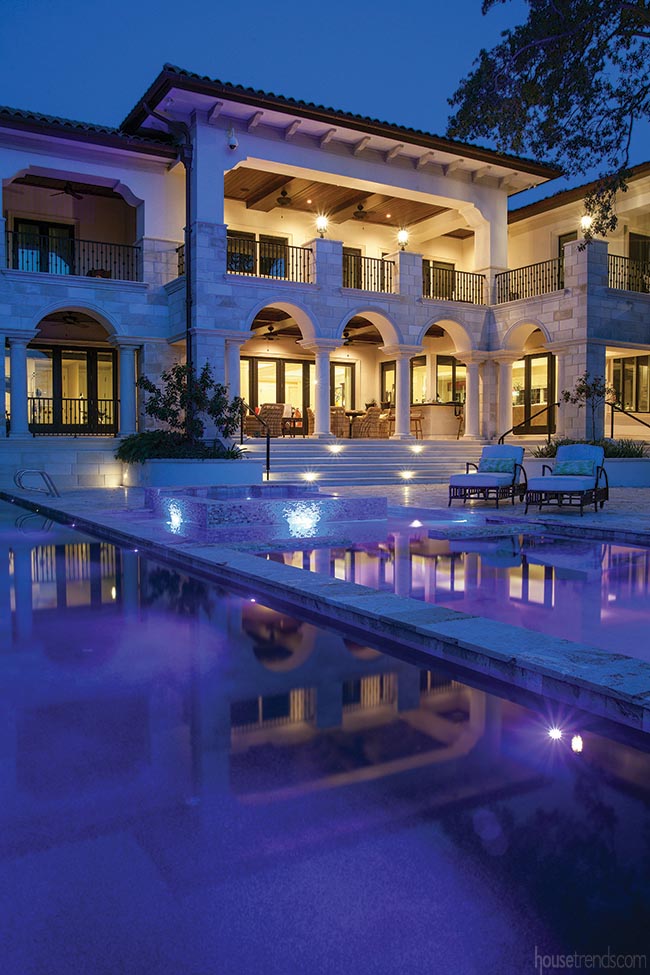 BRIGHT idea: Customization is key
Photo by Joe Traina
Just steps from the Intracoastal Waterway in Largo, Florida, near Clearwater, resides this sunny outdoor living space that offers a little something for everyone. Besides the spectacular view, the focal point of the back yard is the swimming pool. Equipped with a 55-foot lap pool, a raised spa surrounded by a refreshing sun shelf, and a family pool, there is no shortage of water activities. The pool even includes four built-in lounge chairs that were contoured to the homeowner's body. An infinity edge and an array of multi-colored LED lighting make this pool a scene-stealer, day or night.
To see more photos of this outdoor living space, go to housetrends.com and search: Swimmer's delight
RESOURCES  Pool Curtis Pools; Landscape Booth Design Group; Homebuilder Bollenback Builders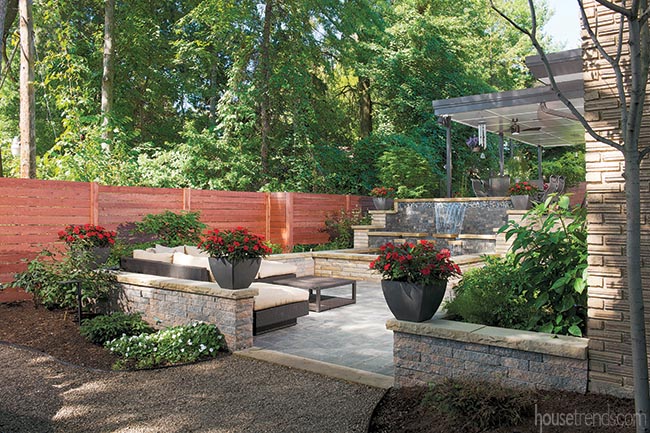 BRIGHT idea: Create a soothing focal point
Photo by Craig Thompson
A focal point of the design plan for this outdoor space at a home in Pittsburgh is a contemporary water feature that includes two pools of water and a cascading, lighted waterfall. Designed to simulate slate and match the existing upper patio, the floor of the lower patio is a pre-cast Unilock concrete paver called Richcliff. Another element the homeowners love is the cedar fence that now encloses the back yard. New gardens that include hostas, a Japanese maple and mountain laurels feature a drip irrigation system to maintain the moisture level for each set of shrubs, plants and trees.
To see more of this home, go to housetrends.com and search: Cozy character
RESOURCES  Landscape general contractor Roma Design-Build, Inc.; Landscape subcontractor Eichenlaub; Paver patio Unilock Richcliff; Water feature Sandstone veneer (exterior); glass mosaic tile and frost-proof porcelain tile (interior walls); Water feature floor SGM River Rok; LED lighting Kichler
Article appeared in Housetrends Cincinnati – November/December 2018