When gathering for a meal with family and friends, it's not just what you put on the table, it's who you have around it that counts. Having said that, furnishings, fabrics and fixtures go a long way in contributing to the mood in the room. Regardless of whether your style is formal or casual, be sure to top things off with a striking light fixture, or two, to get the room talking.

BRIGHT IDEA: Let your lighting shine
Lighting played a major role in the renovation of an English Tudor built in 1980 in the countryside east of Columbus, Ohio. Nestled among 31 wooded acres in the Pataskala community, the home was sorely in need of a makeover. The end result is luxury living at its finest, where every room shines including the formal dining room where twin chandeliers hang from beamed ceilings to add eye-catching grandeur.
RESOURCES Architect Scott Baker, SBA Studios; Builder Nth Degree Construction; Interior design Nth Degree Interiors; Windows and doors Windsor, Specialty North American
To see more of this home, search: Rise and shine

BRIGHT IDEA: Get cozy with a breakfast nook bench
This cheerful breakfast nook has everything going for it—a trendy statement light, a splash of color and a fantastic view. The owners of this St. Petersburg, Florida home took advantage of every square inch of their kitchen, utilizing a small space by the back door to create the ultimate spot to enjoy a cup of coffee in the morning. The cozy corner bench beckons the family to take in their surroundings, both inside and out.
RESOURCES Architect dc-studio; Contractor Popa Construction; Designers Bee Studios; Lynn & Campbell; Hardwood flooring Bella Cera engineered wood
To see more of this home, search: Home renovation is refreshingly charming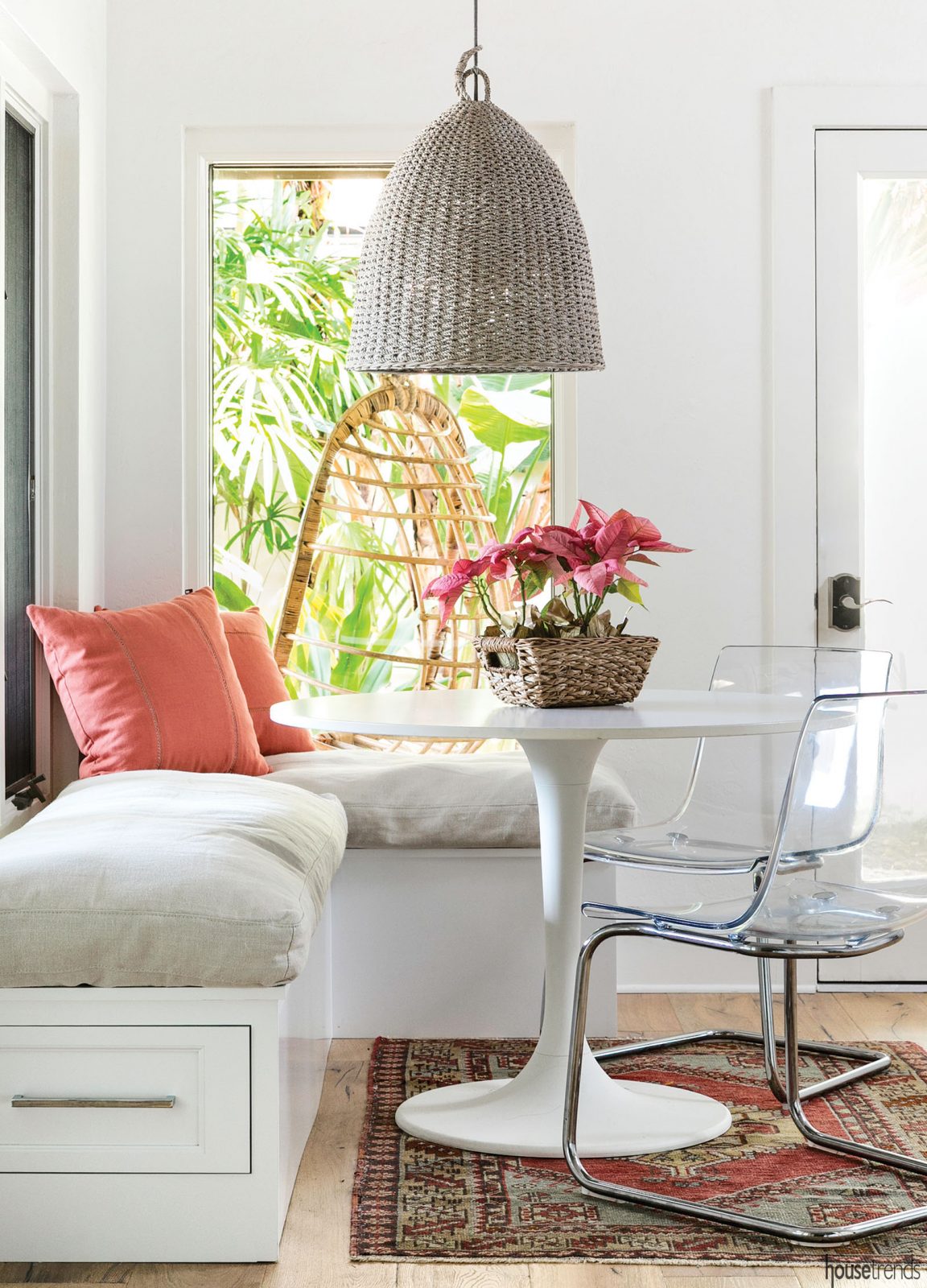 BRIGHT IDEA: Mix and match styles
Stone archways provide a subtle visual separation between the kitchen and dining areas in this 2018 Cincinnati HOMEARAMA® home. Metal side chairs and black clad windows add an industrial element, while the stone, ceiling beams, and wide-planked flooring add the farmhouse features. Contributing a bit of a surprising effect are two crystal chandeliers positioned to add elegance to the setting without obstructing the view outside the full wall of windows and French doors.
RESOURCES Builder The Leland Group; Interior designer Katie Linich; Appliances Custom Distributors; Cabinets Select Kitchen Design; Countertops Stone Statements; Hardwood flooring Cincinnati Floor & Window Coverings; Lighting Ferguson; Stone Brick Tec, Inc; Windows Andersen, McCabe Lumber; Woodworking/built-ins Miami Woodworking, Inc.
To see more farmhouse-style spaces, search: HOMEARAMA celebrates farm-style living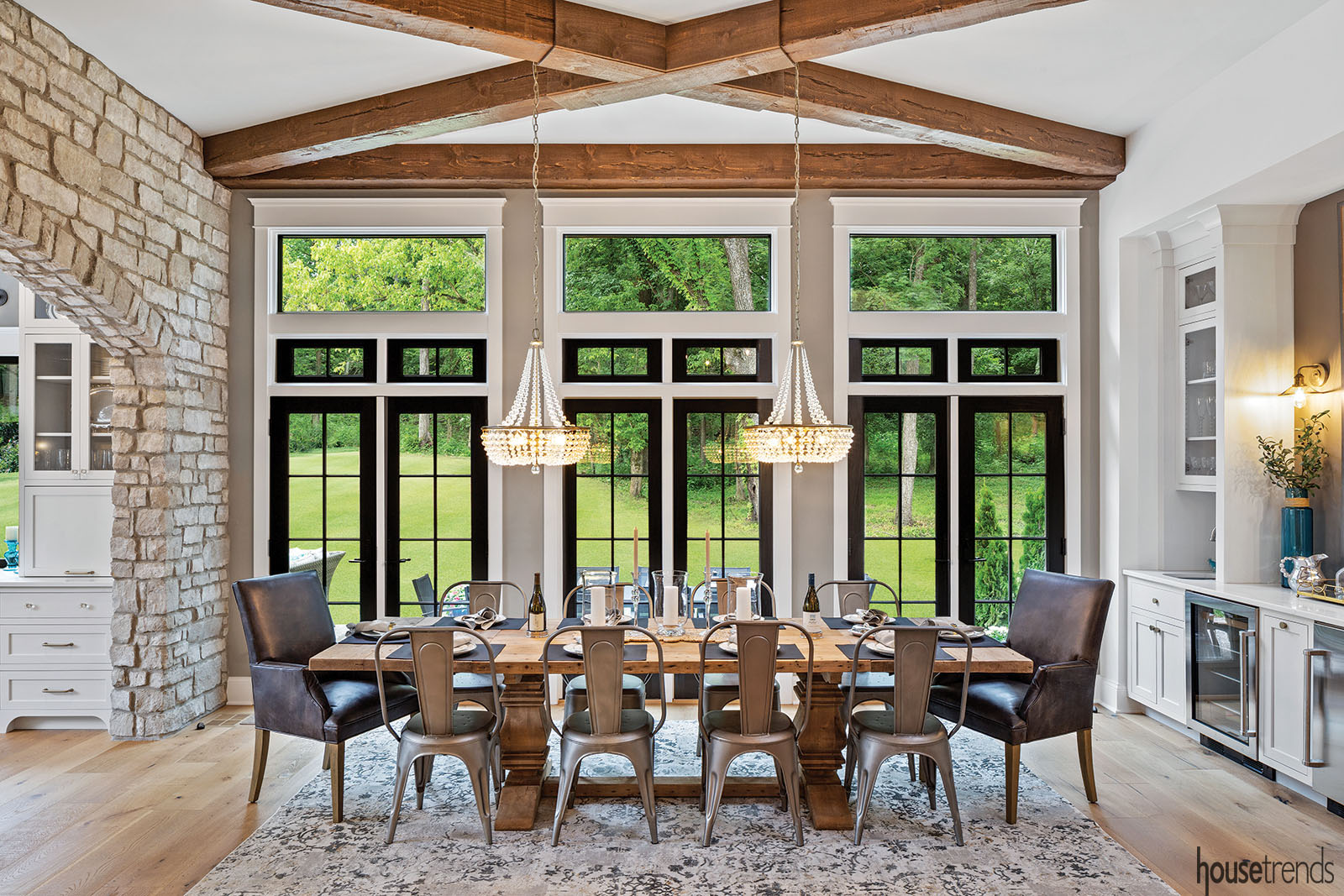 BRIGHT IDEA: Antiques create great dinner conversation
An antique Moroccan cabinet juxtaposes with the teal wallpapered walls and white tile flooring in this Dayton, Ohio dining room. The homeowners stumbled across the wood cabinet covered in goat leather during a stroll through an antique store in Fez, Morocco. The imported piece, now filled with other treasures from their travels, is tucked into a wall niche in their dining room and complements the midcentury modern design of the space.
RESOURCES Interior designer E.N. Interiors, Inc.; Dining table Homenature
To see more of this home, search: Art of design

BRIGHT IDEA: Black and brass add drama
The dining area resides on the second floor of this urban-designed Tampa home. The eclectic space incorporates a loft-like feel with large windows and a wall of fully retractable glass doors opening out to a large patio. Hints of black and brass, seen in the light fixtures, cabinetry, hardware and custom wall art establish the industrial vibe felt throughout the entire home. Natural materials like hardwood flooring and custom concrete counters complement the design.
RESOURCES Builder Aadmixx Design+Build Studio; Interior custom design features and furniture Tobin Green and Built; Custom concrete Béton Studio; Artists and photography Bask; Greg Byron, Pep Rally, Inc.; Tristan Eaton; Shephard Fairey; Tyree Guyton
To see more of this home, search: Forward thinking

This article originally appeared in Housetrends Tampa Bay – November/December 2019