Your entry sets the tone of your house—it is the first thing guests see when they step through your front door. Make yours as visually exciting as possible so family and friends can't wait to see what lies ahead. These six entries utilize furniture, décor and even staircases to pull people in and make them feel right at home.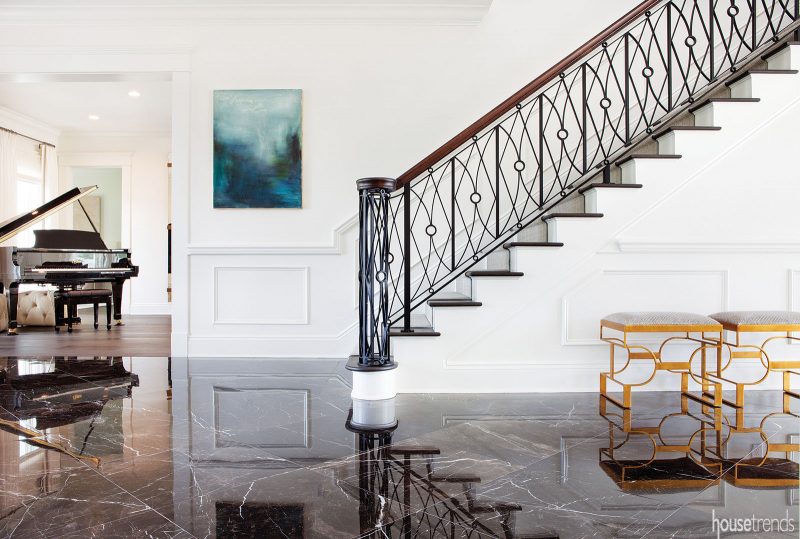 BRIGHT IDEA: Let the railing do the talking
Eyes are immediately drawn to the one-of-a-kind metal staircase railing in this Tampa home. The family chose to completely renovate the waterfront home, but they were able to preserve a few original elements, such as the crown molding and millwork, the glossy brown marble foyer floors and the elegant railings of the central staircase tower. The end result is a perfect combination of old and new to create a dramatic foyer that sets the tone for the rest of the house.
RESOURCES Contractor Soleil Design Build, Inc.; Interior designer A.M.D. Interior Design Consulting; Hardwood flooring and carpets Addison/Dicus & Bailey Company
To see more of this home, search: Waterfront revival

BRIGHT IDEA: Make a grand entrance
One of the many focal points in this 19,000 square foot Dayton, Ohio home is the staircase, which calls to mind Gone with the Wind. In the classic 1939 film, the grand staircase in Tara essentially becomes a main character opposite Vivien Leigh's Scarlett O'Hara and Clark Gable's Rhett Butler. So it is no wonder that the curved staircase in this home commands attention. Accentuated by an abundance of natural light and a domed ceiling with a warm copper faux finish, the staircase plays an integral role in the overall design of the home.
RESOURCES Builder Astelier Fine Homes; Faux finishing Bel Finito; Flooring Tony's Tub & tile
To see more of this home, search: New home is classic in nature
BRIGHT IDEA: Consider concrete for an industrial look
Concrete establishes the urban loft look of this Tampa house. The industrial theme greets guests as they enter the Corten steel front door and step onto the raw concrete floor, which intentionally displays the nicks and dings created during construction.  The owners of the three-story home took great care to incorporate unique details and textures into every space. The concrete block focal wall and brass geometric light fixture hanging overhead are just the beginning of the adventure that awaits.
RESOURCES Builder Aadmixx Design+Build Studio; Interior custom design features and furniture Tobin Green and Built; Custom concrete Béton Studio
To see more of this home, search: Forward thinking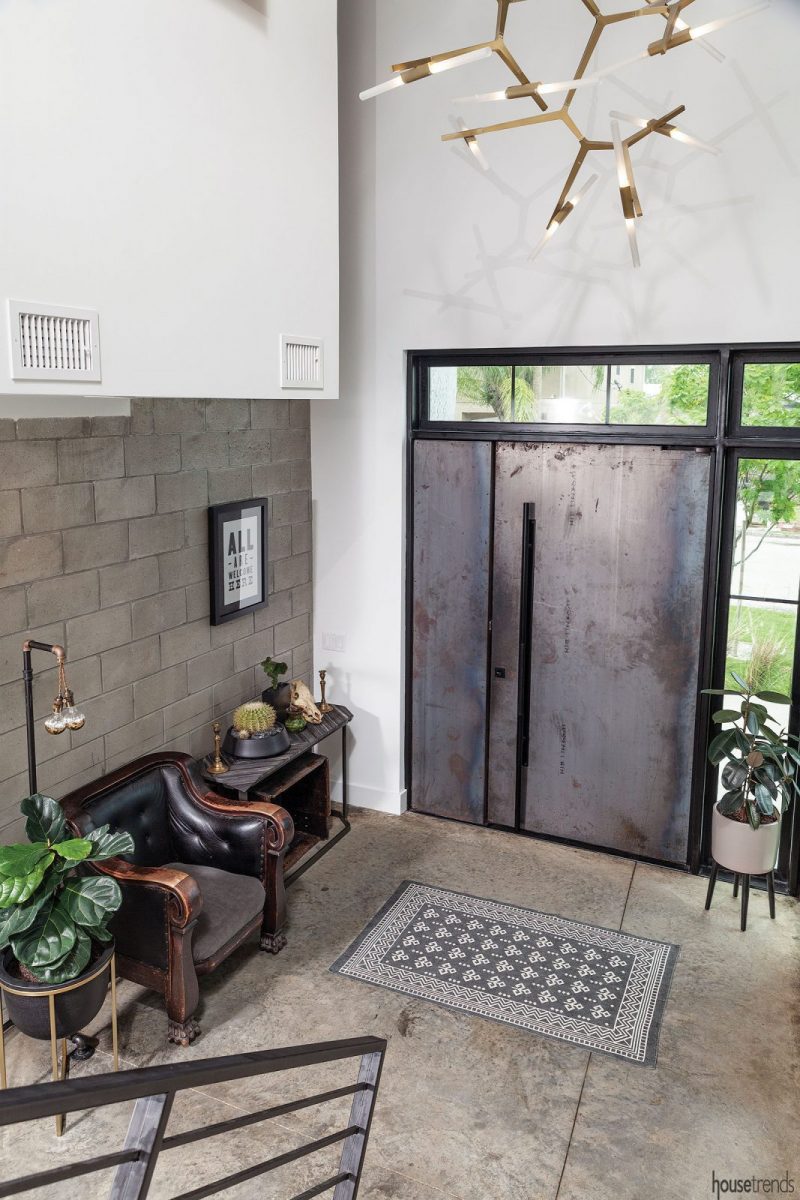 BRIGHT IDEA: Use architecture as art
A majestic double wedding style staircase frames this formal living room and its inviting golf course view of the New Albany Country Club, just outside of Columbus, Ohio. Soaring ceilings rise nearly 20 feet in the entry and great room requiring 18 ebony and white steps to make the ascent.  The dual staircases seemingly float from the marble flooring to the second floor landing where they are topped with an elegant chandelier.
RESOURCES Architect Brian Kent Jones Architects, Inc.; Builder Ghiloni Custom Builders; Lighting Capital Lighting; Flooring Hamilton Parker and Classico Tile & Marble; Windows Kolbe, Northern Window & Door
To see more of this home, search: From Napa to New Albany

BRIGHT IDEA: Turn your entry into an art gallery
The foyer in a condominium in the Hyde Park neighborhood of Cincinnati features a bold wall treatment paired with a sleek chest of drawers. Decorative plates, featuring a pattern similar to the walls, are displayed on either side of a more traditional mirror. A contemporary chaise rests under one of two paintings of Cincinnati by artist W. Michael Meyer. Positioned at the end of the hall, and reflected in the entry mirror, a bold contemporary piece draws the eye into the home.
RESOURCES Developer Greiwe Development; Architect GBBN Architects; Contractor North American Properties; Interior designer Randy Basselman, Greiwe Interiors; Wall treatment Harlequin; Furniture Bernhardt; John-Richard; Lighting Hudson Valley; Visual Comfort; Hardwood flooring Carpetland; Rugs Custom, Greiwe Interiors
To see more of this home, search: Game on

BRIGHT IDEA: Add character with wood
White painted shiplap is the main attraction in this Pinellas County, Florida home. Inspired by the home depicted in the film Something's Gotta Give, the bright entry and staircase set the farmhouse tone. Rugged hand-scraped natural hardwood floors, fun light fixtures such as the Zeugma Import chandelier in the foyer and a subtle color scheme establish the comfortable atmosphere that is perfect for adults and children alike.
RESOURCES Architect Aude-Smith Architecture, Inc., AIA; Builder Sterling Ridge Properties; Shiplap Buffalo Lumber Company; Hardwood flooring Through the Woods Fine Wood Floors, Inc.; Foyer lighting Zeugma Import; Doors Artistic Doors and Locks; Staircase Bast; Railings Metal Creations
To see the rest of this home, search: Character driven

Article originally appeared in Housetrends Tampa Bay – November/December 2019